You may be on the lookout for a slimline AV receiver for several reasons. Chances are, you don't have enough space to accommodate full-size equipment, but you want the finest possible audio and video quality when listening to music and watching movies. Or you want to save money on your purchase by getting the basic features of the receiver but sacrificing some of the modern features. In this review, I have collected the best slim AV receivers of different costs and functionality, through which you do not have to make big compromises, and certainly not in sound quality, which is the most important criterion when choosing the receiver. The purpose of this review is to allow you to decide on a choice based on your needs and budget. In addition, you will get information about choosing a receiver with limited features and what difficulties you can expect with a slim AVR. Well, let's get started.
Our pick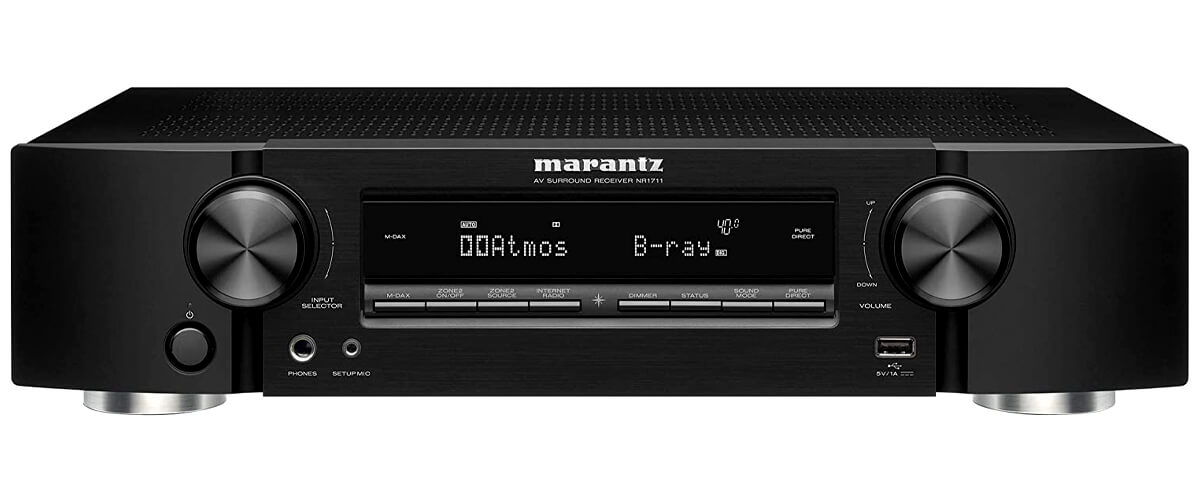 Marantz NR1711
Best slim AV receiver
The Marantz NR1711 is a 7.2ch 8K Ultra HD AV receiver that drives immersive, high-fidelity audio like Dolby Atmos and DTS: X from a compact chassis.
Read the full review
.
Slim AV receivers comparison table
Name
Channels
Power output
HDMI in/out
Bluetooth/Wi-Fi
Review
Marantz NR1711

best overall

7.2
50W/8 Ohm, 70W/6 Ohm
6/1
yes/yes
Review
Sony STR-DH590

budget

5.2
145W/6 Ohm
4/1
yes/no
Review
Marantz NR1510

also great

5.2
50W/8 Ohm, 60W/6 Ohm
6/1
yes/yes
Review
Cambridge Audio AXR100

stereo

2.1
100W/8 Ohm
0/0
yes/no
Review
What slim receivers did we test?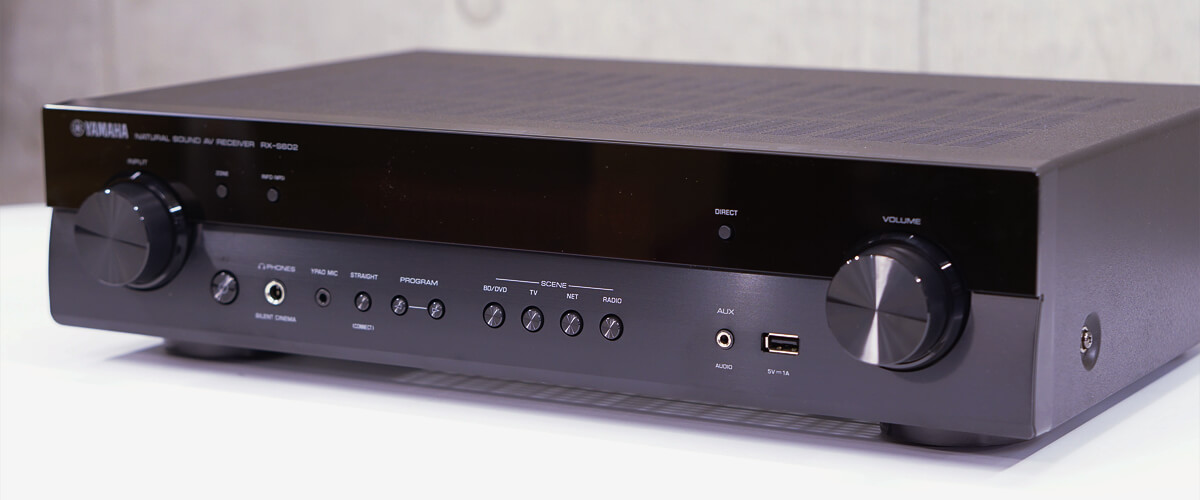 Not many narrow AV receivers are on the market now, especially compared to traditionally sized receivers. The Marantz brand is one of the few to introduce such models, and almost all of them formed the basis of the presented ranking of the top slim receivers in 2023. I'd like to point out that some popular models didn't get to my list:
Yamaha RX-S602. The receiver was not included in the chart because, unfortunately, it is no longer in production.
The Marantz NR1200 didn't reach our top because we found an alternative solution to the low-profile stereo receiver – the Cambridge Audio AXR100.
Pioneer VSX-834. It is not a "thin" receiver, but still slightly thinner than the standard form factor. It did not represent my list of the combination of technical characteristics and listening impressions.
In addition to my personal impressions from testing, I also turned to customer reviews from various shopping sites and the opinions of other users and experts from popular audio forums. My rating of thin AV receivers was compiled based on all the abovementioned opinions, and each of our competitors deserves your close attention.
Our criteria for choosing the best slim receiver
The main criteria by which I evaluated the range of receivers of this category were the following factors: thin AV receiver body, listening experience, availability of modern built-in functions (Bluetooth, Ethernet/Wi-Fi, surround sound formats, etc.), a sufficient number of inputs and outputs of connections, price, quality of performance and design of the receiver.
Best slim AV receiver reviews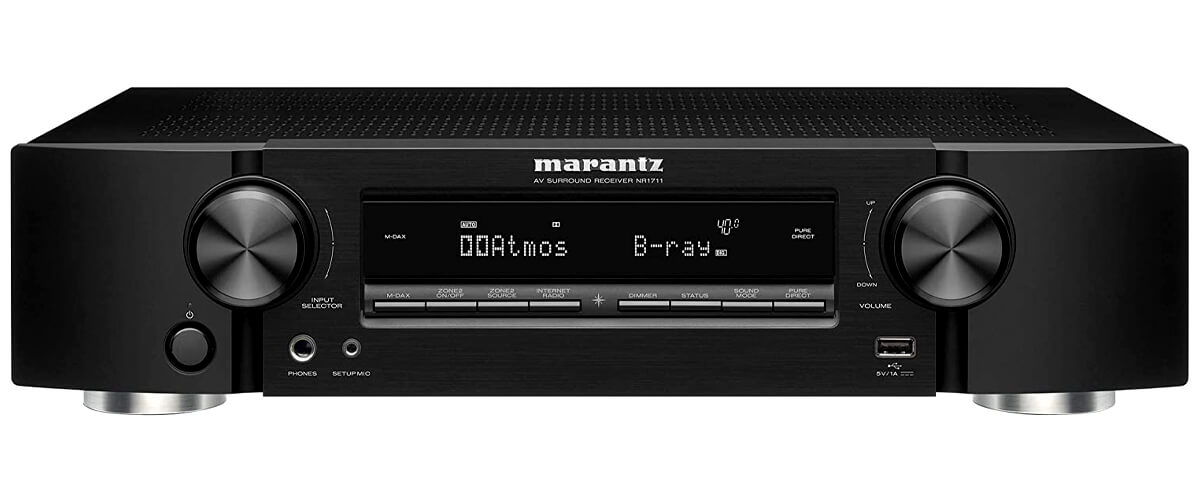 I decided to start my list of top devices with the best small AV receiver. The 7.1-channel Marantz NR1711 hit the market in 2020 and combines a reasonable price with great functionality. Below I will try to convince you that it really is a great option.
Its compact size of 17.3 x 14.8 x 4.1 inches and weight of 18.2 pounds will put the receiver where you want. The NR1711 has a 2 Zone Multiroom feature and a built-in wireless HEOS system so that you can enjoy music in every room. Wi-Fi and Bluetooth will provide support for streaming services and voice assistants. And connectivity options let you enjoy high-quality video content from any device or TV (supports Dolby Vision, HDR 10+, Dynamic HDR, and HLG formats) with stunning DTS:X and Dolby Atmos surround sound. It has 3 composite and component inputs for connecting legacy technology, 6 HDMI inputs with 8k/60Hz and 4k/120Hz video support (including CEC / eARC), USB, and built-in FM radio. All in all, I highly recommend checking out its full list of features. You can additionally connect 2 subwoofers to this receiver, a vinyl player (MM phono input), and it also has 3 analog inputs.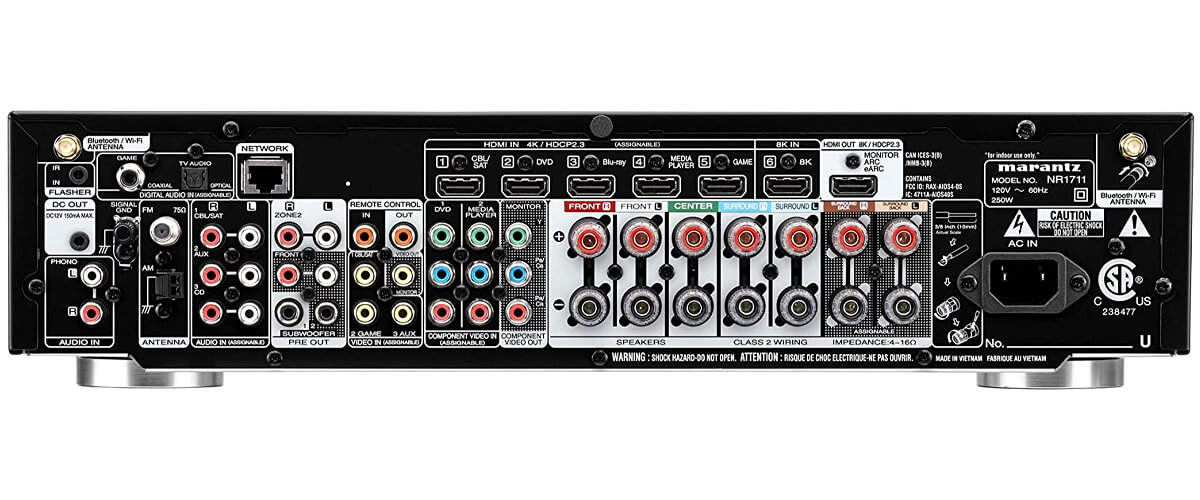 The Marantz NR1711 is slightly more expensive than the Marantz NR1510, which I will discuss later in this review. And accordingly, it offers a bit more options, including the number of channels.
As for the sound, you should understand that the thin profile implies some power reduction. In this case, the manufacturer claims 50 W (8-ohm, 20 Hz – 20 kHz, 0.08% 2ch Drive) or 70 W (6-ohm, 1 kHz, 0.7% 2ch Drive). That's why this receiver is quite suitable for medium-sized rooms.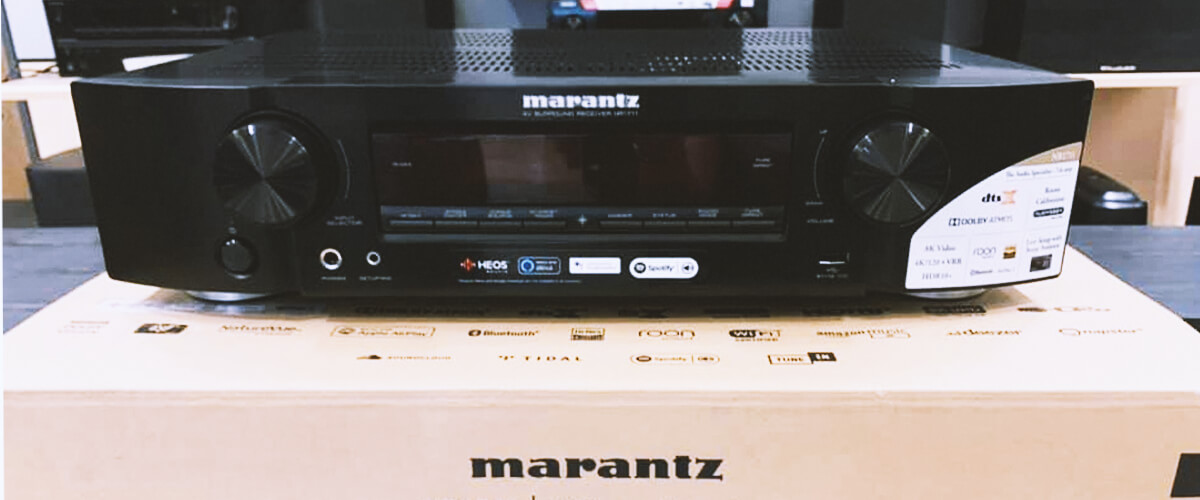 In testing, the NR1711 performed outstandingly for its size, making me freak out when watching The Skeleton Key and shudder at the realistic, intense surround sound accompanying the viewer throughout the film. Listening to records and Spotify impressed me, presenting clear analog and digital sound without interference.
So, with all the features and sound quality, the Marantz NR1711 deservedly gets the title of the best slim receiver in this chart.
Key specs
Channels: 7.2.
Power output: 50W/8 Ohm, 70W/6 Ohm.
HDMI inputs/outputs: 6/1.
Video functions: 4K/120Hz, 8K/60Hz pass-through, HDMI Upscaling to 8K.
Bluetooth/Wi-Fi: yes/yes.
Streaming services: AirPlay2, Deezer, Tidal, Pandora, SiriusXM, Napster, SoundCloud, Amazon Music, Amazon Music HD, Mood mix.
Supports: HDMI ARC, eARC, HLG, HDCP2.3, HDR10+, Dynamic HDR, Dolby Vision.
Surround sound: DTS HD Master, DTS:X, DTS Neural:X, Virtual:X, Dolby TrueHD, Dolby Surround, Dolby Atmos Height Virtualization, Dolby Atmos.
Pros
Support for modern video and audio formats.
A wide range of options for listening to music content.
Wide range of connectivity options.
Multi-room and multiroom HEOS.
Excellent Marantz sound without interference for a reasonable price.
Sony STR-DH590 – budget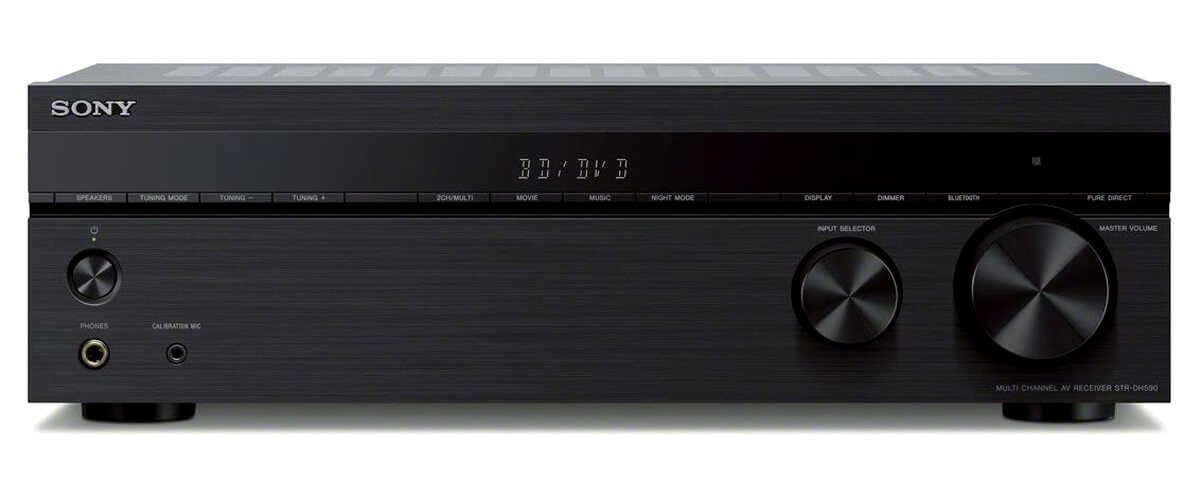 Sony STR-DH590 compact home theater receiver is a budget representative of my list. The model is quite old, released in 2014, but still extremely popular due to the combination of price and decent qualities, including the sound level.
The Sony STR-DH590 measures 17 x 5.25 x 11.75 inches and weighs only 15.11 lb, and is made in traditional Sony style. It's slightly inferior to the Marantz NR1711 regarding connectivity options but also half the price. Nevertheless, here you will find 1 optical input, 1 coaxial, 4 analog, 2 additional subwoofer inputs, USB and 4 HDMI (HDCP2.2, 4K/60p (4:4:4) pass-through) inputs, and 1 HDMI output (ARC). It means that your old equipment won't stand idle, and you can connect a turntable with a built-in or external preamp since the DH590 doesn't have one of its own.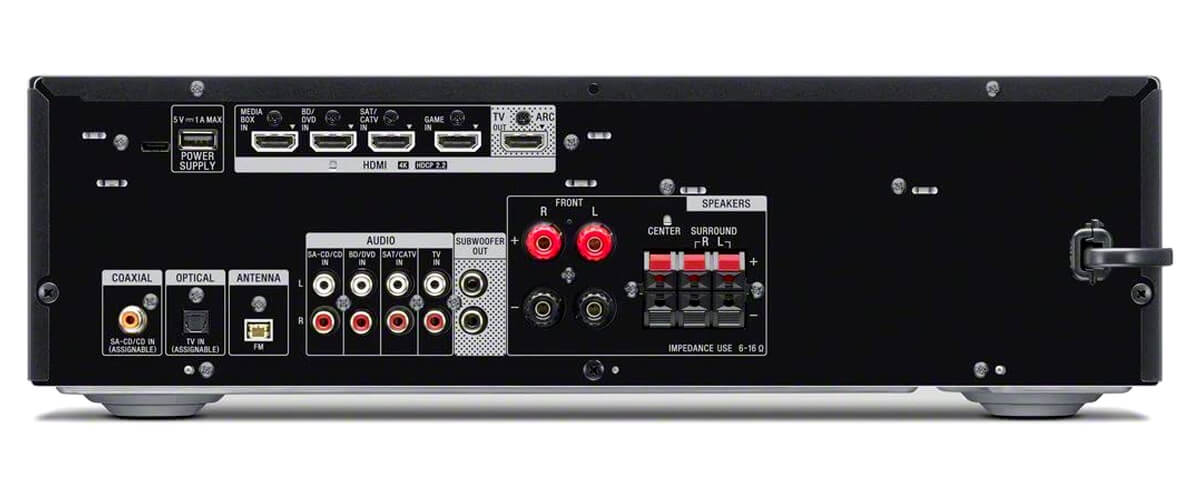 As you can see, you won't be able to connect a lot of equipment and still view content in HDR10, HLG, Dolby Vision, and 3D with DSD, Dolby Digital, and DTS-HD Master Audio decoding. Unfortunately, the receiver doesn't have Wi-Fi, but streaming services (Spotify, Pandora, etc.) are available via Bluetooth. You also won't be able to watch 4K content. There's no Multi-Room or built-in ecosystem and no voice assistants. But this 5.1-channel device provides access to major of today's features, including listening to High-Res Audio and a radio. All in all, the STR-DH590 will suit those, who don't want to spend a lot, and for whom audio is more important than video.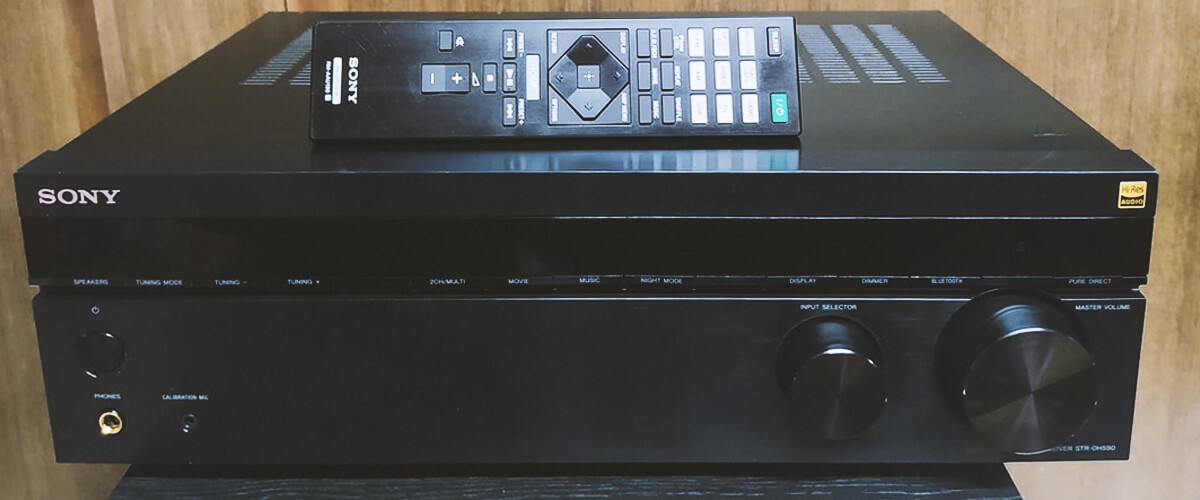 As for the sound, let me start with the manufacturer's claimed power of 145 W (6 ohms, 1 kHz, 1ch THD 0.9%) or 90 W (6 Ohms, 20 Hz – 20 kHz, 0.09% THD, 2 ch). Now I don't know who would think to use it at full throttle! It is worth noting that Sony STR-DH590 is compatible with a wide range of speakers (6-16 Ohm), but connecting it to low-impedance speakers is not recommended. In this case, it overheats a lot. When listening to music, the receiver shows itself very well. It has great deep bass, clear tops without outright noise (not at the highest volume), and decent realistic surround sound. Watching Les Misérables gave me 2 hours of enjoying the vocals of Amanda Seyfried and the other actors. I even connected to Spotify, and even though I prefer a wired connection, I was pleasantly surprised; the music sounded uninterrupted and high quality.
This is a good enough budget model, which is sure to find its fans. Moreover, for its existence, it has not earned negative evaluations either from specialists or ordinary users.
Key specs
Channels: 5.2.
Power output: 145W/6 Ohm.
HDMI inputs/outputs: 4/1.
Video functions: 4K/60Hz pass-through.
Bluetooth/Wi-Fi: yes/no.
Streaming services: has not.
Supports: HDMI ARC, HLG, HDCP2.3, HDR10, Dolby Vision.
Surround sound: DSD, DTS HD Master, Dolby Digital, Dolby Dual Mono, DTS-HD High-Resolution Audio.
Pros
Very powerful.
Compatible with speakers of different ranks (6-16 ohms).
Good deep bass.
Good functionality at a low price.
Cons
No Wi-Fi.
No phono input.
Marantz NR1510 – also great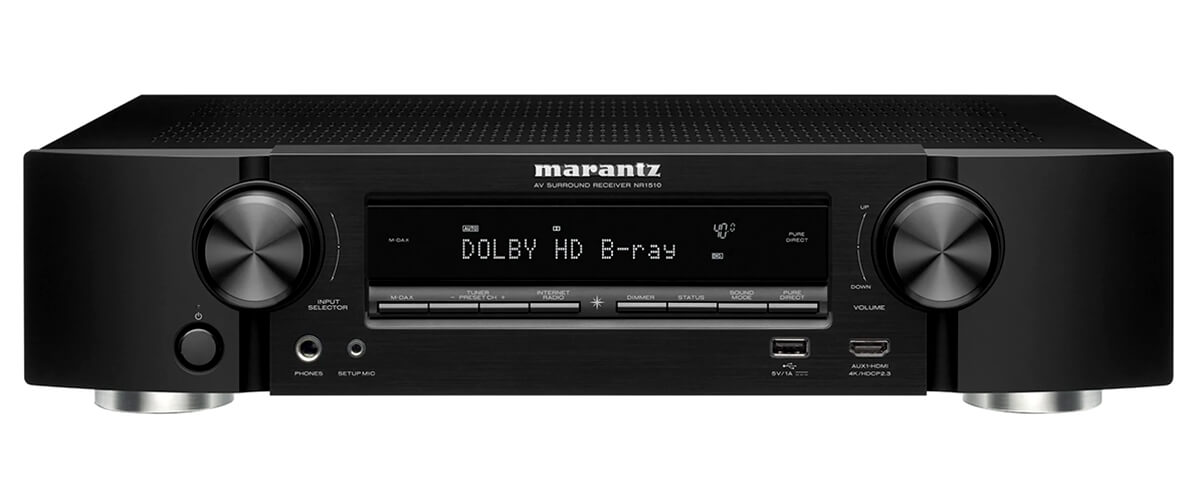 Another representative of Marantz is the NR1510 small 5.1-channel receiver. It is slightly lower in rank than the NR1711, less expensive, and older (released in 2019). But it's a popular model that has earned good reviews from owners for its excellent combination of quality, price, and decent options.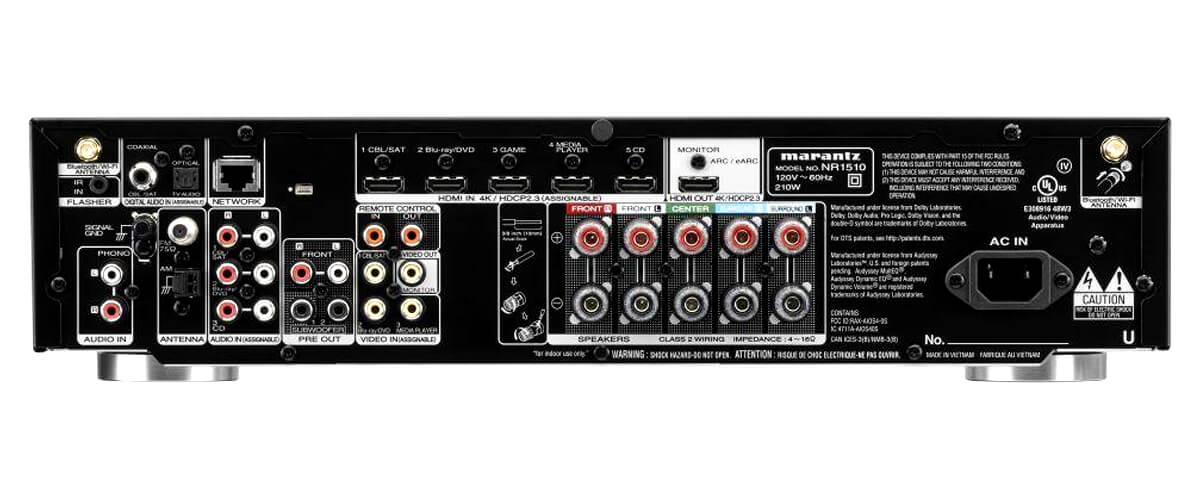 The connectivity options of the Marantz NR1510 are inferior to the NR1711, offering you 3 component inputs (no coax), 3 analog, a phono input (for MM record players), 2 subwoofer outputs, 2 USB (one on the front panel), 5 HDMI inputs (one on the front panel) and 1 HDMI output (ARC, eARC). So you have HDR, HLG, and Dolby Vision at 4K/60Hz (4:4:4) but not 8K. There is also a 3D Signal Pass-Through option. As for audio formats, the NR1510 decodes DTS HD Master surround sound, but no more. The receiver has Wi-Fi and Bluetooth, so Spotify, Deezer, and Pandora are available, and it works with AirPlay 2. But there is no Multiroom option, although you can stream music to other rooms via the built-in HEOS system. As you can see, it's a bit simpler than the NR1711 but also cheaper.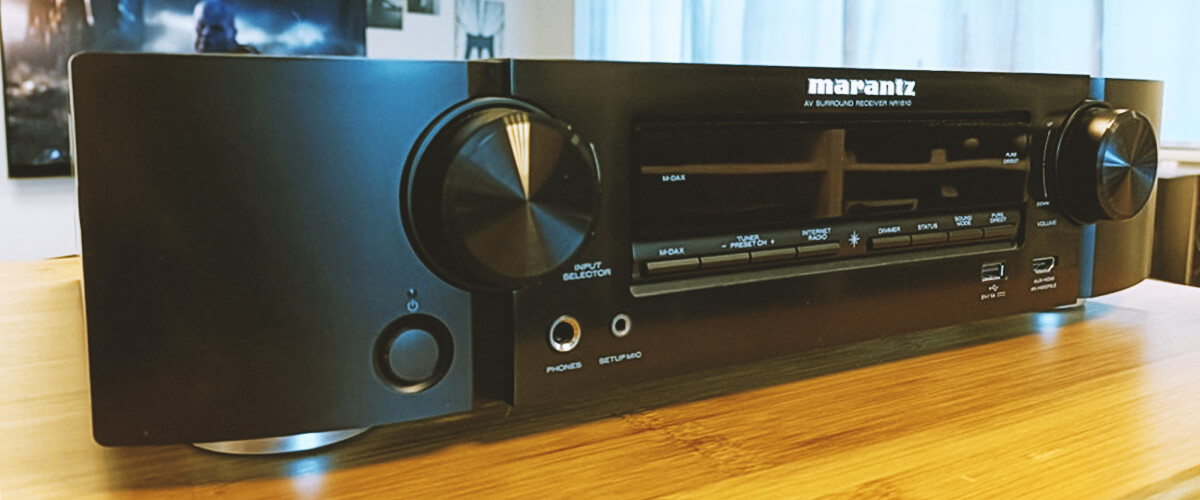 The model is not too powerful, offering you 50 W (8 ohms, 20 Hz – 20 kHz, 0.08% 2ch Drive) or 60 W (6 ohms, 1 kHz, 0.7% 2ch Drive), like all low-ranking Marantz representatives. Nevertheless, while making compromises in this area, the brand generally stays true to sound quality. When tested on Marvel's screening of Black Widow, every sound was crisp, and dynamic scenes sounded powerful and very high quality, with good lows. The Marantz NR1510 supports Hi-Res Audio, so I didn't fail to try it out, as did Spotify, and was very pleased. The sound is detailed, clean, and has good treble and midrange separation. Unfortunately, the receiver has no built-in radio, but you can listen to Internet joy TuneIn.
All in all, it is a great thin AV receiver for those who want to combine modern video content and listen to quality music for affordable money. So take a close look at it, and maybe this model will be your first step to creating an entry-level home multimedia system.
Key specs
Channels: 5.2.
Power output: 50W/8 Ohm, 60W/6 Ohm.
HDMI inputs/outputs: 6/1.
Video functions: 4K/60Hz pass-through.
Bluetooth/Wi-Fi: yes/yes.
Streaming services: AirPlay2, Deezer, Tidal, Pandora, SiriusXM, Napster, SoundCloud, Amazon Music, Amazon Music HD, Mood mix.
Supports: HDMI ARC, eARC, HLG, HDCP2.3, HDR10, Dolby Vision.
Surround sound: DTS HD Master.
Pros
Not a bad amount of connectivity for the small size and low price.
Availability of Wi-Fi and Bluetooth.
Built-in HEOS.
Support for some modern video formats, surround sound, and Hi-Res Audio.
Pure quality Marantz sound.
Cons
Not very powerful.
No radio.
Cambridge Audio AXR100 – stereo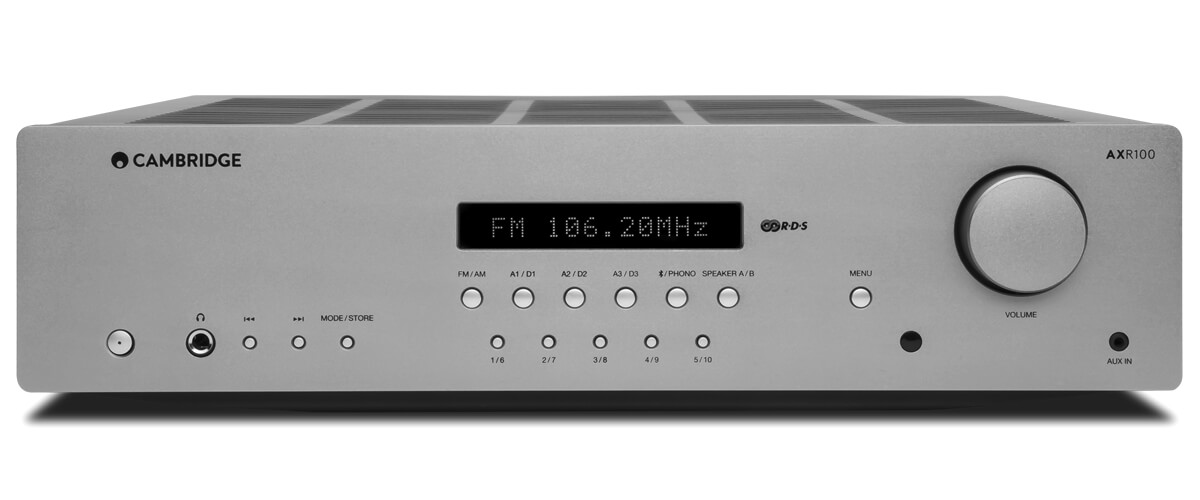 In 2019, a company with 50 years of experience released the Cambridge Audio AXR100 compact stereo receiver. Why is the 2-channel receiver on this list, you may ask? Because I want to present a model for those who appreciate the sound above all, and video formats, he is interested in the last place. In terms of its functions, the device may well be used as a home theater center.
First, it should be said that since it is a stereo receiver, it is not worth comparing it with other participants in this chart. I should note that for its rank, it costs a lot (the middle segment) and is a modification of the Cambridge Audio AXR85. Its dimensions are 4.3 x 16.9 x 13.4 inches, weighing 17.8 lbs. So in terms of its parameters, it is a slim profile.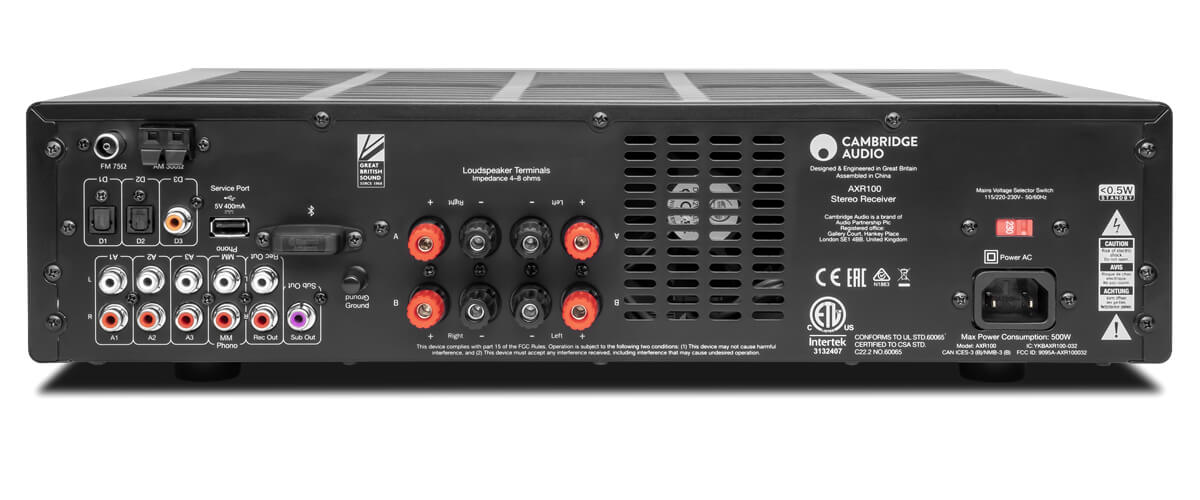 The AXR100 has 2 optical, 1 coaxial, and 3 analog RCA inputs. It allows you to combine it with outdated equipment and form a great TV audio system. Its phono input with MM configuration will allow you to connect a turntable, and it has a USB port, Aux-In, headphone input, built-in FM/AM tuner, and Bluetooth. But you're left without Wi-Fi. However, its main advantage is that the system can be equipped with two pairs of speakers and two additional subwoofers. So you get an awesome stereo system.
For obvious reasons, the Cambridge Audio AXR100 is more powerful than the previously introduced models, with a rating of 100 watts at 8 ohms. Still, reducing it by just 20% gives you an almost perfectly clean sound with a THD of 0.01% (1kHz). It results from the brand's long-standing reputation for "Great British Sound".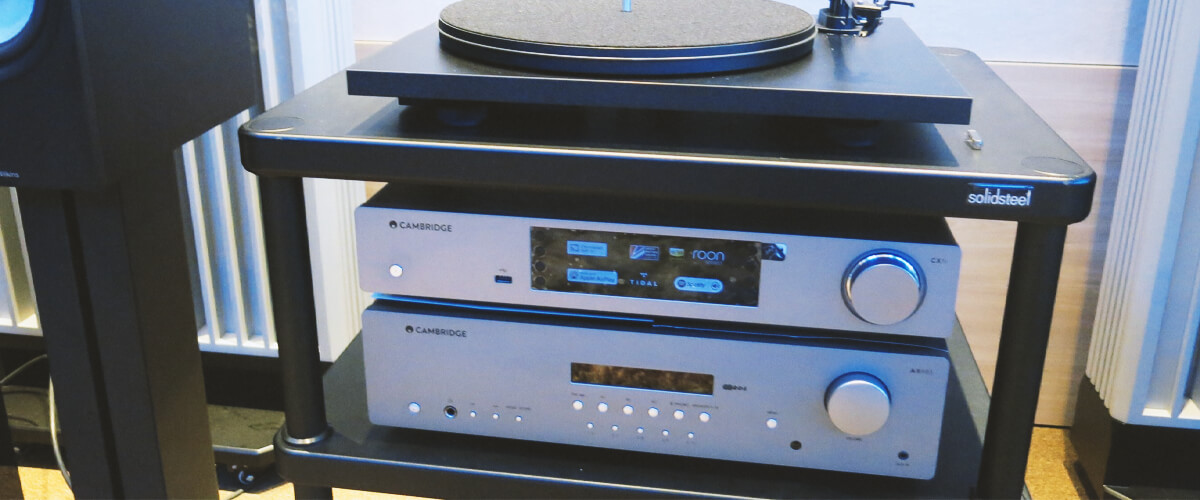 AXR100 is the audiophile stuff, no doubt about it. And quite tricky to set up, I must say. Those unfamiliar with the technology of such rank can be difficult at first.
The receiver sounds amazing. Crystal clear top along with deep fat bass. I expected a great sound when plugging the turntable, but it was superb!
I plugged everything in, and there was no doubt at any point – this is a cool device for those not chasing the sound volume but wanting a gorgeous stereo and a compact device. I believe that for the same price, it is still better to have a great stereo than a good enough AV receiver. But it's up to you.
Key specs
Channels: 2.1.
Power output: 100W/8 Ohm.
HDMI inputs/outputs: 0/0.
Video functions: has not.
Bluetooth/Wi-Fi: yes/no.
Streaming services: has not.
Surround sound: has not.
Pros
Great power and sound.
Connects to the TV.
Built-in preamplifier for advanced audiophiles.
Connect two pairs of speakers and a separate output for the subwoofer.
Bluetooth function for streaming services.
Built-in FM/AM tuner.
Cons
No built-in Wi-Fi.
Difficult to set up.
Marantz Cinema 70s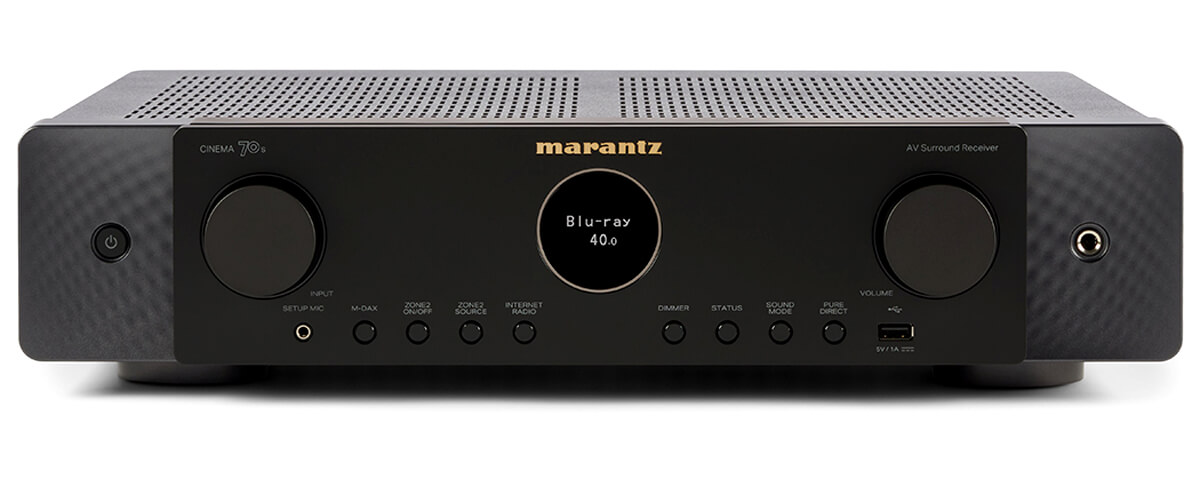 And another low-profile AV receiver from Marantz is the Cinema 70s. A mid-range representative, this 7.1-channel model is more expensive than its predecessors on this list and was introduced in 2022. It also features a unique design with a round LCD (like all Marantz mid- to high-end receivers) and stylish side inserts.
The Cinema 70s comes with the following connectivity options: 3 analog inputs, 1 each digital optical and coaxial, USB, phono input for players with a MM cartridge, and 6 HDMI inputs (8K/60Hz, 4K/120Hz, HDCP 2.3) and 3 HDMI outputs (Arc, eARC, HDCP 2.3). It supports HLG, Dolby Vision, HDR10+, and Dynamic HDR formats and improves video quality from 1080P/4K to 8K thanks to HDMI Upscaling. Of course, you should have expected audio formats, including DTS:X, DTS HD Master, Dolby TrueHD, Dolby Atmos Height Virtualization, and more.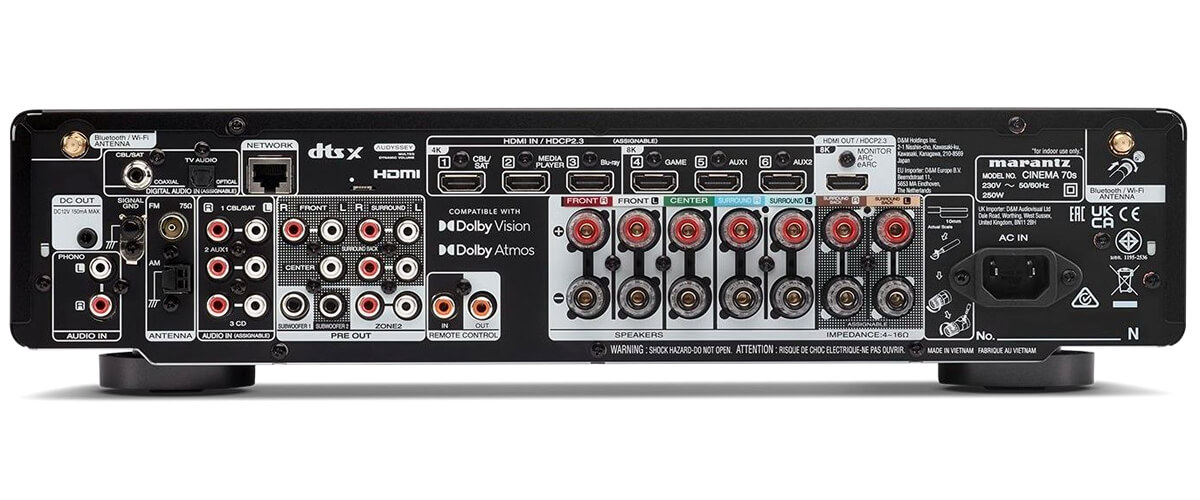 The receiver provides 2 Zone Multiroom sharing, wireless ecosystem creation (HEOS), voice assistants (Alexa, Google Voice Assistant, Apple HomePod), streaming services, and Internet radio. It's not hard to guess that it has Wi-Fi, Bluetooth, and an AM/FM tuner. It is an order of magnitude superior to the Marantz NR1510 and Marantz NR1711, a modern device supporting almost all existing audio and video formats. So make sure your TV is ready for it.
All that's left to say about its sound, which, as it's also easy to guess, is simply superb and in keeping with the brand's consistent quality. Watching No Time To Die from the latest Agent 007 franchise thrilled me, making me dodge objects flying off the screen. The sound is three-dimensional, realistic, and smooth, transitioning from speaker to speaker in Dolby Atmos mode, immersing the viewer completely in the film.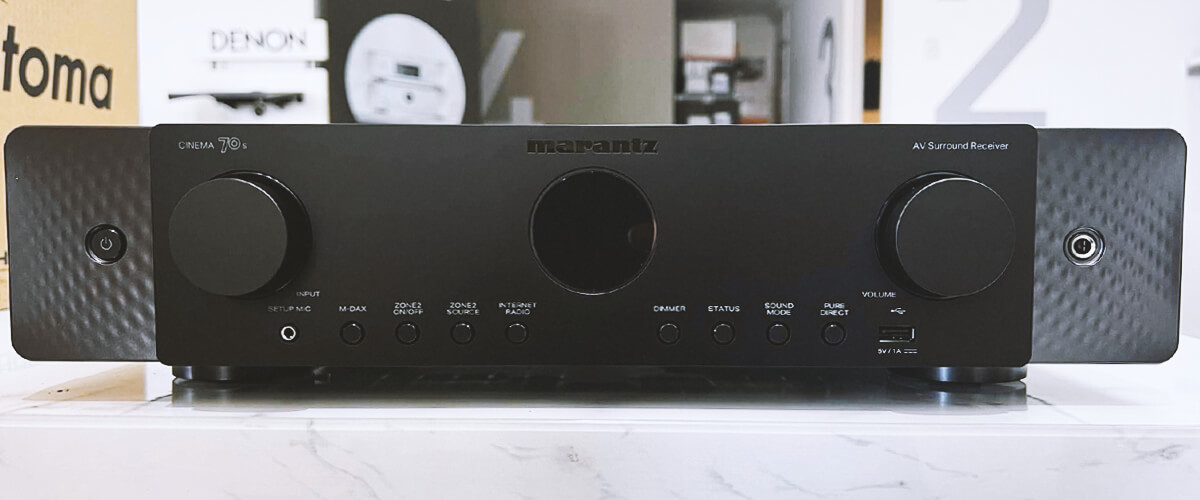 I also tried the vinyl record player with Queen, Deezer, and radio, and the Cinema 70s gave off clean tops and thick lows, leaving me extremely satisfied. The only compromise the manufacturer made was the power. It is as low as two other Marantz from my list: 50 W (8 ohms, 20 Hz – 20 kHz, 0.08% 2ch Drive) and 70 W (6 ohms, 1 kHz, 0.7% 2ch Drive). I can honestly say that I was satisfied with the power; I don't see the point of having windows flying out of the house. But it's important if you're counting on a monster system.
Marantz Cinema 70s is a great modern receiver that can add great sound and a lot of cool extras to its small size!
Key specs
Channels: 7.2.
Power output: 50W/8 Ohm, 70W/6 Ohm.
HDMI inputs/outputs: 6/1.
Video functions: 4K/120Hz, 8K/60Hz pass-through, HDMI Upscaling to 8K.
Bluetooth/Wi-Fi: yes/yes.
Streaming services: AirPlay2, Deezer, Tidal, Pandora, SiriusXM, Napster, SoundCloud, Amazon Music, Amazon Music HD, Mood mix.
Supports: HDMI ARC, eARC, HLG, HDCP2.3, HDR10+, Dynamic HDR, Dolby Vision.
Surround sound: DTS HD Master, DTS Neural:X, Virtual:X, Dolby TrueHD, Dolby Surround, Dolby Atmos Height Virtualization, Dolby Atmos.
Pros
Awesome design with easy controls.
Support for almost all modern audio and video formats.
Upscaling from 1080P/4K to 8K.
Wi-Fi and Bluetooth features allow you to work with all streaming services and voice assistants.
2 Zones Multiroom and HEOS.
Excellent surround and stereo sound.
Compact AV receiver buying guide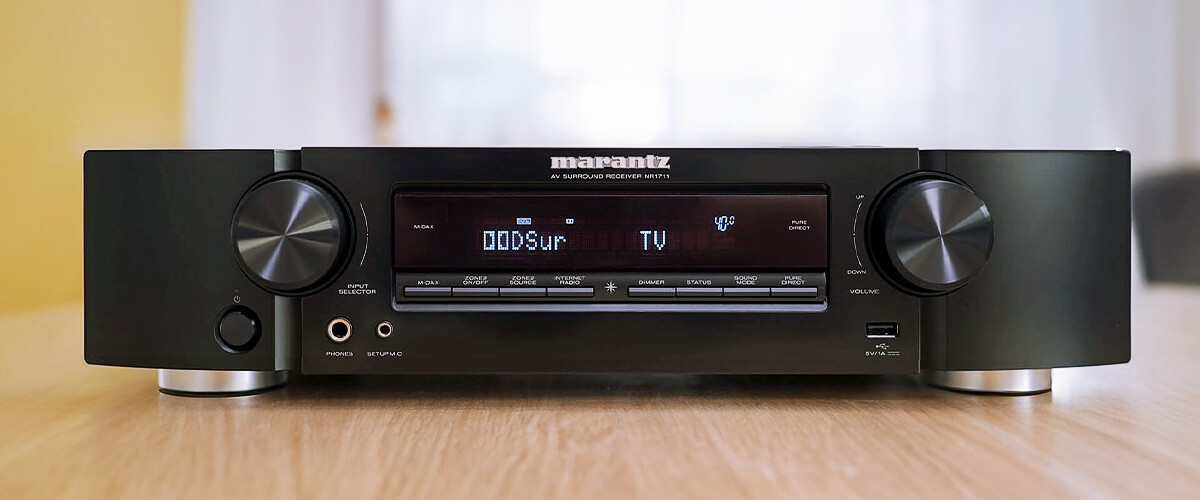 Multi-channel vs. compact stereo receiver
Multi-channel receivers are designed to create a home theater system. They allow you to connect from 5 to 13 speakers, creating a real surround sound experience. These receivers have many connections and are optimized for transmitting and decoding modern video and audio (surround sound) formats from media or services. Usually, they don't provide clear audio for stereo (at least if we're talking about receivers in the same price category).
You should buy a stereo receiver if your goal is purely audio quality. Such a device has only two amplifiers with a two-channel configuration (left and right speakers), but it is exactly what you need for music. It does not allow you to improve your video content because it can only have analog inputs, but your audiophile needs will be fully satisfied.
Receiver power
I believe power is not the most important criterion when choosing a receiver. But if it is important for you, consider the stated values before buying. And remember that compact receivers usually have fewer than full-size ones.
Your choice of power depends on the size and type of your room. If you're buying a receiver for your home or installing a home theater in a large room, there are simply no power limits. Just your eardrums. In an apartment with small rooms, a less powerful receiver will do (take pity on the neighbors).
Notwithstanding the above, it is fair to say that movies have many soundtracks that are recorded at different volumes, and to avoid distortion, blurring, and mixing, it's worth building a good power system.
I would also point out that the manufacturers only specify power for two channels, which is odd for an AV receiver with five or more channels. I would advise looking better at the THD value, which determines the clarity of the sound at that same power. What is the point of listening to something loud but dirty and shapeless instead of quiet but clear and detailed?
Ports and connectivity
When you choose a receiver with surround sound support, there is no such thing as "many ports and connections". An AV receiver will serve you for many years (ideally) and should support a maximum of modern formats and streaming services, work with voice assistants and integrate with other devices. So probably the most important will be HDMI ports (at least 4), their configurations, and wireless options. Also, keep in mind what equipment you have implied to combine into the system and consider the inputs for it (you may have quality legacy equipment, game consoles, a Blu-ray player, a vinyl player, etc.).
For a stereo receiver, the most important input is probably the phono input for connecting a turntable to take the level of realistic analog sound to a whole new level for you.
Prevent the low-profile receiver from heating up
One of the most important things about working with a receiver is to protect it from overheating during operation because it has a heat output like any other piece of equipment. And when it comes to a low-profile receiver, it is more susceptible to overheating than a full-size receiver. In the end, this can lead not only to a breakdown but also to a fire. Taking care of your receiver will allow you to use the unit for years rather than having to replace a failed unit while complaining about the manufacturer. It's not his fault (often).
The most common cause of overheating is owners putting their receivers in special cabinets or enclosed shelves. Make sure the warm air has somewhere to go. You need to provide heat removal or ventilation, but placing your receivers in an open space is better.
It's enough to monitor the receiver's performance. And if it starts overheating more often than before, try contacting a service center. Perhaps the problem will be solved by replacing some worn parts. In addition, some modern units are equipped with a heat sensor and turn off the receiver if the temperature has risen above the permissible level.
FAQ
Can I put my AV receiver in a cabinet?
Of course, you may put the AV receiver in a cabinet. It saves a lot of space and looks aesthetically pleasing. But I strongly recommend that you ensure enough space around the receiver for adequate ventilation.
How much ventilation does a receiver need?
Experts recommend leaving 2 or more inches each on the top and sides of the receiver. In this way, you will prevent the device from overheating during prolonged operation or at high volumes. They often use external fans as well.
Is it normal for my slim receiver to get hot?
Yes, it's normal that your slim receiver gets hot. Overheating during long operations happens even with devices of standard sizes, where the internal electronic components are not as compact as in narrow ones. On average, the temperature of an operating AV receiver should be between 30 and 90 degrees Fahrenheit.
We are supported by our audience. When you purchase through links on our site, we may earn an affiliate commission at no extra cost to you.
Our newsletter
* We will never send you spam or share your email with third parties