To create a home audio system, you need several components, but undoubtedly its basis is the receiver. And it is necessary to pay maximum attention to its choice. In this article, I presented you with a selection of the best stereo receivers, which differ in price and features, but offer the main thing – quality sound.
Our pick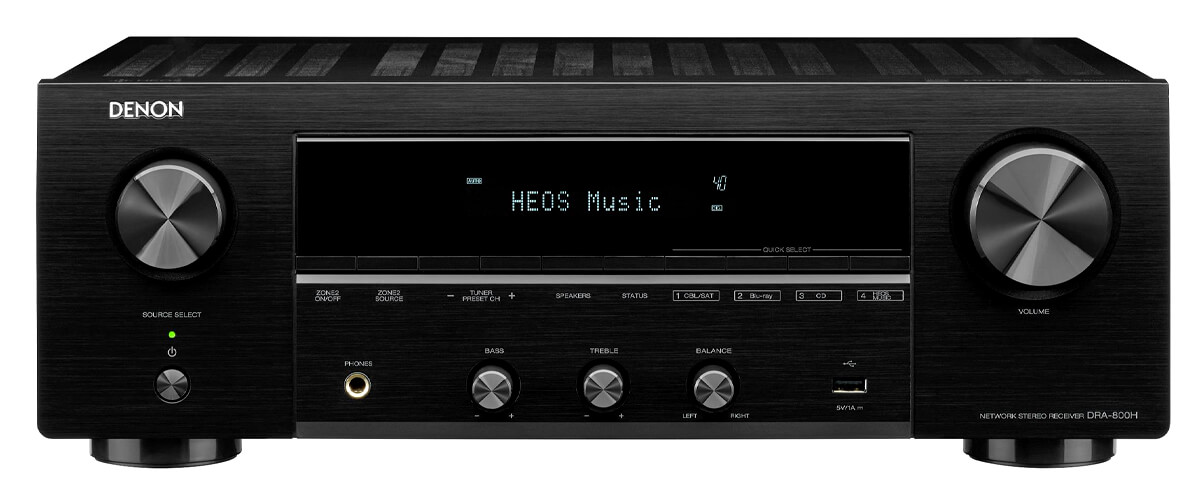 Denon DRA-800H
Best stereo receiver
The Denon DRA-800H stereo receiver has a built with Hi-Fi amplifier seamlessly integrates with the latest Hi-Res audio, voice control, and AV receiver 4K Ultra HD HDMI technologies.
Read the full review
.
Stereo receivers can't provide surround sound like in the cinema, but you don't need it for listening to music. This article is rather intended exclusively for audiophiles. Essentially, a stereo receiver is an amplifier that divides the sound into two channels, which takes listening to music to a whole new level. But today, its capabilities are not limited to this function, offering many features that will help you create a high-end audio system, expand the use of different sources and services, and some even include options for watching movies of high quality. In doing so, you save a lot of space.
It's also worth noting, for skeptics, that no feature-rich wireless speaker will give you the level of sound you can achieve with a real stereo system. So, whether you want to listen to music in digital formats from various media or streaming services, prefer analog realistic "concert-like" sound using a vinyl player, or like to listen to the radio and don't accept compromises, you need a stereo receiver. All in all, if you are looking for the best 2-channel receiver, you have come to the right place. Here you can find models of different production years, costs, power, and complexity devices for all tastes. Let's go!
Stereo receiver comparison table
Name
Channels
Power output
HDMI in/out
Bluetooth/Wi-Fi
Review
Denon DRA-800H

best overall

2.2
100W/8 Ohm, 120W/6 Ohm
5/1
yes/yes
Review
Marantz NR1200

also great

2.2
75W/8 Ohm, 100W/6 Ohm
5/1
yes/yes
Review
Sony STRDH190

budget

2.0
100W/8 Ohm
0/0
yes/no
Review
Best stereo receiver reviews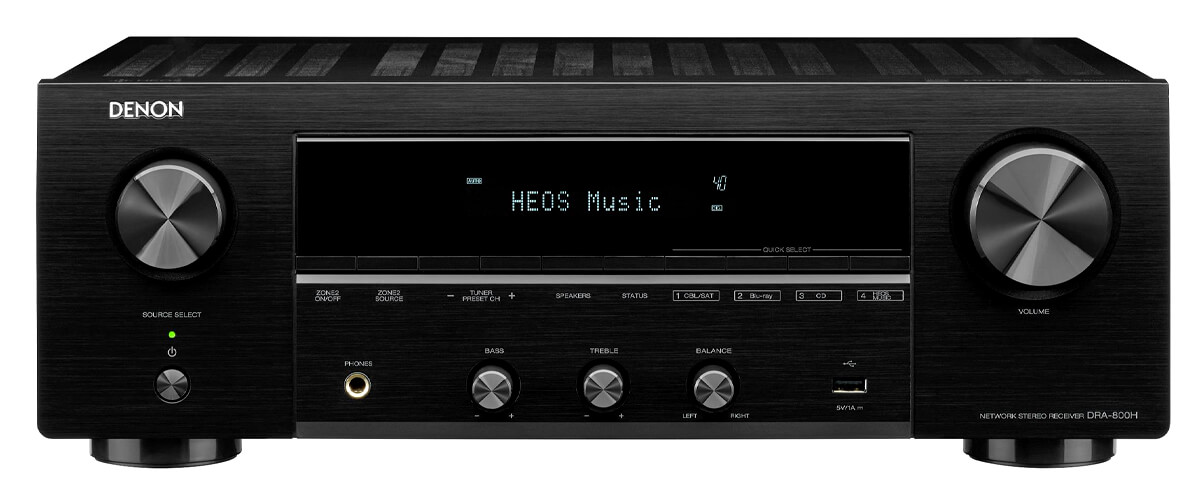 The Denon DRA-800H, released in 2019, opens my list. Its ergonomics, user-friendly design, excellent price/performance ratio, and some AV receiver features, but most importantly, high-quality sound, make it the best stereo receiver on this list!
This receiver can offer you a wide range of connectivity options, including digital optical and coaxial inputs for legacy equipment; a phono input for your vinyl player, USB, and 5 HDMI Inputs and 1 HDMI Output (ARC) supporting 4K Capability and HDCP 2.3. Built-in features allow you to support HDR10 video, HLG, 4:4:4 color resolution, and the latest audio formats, so you can easily add a DVD, Blu-Ray player, CD player, game console, and more to your system. In addition, it has Wi-Fi and Bluetooth wireless connectivity, as well as Denon's built-in HEOS system for using streaming services like Spotify, Deezer, Tune In, and more, as well as a built-in radio tuner. The Denon DRA-800H has four audio speaker terminals (right and left) and two subwoofer outputs.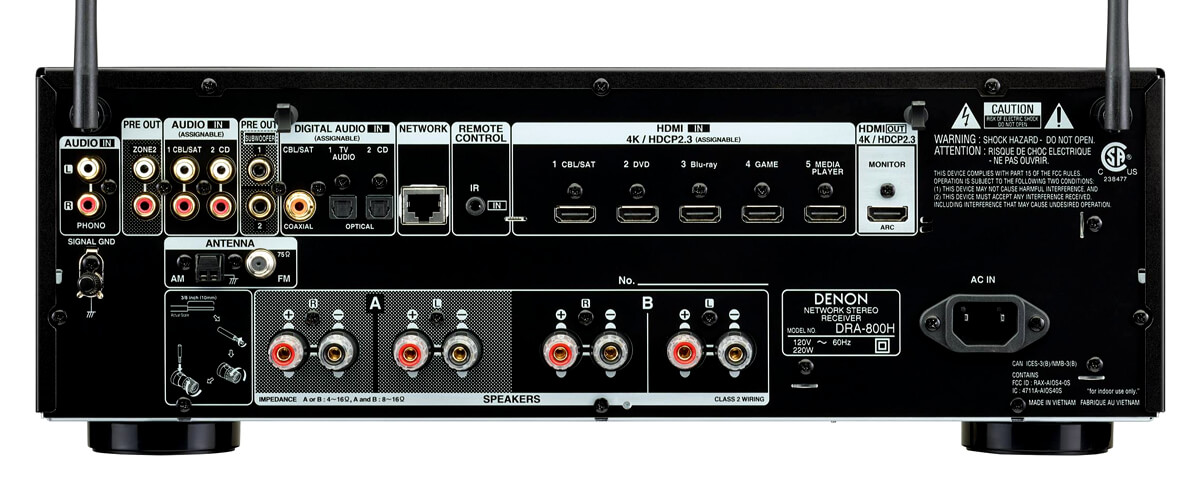 The most similar to this model is the Marantz NR1200 two-channel receiver, which I will consider next. But ultimately, your choice, including between them, will come down to whose unique sound you prefer because each brand differs in this area.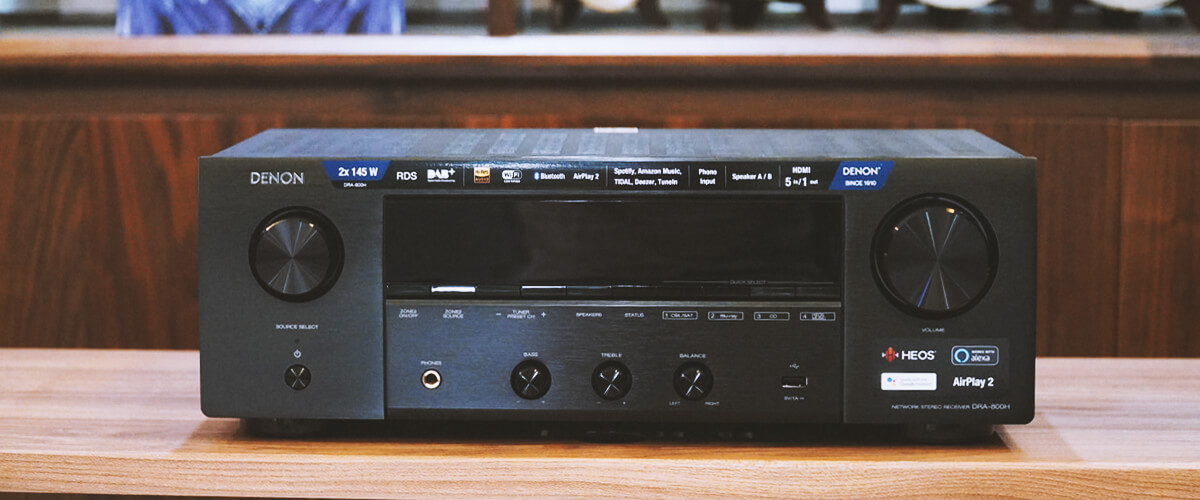 As far as sound is concerned, the pretty serious power of the DRA-800H is worth mentioning for starters. It's 100 W (8 ohm, 20 Hz – 20 kHz, 0.08% 2ch Drive) or 120 W (6 ohm, 1 kHz, 0.7% 2ch Drive). I should say right away that I didn't turn the volume to maximum because I care about my health. But even not at maximum volume sounds very powerful, fat, and high quality. It would help to understand that the sound depends on the receiver and other system components. So, I listened to the music from the turntable with the Guardians of the Galaxy: Vol.2 recording, which was beautiful. The sound is very realistic, warm, clear, and rich in detail, separating the musical instruments well at different frequencies. And not to go into too much detail, I will say that the experience of listening to Spotify and FM radio also left me thrilled. This receiver is a superb choice for those who appreciate quality and love music. A well-deserved first place!
Key specs
Channels: 2.2.
Power output: 100W/8 Ohm, 120W/6 Ohm.
HDMI inputs/outputs: 5/1.
Video functions: 4K/60Hz pass-through.
Bluetooth/Wi-Fi: yes/yes.
Streaming services: AirPlay2, Deezer, Tidal, Pandora, SiriusXM, Napster, SoundCloud, Amazon Music, Amazon Music HD, Mood mix.
Supports: HDMI ARC, HLG, HDCP2.2, HDR10.
Surround sound: has not.
Pros
A modern model that supports modern technologies.
High-quality analog sound.
Wireless connection without interference.
Lots of connectivity options.
Options to support high-quality video.
Supports the newest audio formats.
AM/FM radio built-in.
2 Subwoofer outputs.
Cons
During the testing, I did not find any disadvantages.
Marantz NR1200 – also great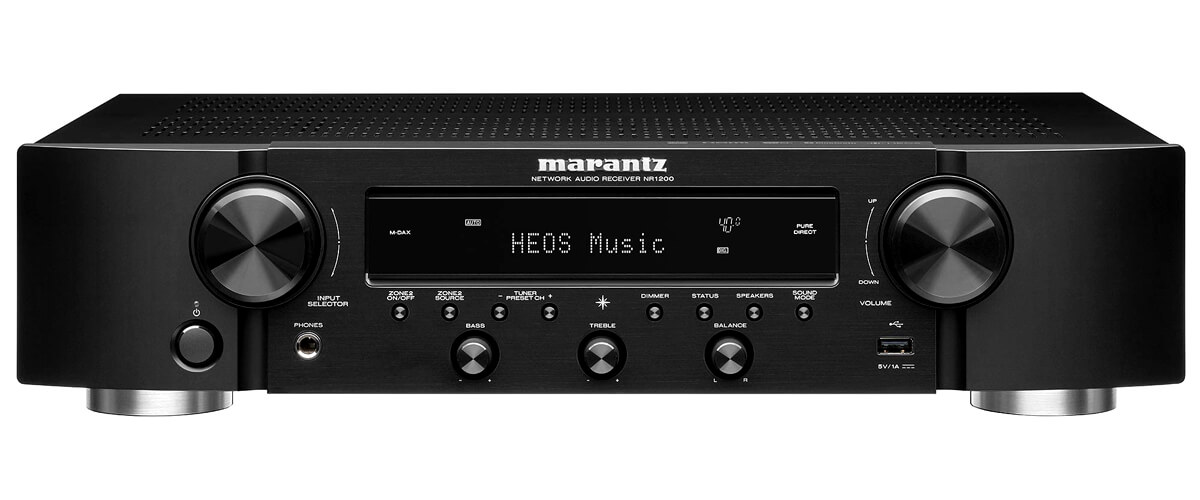 The next model on my list is for prestige lovers. And this is the high-end stereo receiver Marantz NR1200 – the main competitor to my leader. This model was also introduced by the brand in 2019 and therefore is a modern device with support for many formats, an excellent set of connection options, and high sound quality.
This model is in many ways similar to the Denon DRA-800H, although it is slightly more expensive. Perhaps the most striking difference is the design and sound's specifics, so I suggest you study both receivers of competing brands in more detail to make the right choice.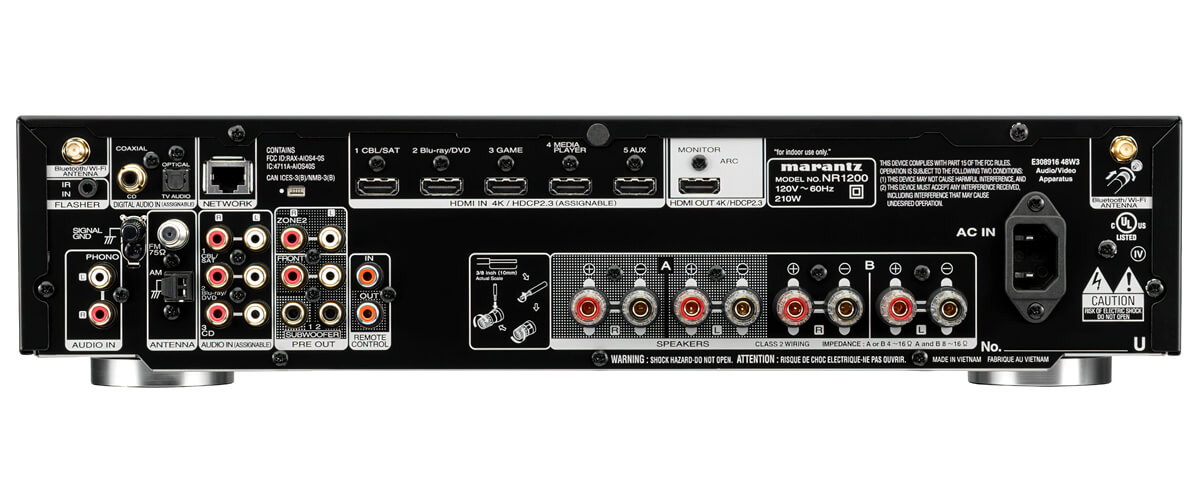 So, this is a thinly profiled stereo receiver with an interesting design that, thanks to its size, you can fit anywhere. But don't be fooled by its compactness. Its connectivity set consists of coaxial and optical inputs for older equipment (digital), Audio-In for CD and Blu-ray DVD, a phono input for turntable connection, and 5 HDMI inputs (including support for 4K and HDCP 2.3) and HDMI output (ARC). 4K 60Hz 4:4:4 resolution, 3D Signal Pass-Through, HDR10 and HLG are supported. You'll also find a USB port, headphone input, Ethernet input, and two subwoofer outputs.
Also, wireless Wi-Fi connection, Bluetooth, built-in HEOS, with which Spotify, Deezer, TIDAL, Pandora, etc. are available, and AirPlay 2 Audio Streaming and TuneIn Internet Radio support. Unlike the Denon DRA-800H, the Marantz NR1200 has no AM/FM radio.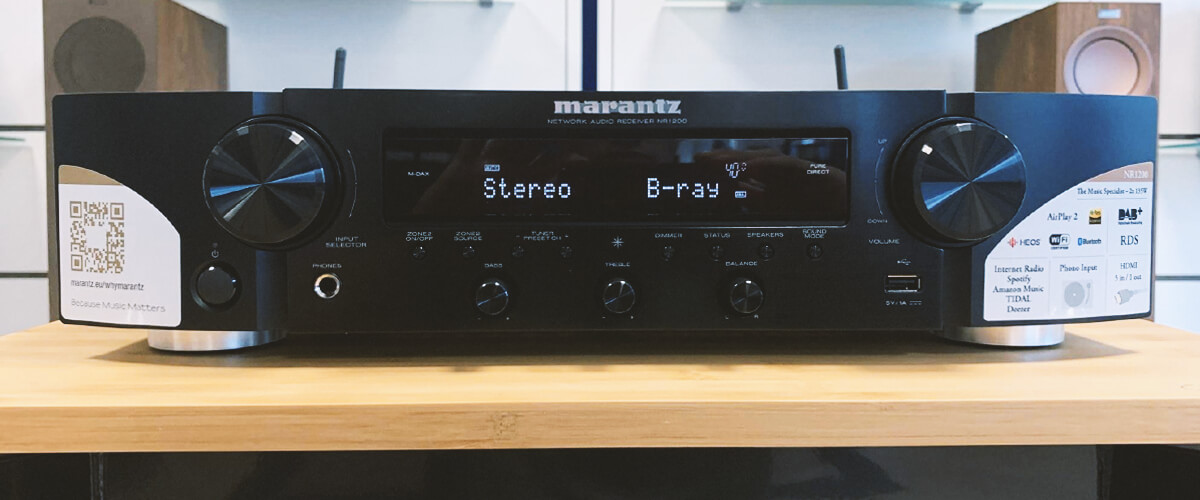 The NR1200 is slightly inferior to the DRA-800H in terms of claimed power, offering 75W (8 Ohms, 20Hz – 20kHz, 0.08% 2ch Drive) or 100W (6 Ohms, 1kHz, 0.7% 2ch Drive). During my testing, I tried everything: Deezer, TuneIn, AirPlay 2, vinyl player, and CD player, and everywhere the receiver performed more than decently. The sound is of high quality; the bass lines are deep and fat (and two subwoofers do their job), and the high frequencies when listening to classical music are clear and natural. Considering the quality, the Marantz is an excellent choice if you don't mind paying more.
Key specs
Channels: 2.2.
Power output: 75W/8 Ohm, 100W/6 Ohm.
HDMI inputs/outputs: 5/1.
Video functions: 4K/60Hz pass-through.
Bluetooth/Wi-Fi: yes/yes.
Streaming services: AirPlay2, Deezer, Tidal, Pandora, SiriusXM, Napster, SoundCloud, Amazon Music, Amazon Music HD, Mood mix.
Supports: HDMI ARC, HLG, HDCP2.3, HDR10.
Surround sound: DTS HD Master, DTS Neural:X, Dolby TrueHD, Dolby Surround, Dolby Digital Plus, Dolby Atmos Height Virtualization, Dolby Atmos, Auro-3D, IMAX Enhanced, Multichannel stereo.
Pros
Realistic, clean analog sound.
Streaming services worked without interference.
Good sound power with good deep lows.
Wide range of wired and wireless connectivity.
Options to support high-quality video.
Supports the newest audio formats.
2 Subwoofer outputs.
Cons
Minor interference was heard at maximum volume.
No AM/FM radio.
Sony STR-DH190 – budget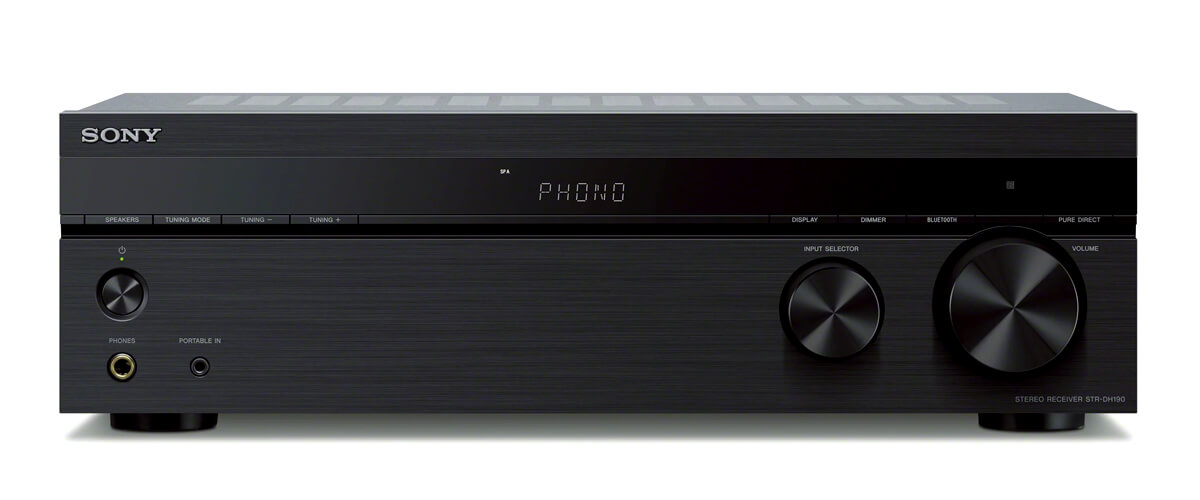 I present to you the best budget stereo receiver – model Sony STR-DH190, released for the first time in 2018. This stylish two-channel receiver is really popular because of its price and optimal set of features.
This model is not super-powerful, but it will do for a small room (the manufacturer's declared power is 100 W (8 ohms, 1 kHz, THD 1%)), and the only thing you should pay attention to is speaker compatibility. The STR-DH190 overheats when working with low-impedance speakers for a long time, although its compatibility range is wide (6-16 ohms). So be careful. Anyway, you can connect two sets of speakers to it and switch between them using the terminals on the back panel, so you can easily connect a subwoofer and other speakers.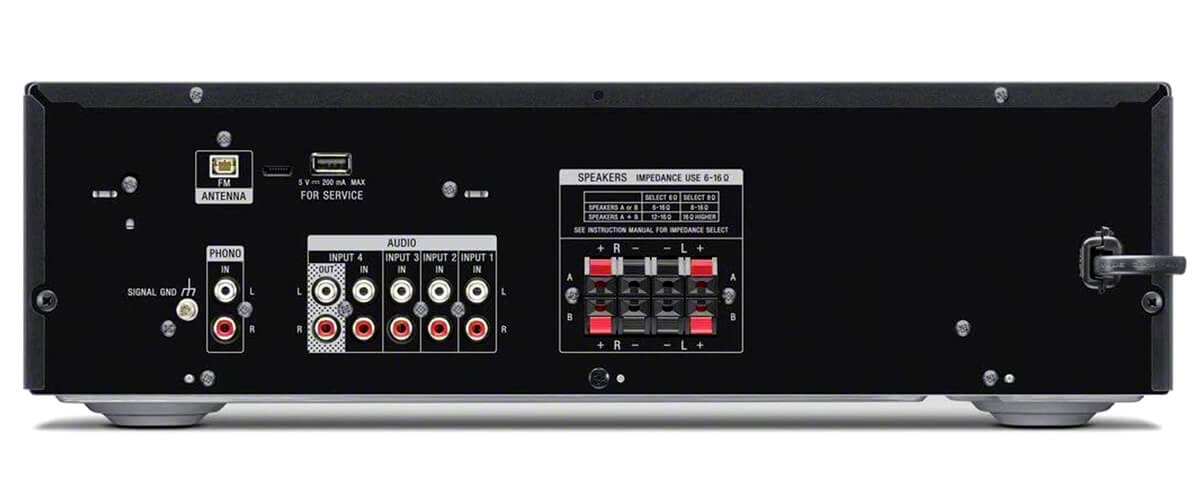 As for the connectivity options, everything is very simple. The receiver has 4 Analog Audio Inputs, 1 Phono input, Headphone Output, and USB. It is designed exclusively for music and nothing else, so there is no HDMI input (but you can connect a TV or game console with an adapter), no Wi-Fi, and Ethernet. But you can connect music devices (including a vinyl player) or use Bluetooth (with a Stand-by option) for wireless connection. It also has a built-in FM antenna.
On my list, the Sony STR-DH190 is only similar to the Yamaha RS-202. Although they have differences, which I will tell you about in the next section, where you will just read a review of the RS-202.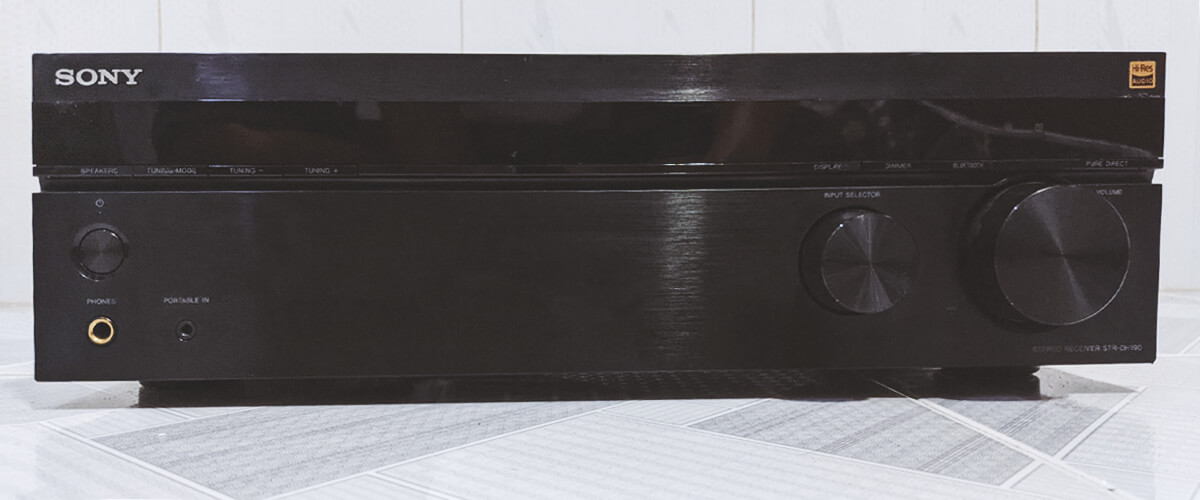 In order for you to appreciate the sound of this receiver, it is necessary to remind you of its low price. So, of course, you should not expect incredible power or clarity at high volume from it, but at medium – it sounds very good and without interference. The STR-DH190 fills a small room perfectly, sounding detailed and balanced. On headphones, the sound is amazing! I even listened to the radio and was extremely pleased. And the sound of the vinyl player with a The Beatles record caused me to rave. So I confidently say this is the best stereo receiver under $200.
Key specs
Channels: 2.0.
Power output: 100W/8 Ohm.
HDMI inputs/outputs: 0/0.
Video functions: has not.
Bluetooth/Wi-Fi: yes/no.
Surround sound: has not.
Pros
Compatible with speakers of all ranks (6-16 ohms).
Good deep bass.
The presence of Bluetooth and FM radio.
The presence of phono input for vinyl record player.
Cons
No Wi-Fi.
Overheats during prolonged operation.
Yamaha R-S202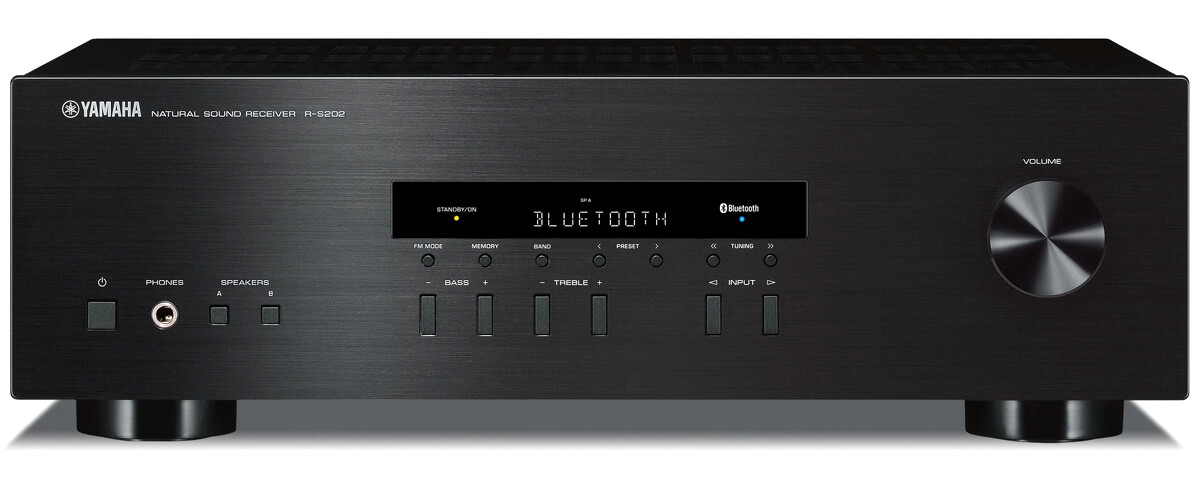 This list couldn't be without a Yamaha representative, and that's the RS-202 home stereo receiver for music. This model was released in 2016, but it is not outdated because it performs the most important function – it provides quality sound amplification. It is quite popular among fans of Yamaha equipment (and not only) for its low price and unique brand sound.
Made in a minimalist design with simple and easy operation, this stereo receiver is equipped with acoustic terminals for two systems, which allows you to connect and control two sets of speakers, including subwoofers, just like the Sony STR-DH190. But just unlike STR-DH190, Yamaha RS-202 has no phono inputs, so that you can connect a turntable via Line In, but you will need an external preamplifier (or vinyl player with a built-in one). You will also find a headphone input and Bluetooth to stream music from your smartphone. And the built-in AM/FM tuner lets you register up to 40 stations.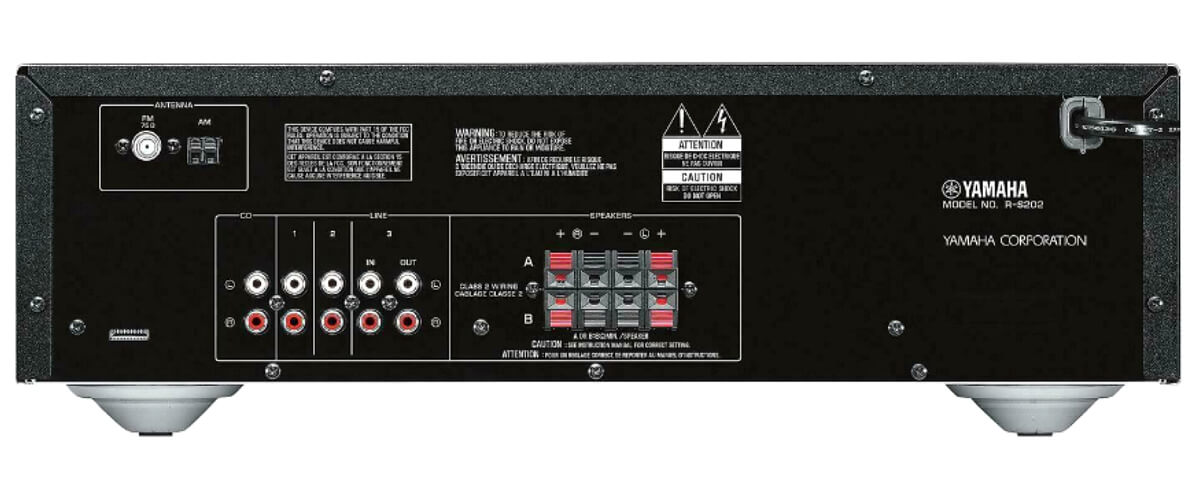 The Yamaha RS-202 claims a high power output of 125 watts (8 ohms, 40 Hz – 20 kHz, 0.2% THD), but it's not all so clear-cut. If you were looking for clean amplification without any gimmicks at an affordable price, this is it, but only if you live in an apartment. In a house, it won't do much good. Also, some users note that the receiver knocks out at maximum volume. It did not happen with my sample, but I should mention that.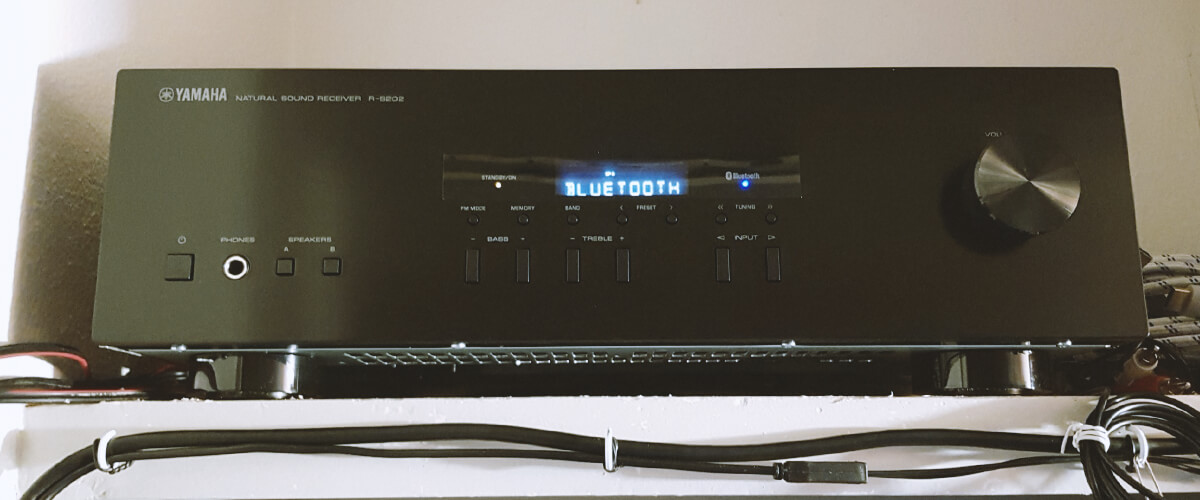 Nevertheless, its overall sound is very decent. I have a good external preamp for the turntable, so I was left thrilled with the analog sound. But I'm already familiar with the somewhat cold Yamaha sound, and it's a fan favorite. If you omit that point – everything was clear, crisp, and detailed, causing me no questions. The wireless connection was seamless, and the automatic radio station search quickly set up the system. This stereo receiver deserves to be on this list for its Yamaha quality, clear sound, and ease of operation for a fair price.
Key specs
Channels: 2.0.
Power output: 125W/8 Ohm, 150W/6 Ohm.
HDMI inputs/outputs: 0/0.
Video functions: has not.
Bluetooth/Wi-Fi: yes/no.
Streaming services: has not.
Surround sound: has not.
Pros
Extremely easy to use.
Ability to connect two pairs of controlled speakers.
AM/FM tuner with 40 stations.
Bluetooth for streaming services.
Decent clear sound with power for small & mid rooms.
Cons
No Wi-Fi.
Possible problems when using maximum volume.
Cambridge Audio AXR100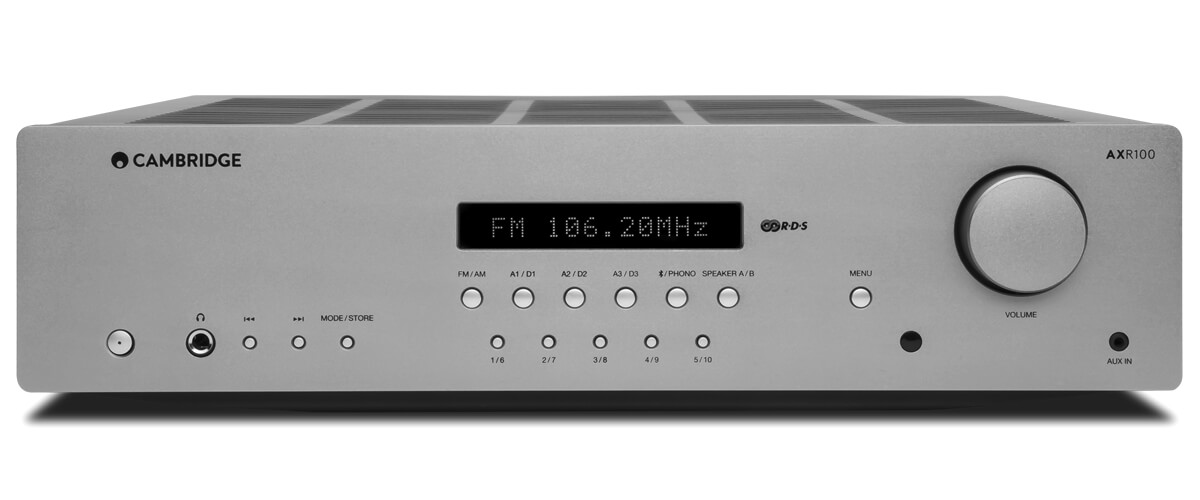 Last but not least on this list is the Cambridge Audio AXR100 stereo receiver. This model was introduced by a company with 50 years of experience in 2019 and is the senior model in the AX series.
I wouldn't compare it to the receivers on this list but rather put it on a separate notch, as despite its high price, it doesn't offer the features of AV receivers. Still, it stands several notches above the stereo receivers reviewed above. Rather, it is an advanced version of the AXR85 of the same Cambridge Audio brand.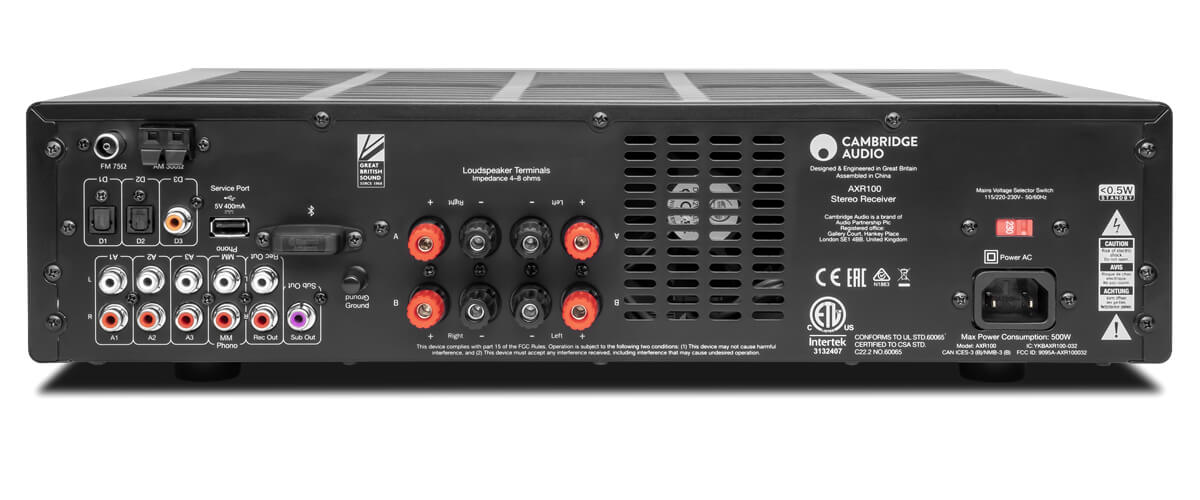 First, it's a stereo receiver with a separate subwoofer output. It allows you to form a system with two pairs of speakers without using them for bass to use as a mini cinema. It also has one coaxial and two fiber optic inputs, three sets of analog RCA inputs, a recording output, and a phono input for the advanced audiophile (it allows you to connect high-end turntables using MM cartridges). You'll also find a USB port, Aux-In, headphone input, and a built-in FM/AM tuner with auto preset, separate for each frequency, and Bluetooth. In general, everything that a true audiophile needs.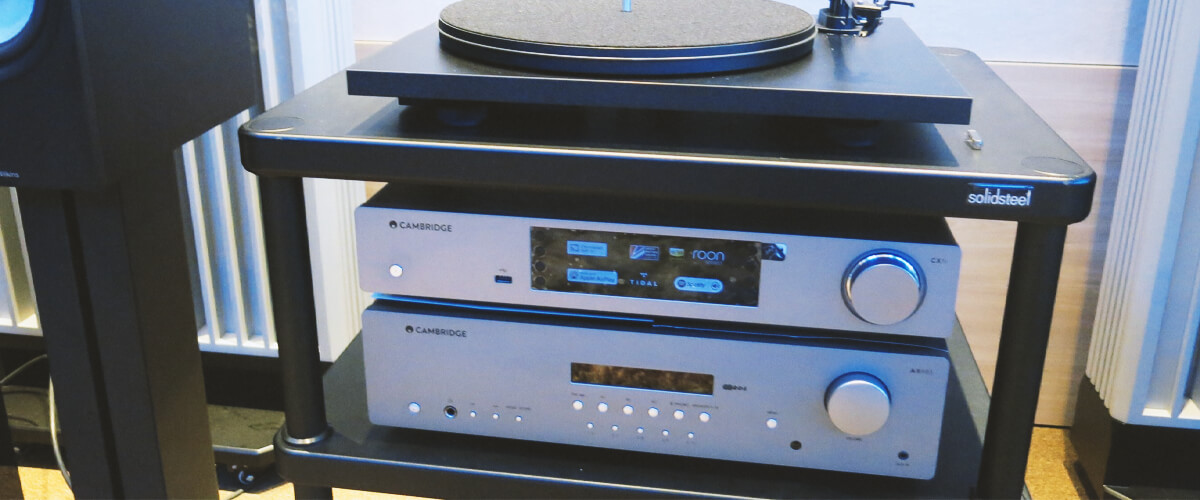 The manufacturer's stated power is 100 watts at 8 ohms, but if you use 80% of the power, you can get just amazing THD (0.01%, 1kHz). Cambridge Audio considers it its duty to ensure the promotion of the "Great British Sound", which implies the natural delivery of the author's intent, unadorned. Well, I have seen from my own experience that the sound of the AXR100 is excellent! It is really made for music connoisseurs, considering its price. The sound is clear and clean, as if you were at a concert, and that's what you should expect from high-end audio equipment. When every instrument is heard, they all sound in a single stream of melody. The only thing I would draw your attention to is not about the sound; there are no questions about it after using the turntable, CD player, and radio, but about the controls: it can be tricky for beginners as setting the EQ frequencies. Also, the receiver goes into standby too quickly, which you can't change.
Key specs
Channels: 2.1.
Power output: 100W/8 Ohm.
HDMI inputs/outputs: 0/0.
Video functions: has not.
Bluetooth/Wi-Fi: yes/no.
Streaming services: has not.
Surround sound: has not.
Pros
Great power and sound.
Built-in preamp for advanced audiophiles.
Separate subwoofer output.
Bluetooth function for streaming services.
Built-in FM/AM tuner.
Cons
No built-in Wi-Fi.
Difficult to set up.
Goes into standby mode too quickly.
Stereo receiver buying guide
Built-in AM/FM tuner
Radio is considered by many audio users today an important component of modern life. You don't have to be distracted by it to select a particular track while listening to quality music and minding your business. So when choosing a stereo receiver, pay attention to the presence of an FM/AM antenna. Modern receivers mostly have built-in radio tuners, which are easy to find from the device's manual or by looking at the back panel; usually, there is a mark (sticker).
Bluetooth and Wi-Fi connectivity
We live in a modern world, and many quality music sources exist today. Wi-Fi and Bluetooth in the receiver allow you to use your devices, such as a smartphone or tablet, to stream Spotify, Pandora, Deezer, TuneIn, and other streaming services. In addition, you'll often find built-in systems like HEOS, MusicCast, Chromeсast, Apple AirPlay 2, and DTS Play-Fi in receivers with Wi-Fi, so you can create ecosystems in your home to stream music in different rooms or even put up a separate speaker for the street. And you can also connect Amazon Alexa, Alice, Google, or Siri voice assistants. With Bluetooth, you can also listen to music using wireless headphones or wireless speakers.
Receiver inputs and outputs
One of the most important aspects of every receiver is its inputs and outputs, which ultimately determine what your home system will consist of. They come in analog and digital, and I'll describe their basic purpose here.
Analog inputs can include optical, coaxial, composite, and component inputs. They are mostly used for older equipment that doesn't support modern formats. But if you like to keep quality equipment and media to it, these can be important connections. Also included here are RCA inputs for connecting CD players or cassette decks, and the presence of a phono input denotes the presence of a phono stage. You can also often find Line In and Aux inputs, through which you can connect a turntable. However, using an external preamplifier and balanced input for XLR cables will allow you to enjoy the analog sound without interference.
The analog outputs are a set of jacks for the speakers. Also, if you want more bass and bass, you should consider the subwoofer outputs. They will make listening to music or watching a movie more intense. And, of course, you should not forget about the headphone jack. What if you want to dive into the world of music all by yourself? Line outputs also allow you to create a multi-room system.
As for the digital inputs, they come down to USB and HDMI. For USB ports, it is important to pay attention to their configuration because this determines what you can use them for. Sometimes it's just a charging port for your external devices, but more often than not, they allow you to play content from a source. As for HDMI inputs and outputs, there can be many in the receiver of them. They allow the receiver to support high-quality video content, so familiarize yourself with their functionality in detail.
Less common is the Ethernet output for streaming content. And sometimes, there are optical and coaxial digital inputs designed to transmit sound from TV and gaming consoles.
How much money should I spend on a stereo receiver?
If you build your own audio system, you should understand that the stereo receiver is its "heart", its foundation. Of course, the final result will depend on each component and how they interact, so you should start by choosing speakers, but your next step is the receiver.
A stereo receiver doesn't have to be expensive since it's not as sophisticated as an AV receiver and doesn't have the options to support the video and surround audio formats available today. So the price range ranges from $150 to $1,000. Although, of course, you can find models that are very, very expensive. But these are cool audiophile devices for real connoisseurs.
The cost of a stereo receiver depends on several factors, including its exterior. Apparently, you should start by clearly defining what exactly you are looking for from your system and whether you are willing to pay more just for appearance if the "not so pretty" competitor has the same features and capabilities. Still, it would help if you didn't forget about the quality of the design. The receiver should be sturdy, stable, and with quality control parts to serve you for years to come.
Does power matter? Of course, it does, but evaluate adequately the space in which your audio system will be located. If you have a small apartment, choose your speakers and the power of your stereo receiver so that you use them optimally rather than paying for something you can't use. In this case, less power will mean more quality because the THD score often suffers if you use full power. For larger rooms, it's worth considering two sets of speakers and/or an extra output for a subwoofer, and then you can create a more powerful system. Be sure to consider the impedance compatibility of your speakers and receiver.
The price, of course, is influenced by the feature set your stereo receiver is equipped with. If you're keeping up with the times and want to use streaming services, built-in wireless ecosystems, and voice assistants, you'll need Wi-Fi and Bluetooth, and cheap stereo receivers usually don't have them.
You might consider buying a used stereo receiver but be prepared that it might require more investment pretty soon than a new, more expensive one.
It's up to you, and I wish you good luck!
We are supported by our audience. When you purchase through links on our site, we may earn an affiliate commission at no extra cost to you.
Our newsletter
* We will never send you spam or share your email with third parties