Many users wonder if a cheap AV receiver can be really good and durable when looking for components to upgrade their home theater. To keep up with the new trends in surround sound, video, and wireless communication, we often look for great features and functionality that we simply don't use, and accordingly, we pay more. But does it make sense?
That's why I decided to select the best budget AV receivers for you because modern models of this category can satisfy your basic needs in watching movies and listening to music, have high-level features and technologies, and at the same time save your money. All the receivers in my selection are priced under $500, and there is even one 7-channel receiver. Deciding what you really need from your home theater will help you make a smart choice.
Our pick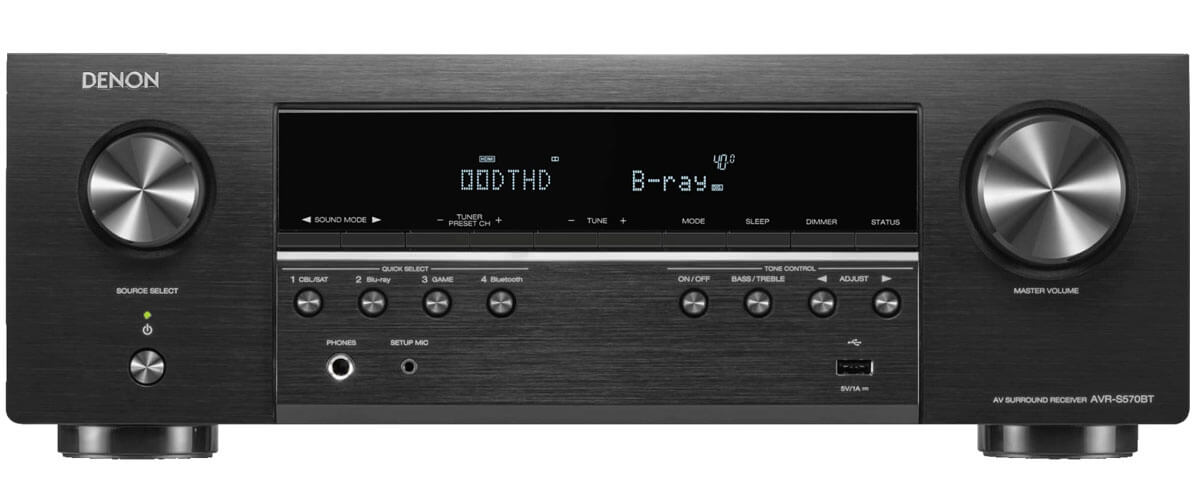 Denon AVR-S570BT
Best budget AV receiver
Enjoy all your favorite entertainment with Denon AVR-S570BT 5.2 channel surround sound, 8K picture quality, and wireless music streaming via Bluetooth.
Read the full review
.
Budget AV receivers comparison table
Name
Channels
Power output
HDMI in/out
Bluetooth/Wi-Fi
Review
Denon AVR-S570BT

best overall

5.2
70W/8 Ohm, 90W/6 Ohm
4/1
yes/no
Review
Sony STR-DH590
5.2
145W/6 Ohm
4/1
yes/no
Review
Onkyo TX-SR494
7.2
80 W/8 ohms
4/1
yes/no
Review
Our criteria for choosing the best budget receivers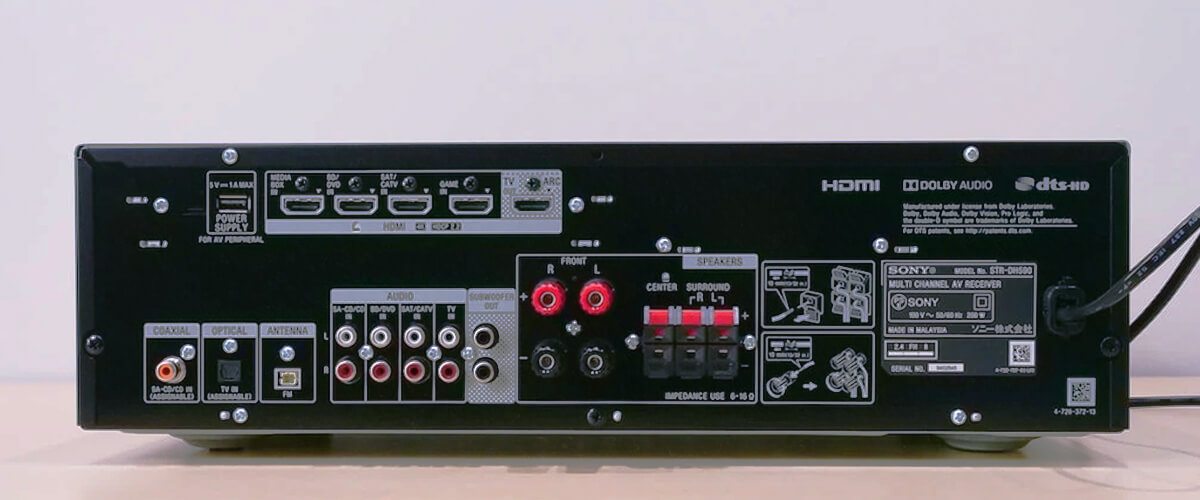 When selecting entry-level AV receivers, my criteria were the following factors:
Budget compliance (most models up to $400), I have selected the most interesting models from this price range from various manufacturers.
Listening experience.
Availability of necessary built-in features (support for modern video technologies, surround sound formats, Bluetooth, Ethernet/Wi-Fi/streaming services, etc.)
Sufficient number of inputs and outputs (inputs/outputs).
Best budget AV receiver reviews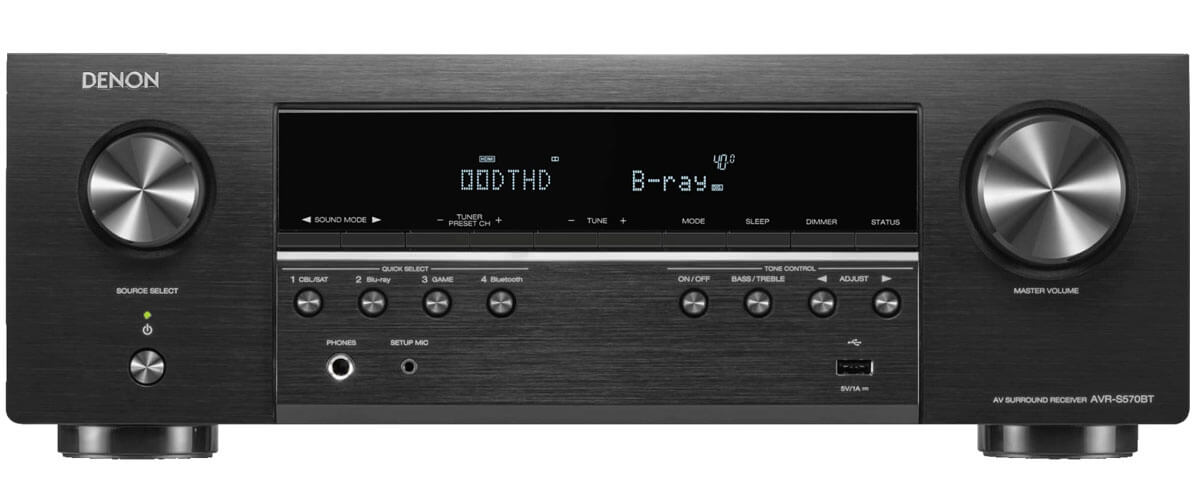 Denon receivers often become the leaders of my picks, which is not surprising, as the brand combines high-quality sound and components used and, at the same time, is not too expensive. In the segment of receivers under $500, Denon AVR-S570BT has an optimal price/quality ratio. That's why it became the winner of my review.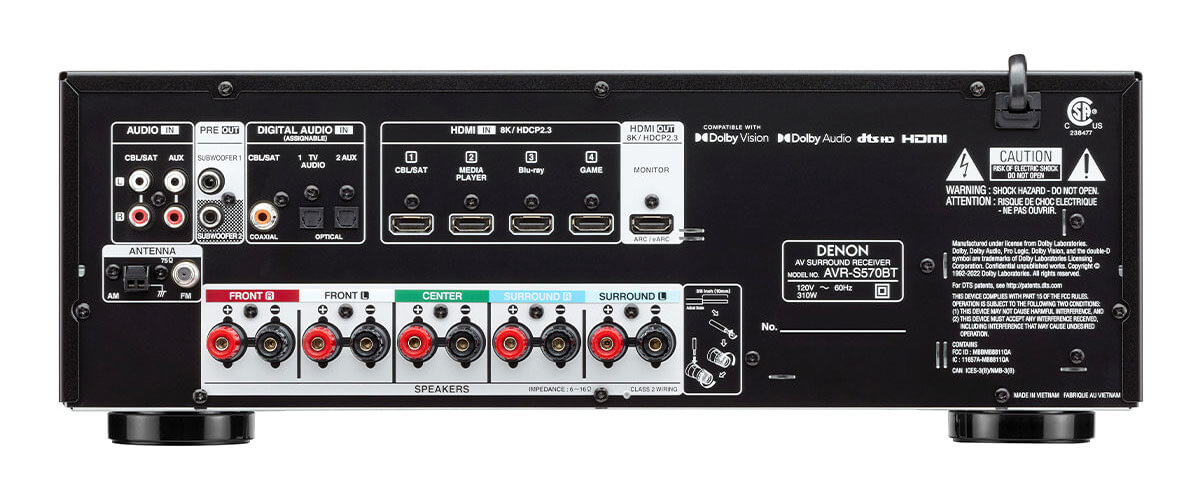 The power of the 5.2-channel surround sound receiver with support for basic Dolby Digital and DTS-HD Master Audio formats is 70W (8 ohms, 20 Hz – 20 kHz, 2ch). Still, I wouldn't recommend keeping it at maximum volume for a long time, although a THD of 0.08% gives you such an opportunity without distortion and noise. The thing is that the AVR-S570BT heats up pretty quickly in such a mode. Giving credit to the protection, it must be said that the AVR shuts down when this happens. However, I should note that this is quite acceptable for inexpensive devices, as inexpensive components are used for their construction, which determines the price.
Released in 2022, the receiver is a 4/1 HDMI port version 2.1 and supports operation, 8K and 3D video pass-through upscaling, and HDR10+ format. Most receivers in this category and my rating do not.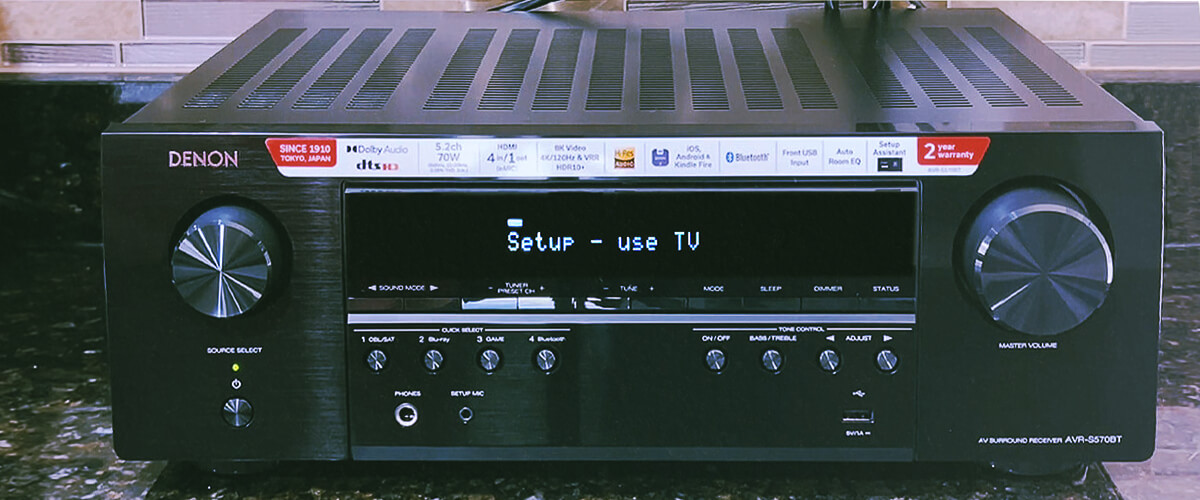 Wireless connectivity is extremely limited; you only get Bluetooth, but its version 4.2 allows you to use Spotify, Deezer, and Pandora with pretty good quality. It's a pity that the AVR-S570BT doesn't have Wi-Fi. And in general, we should say that the receiver sounds just great at its price! Dynamics and warmth inherent to the brand can be felt in everything, whether you are watching a movie or listening to music. But don't forget about the volume.
Denon AVR-S570BT is the best budget AV receiver in my selection and according to the opinion of many users. Plain and simple, it is great with movies and music for its price segment. In addition, it supports the optimal video resolution of 8K. If you are not frozen on wireless technologies, you can be satisfied with the power and volume of speakers in 6-8 Ohm, so this is a reasonable choice.
Key specs
Channels: 5.2.
Power output: 70W/8 Ohm, 90W/6 Ohm.
HDMI inputs/outputs: 5/1.
Video functions: 4K/120Hz, 8K/60Hz pass-through, upscales video signals to HD and Ultra HD (up to 8K).
Bluetooth/Wi-Fi: yes/no.
Streaming services: no.
Supports: HDMI ARC, HDMI eARC, HDMI CEC, HDCP2.3, HLG, HDR10+, Dynamic HDR, Dolby Vision.
Surround sound: DTS HD Master, Dolby TrueHD.
Pros
AVR-S570BT supports 8K video and upscaling to 8K.
Good level of Bluetooth 4.2 performance.
Excellent warm sound in movies and stereo.
Cons
The receiver overheats when used for long periods of time at maximum volume. However, if the receiver gets too hot, the protection is triggered and the system shuts down.
No Wi-Fi.
Sony STR-DH590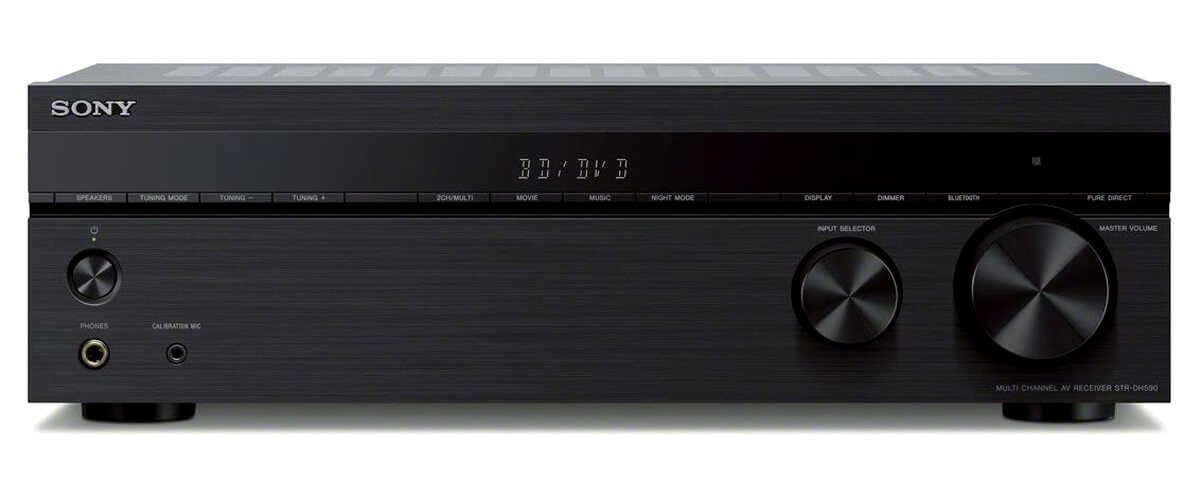 A model from Sony occupies the second place. STR-DH590 is cheaper than Denon AVR-S570BT and loses first place only in the area of video capabilities. This is due to the 2018 year of its release when 8K was still out of the question. But the number of HDMI connectors is the same 4/1, and it works with HDR10 and Dolby Vision formats. By the way, it is worth mentioning that it is perfect for Sony TVs.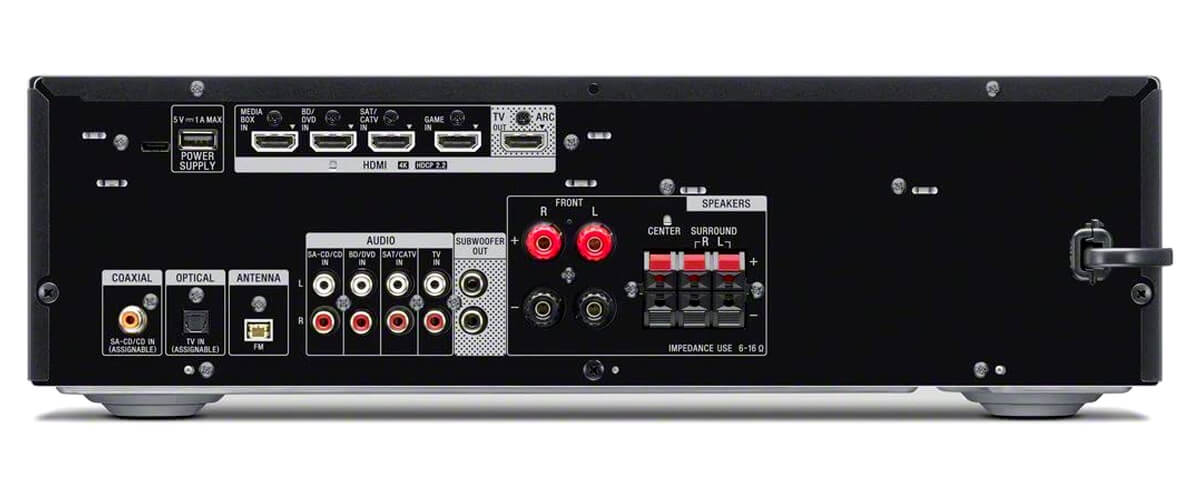 Despite being the most inexpensive receiver in my selection, its power output is 90W (6 ohms, 20Hz – 20kHz, 0.09% THD, 2 ch), yet it works with speakers in the 6 to 16 Ohm range. And although it's not stated in the specs, it works fine with 4 Ohm speakers. However, I wouldn't experiment with max volume with it, either.
In surround sound and wireless connectivity, the STR-DH590's specs are identical to the AVR-S570BT, so I won't repeat them. However, the overall soundstage is cooler and more neutral than the Denon. I enjoyed listening to streaming services in this tone.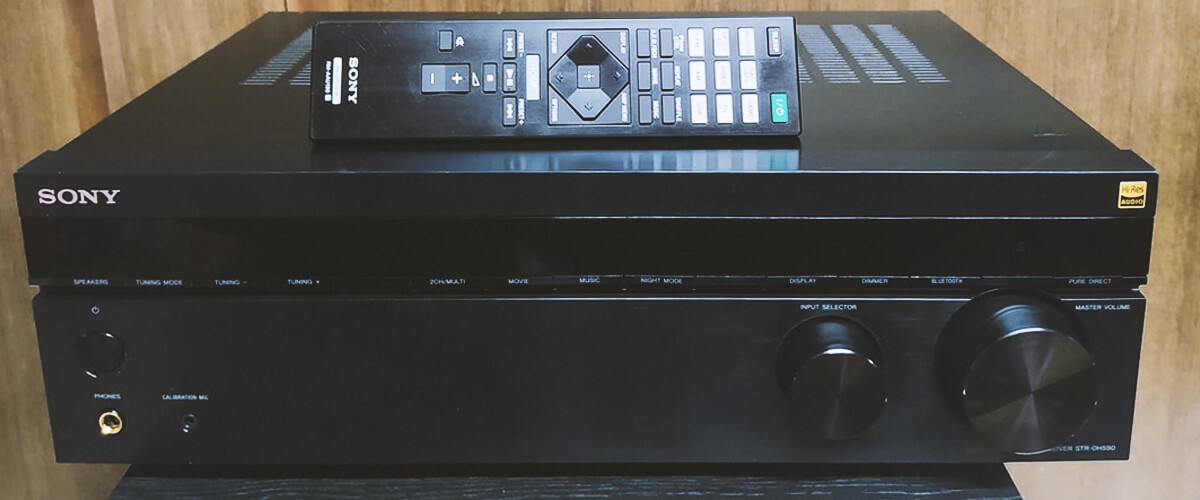 I should note the poor-quality spring terminals for the center and rear speakers and the large number of plastic parts. Please be careful when assembling the system. That said, the AVR itself is very easy to assemble and install. The S-Force PRO feature allows for only 2 front speakers and simulates the feeling of surround sound. So, if you don't already have a full set of speakers to build a system, this could come in handy.
Sony STR-DH590 is the best budget 5.1 receiver among the inexpensive ones. It has good sound, is suitable for viewing most modern content, can serve for listening to music via Bluetooth, and does not even require building a full-fledged system "from the doorstep".
Key specs
Channels: 5.2.
Power output: 145W/6 Ohm.
HDMI inputs/outputs: 4/1.
Video functions: 4K/60Hz pass-through.
Bluetooth/Wi-Fi: yes/no.
Streaming services: has not.
Supports: HDMI ARC, HLG, HDCP2.3, HDR10, Dolby Vision.
Surround sound: DSD, DTS HD Master, Dolby Digital, Dolby Dual Mono, DTS-HD High-Resolution Audio.
Pros
Biggest power out of the rating.
Ideal for Sony TVs.
Works with all types of speakers from 4 to 6 Ohm.
Easy setup.
S-Force PRO feature simulates surround sound even if you only have two front speakers.
Cons
Supports 4K video only.
Low-quality terminals and flimsy plastic parts for speaker installation.
Onkyo TX-SR494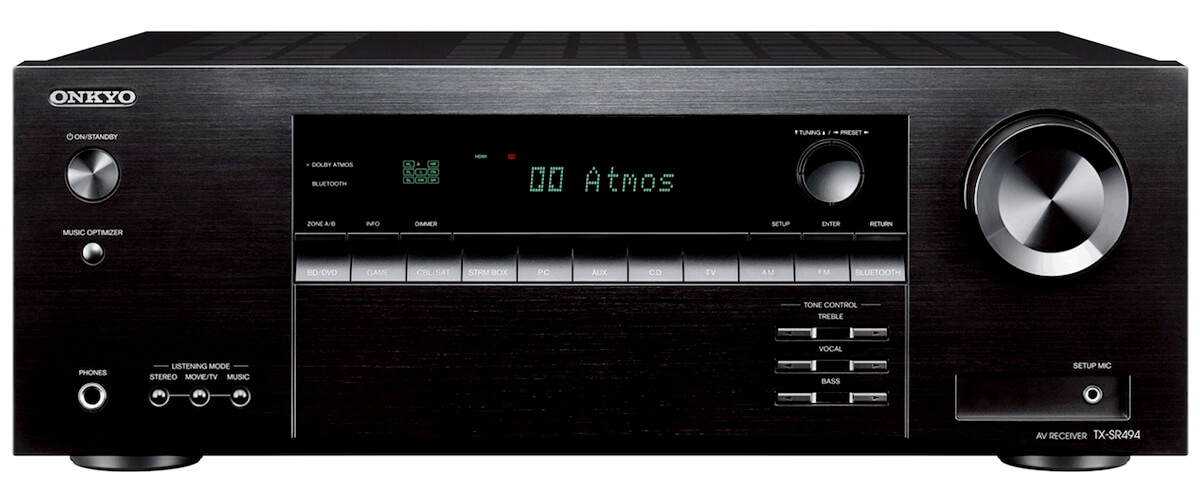 As promised, a 7.2-channel receiver with 80W (8 ohms, 20-20kHz, 0.08%, 2ch) found a place in my selection. This is a product of the 2019 Onkyo TX-SR494, which, although the most expensive in this review, is still inexpensive, which means that the manufacturer has made special compromises.
To begin with, it has the same number of HDMI ports (4/1) with 4K support, just like the Sony STR-DH590. But you'll need a special HDMI cable, as the TX-SR494 is pretty finicky. You can read more in the product specs on Onkyo's website.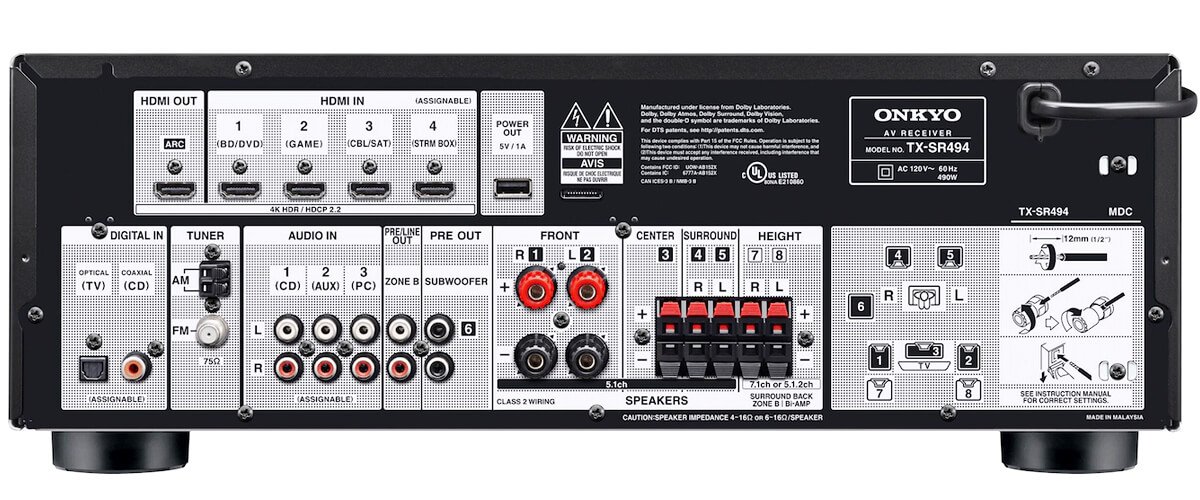 Just like the Denon AVR-S570BT and Sony STR-DH590, the Onkyo TX-SR494 doesn't have Wi-Fi. But unlike them, the Bluetooth built into the receiver is the usual one, although it does support the AAC codec, which has better pairing with Apple tech. Still, even that didn't impress me with streaming services, a pretty ordinary connection not without momentary lapses. But it did a good job with my media library playlist.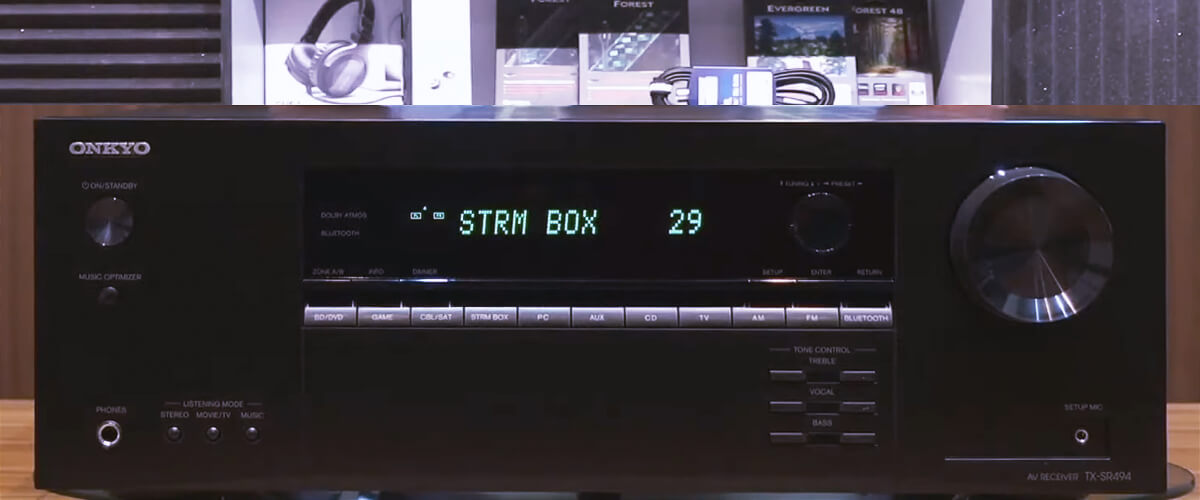 In terms of surround sound, of course, there are advantages relative to the other rating participants. The 5.2.2 configuration allows for Dolby Atmos and DTS:X soundtracks. But if you don't want to drill the ceiling, you can use Dolby Atmos Height Virtualizer and DTS Virtual:X technologies. The receiver sounds good in these immersive sound formats, no worse than with ceiling speakers, and given the small room the TX-SR494 is designed for, that's an extremely effective bonus, in my opinion. But the automatic calibration is like a joke; it doesn't do any job, and I had to do everything manually. It's not too difficult, but I still would have liked at least a little help from AVR. But credit should be given to the voice tuning feature, which improved the dialog level to a very high level.
The Onkyo TX-SR494 is the best budget home theater receiver with 7 channels that can be found in the under $500 category. You get Dolby Atmos surround sound 4K video, enough to watch most content today. It is sure to enhance your experience.
Key specs
Channels: 7.2.
Power output: 80W/8 Ohm, 160W/6 Ohm.
HDMI inputs/outputs: 4/1.
Video functions: 4K/60Hz pass-through, 1080p Full HD to 4K Ultra HD upscaling over HDMI.
Bluetooth/Wi-Fi: yes/no.
Streaming services: has not.
Supports: HDMI ARC, HDCP2.2, HDR10, Dolby Vision.
Surround sound: DTS HD Master, DTS Neural:X, DTS:X, Dolby TrueHD, Dolby Surround, Dolby Atmos Height Virtualization, Dolby Atmos.
Pros
The only receiver with 7 channels of amplification in the rating.
In addition to Dolby Atmos, it supports Dolby Atmos Height Virtualizer and DTS Virtual:X, which saves you from using additional equipment.
The voice tuning feature greatly improved the result of listening to dialog.
Cons
4K requires a special HDMI cable.
Bluetooth has minor flaws in broadcasting streaming services.
Autocalibration is not good at all.
Pioneer VSX-534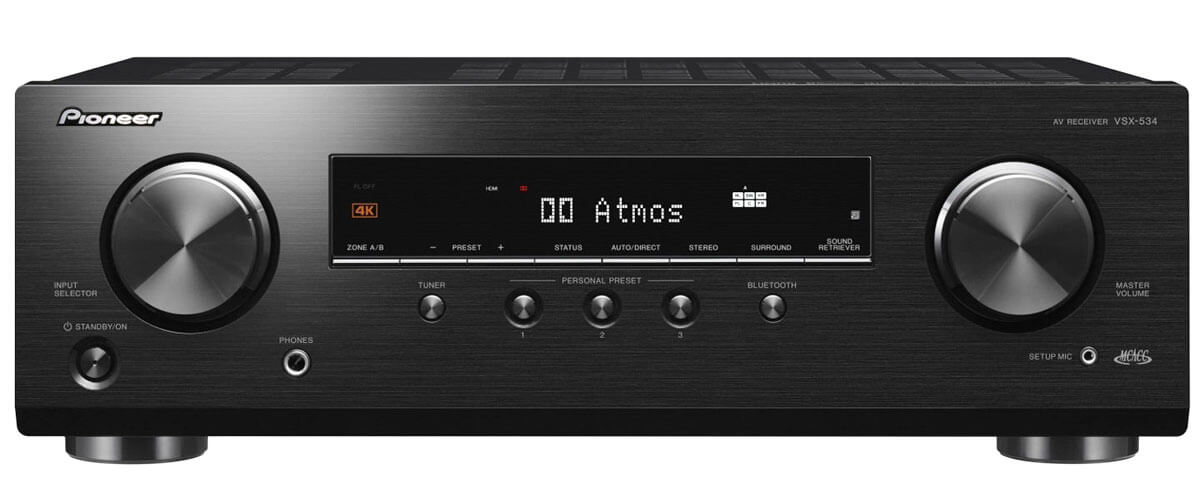 Toward the end, I always suggest two receivers that, although they didn't take the first three places in the rating, can still be an alternative to them for reasons of your personal preference, such as sound, functionality, or even design. And one of them is Pioneer VSX-534 – the owner of some unique features.
The receiver nominally has a power of 80W (8 Ohm, 20Hz – 20kHz), but the THD distortion factor is 0.8%, which is much higher than previous models. In practice, this translated into noise and crackle.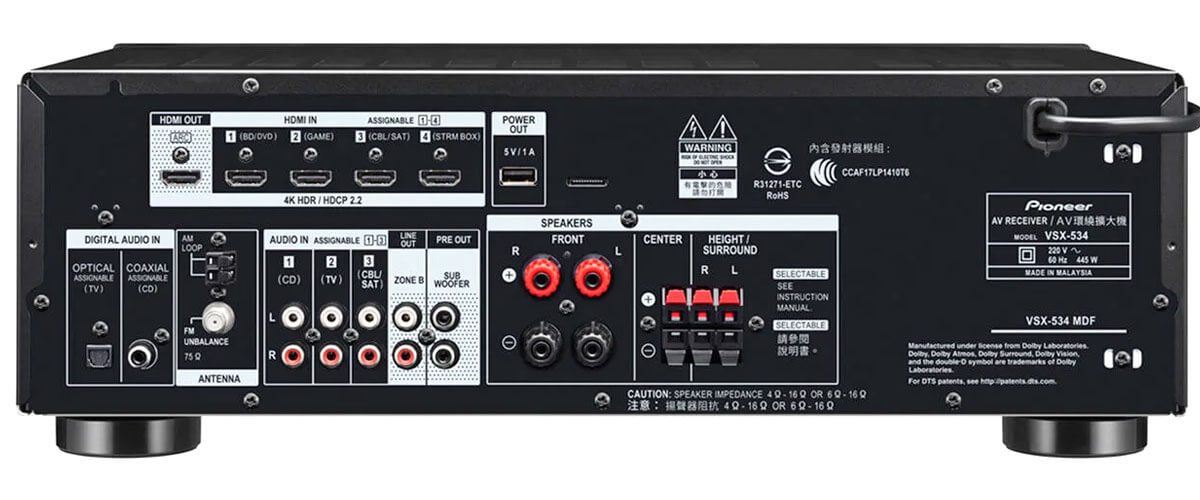 VSX-534 is a 2019 receiver, so it doesn't support 8K video and has a standard set of HDMI ports (4/1) and an extremely limited number of other types of connectors for my selection (like all other models, though). All the same features and in the area of wireless connectivity as the competition. But in the surround sound area, we are in for a surprise.
So, although MCACC autocalibration is the most primitive of all, in this receiver, you have the Personal Preset option, which allows you to save settings for three different scenarios. In my opinion, this is very cool because you can choose individual settings for each family member.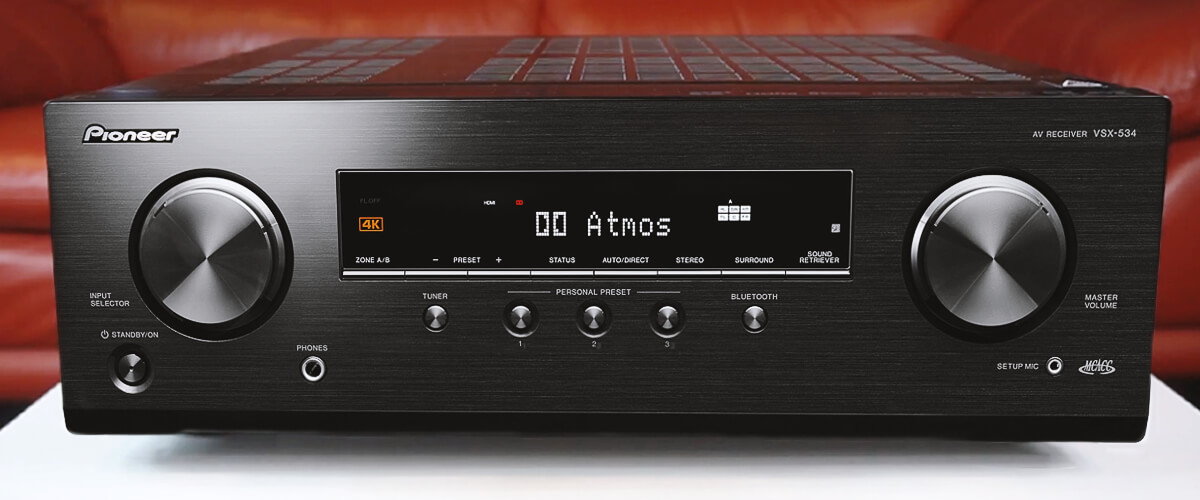 But things are even more complicated with this receiver. The manufacturer claims the 5-channel AVR decodes Dolby Atmos or DTS:X surround sound formats. Well, perhaps it is a too-loud statement because Dolby Atmos in the 3.1.2 configuration will never sound like at least in 5.2.2, not to mention 7.2.4. But let's take it without skepticism. Virtualization of the high-rise channels is also available if you don't choose ceiling-mounted speakers. Information about which audio track the content is broadcast with will pop up on the screen. And you can also listen to the sound in the second zone with wireless headphones. Not bad for a budget receiver, don't you agree?
Pioneer VSX-534 is a budget AVR with 5.2 channels of amplification and unique for such a system possibility of using Dolby Atmos surround sound format. Along with the advantages, there are disadvantages, and only you can decide which of the above really matters to you.
Key specs
Channels: 5.2.
Power output: 150W/8 Ohm.
HDMI inputs/outputs: 4/1.
Video functions: 4K/60Hz, 4K/120Hz, upscaling up to 4K.
Bluetooth/Wi-Fi: yes/no.
Streaming services: has not.
Supports: HDMI ARC, HDMI CEC, HDCP2.3, HDR10, Dolby Vision.
Surround sound: DTS HD Master, DTS:X, DTS Neural:X, DTS Virtual:X, Dolby TrueHD, Dolby Digital Plus, Dolby Atmos Height Virtualization, Dolby Atmos.
Pros
The Personal Preset function allows you to save three calibration options.
The receiver supports Dolby Atmos surround sound formats in 3.1.2 configuration and DTS:X.
The screen displays audio/video status information.
Cons
THD is higher than other models, and the receiver produces wheezing and noise at high volume.
Limited ability to listen to music in stereo.
Yamaha RX-V385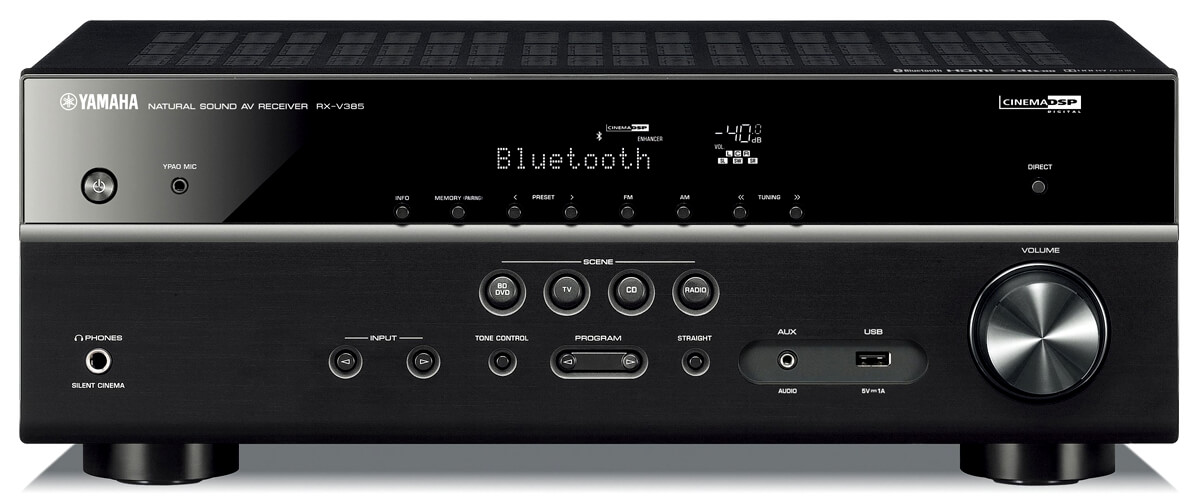 And the last alternative affordable receiver for you in this review is the Yamaha RX-V385. The model was released in 2018, so it doesn't differ much from its predecessors, except that the system uses only 1 subwoofer instead of 2 like all the others. Its output is 70 watts (8 ohms, 20Hz-20kHz, 0.09%, 2ch) and sounds quite clean at high volume, with a distinctive neutral, as its fans call it, that gives the overall soundstage a crystalline feel.
The dish is served with the same sauce: upscaled 4K video, HDR10 and Dolby Vision support, 3D Pass-through (4/1 HDMI ports), basic Dolby TrueHD and DTS-HD Master Audio surround sound formats, and no Wi-Fi.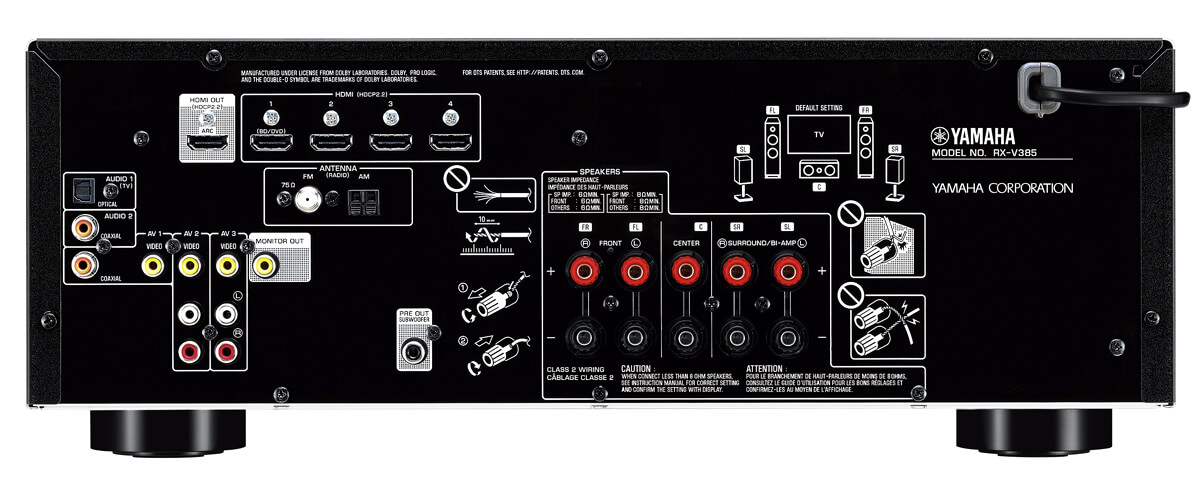 On the plus side, we can highlight the CINEMA DSP mode, which produces the effect of concert hall acoustics. It's a really very interesting sound picture, adding the effect of layering and systematic sound spread in the room. And also, Virtual CINEMA FRONT allows you to place all your speakers in front of you and still hear surround sound.
I liked the two-way Bluetooth performance, which performed better than the other models in my top. The YPAO calibration was pretty simple and quick and did a pretty good job; it's worse with larger systems, and here, I didn't even need to adjust manually.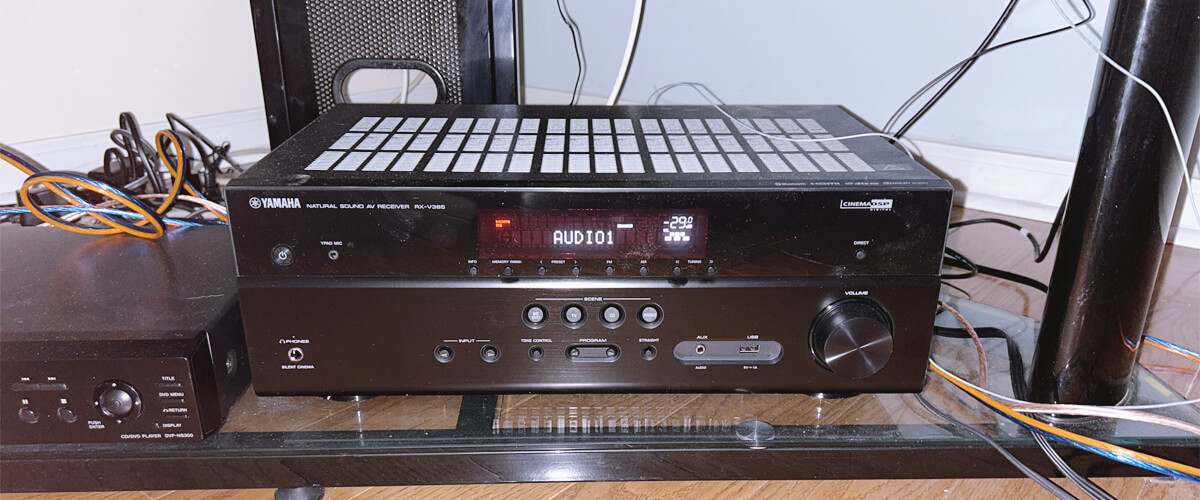 Of the outright flaws, I noticed that HDMI is worse when the cable is long. Video spontaneously, but rarely, lags for a few seconds. I found no problems with the short cable, although it was of worse quality.
Yamaha RX-V385 – costs a bit more than its opponents (except for the 7-channel Onkyo TX-SR494) but sounds cleaner and louder than most of them. It's a simple receiver, but with the use of technology from Yamaha, it can give you a unique for its category surround sound, both in the field of 3D formats and in stereo.
Key specs
Channels: 5.1.
Power output: 70W/8 Ohm.
HDMI inputs/outputs: 4/1.
Video functions: 4K/60Hz pass-through, upscaling up to 4K.
Bluetooth/Wi-Fi: yes/no.
Streaming services: has not.
Supports: HDMI ARC, HDMI eARC, HDMI CEC, HDCP2.3, HDR10+, Dolby Vision.
Surround sound: Dolby Digital Plus, DTS HD Master, Dolby TrueHD.
Pros
The CINEMA DSP function adds the effect of concert hall acoustics, making the soundscape richer.
Virtual CINEMA FRONT technology allows you to place all the speakers in front of the viewer and still hear surround sound.
Bluetooth works better than some other review models.
The YPAO autocalibration did a good job without requiring manual intervention.
Cons
Only 1 subwoofer can be connected.
Video lag of a few seconds happens when using a long HDMI cable.
What budget receivers did we test?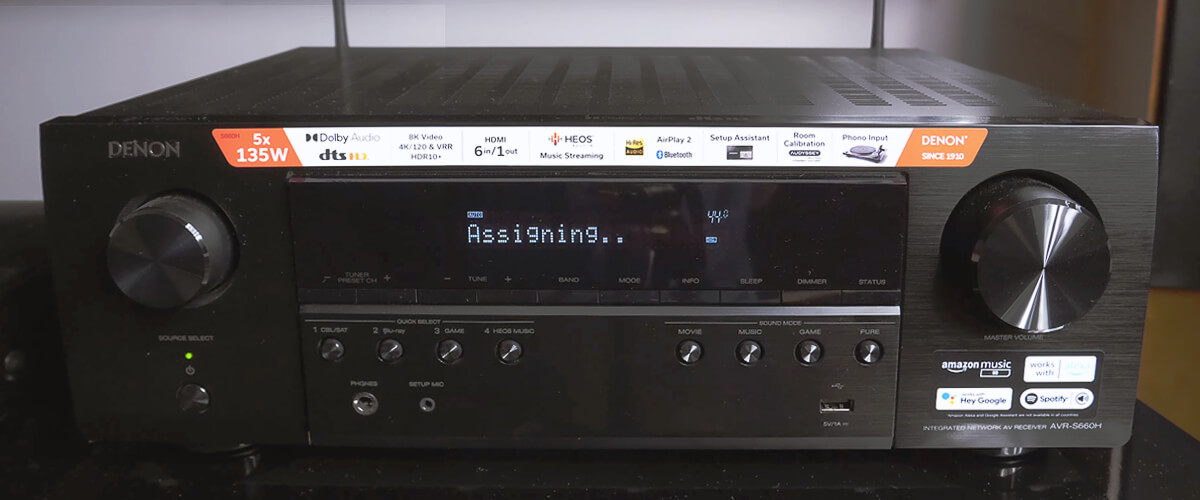 I tried to be objective when writing this review, not relying only on my judgment. That's why I studied and considered customer reviews from various retail sites and the opinions of other users and experts from popular audio forums.
Based on this, I have compiled our rating of optimal budget receivers in 2023, which did not include such pretty good and popular among users models:
Denon AVR-S660H – a very good model, which is more expensive than Denon AVR-S570BT by $100, but it has built-in Wi-Fi and support for streaming platforms.
Onkyo TX-SR393 is the predecessor model to the Onkyo TX-SR494 and is currently unavailable for purchase from the manufacturer's official website. However, it can still be found in the spaces of the Internet.
We are supported by our audience. When you purchase through links on our site, we may earn an affiliate commission at no extra cost to you.
Our newsletter
* We will never send you spam or share your email with third parties