Purchasing a receiver is might what you need, especially considering that today, even the most inexpensive devices have rather good capabilities. The Pioneer VSX-534 receiver shows a great range of functionality and optimal sound at a very affordable price. Here, you won't find outstanding features of the latest models, but I can say it definitely has everything you might look for in an effective home theater. Let's continue observing characteristics in my Pioneer VSX-534 review.
Features and specs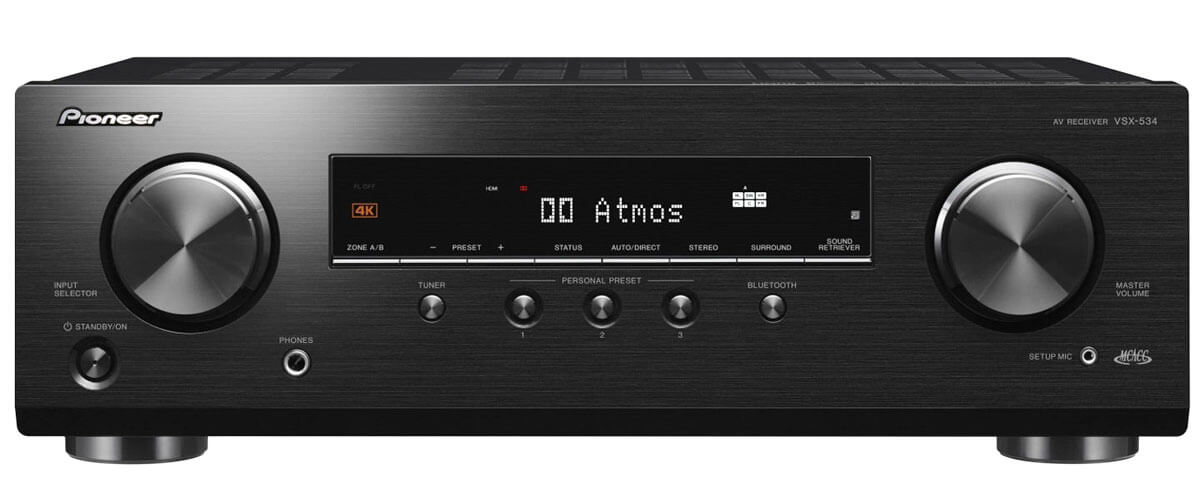 The device has a 5.2 configuration and is equipped with Direct Energy amplifiers. The power output for 2 channels driven is 80W (8 Ohms, 0.8%THD). According to this, you can create a system with surround sound in a 3.1.2 configuration or a 5.1 system, enabling the virtual surround sound mode Dolby Atmos Height Virtualizer or DTS Virtual:X. This will produce 3D sound, however, it will differ significantly from what true Atmos setups are able to produce.
Being equipped with 4 HDMI inputs, it supports 4K Ultra HD, HDR10, and Dolby Vision video transmission. Video is provided in the BT.2020 color space, and also Super Resolution. The receiver includes upscaling from 1080p to 4K, however, only at 60 Hz.
As I already mentioned, VSX-534 specifications include Dolby Atmos and DTS:X, but it also has DTS Neural:X and Dolby Surround upmixing technologies. So, the tracks recorded in 2D will sound more spacious. In addition, there's a Reflex Optimizer feature that equalizes the sound of Dolby Atmos speakers when used with the sound of regular floor speakers.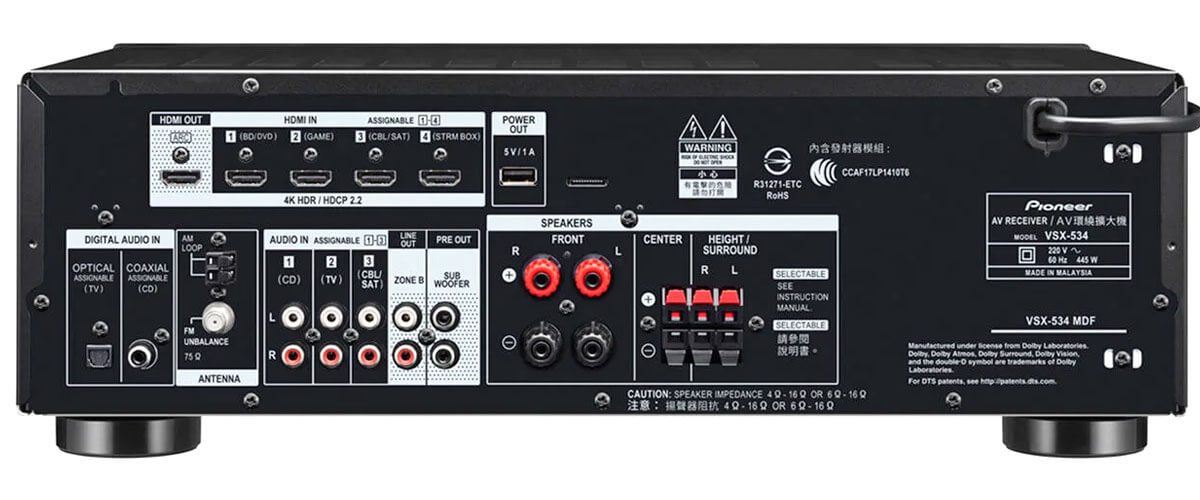 Unfortunately, VSX-534 doesn't feature a Wi-Fi connection, but it has a modern Bluetooth 4.2 version with support for SBC and AAC codecs. Yes, this adds more flexibility, but doesn't compensate for the lack of Wi-Fi.
The MCACC Auto Calibration feature ensures consistent sound based on distance and speaker size. There is also a phase control feature that equalizes the audio from the channels and the audio from the subwoofer, providing cleaner sound and adding dynamics to it. Today, many take such systems for granted, but I guess home theater fans have already forgotten how they spent hours setting up the system.
I also want to draw your attention to the Personal Preset feature, which, with a single press of a button, can keep your settings. Up to 3 presets can be saved and accessed by the front panel button or remote control
Listening experience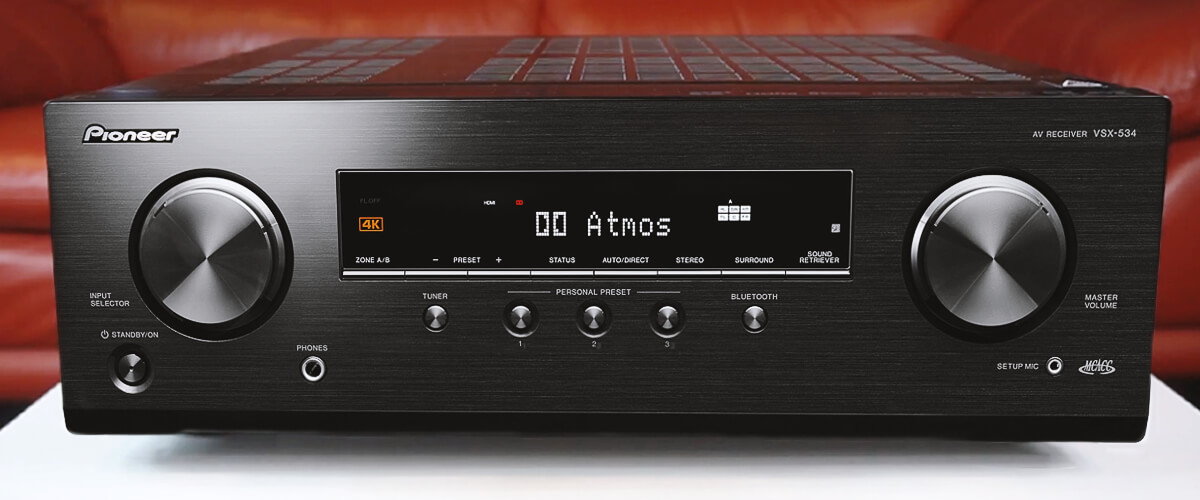 As expected, Pioneer receiver's musical abilities were insignificant but adequate for beginner music enthusiasts. Regardless of genre, the music was almost always exactly as it was meant to be. However, the quality worsened the more compressed MP3 or WMA files I used. So, keep in mind, when using a USB port to listen to music, ensure that you have high-bit-rate files. In addition, you might have to customize the volume level based on the subwoofer model to achieve the desired outcome.
I also watched the "Ex Machina" movie as a test with the DTS-X track, and the sound was immersive, with clear dialogue and booming lows of the soundtrack. Then, I watched "Aquaman" 4K with the Dolby Atmos track. The moment when Aquaman and the other Atlanteans came up from the ocean kind of gave a little shake to my room.
DTS Dialog Control worked well to maintain precise movie dialogue even during some of the most intense situations. Furthermore, I haven't yet experienced this kind of smooth, warm-toned bass in a receiver in this price range.
Key specs
Channels: 5.2.
Power output: 150W/8 Ohm.
HDMI inputs/outputs: 4/1.
Video functions: 4K/60Hz, 4K/120Hz, upscaling up to 4K.
Bluetooth/Wi-Fi: yes/no.
Streaming services: has not.
Supports: HDMI ARC, HDMI CEC, HDCP2.3, HDR10, Dolby Vision.
Surround sound: DTS HD Master, DTS:X, DTS Neural:X, DTS Virtual:X, Dolby TrueHD, Dolby Digital Plus, Dolby Atmos Height Virtualization, Dolby Atmos.
We are supported by our audience. When you purchase through links on our site, we may earn an affiliate commission at no extra cost to you.
Our newsletter
* We will never send you spam or share your email with third parties