For any level of an audiophile, whether you're an expert or a beginner, the most important thing when listening to records is their authentic analog sound. And in this article, I have selected the best receivers for turntables so that each of you, regardless of your budget and needs, can take your vinyl sound to the next level.
We need a receiver with a phono input to create such a music system. That's because vinyl turntables priced at $500 and up most often don't have a built-in preamp that amplifies the sound to the level of other audio components. It is a sign of premium status because phono stages are never better than external ones. But even the simpler models can be used not with a pair of regular speakers but to experience all facets of stereo sound in high quality using a receiver preamplifier. That is why in my list, stereo and AV receivers have built-in phono stages to avoid extra expenses for buying additional devices, and the system looks maximum compact and functional. And at the end of the article, I will answer the most popular questions about the phono preamp.
Our pick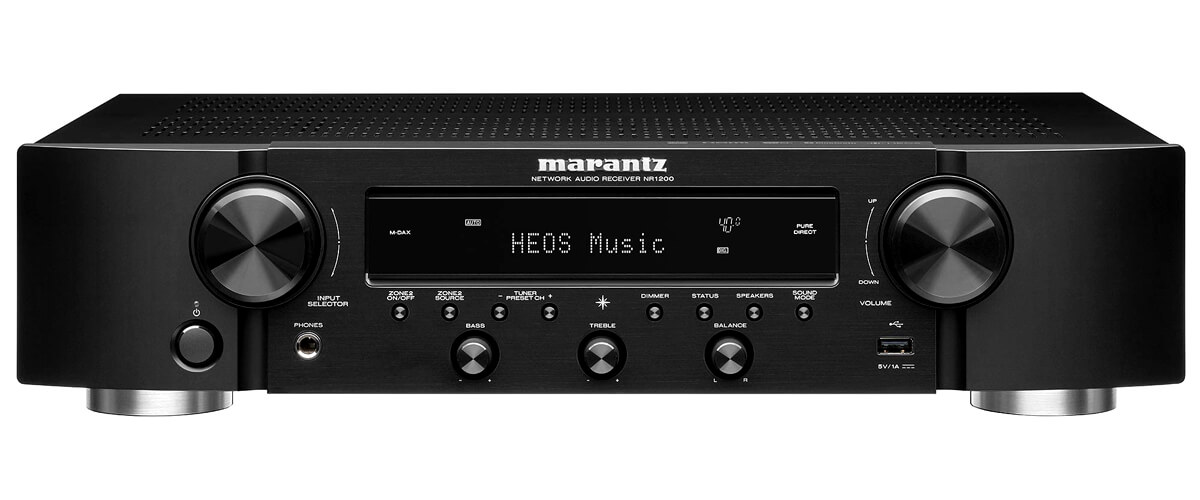 Marantz NR1200
Best stereo receivers for turntable
The Marantz NR1200 is a slim 2-channel receiver with a discrete 75W per channel power amplifier, exceptional performance, and sound quality.
Read the full review
.
Our pick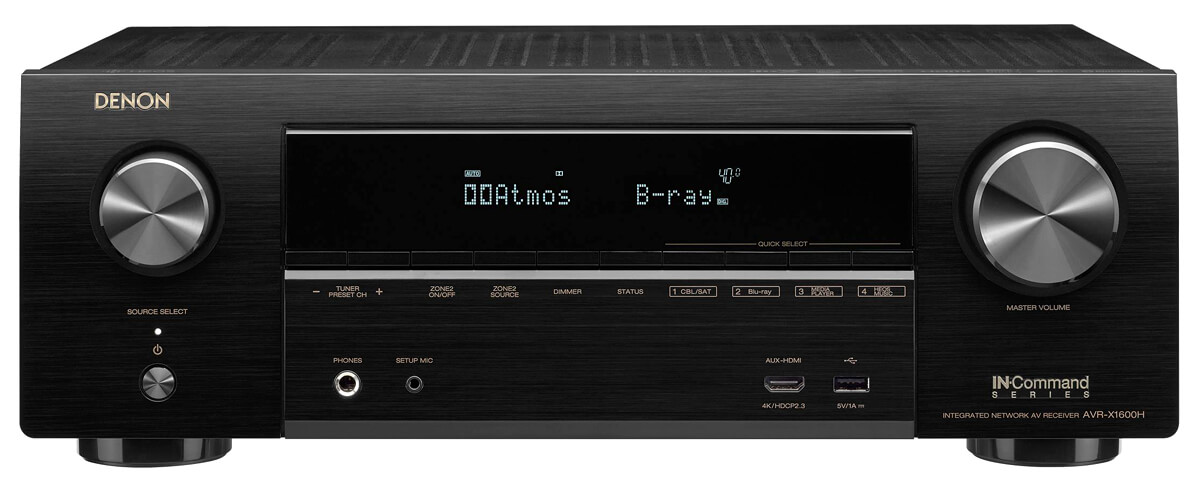 Denon AVR-X2700H
Best AV receivers for turntable
The Denon AVR-X2700H is a 7.2-channel 8K AV Receiver with built-in HEOS, 95W per channel power, fully supporting 3D audio formats and the latest HDMI specifications.
Read the full review
.
Receivers for turntables comparison table
Name
Channels
Power output
HDMI in/out
Bluetooth/Wi-Fi
Review
Marantz NR1200

best stereo receiver

2.2
75W/8 Ohm, 100W/6 Ohm
5/1
yes/yes
Review
Sony STRDH190

budget stereo

2.0
100W/8 Ohm
0/0
yes/no
Review
Denon AVR-X2700H

best AV receiver

7.2
95W/8 Ohm, 125W/6 Ohm
6/2
yes/yes
Review
Onkyo TX-NR696

budget AVR

7.2
100W/8 Ohm, 210W/6 Ohm
7/2
yes/yes
Review
Our criteria for choosing the best receiver for turntable
There are a lot of different receivers on the market today for different purposes and tasks. And almost all of them can be connected to a vinyl player. But my selection of models is focused on finding the optimal solution in terms of price/quality ratio, aimed at 2 main scenarios of use:
Listening to music (vinyl records) + connecting to TV and watching content in stereo. In this case, a stereo receiver is your choice.
Building a complete home theater system with surround sound + listening to vinyl records. Then it would help if you opted for an AV receiver.
The main criteria when choosing candidates for this chart of receivers for vinyl players were the following factors:
listening experience.
availability of necessary built-in functions (Bluetooth, Ethernet/Wi-Fi, surround sound formats, etc.)
a sufficient number of inputs and outputs + mandatory phono in port.
price.
quality of performance and design of the receiver.
Best stereo receivers for turntable reviews
Perhaps your choice should start with what kind of system you want to build. If you are not a fan of movies, sports, or news and are totally immersed in music, you probably don't need a multichannel AV receiver. Moreover, you can buy an average AV or a high-end stereo receiver for the same amount. So there is a lot to think about. A modern audio receiver is usually a multifunctional device designed for true audiophiles, which includes capabilities to connect different musical devices or listen to popular streaming services. But enough about that, let's hurry up to choose the best receiver for turntables among stereos.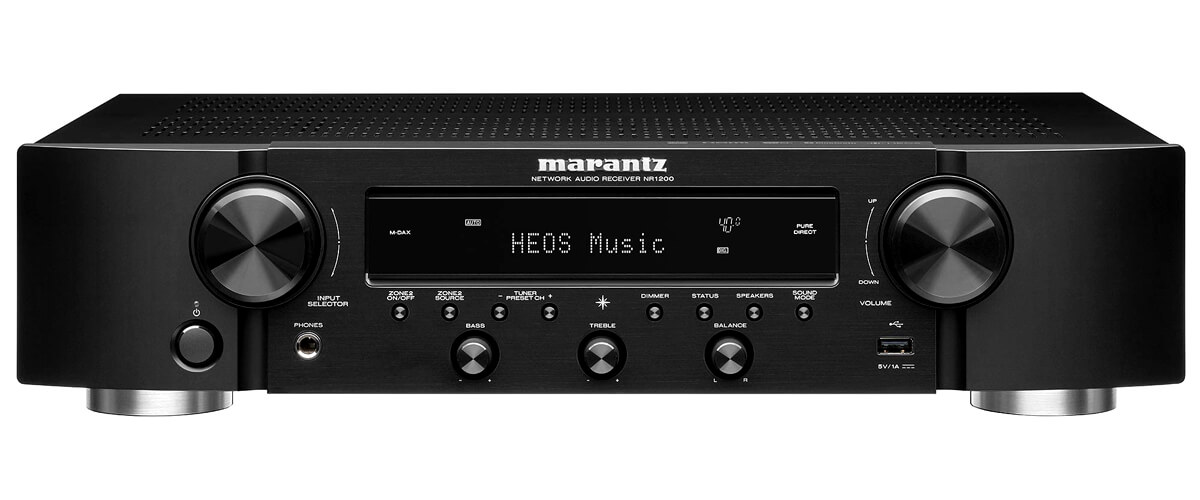 The best stereo receiver for turntable on my list is the Marantz NR1200. While reading, you will learn the features and benefits of this model, and I am sure you will completely agree with my statement. Offering an average price for receivers of this rank, in addition to Marantz quality, the unit has a great set of connectivity options.
Its interesting design with rounded edges looks modern, but its slim profile will allow it to fit in small rooms or even be hidden in a special cabinet. The NR1200 has simple controls on the front panel in the form of an LCD, buttons, and two round knobs. The finest part, however, is on the back panel:
There are 5 HDMI inputs (including 4K and HDCP 2.3 support) and HDMI output (ARC).
There are coaxial and optical connections.
Audio-In for CD and Blu-ray DVD connection, and most importantly, a phono input to connect your vinyl player.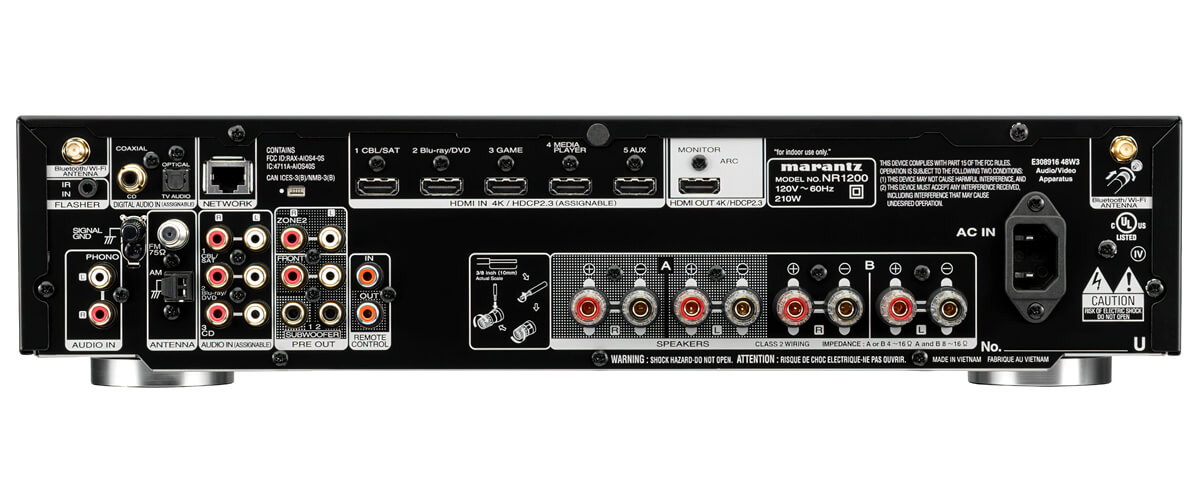 This model has Wi-Fi, Bluetooth, Ethernet (antenna input on the rear), a USB port and headphone input (on the front), and a built-in HEOS wireless system to create an ecosystem in your home, including interaction with AirPlay 2, Spotify Connect, DAB+ radio. I think it's a very extensive set of ports and connectors, considering it's a stereo receiver. I would like to mention the very good quality of uninterrupted connection via Wi-Fi & Bluetooth.
The Marantz NR1200 can probably be compared to the DRA-800H, which we'll discuss further. However, both brands have earned their popularity, and the receivers have similar features, so it's up to you to decide in whose favor to make your choice.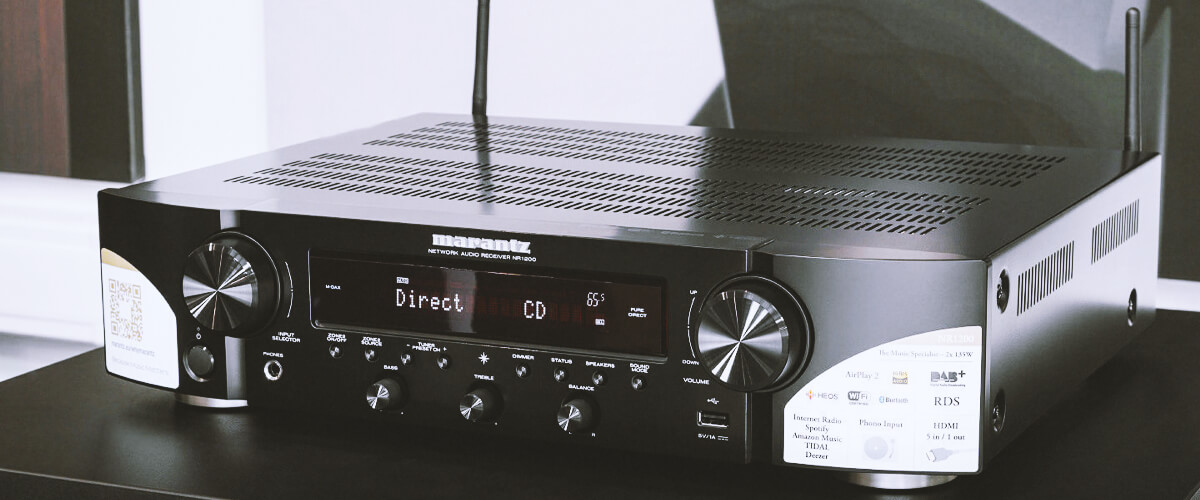 Well, given the pretty high power of this "baby", which is 75 watts (8 Ohms, 20 Hz – 20 kHz, 0.08% 2ch Drive), you can count on a great audio system. My personal testing experience has shown high sound quality results (of course, I'm referring to the vinyl player). While listening to a Mylene Farmer record, great deep fat bass, clean high notes, keyboard instrument and guitar clarity, wonderful vocal timbre, and excellent analog sound were obtained.
Marantz is deservedly considered one of the most prestigious manufacturers. And the Marantz NR1200 takes the honorable first place in the rating because it offers high-quality components, support for the latest formats, and excellent sound that will make this receiver your obedient servant for years to come.
Key specs
Channels: 2.2.
Power output: 75W/8 Ohm, 100W/6 Ohm.
HDMI inputs/outputs: 5/1.
Video functions: 4K/60Hz pass-through.
Bluetooth/Wi-Fi: yes/yes.
Streaming services: AirPlay2, Deezer, Tidal, Pandora, SiriusXM, Napster, SoundCloud, Amazon Music, Amazon Music HD, Mood mix.
Supports: HDMI ARC, HLG, HDCP2.3, HDR10.
Surround sound: DTS HD Master, DTS Neural:X, Dolby TrueHD, Dolby Surround, Dolby Digital Plus, Dolby Atmos Height Virtualization, Dolby Atmos, Auro-3D, IMAX Enhanced, Multichannel stereo.
Pros
Excellent sound quality at low/mid volume is enough for a small room.
A good quality uninterrupted connection via Wi-Fi & Bluetooth.
Wide range of connectivity options.
High-quality combination with different components of the audio system.
Cons
At high volumes, it does not always sound perfect.
Sony STRDH190 – budget stereo receiver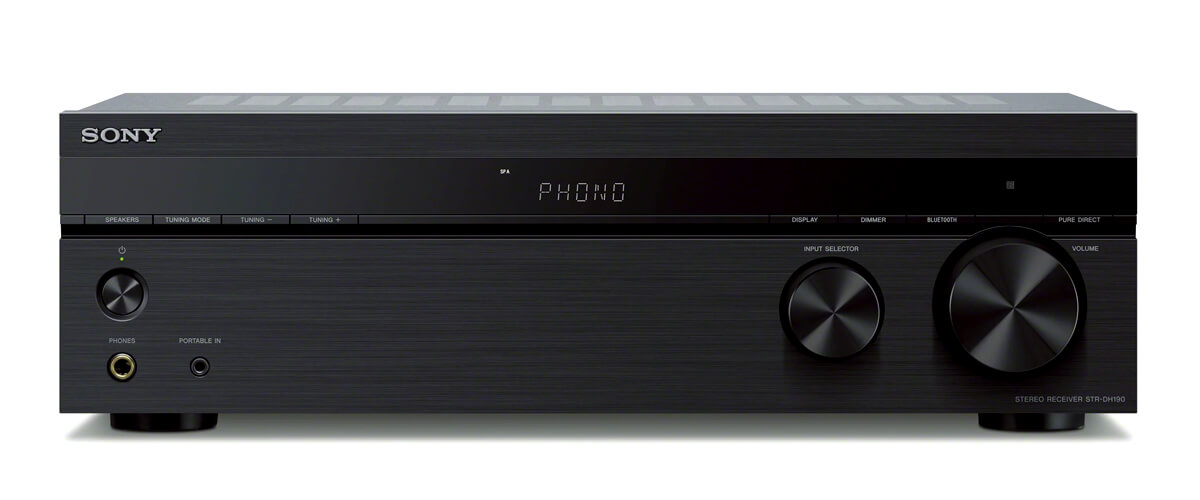 The budget receiver for the record player on my list is the Sony STR-DH190. It can offer you pretty good quality music listening at home at an incredibly low price. This device has already gained popularity among connoisseurs and newcomers to the world of audio systems, especially considering the brand's rep. However, it is the only stereo receiver in Sony's lineup on the company's website today.
For one thing, it has a stunning ergonomic, modern-style design and is easy to operate. And overall, the STR-DH190 is an amplifier, preamp, and phono stage, offering a good power reading of 100 watts (8 ohms, 1 kHz, THD 1%), enough to work well at high volumes in a small room. It should be noted here that there are many complaints about the receiver overheating during long runs. It is due to improper selection of speakers, so take care of compatibility beforehand.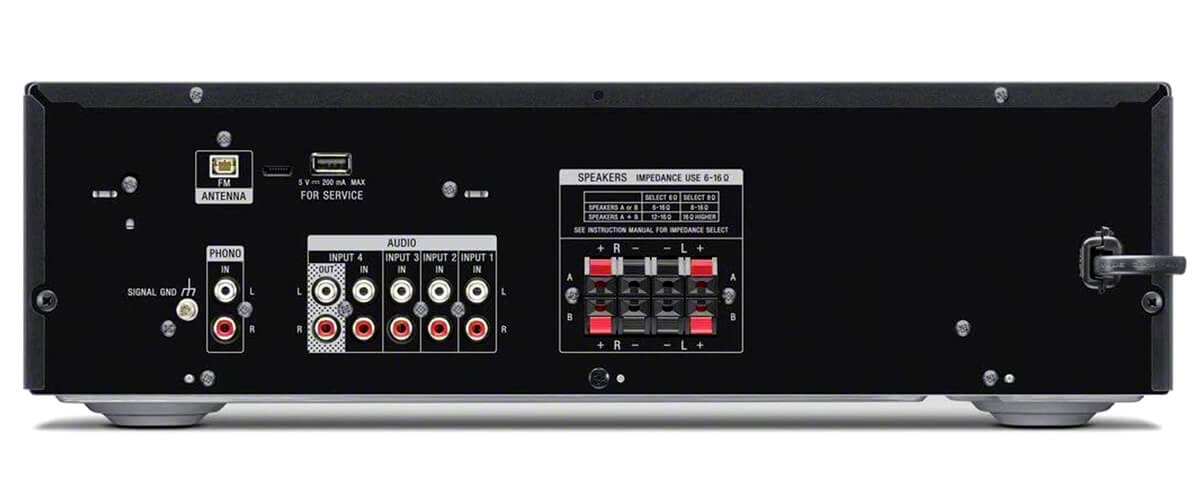 It has analog and digital inputs, so your vintage gear won't stand idle either, RCA outputs, phono inputs for the record player, Bluetooth function (with stand-by function), and built-in radio. But you won't find any HDMI inputs (although you can use an adapter for a game console or TV set-top box), Wi-Fi, or Ethernet. It is important if you are counting on using voice assistants or other services.
In its price rank, the Sony STR-DH190 can be compared with the Yamaha RS-202. And the latter is even a bit cheaper, but it does not have the phono input we need.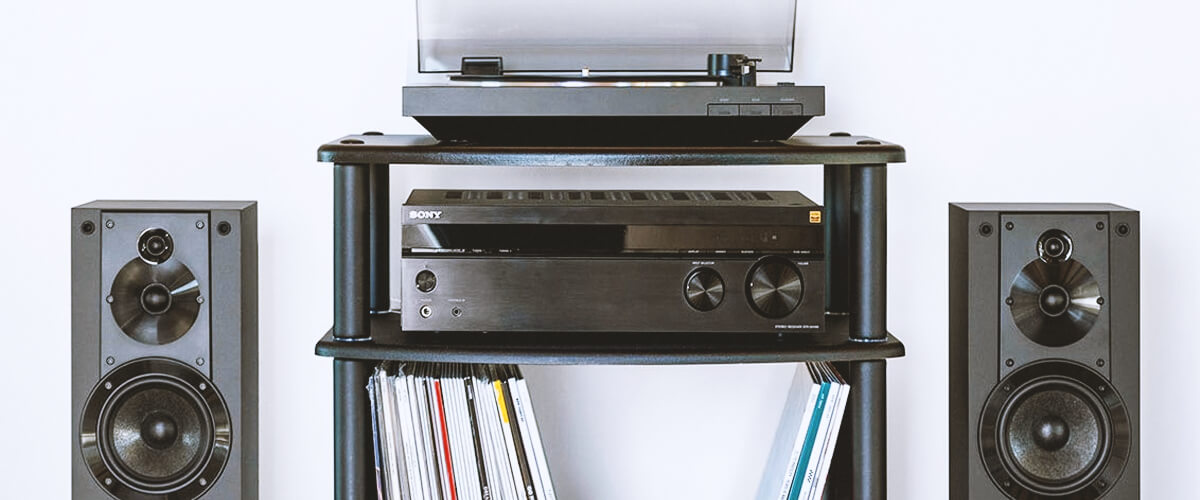 As for the sound of this model, up to some limits, it's pretty clean. But I don't think it's worth squeezing out full volume if you have a small room for which the stereo receiver is designed. As a matter of fact, I tested it on a record by the band Poets of the Fall, who have some pretty instrument-rich music and wide-ranging vocals. The sound was voluminous and deep, so I was satisfied. And when listening on headphones, I had no questions about the receiver.
The Sony STR-DH190 is excellent for its price. For those who appreciate quality but are not ready to pay for additional "bells and bells", this stereo receiver can be a revelation in improving the sound from TV and listening to vinyl records.
Key specs
Channels: 2.0.
Power output: 100W/8 Ohm.
HDMI inputs/outputs: 0/0.
Video functions: has not.
Bluetooth/Wi-Fi: yes/no.
Surround sound: has not.
Pros
Compatible with speakers of different ranks (6-16 Ohm).
Good deep bass.
Good functionality at a low price.
Cons
No Wi-Fi.
Overheats during prolonged operation.
Denon DRA-800H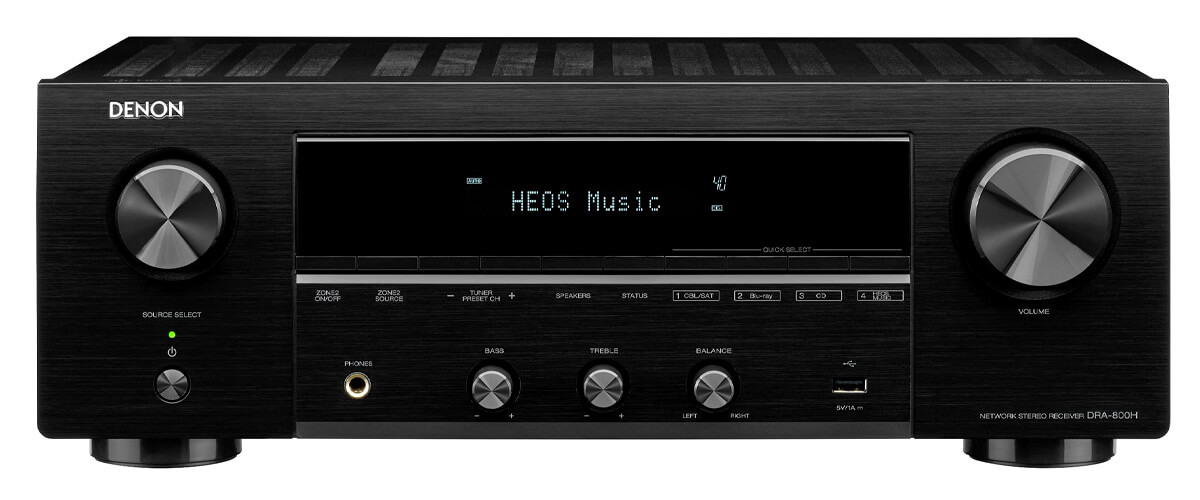 Another great stereo receiver with turntable input at an affordable price is the Denon DRA-800H. As I mentioned, it is very similar to the Marantz NR1200 and is a modern, ergonomic device with optimal features, including some AV receiver capabilities.
For example, from the connectivity options, it has digital optical and coaxial inputs, audio inputs, 5 HDMI Inputs, and 1 HDMI Output with 4K Capability and ARC Support as USB, Wi-Fi, and Bluetooth. All of this and the built-in features allow you to extend its capabilities to support HDR10, HLG, 4:4:4 color resolution, and use streaming services Spotify, Deezer, Tune In, etc., with the built-in HEOS system. As you can see, very similar to the NR1200 from Marantz. Generally speaking, what options they differ in should be looked at in more detail, so read the specs of each stereo receiver carefully to make your choice.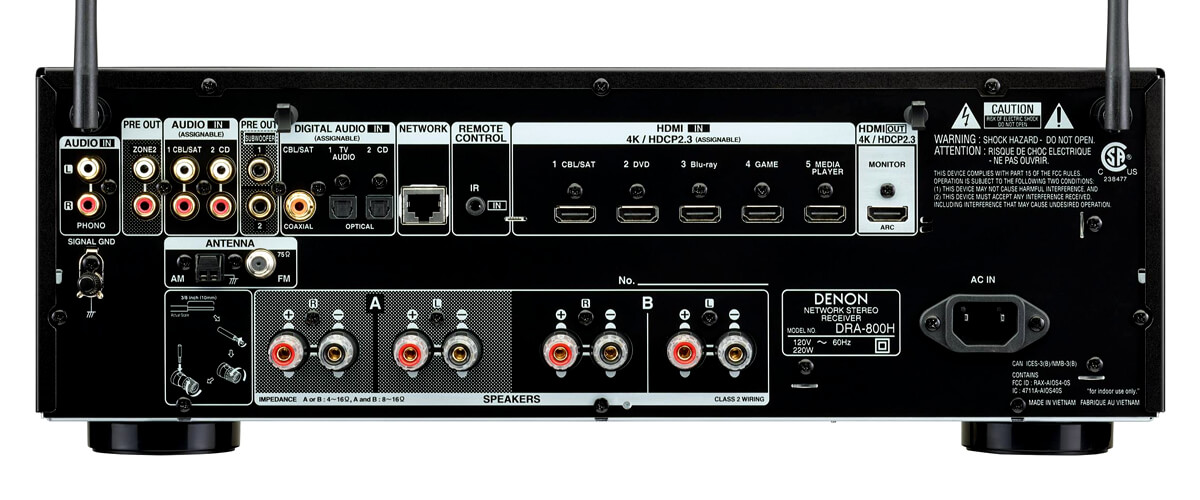 Perhaps the most obvious thing in which the Denon DRA-800H and the Marantz NR1200 are different is, firstly, the exterior. And this I refer to subjective perception because everyone has his own taste. And secondly, the sound. Every brand tries to bring something unique to their devices, and receivers are no exception, especially since they are competing brands. Therefore, I will try to describe the part about how the DRA-800H sounds as objectively as possible.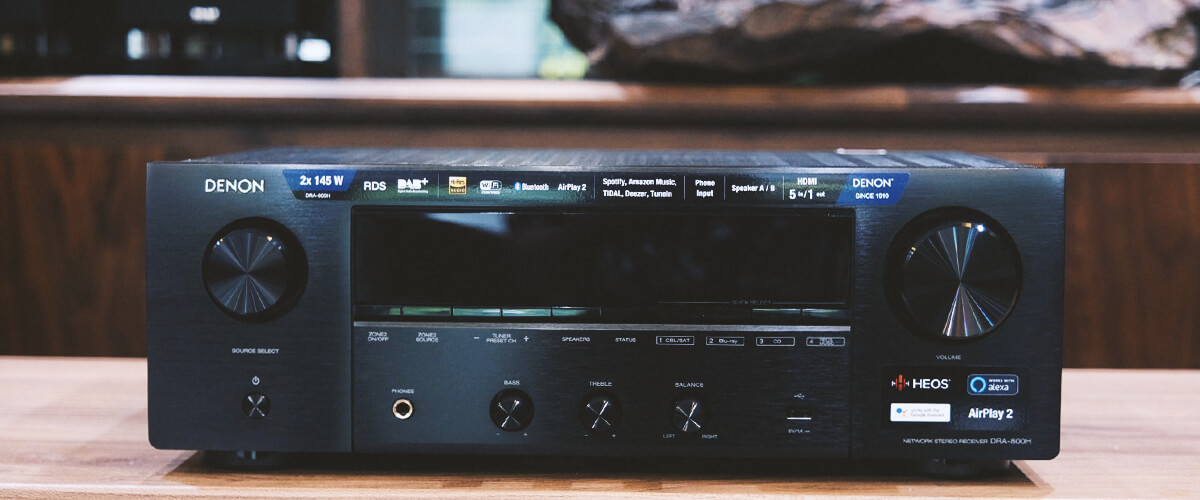 So, to begin with, Denon claims a little more power on paper, but I don't see the point in this because the THD values suffer, which means it is better to have less volume but cleaner sound. However, stereo receivers are originally designed for small rooms. I chose an Amy Winehouse record for testing this time because drums, strings, and even wind instruments are used there. Against the backdrop of Amy's inimitable vocals, each instrument sounded clear and rang in just the right way, joining together in a smooth but wonderfully detailed picture.
The Denon DRA-800H is an excellent representative of the turntable receiver category. Its unique warm sound brings out the authenticity of analog sound, all its sparks, making records sound like you're in a recording studio.
Key specs
Channels: 2.2.
Power output: 100W/8 Ohm, 120W/6 Ohm.
HDMI inputs/outputs: 5/1.
Video functions: 4K/60Hz pass-through.
Bluetooth/Wi-Fi: yes/yes.
Streaming services: AirPlay2, Deezer, Tidal, Pandora, SiriusXM, Napster, SoundCloud, Amazon Music, Amazon Music HD, Mood mix.
Supports: HDMI CEC, HDCP2.3, HLG.
Surround sound: has not.
Pros
Warm analog sound without using maximum volume.
Multiple connectivity options are available.
Wireless and built-in features create an optimal stereo system.
Cons
Little background at maximum volume.
Best AV receivers for turntable reviews
So, we can start looking for a suitable device among AV receivers. This type is more suitable for those who want to combine listening to music in different formats and home theater. After all, an AVR is a sophisticated modern device, which in addition to audio amplification, has a lot of additional features, such as processing high-quality video and the availability of an Internet connection. It is optimized for surround sound, but it can also work in two-channel stereo mode, which allows you to listen to traditional music. Almost any of them can be a good receiver for turntables because they focus on versatility. And in this section, I'll introduce you to two of them that have built-in phono preamps and the optimal set of features for a decent home theater experience for years to come.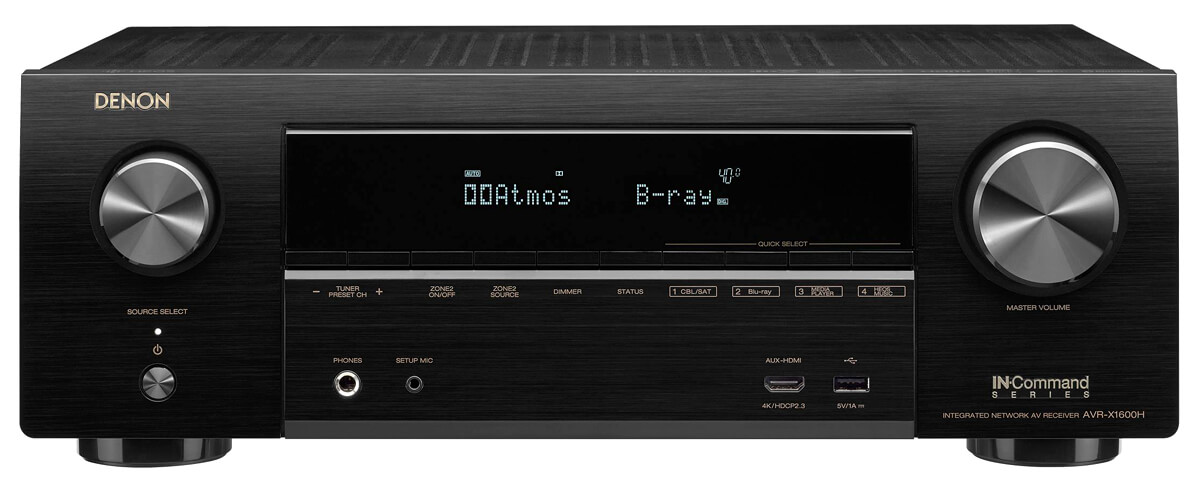 And again on my list is a model from this famous brand, which, not without reason, claims to be the best receiver for vinyl. Denon always offers a great price/quality ratio; Denon AVR-X2700H is no exception. With it, you can create an optimal home theater for a medium-sized room to enjoy almost all the benefits of modern sound and video. Most importantly, you can achieve excellent quality by combining it with an audio system for listening exclusively to music, including the connection of a vinyl player. In short, the AVR-X2700H is a 7.1-channel model, so if you add overhead speakers, you can enjoy the 3D sound with Dolby Atmos or DTS:X. As for video formats, it supports 8K/60Hz, selective pass-through and 4K/120Hz scaling, HDR10+, Dynamic HDR, and ALLM.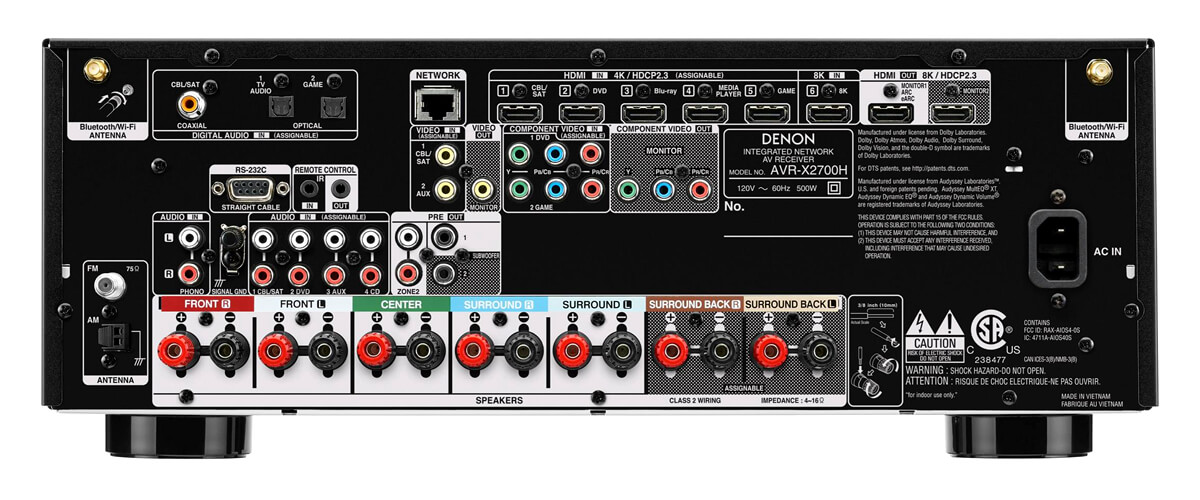 But we're here for a different reason, which means it's worth noting that along with a great connectivity suite that includes 6 HDMI inputs (supports HDCP2.3) and two HDMI outputs (ARC), Component, Digital Coaxial and Optical Inputs, Wi-Fi, Bluetooth, there's also the phono input that interests us most. Such options and the ability to add a second subwoofer will satisfy those who like to keep all their equipment in one place. Of course, you also can enjoy streaming services Spotify, Pandora, TuneIn, and voice assistants AirPlay2 and Alexa. And to complete the picture, there's the HEOS Built-In wireless multi-room ecosystem option.
This model can be compared to the approximately equally priced Pioneer Elite VSX-LX305 or Onkyo TX-RZ50. However, because these models are flagships in the brands' ranges, and the AVR-X2700H we are considering is the simplest of the finest among Denon, I would bet on Denon, especially since its reputation does not make you doubt the quality of the device.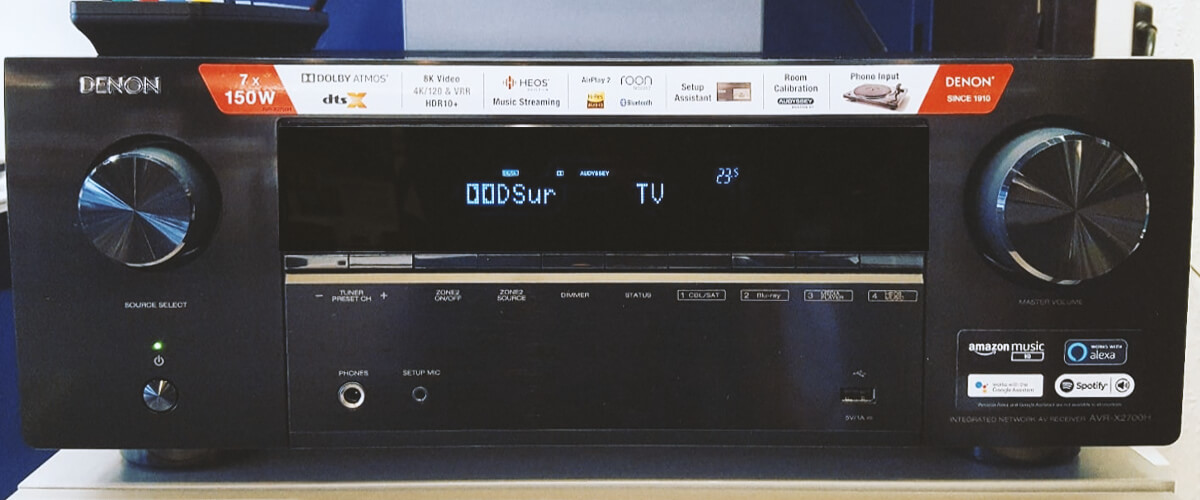 My impressions of the X2700H may be too subjective because I am a brand fan. However, I like everything about it, from the minimalist design to the sound quality. With its input power data of 125 W (6 ohms, 1 kHz, 0.7% 2ch Drive), and 95 W (8 ohms, 20 Hz – 20 kHz, 0.08% 2ch Drive), it can perfectly fill a medium-sized space. The two separate subwoofers thrill me, so deep they deliver meaty bass without mixing with the high frequencies at all. Speaking of testing, I chose the Muse record because it was important to test the bass and still have high vocals. The result is quality, honest vinyl reproduction with excellent dynamics and excellent balance. The receiver worked every penny of it and more.
With Denon AVR-X2700H, you can assemble a complete home theater system, which will serve as a decent-rank audio system. The receiver will work out every penny and even more. But most importantly, it will give you the sound experience you deserve.
Key specs
Channels: 7.2.
Power output: 95W/8 Ohm, 125W/6 Ohm.
HDMI inputs/outputs: 6/2.
Video functions: 8K/60Hz, 4K/120Hz, 4K/60Hz pass-through, video upconversion (up to 1080p and 8K) for analog and HDMI sources.
Bluetooth/Wi-Fi: yes/yes.
Streaming services: AirPlay2, Deezer, Tidal, Pandora, SiriusXM, Napster, SoundCloud, Amazon Music, Amazon Music HD, Mood mix.
Supports: HDMI ARC, HDMI eARC, HDMI CEC, HDCP2.3, HDR10.
Surround sound: DTS HD Master, DTS Neural:X, Dolby TrueHD, Dolby Surround, Dolby Atmos Height Virtualization, Dolby Atmos, Multichannel stereo.
Pros
Support for modern video and audio formats and compatibility with streaming services.
Great combination of old and modern connectivity.
It makes a great analog sound when connecting to a vinyl player.
Cons
I did not find any disadvantages while testing.
Onkyo TX-NR696 – budget AVR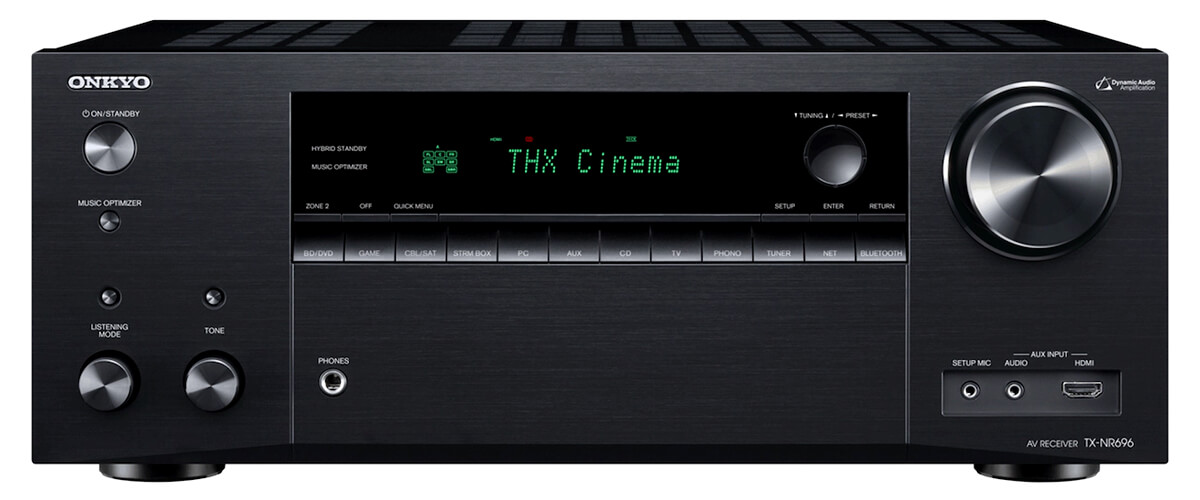 The budget turntable receiver on my list is Onkyo TX-NR696. In general, the brand offers good devices with good features at a reasonable price, so for those who are not going to create a high-class system in their home to make the neighbors jealous but want to enjoy the possibility of using modern formats and services – 7.2-channel TX-NR696 is for you, friends.
With it, you can experience the joys of Dolby Atmos and DTS:X and use the streaming services of Amazon Music, Pandora, Spotify, Deezer, and more. It will also help you set up your ecosystem with built-in Works with Sonos, AirPlay 2, DTS Play-Fi, and Chromecast Built-In with the Google Assistant. Everything you need is available. HDR10 and Dolby Vision video decoding – included!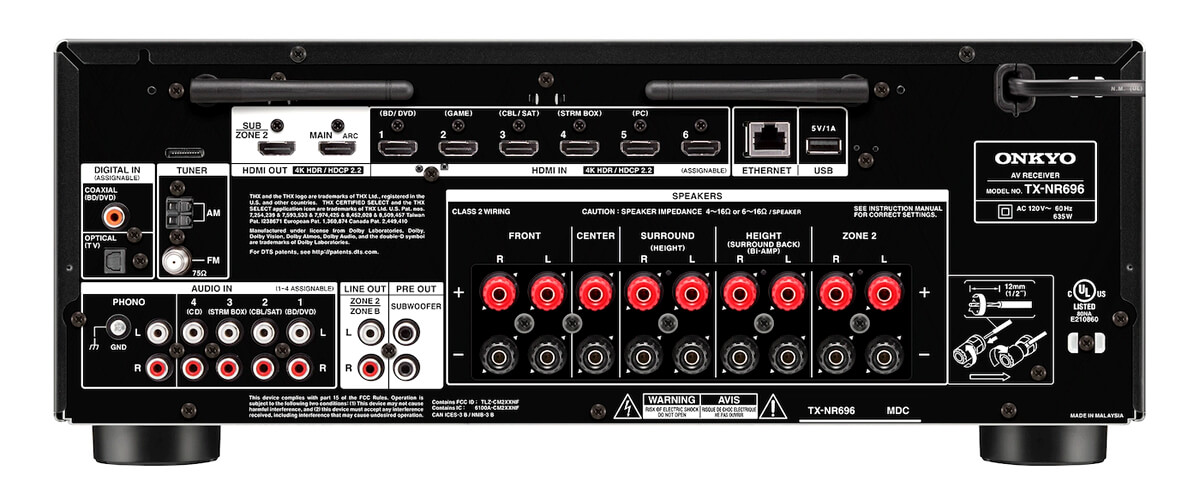 Connectivity options, including the phono input we are interested in, are Wi-Fi, USB, Bluetooth, analog inputs, the connection of old technology (Digital Optical and Coaxial), and 7 HDMI inputs (including 4K HDR / HDCP 2.3) and 2 outputs (incl ARC). All in all, great features for its low price. Simple, tasteful, and practical for years to come.
It's a little more expensive than the Onkyo TX-SR494 model while offering more options. So it's up to you to choose, but I consider it the most optimal budget receiver for a turntable.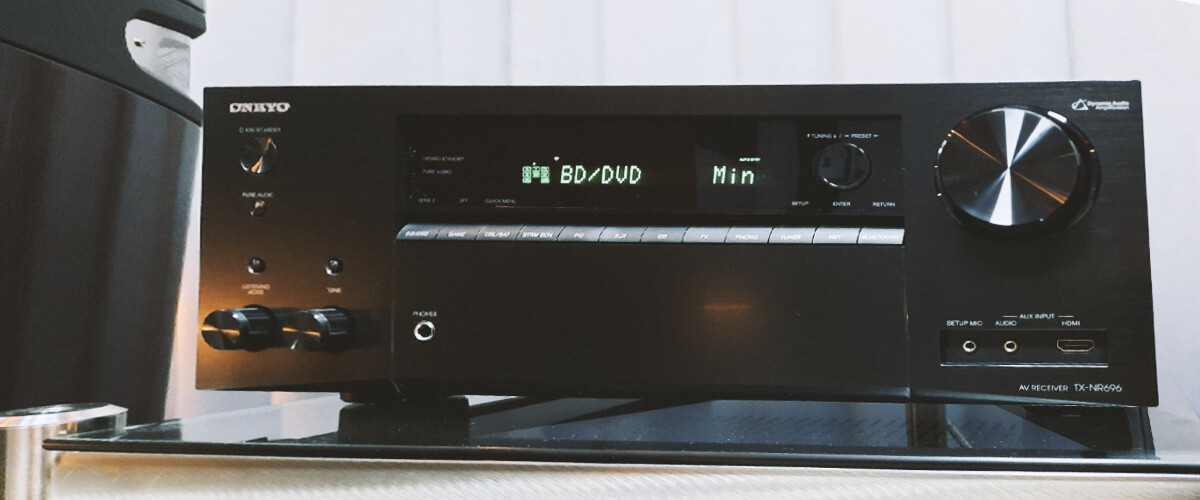 What remains to be said is how this AV receiver sounds. Frankly speaking, it has not had the optimal THD at 100 Watts (8 Ohms 20-20kHz, 0.08%, 2 ch) and does not produce the cleanest sound at maximum volume. It doesn't matter if the room you plan to put your home theater in is not the largest. As I said, with all of its performance, it's a good unit. During my testing, I used a Sade Greatest Hits record. I like to test the tech on its layered compositions and inconsistent vocals. In addition, the compositions have many unusual instruments, each of which plays an important role individually, blending into a melody. Therefore, it is important not to get a blurry picture. Well, I was not disappointed. The receiver produces a powerful, clear sound with deep bass and a warm overall picture without outright flaws. It has good separation of tops and bottoms, so the realistic analog sound – I confirm.
Onkyo TX-NR696 also gets the title of the best AV receiver for record players and is in line with the previous ones because it has great sound, a wide range of wired and wireless connections, and an affordable price.
Key specs
Channels: 7.2.
Power output: 100W/8 Ohm, 210W/6 Ohm.
HDMI inputs/outputs: 7/2.
Video functions: 4K/60Hz pass-through, video upconversion (up to 1080p and 4K) for HDMI sources.
Bluetooth/Wi-Fi: yes/yes.
Streaming services: AirPlay2, Deezer, Tidal, Pandora, SiriusXM, Napster, SoundCloud, Amazon Music, Amazon Music HD, Mood mix.
Supports: HDMI ARC, HDMI eARC, HDMI CEC, HDCP2.3, HDR10, Dolby Vision.
Surround sound: DTS HD Master, DTS:X, DTS Virtual:X, Dolby TrueHD, Dolby Surround, Dolby Atmos Height Virtualization, Dolby Atmos.
Pros
Multifunctionality with support for the latest formats.
The ability to connect via Wi-Fi and Bluetooth.
Variety of connectivity options and built-in features for streaming services.
Powerful sound, not at the highest volume.
Cons
Noise can be heard in stereo mode at maximum volume.
FAQ
How to connect the receiver to the turntable?
The receiver is connected to the vinyl player with regular RCA cables, which any audiophile should have in abundance (they often come with turntables, among others). This cable connects the corresponding inputs and outputs on devices labeled Phono. You can also use Line In, Analog In, Aux, and even the CD inputs on your receiver, but first, make sure you have a preamplifier.
So, there are four options for locating the phono stage, which is the most important part of the connection:
The phono stage is built into the turntable, not the receiver. Switch the mode on the record player to Phono and connect the devices.
Preamp is built into the receiver but not into the turntable. Connect through the phono jacks.
The phono preamp is built into both devices. You cannot use both phono stages, so switch the mode on the turntable to Line and make the connection.
There is no phono preamplifier in both units. In this case, purchasing an external preamplifier and connecting the receiver and deck through it is the better solution. You can also use Bluetooth if both your devices have it, but you will lose the analog sound quality.
Do I need a preamp for the turntable if I have a receiver?
If the phono stage is built into the receiver or turntable, a separate one is unnecessary for a beginner configuration. But it is worth noting that an external preamp is always better quality than the one built into the record player. And if the preamp is not built into the receiver, even in the turntable, you should buy an external phono stage.
What if my receiver doesn't have a phono input?
If so, it is necessary that the phono stage is built into the turntable (minimum), but anyway, it is better to buy an external one. In such cases, connections are made with any input, such as Line In, Analog In, Aux, etc.
How do I know if my receiver has a phono preamp?
To know that your receiver has a phono stage, just look at the back of it. A set of inputs should be labeled Phono, accompanied by a ground plug. Bingo! You have a preamplifier in your unit.
We are supported by our audience. When you purchase through links on our site, we may earn an affiliate commission at no extra cost to you.
Our newsletter
* We will never send you spam or share your email with third parties