When Yamaha first announced their premium Aventage lineup, in which the receiver RX-A6A takes second place to the top-of-the-line RX-A8A, they made an incredible leap forward in audio and video performance. The manufacturer claims powerful and clear sound with stunning accuracy and depth and also promises impressive visuals. That's why I decided to review the Yamaha RX-A6A and see for myself just how good this unit really is.
Features and specs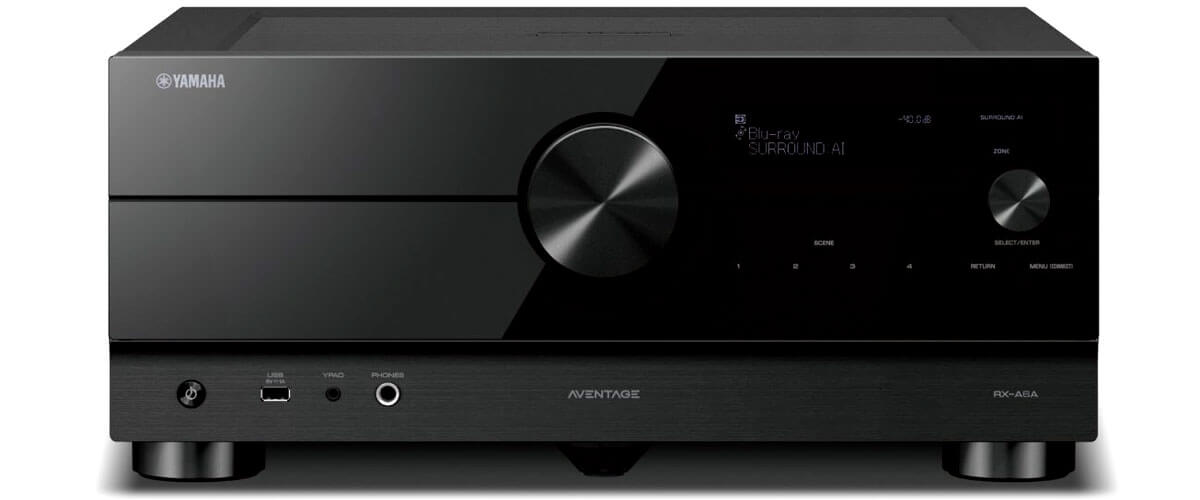 As I mentioned, the RX-A6A model is a product with features similar to Yamaha's top RX model – the A8A, but at a lower price point, which is definitely pleasing. This unit has an output power of 150 W (8 Ohms, 0.06% THD, 2ch) and has 9.2 configurations, upgradeable to 11.2.
With SABRE's ES9026PRO x1 ES9007S x1 DAC, the 384 kHz/32-bit ESS Hyperstream delivers exceptional tonal balance with a wide dynamic range. Knowledge and years of experience have enabled Yamaha to design the updated boards so that the signal paths are as short as possible. The signal transfer is stable, fast, and accurate, and this improvement is at least twice the performance of the previous generation AVRs.
I would like to draw your attention to the design of this model. All receivers of the Aventage line are externally similar and have the same minimalist glossy panel and a central volume control with a text LCD display. A double bottom, a fifth foot on the bottom of the cabinet, and an Anti-Resonance Technology Wedge prevent unwanted cabinet vibrations and minimize audio noise.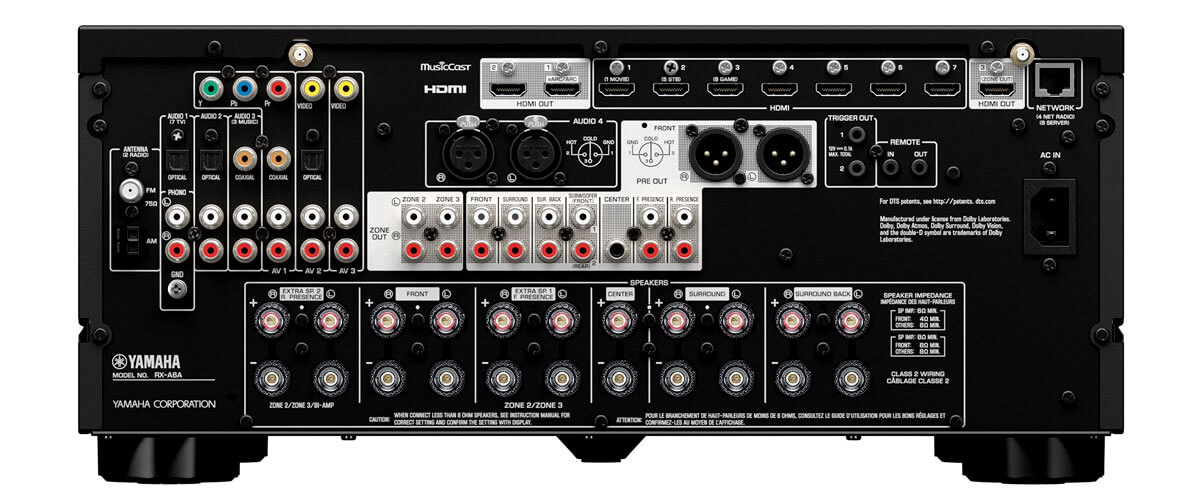 The most interesting part is the back of the receiver. Here, the manufacturers have not been stingy, and the technical specifications of the RX-A6A are impressive. There are enough connectors for most system settings in different configurations with the possibility of improvement. Here 7 inputs and 3 outputs HDMI 2.1 (40 Gbps), including support for eARC on output 1, as well as CEC and HDCP.
The Yamaha MusicCast app works perfectly. I can control the entire system on my mobile from anywhere in my house where I have a Wi-Fi signal. The app allows you to stream high-resolution and lossless music formats, including Apple Lossless (ALAC) up to 96kHz, WAV, FLAC, and AIFF up to 192kHz, and play music from services such as Spotify, Tidal, Qobuz and Deezer. Alexa and Google voice control, AirPlay 2, and Bluetooth (with support for SBC /AAC codecs) are also included. YPAO (Yamaha Parametric Room Acoustic Optimizer) adjusts the sound to suit the room, and RSC (Reflected Sound Control) allows you to control early sound reflections, adding to the overall flexibility of this AV receiver.
I'll tell you a little bit about the video capabilities of this model as well. 4K Ultra HD pass-through and scaling with premium HD Ultra video processing, as well as numerous video optimizations and enhancements. You'll get incredible video content with lifelike images, crisp motion, and enhanced contrast thanks to full support for HDR, HLG, Dolby Vision, HDR10+, and Dynamic HDR formats. This device converts all your analog video signals, such as VCRs, to HDMI and upscales them to 1080P with the HD Ultra video chipset, so all your favorite classics look better than ever.
Listening experience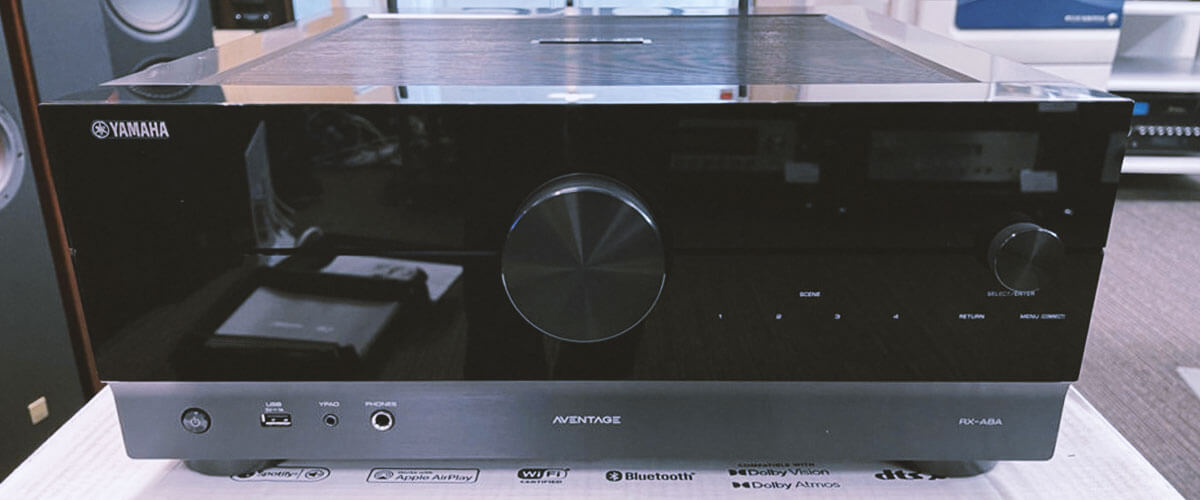 The A6A is one of the most responsive, clean, and dynamic-sounding AVRs for this price, so I really enjoy watching my favorite video library. The clarity of the sound, the sense of ambiance, and the amazing surround reproduction are astounding. Dolby Atmos excels at recreating spacious sound with clear directionality and helps create detailed soundscapes.
You'll feel every random sound in the movie-whether it's the wind blowing or the water running, the whisper or the piercing scream-imbued with the sheer power and detail of the picture's most poignant moments, without any distortion.
Key specs
Channels: 9.2.
Power output: 150W/8 Ohm.
HDMI inputs/outputs: 7/3.
Video functions: 8K/60Hz, 4K/120Hz, 4K/60Hz pass-through, video upconversion (up to 1080p and 8K) for analog and HDMI sources.
Bluetooth/Wi-Fi: yes/yes.
Streaming services: AirPlay2, Deezer, Tidal, Pandora, SiriusXM, Napster, SoundCloud, Amazon Music, Amazon Music HD, Mood mix.
Supports: HDMI ARC, HDMI eARC, HDMI CEC, HDCP2.3, HDR10, HDR10+, Dolby Vision.
Surround sound: DTS HD Master, DTS Neural:X, Dolby TrueHD, Dolby Surround, Dolby Digital Plus, Dolby Atmos Height Virtualization, Dolby Atmos, Auro-3D
We are supported by our audience. When you purchase through links on our site, we may earn an affiliate commission at no extra cost to you.
Our newsletter
* We will never send you spam or share your email with third parties