We have long been accustomed to the fact that even the average receiver has so many functions that it's almost impossible to use 100% of them. But why overpay if you're primarily interested in music? Pioneer SX-10AE is a good partner for an inexpensive vinyl turntable with a built-in phono stage or a TV and receiver combination that doesn't pretend to become a multi-channel home theater. In my Pioneer SX-10AE review, I will discuss this rather interesting model, which solves such problems. And, of course, we will talk about its sound.
Features and specs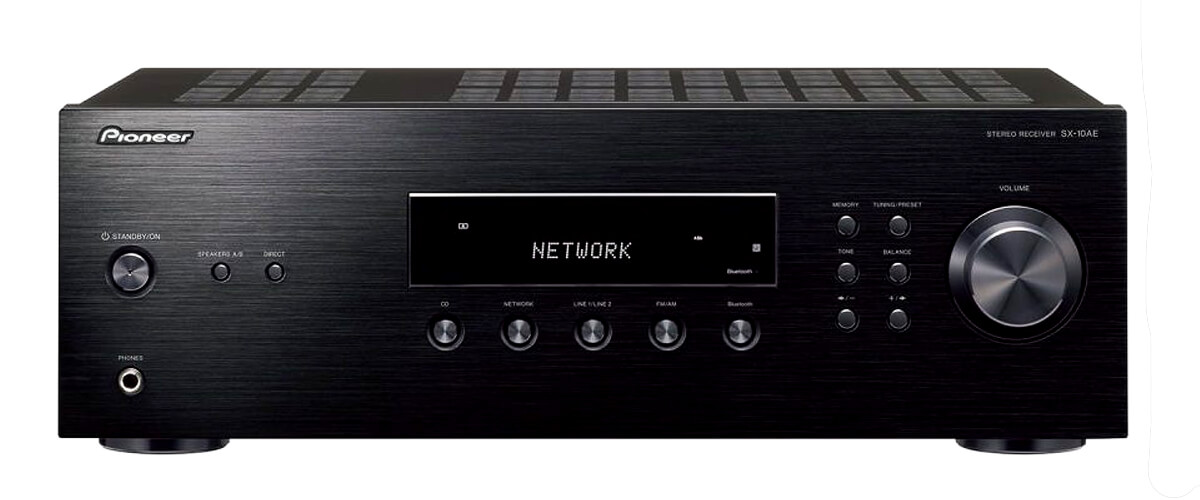 The SX-10AE is the youngest model of all Pioneer stereo receivers available today. This 2.1 amplifier is 100W per channel (6 Ohms, 0.08% THD). The company clearly states that the amplifier section is built in accordance with the Direct Energy scheme. Usually, it means a pulse circuit made using Direct Power FET field-effect transistors. I would dare to assume that, in this case, Direct Energy means particularly careful optimization of conventional push-pull stages. What you should surely keep an eye out for is functionality. The manufacturer expresses concern and warns that 10AE can operate with 2 speakers of 4 Ohms, not 4. If you try to do this, you will likely damage the speakers. I also advise this unit for more compact spaces because it is insufficient for larger areas.
As for connecting specifications of SX-10AE, there are 4 line inputs, and no digital ports are provided. A single line output turned out to be unregulated, that is, if something happens, using the equipment in conjunction with an external power amplifier will not work. There is also one more output designed specifically for the subwoofer. In multi-channel receivers, a separate channel of low-frequency special effects provides output to it, but in our case, decoding of multi-channel tracks is not offered.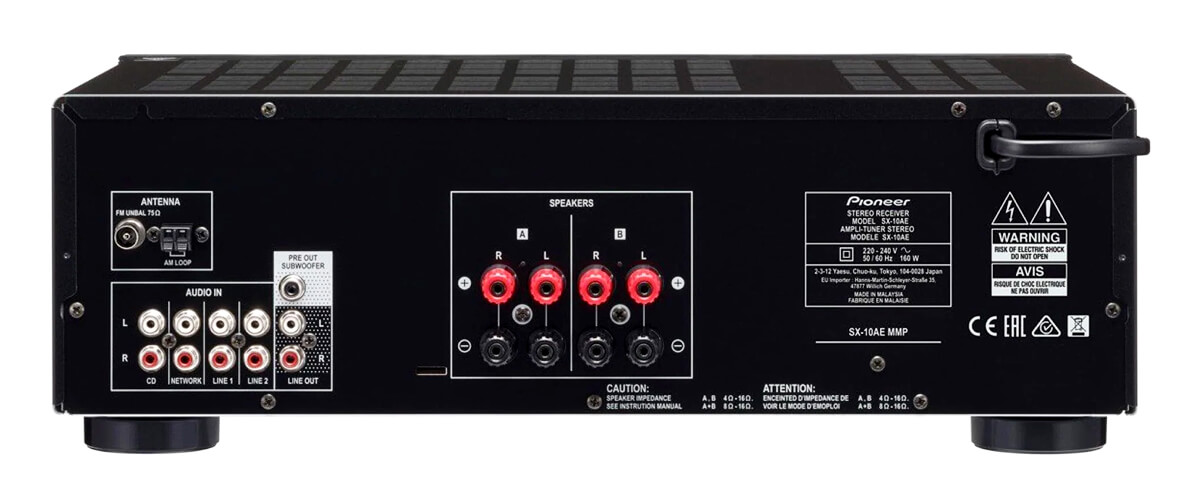 The missing streaming functions can easily be taken over by the smartphone, connected to the receiver via built-in Bluetooth v 4.2. Note that SX-10AE only features streams in the basic SBC codec and the much-loved Apple AAC, but aptX or LDAC are not supported.
One of the additional nice features is when the equipment is not in service for a long period of time, it automatically turns off. I also noticed that this model is economical in terms of electricity consumption, which is a definite plus.
Listening experience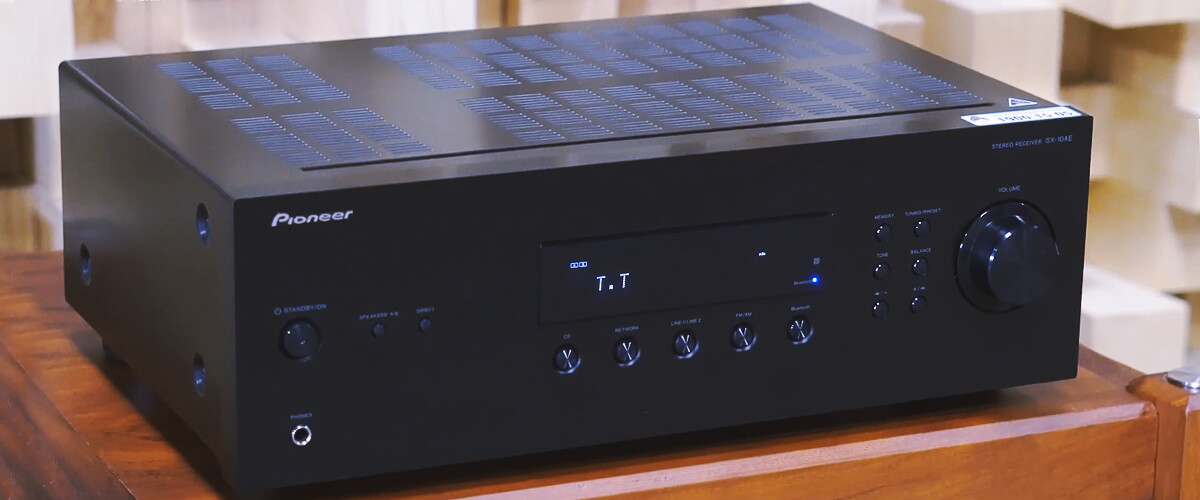 In my opinion, the Pioneer stereo receiver sounds in full accordance with the needs of its target audience. That is, people who do not want to spend any serious budget on a setup but, on the other hand, expect a fairly harmonious and, if possible, dynamic sound.
The SX-10AE produces a cheerful, truly dynamic sound in which you can feel the correct organization of the sound stage. Apparently, my decision not to use pulse amplification in such an inexpensive device was correct – in class D, such a performance nature is much more expensive.
Key specs
Channels: 2.0.
Power output: 45W/8 Ohm, 85W/8 Ohm.
HDMI inputs/outputs: 0/0.
Video functions: 4K/60Hz, pass-through.
Bluetooth/Wi-Fi: yes/yes.
Streaming services: AirPlay 2, Spotify, TuneIn, Deezer, Tidal, Netflix, Amazon Prime.
Surround sound: DTS HD Master, DTS:X, DTS Neural:X, DTS Virtual:X, Dolby TrueHD, Dolby Digital Plus, Dolby Atmos Height Virtualization, Dolby Atmos.
We are supported by our audience. When you purchase through links on our site, we may earn an affiliate commission at no extra cost to you.
Our newsletter
* We will never send you spam or share your email with third parties