Choosing a new receiver for your audio-video system can be difficult, especially nowadays, when the models do not have time to keep up with each other. What to say about the average user, regardless of whether he is sophisticated in knowledge or will buy equipment for the first time?
This article about the best Yamaha receivers is intended to familiarize you with the brand's products, whether you are looking for surround sound or stereo receivers, and to tell you about the models of the popular manufacturer, which is famous for its pure cold sound. First, a few words about how I prepare such reviews, and then let's get to the main thing. Let's go.
Our pick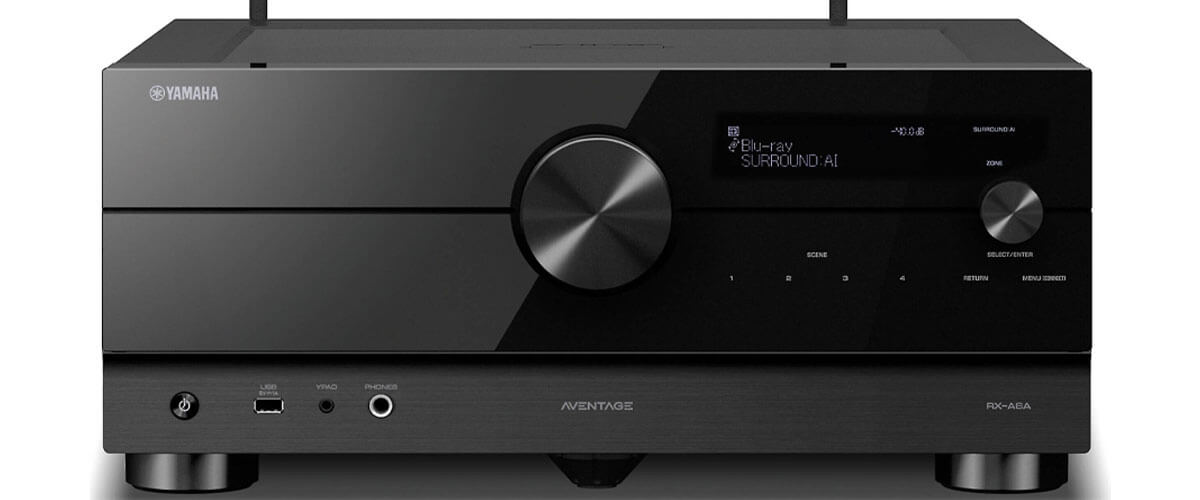 Yamaha RX-A2A
Best Yamaha receiver
The Yamaha RX-A2A Aventage is a 7.2-Channel AV receiver with 8K HDMI, and MusicCast takes your entertainment to the next level with professional quality video and immersive surround sound.
Read the full review
.
Yamaha AV receivers comparison table
Name
Channels
Power output
HDMI in/out
Bluetooth/Wi-Fi
Review
Yamaha RX-A2A

best overal

7.2
80W/8 Ohm
7/1
yes/yes
Review
Yamaha RX-V6A

also great

7.2
100W/8 Ohm
7/1
yes/yes
Review
Yamaha RX-A8A

premium

11.2
150W/8 Ohm
7/3
yes/yes
Review
Yamaha RX-V385

budget

5.1
70W/8 Ohm
4/1
yes/yes
Review
Yamaha R-N303

stereo

2.0
140W/8 Ohm
0/0
yes/yes
Review
What Yamaha receivers did we test?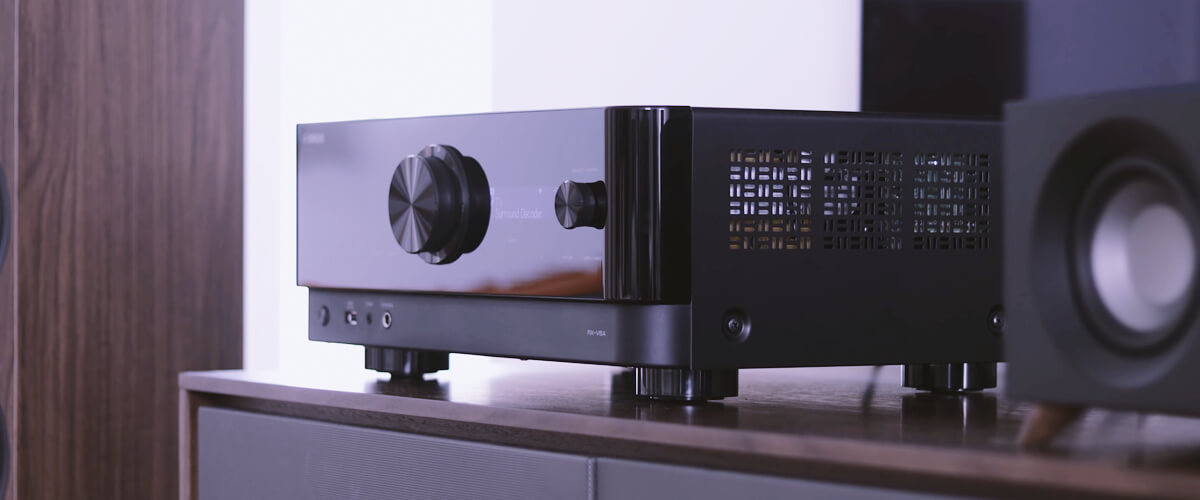 Before you start studying the devices I have tested, I want to note that I try to make an objective judgment, not based solely on personal impressions. That's why I use customer reviews from various trading platforms supplemented by experts' opinions from popular audio forums. So you end up with a pretty reliable informed opinion, not based on anything personal flavor that would confuse you.
It should also be said that three models from Yamaha: RX-A4A, RX-V4A, and R-S202 (although they are quite popular among users), were not included in the rating for some combined technical reasons and testing impressions.
Our criteria for choosing the best Yamaha AVR
As always in my reviews, the criteria for choosing the rating models were the following factors:
Listening experience.
Availability of necessary built-in functions (support for modern video technologies, surround sound formats, Bluetooth, Ethernet/Wi-Fi/streaming services, etc.).
A sufficient number of input and output connections.
Price.
Therefore, you will find models that optimally represent their price segment and functionality for various purposes and tasks here.
Best Yamaha receivers reviews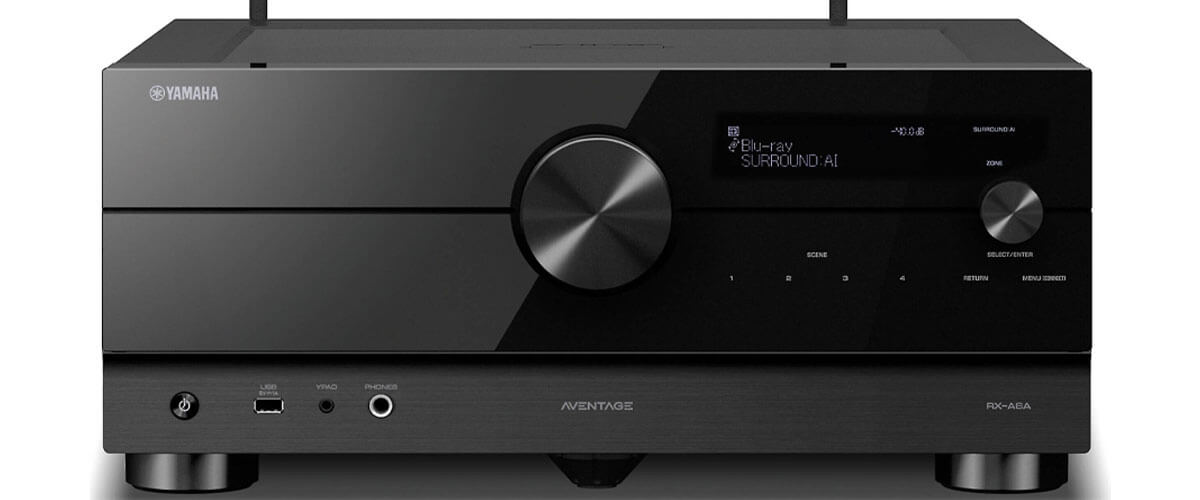 The gold of my rating goes to Yamaha RX-A2A, a representative of the Aventage line, which the brand is so proud of. This is the simplest model of the series, but by the combination of features and cost, it is optimal concerning our whole chart.
So, it will provide you with 7.2 channels of surround sound with Dolby Atmos and DTS:X surround sound support, with 100W power (8 ohms, 20Hz – 20kHz, 2ch) and rather low THD 0.06% as for a mid-range receiver. And the first positive thing I noted was that the RX-A2A never once overheated during testing, unlike other models of the same rank.
Its 7/1 HDMI ports support 4K/120Hz, 8K/60Hz video, Dolby Vision, and HDR10+ formats and upscaling to 4K, eARC, and VRR & ALLM for game consoles. In my opinion, this is more than enough for today.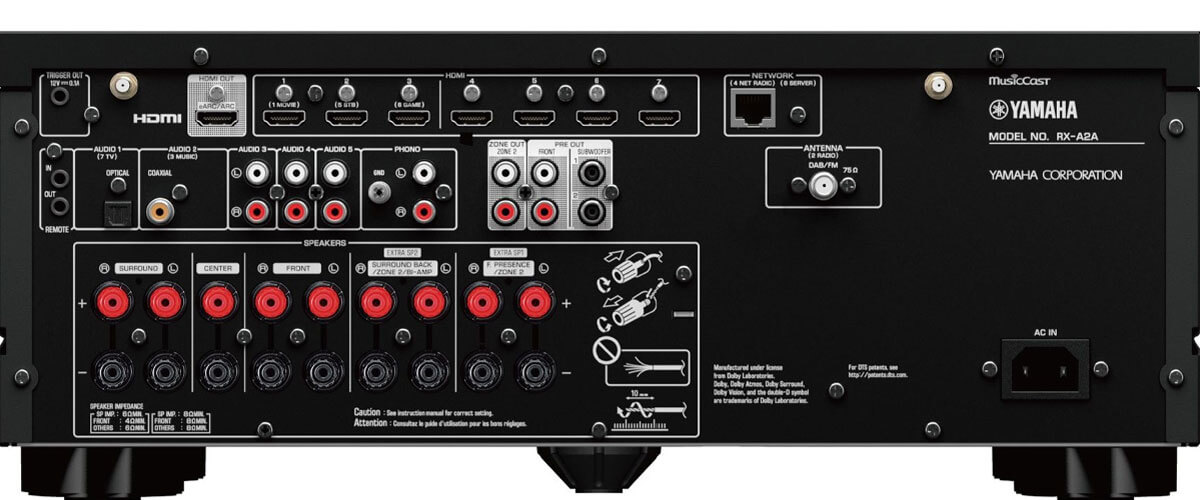 Wireless connectivity includes Wi-Fi, Bluetooth, and the MusicCast ecosystem. The latter is worth highlighting separately, as I noted its excellent user-friendly menu and smooth MusicCast operation. I also liked the seamless control from my iPhone (iPad), as the receiver is iOs compatible and works with AirPlay 2. All this and multi-room for two zones will please fans of streaming music from streaming services, and voice assistant support will please lazy people like me.
But the main advantages await you in the field of sound. First, there's the Dolby Atmos Height Virtualization surround sound format, which I appreciate because I know not everyone is willing to sacrifice their renovation for height channels. Second, the CINEMA DSP 3D system is indispensable for sports broadcasts and concerts. The cherry on the cake is the Compressed Music Enhancer, which improves compressed audio to the original level. In general, Yamaha obviously cared for music lovers, as RX-A2A supports Hi-Res Audio and has a built-in FM tuner. And speaking of sound, surround, or stereo, the extensive customization options, including YPAO, Pure Direct, Adaptive DRC, and more, are worth mentioning. If you spend enough time figuring out and customizing the system, you won't regret it.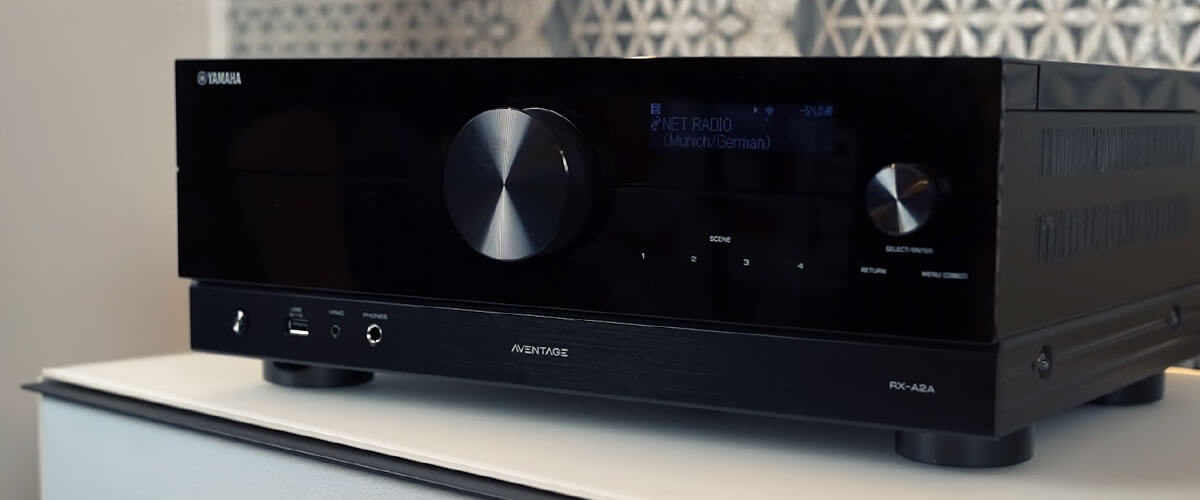 In conclusion, it is worth mentioning the disadvantages. Well, where without them? Only a few times, but I noticed a slight sound lag from the image. Having familiarized myself with user reviews, I ruled out the variant of problems on the part of my equipment. It happens. I also didn't appreciate the on-screen menus, which are slow for me. But, frankly speaking, it didn't affect my great impressions and my decision to give priority to this model.
Yamaha RX-A2A rightfully gets the title of the best Yamaha receiver on my list because it combines pure, high-quality, detailed sound, good quality components, functionality and support for advanced formats, and at the same time – quite an affordable price. A reasonable choice for modern people.
Key specs
Channels: 7.2.
Power output: 80W/8 Ohm.
HDMI inputs/outputs: 7/1.
Video functions: 8K/60Hz, 4K/120Hz, upscaling up to 4K.
Bluetooth/Wi-Fi: yes/yes.
Streaming services: AirPlay 2, Spotify, TuneIn, Deezer, Tidal, Netflix, Amazon Prime.
Supports: HDMI ARC, HDMI eARC, HDMI CEC, HDCP2.3, HDR10+, Dolby Vision.
Surround sound: DTS:X, DTS Virtual:X, Dolby Atmos, DTS HD Master, Dolby TrueHD.
Pros
The optimal combination of price/quality from the whole list.
Does not overheat during operation like other models.
Great friendly MusicCast menu and smooth operation.
Extensive customization options take the system to the next level.
Cons
Very rarely, but I have noticed sound lagging behind the picture.
Slow on-screen menus.
Yamaha RX-V6A – also great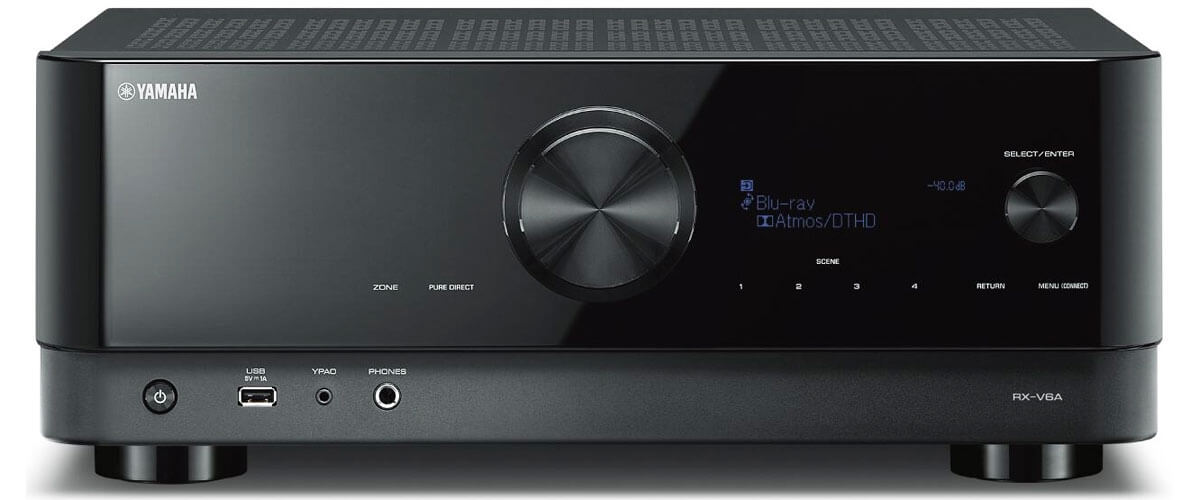 I gave the silver to the Yamaha home theater receiver from another series, the RX-V, which is the coolest. So, meet the 2020 model (like the RX-A2A) – Yamaha RX-V6A. It costs less than the first one but is almost as good in functionality. What are the differences? Let's see.
The receivers are identical in terms of power, providing 100 watts (8 ohms, 20 Hz – 20 kHz, 0.06% THD, 2 ch), and I'd like to point out that despite the price, the RX-V6A really sounds strong, easily filling a 400 square foot room with sound. The models also share the same number of HDMI ports, and there are no differences in video capability support. I positively evaluated the CEC performance here; turning on the desired source automatically turns on the TV and receiver, and there were no glitches. But the terminals on the back panel of the AVR are too close to each other, and it was, if not difficult, then inconvenient to connect the speakers.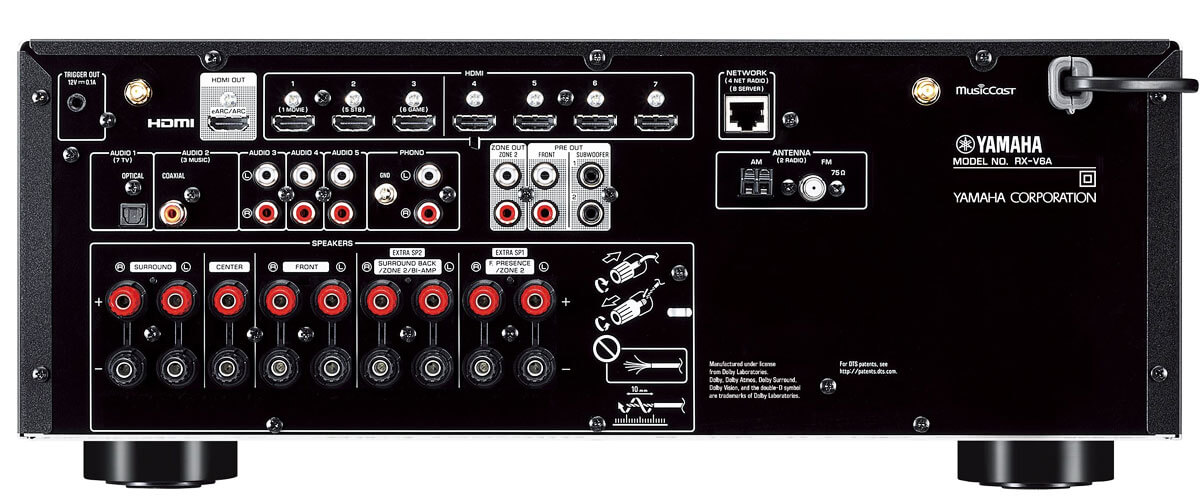 The RX-V6A is inferior to the RX-A2A in wireless connectivity. But not in the availability of features but in the quality of the broadcast. For example, I had no complaints about the work of Wi-Fi and Bluetooth. AirPlay2 also coped with the task quite well. But MusicCast multi-room works occasionally, which upset me quite a lot. Working with the voice assistant Alexa seemed to me a mockery of the manufacturer. And although it's not the most important function, for me – it's better not to declare the function at all than to make it bad.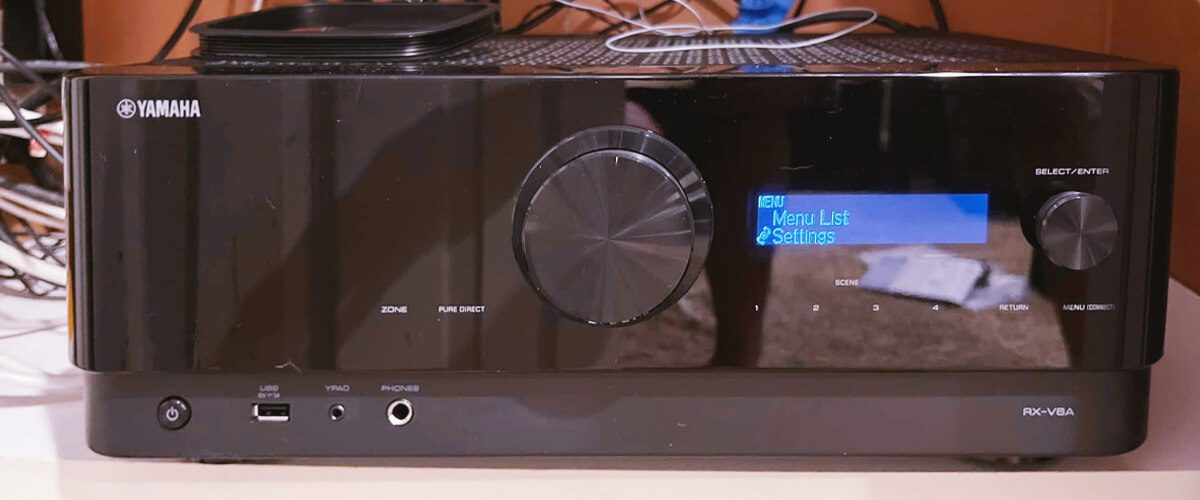 My disappointment ended when I decided to watch the movie "Loft". In addition to Dolby Atmos and DTS:X support, the receiver has Virtual Cinema DSP technology, which I tried. The sound is virtually directed upward without special speakers, creating an almost Atmos-standard experience. And as a result, I heard detailed dialog, excellent upper tones, and deep bass that is on par with the previous model on the list. I also enjoyed listening to the stereo: the receiver handled Florence + The Machine's complex instrumental tracks, highlighting the singer's unique vocals and layering the musical range in the right tonality. I also appreciate Yamaha's YPAO calibration, having tested the brand's models for years.
If you're looking for a decent Yamaha AVR under $1000 to replace your old receiver, the RX-V6A is perfect. It supports some of the latest video formats and sounds great in surround sound formats. Compared to cheaper models, the device differs significantly in a favorable way.
Key specs
Channels: 7.2.
Power output: 100W/8 Ohm.
HDMI inputs/outputs: 7/1.
Video functions: 8K/60Hz, 4K/120Hz, upscaling up to 4K.
Bluetooth/Wi-Fi: yes/yes.
Streaming services: AirPlay 2, Spotify, TuneIn, Deezer, Tidal, Netflix, Amazon Prime.
Supports: HDMI ARC, HDMI eARC, HDMI CEC, HDCP2.3, HDR10+, Dolby Vision.
Surround sound: DTS:X, DTS Virtual:X, Dolby Atmos, DTS HD Master, Dolby TrueHD.
Pros
Really powerful quality sound.
I noted the smooth operation of the CEC function.
Great for replacing an older model.
Cons
The speaker terminals are too close together.
MusicCast and Alexa do not work well.
Yamaha RX-A8A – premium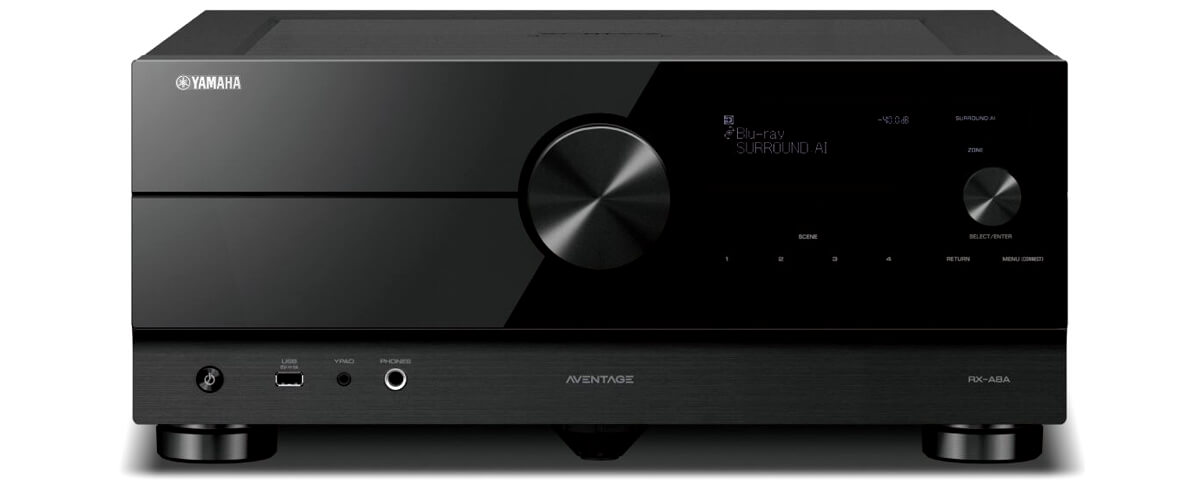 The top AV receiver from Yamaha, the RX-A8A, is out of the category. Since it is the flagship of the Aventage lineup and the brand's entire range, it is superior to its predecessors in every way, but it will be easier if I tell you what it has in common with the RX-A2A.
By the end of what you've read, you may wonder why, with seemingly minor advantages, the RX-A8A is overpriced by more than double. For those who understand, you can skip this paragraph; it is intended for those new to the world of amplifiers. So, what you need to know is that the terrible secret lies in the details. Literally, the more expensive models always use expensive, durable, quality components that affect the sound and life of the AVR. No wonder the model weighs 47.2 pounds. And the functionality even a very inexpensive receiver can offer today. Moving on.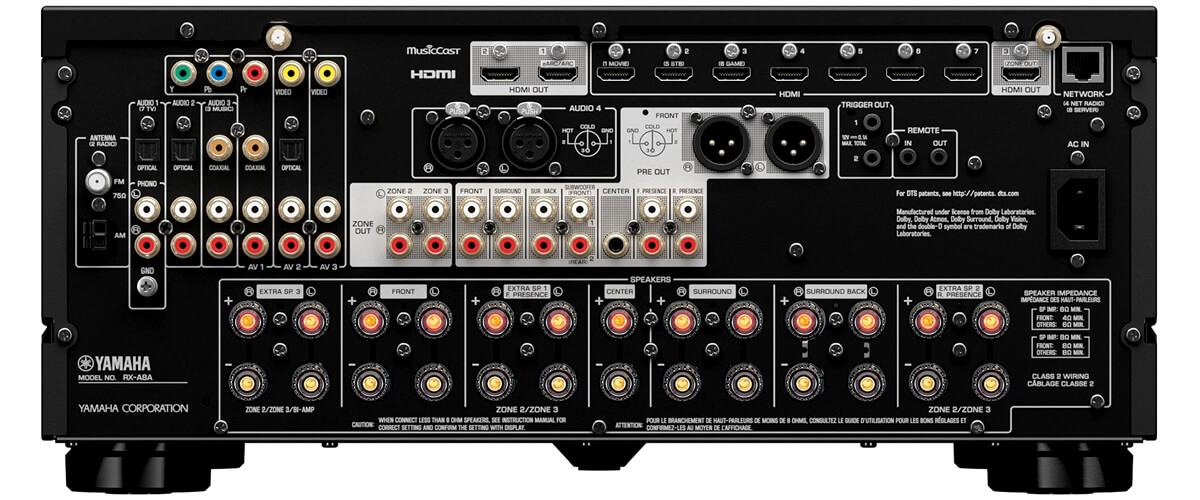 Well, the RX-A8A is simply a monster; it has 150 watts of power (8 ohms, 20Hz-20kHz, 0.06% THD, 2ch) while maintaining a pretty good THD rating. The manufacturer even added a fifth leg to the receiver to provide extra resonance. So turn it on full blast and enjoy; the AVR won't be able to "run away" from its place.
Unique features of the model include:
Multi-room for 4 zones.
CINEMA DSP HD3 (more advanced than the RX-A2A).
Support for the Auro 3D surround sound format.
Also built into the DSP is AI technology that independently analyzes scenes and highlights dialog, backgrounds, and special effects for surround sound, all in real time.
R.S.C. Superior YPAO's advanced R.S.C. calibration system with 3D with multi-point sensing, accurate E.Q., and bass mode.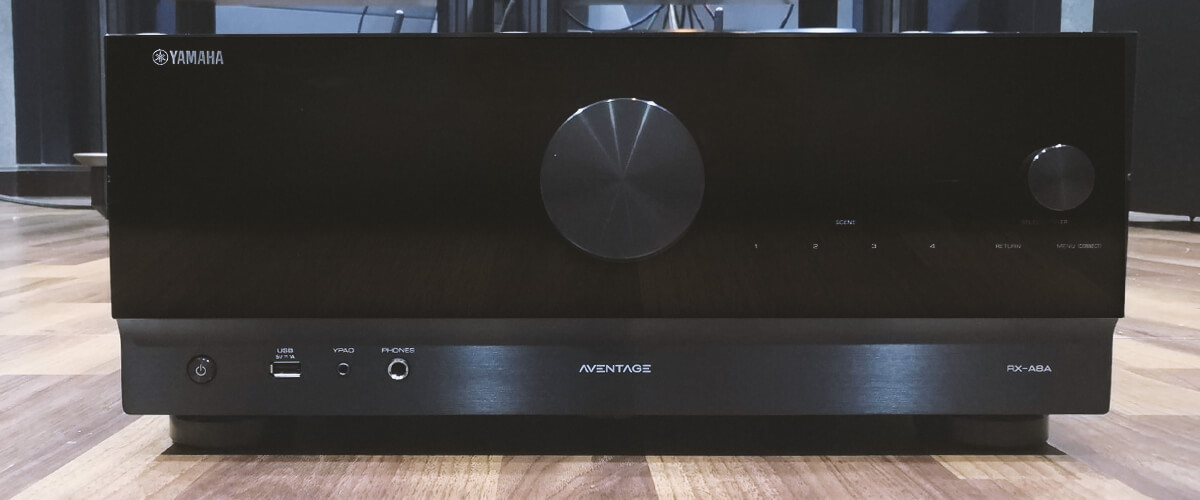 It's not hard to guess that the RX-A8A sounds divine. Well, ok, of course, no receiver can compare with professional amplifiers regarding sound purity. Still, this model has received very high marks from users and testers and impressed me personally. I chose the musical movie Burlesque in order to fully experience the benefits of the receiver's technologies, particularly concert sound and Surround:AI. A fantastic show of the variety of musical instruments and the unique voices of Cher and Christina Aguilera, but also the rustling of clothes and the clinking of dishes sounded as realistic as imaginable. Total immersion. Total delight.
Key specs
Channels: 11.2.
Power output: 150W/8 Ohm.
HDMI inputs/outputs: 7/3.
Video functions: 8K/60Hz, 4K/120Hz, upscaling up to 8K.
Bluetooth/Wi-Fi: yes/yes.
Streaming services: AirPlay 2, Spotify, TuneIn, Deezer, Tidal, Netflix, Amazon Prime.
Supports: HDMI ARC, HDMI eARC, HDMI CEC, HDCP2.3, HDR10+, Dolby Vision.
Surround sound: DTS:X, DTS Virtual:X, Dolby Atmos, DTS HD Master, Dolby TrueHD, Auro 3D.
The 11.2-channel RX-A8A receiver is simply the best Yamaha AV receiver in every sense and category, without any reservations. And if you are ready to pay its price, it will serve you for a long time and delight you with unique impressions.
Pros
The most powerful receiver in the list – 150 watts per channel.
Massive weight and additional anti-resonance.
Premium components are used in the design.
Multi-room video for 4 zones.
Unique artificial intelligence (AI) technology built into the DSP analyzes and optimizes surround sound in real-time.
Cons
I found no obvious drawbacks during testing, especially compared to competitors.
Yamaha RX-V385 – budget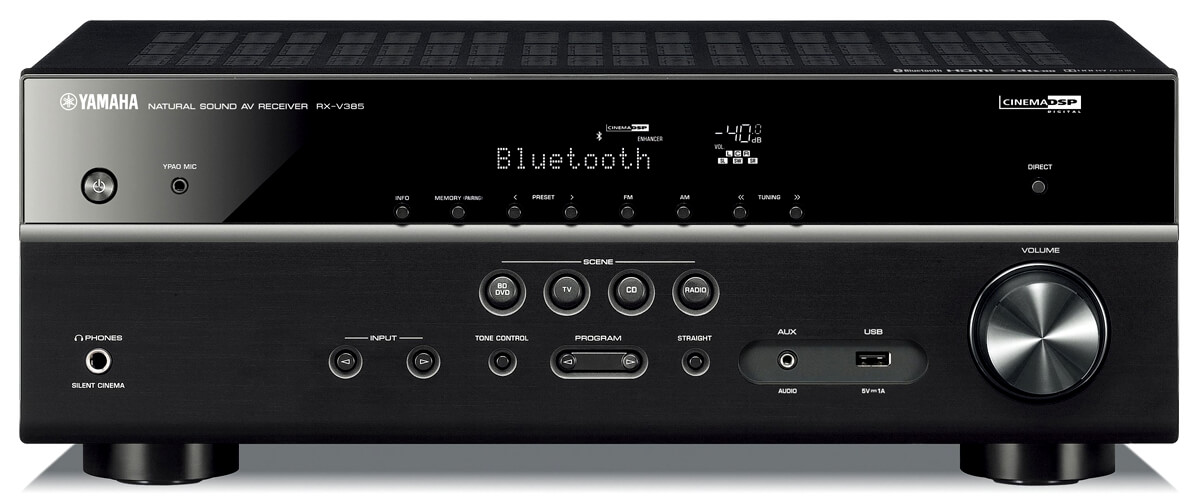 As I promised at the beginning, this ranking includes all categories of receivers, so now we will look at the best budget Yamaha receiver. The RX-V385 was released in 2018, has 5.1 channels, and delivers 70W (8 ohms, 20Hz-20kHz, 0.09%, 2ch).
Simple model – basic features. Video capabilities include 4K/60Hz Ultra HD Pass-through and Upscaling, which work just flawlessly. There's also 3D Pass-through, eARC, and CEC, as well as support for HDR10 and Dolby Vision. Of the surround sound formats, Dolby TrueHD, Dolby Digital Plus, and DTS-HD Master Audio are the must-haves, and they're present in this model, plus there's even the more advanced CINEMA DSP. Thanks to its virtualization, you can even put all 5 speakers in the front and still hear surround sound. The receiver doesn't have Wi-Fi, but it does have Bluetooth, which also impressed me with the streaming level. Now that's what I call "little but flawless".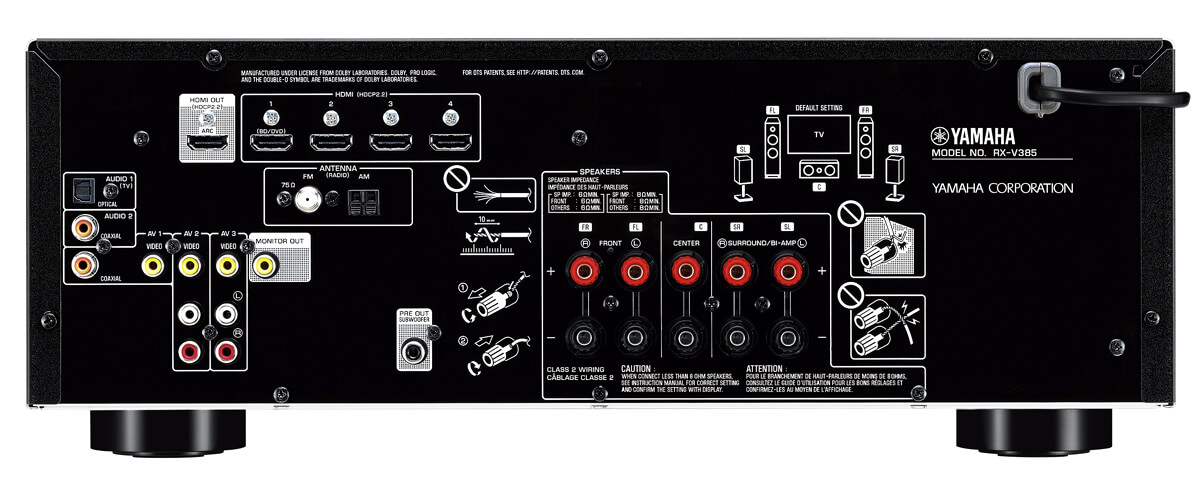 It's not without its flaws, which are expressed in the occasional 1-2 second video lag and the fact that HDMI doesn't accept long cables (at lengths longer than 10 feet, it just doesn't work). But I fully expected something like this since we're talking about a few hundred bucks for a receiver, and I wasn't surprised or disappointed.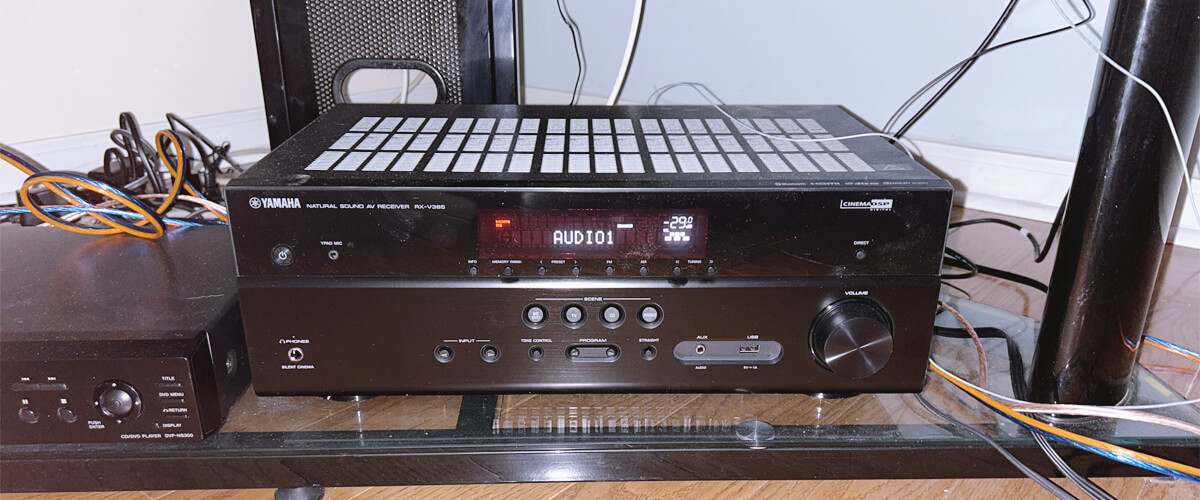 It's silly to compare the sound of the RX-V385 to any of the previous models since it only assumes basic surround sound, no gimmicks. But the receiver proves once again that Yamaha creates only quality things. Even the YPAO calibration system did not cause me any questions, taking about 10 minutes, although it is inferior to more advanced versions. The sound is clean, moderately powerful, and realistic, although a bit cold, as with other brand products.
Key specs
Channels: 5.1.
Power output: 70W/8 Ohm.
HDMI inputs/outputs: 4/1.
Video functions: 4K/60Hz pass-through, upscaling up to 4K.
Bluetooth/Wi-Fi: yes/no.
Streaming services: has not.
Supports: HDMI ARC, HDMI eARC, HDMI CEC, HDCP2.3, HDR10+, Dolby Vision.
Surround sound: Dolby Digital Plus, DTS HD Master, Dolby TrueHD.
Yamaha RX-V385 is an ideal option for beginners or ordinary non-pretentious users. With it, your movies and music will sound with a new force, in new colors, and it does not require anything in return. Along with compromises in functionality, the receiver will not let you down in the main thing – sound.
Pros
Flawless transmission of video signal with a resolution of 4K/60Hz.
Virtualization of surround sound allows you to put all the speakers in front of the viewer.
Setup is very easy and takes about 8-10 minutes.
I liked the way Bluetooth works. A rarity for budget models.
Cons
Sometimes there is a 1-2s video delay.
HDMI problem occurs when using long cables.
No Wi-Fi.
Yamaha R-N303 – stereo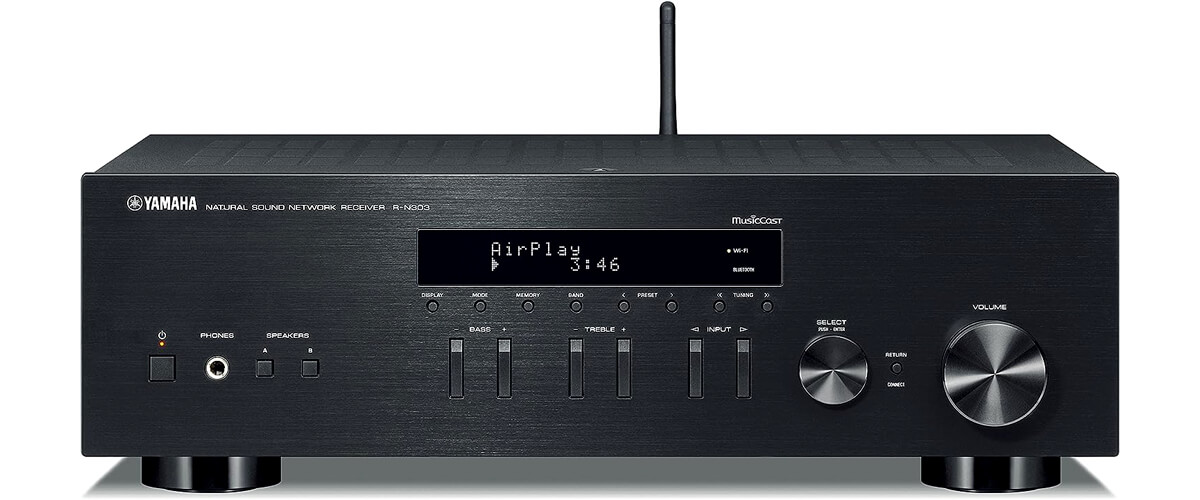 The only stereo receiver on my list is a 2017 model, the popular entry-level Yamaha R-N303, at an extremely nice price. Logically, this device is suitable for those who are not into surround sound but just want to improve their TV viewing experience and listen to music with higher sound quality than any AV receiver can offer.
With this amplifier, you can get 100 W (8 ohms, 40 Hz-20 kHz) of power but with 0.2% THD. It works with Hi-Res audio, including 5.6 MHz DSD, FLAC, WAV, Apple Lossless 96 kHz/24-bit formats, and more. The receiver has 6 analog inputs and 1 output, a phono input for vinyl fans, a headphone output, digital TV inputs (optical and coaxial), and Ethernet. As well as Wi-Fi, Wireless Direct, Bluetooth, and AirPlay connectivity. And the R-N303 is also compatible with Amazon Alexa, Google Assistant, and streaming services. MusicCast is just flawless, but setting it up just pissed me off. I'll be honest, for a stereo receiver, this is more than a solid list of extras.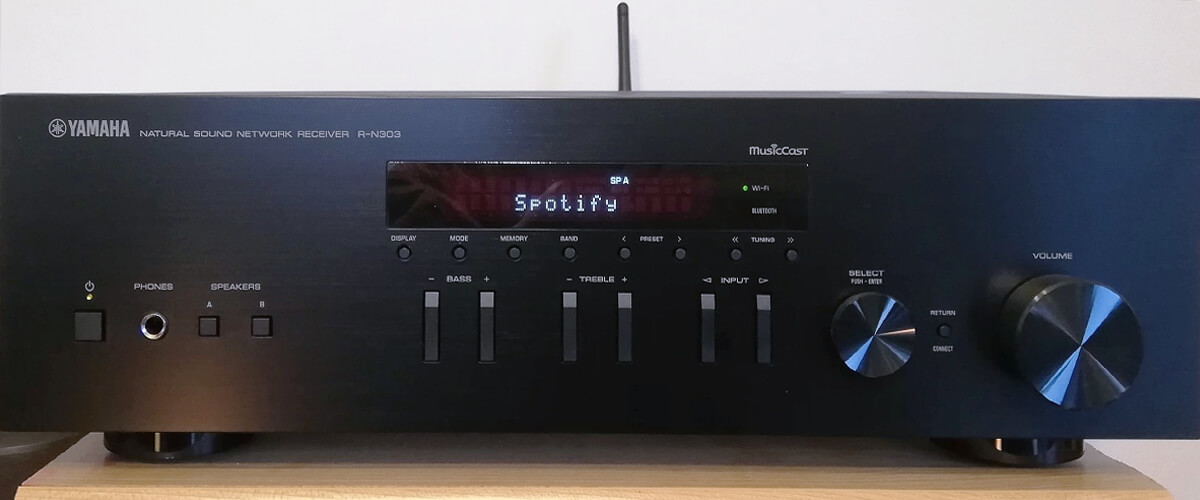 I would also include the design and the sense of control among the disadvantages. Buttons are small, signed even small; the display is not informative. In general, you must be young and have good eyesight to not feel powerless in this mess. In addition, the upper and lower frequencies are adjusted with a button, which is not as precise as if you had a round control with a smooth transition at your fingertips.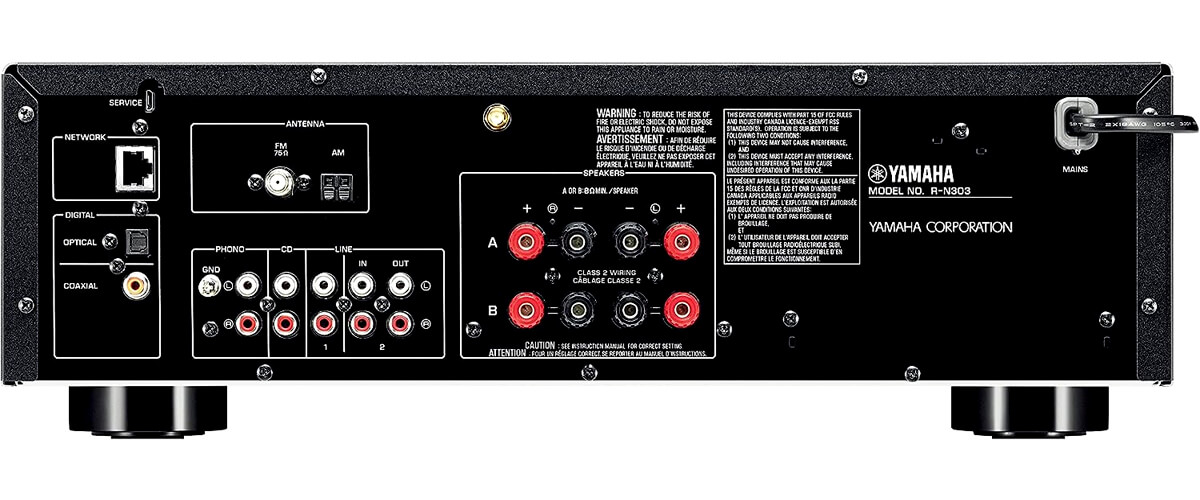 I tested everything: CDs, Spotify, Deezer, and Alexa, and I only settled down in the evening when I was listening to the fifth record. The sound is terrific for an inexpensive entry-level device: clear, ringing, with an authentic range of tonalities and subtleties. And I can't note anything that disappointed me in terms of any signal transmission.
Yamaha R-N303 will give music lovers true pleasure. Excellent digital and analog sound, wide possibilities of wireless connection and compatibility with streaming services, MusicCast ecosystem – what a music lover needs at first.
Key specs
Channels: 2.0.
Power output: 140W/8 Ohm.
HDMI inputs/outputs: 0/0.
Video functions: has not.
Bluetooth/Wi-Fi: yes/yes.
Streaming services: Pandora, Napster, Spotify, SiriusXM Internet Radio, TIDAL, Deezer.
Surround sound: has not.
Pros
Android and iOS are compatible.
Extensive wired and wireless connectivity options.
Flawless MusicCast performance.
Beautiful pure, quality sound.
Cons
MusicCast took a pretty long time to install.
Uncomfortable control: the buttons are small, the display is not informative, and frequencies are adjusted by buttons.
What to look for when choosing a Yamaha receiver
It's easy to get confused by the mish-mash of features on offer, especially if you are a beginner. Let's run through the main ones that particularly confuse users.
Necessary connections for your home theater
To have a compact system and still have all the necessary equipment connected, you need to know how to connect it: for a turntable, you need a phono input, and for older equipment, you need component and coaxial inputs or a pre-output for an amplifier and sub.
But for modern equipment, HDMI is important because that's how you connect video players and game consoles. I would recommend picking a receiver with at least 1 more input than you need because you never know what new product will come out "tomorrow", and using adapters is cumbersome. After all, it was compactness that got me started.
I also recommend you look into HDMI versions, as you need eARC, 4K/8K, VRR, and HDCP 2.2/2.3 support to support today's video and audio formats. This will make a big difference in the upgrade longevity of your system.
Of course, all receivers released in 2023 are equipped with the latest versions of HDMI (maybe not all connectors, but definitely all AVR models), so this advice is relevant for those who are not chasing novelty.
But the most important thing I want to say is, don't exceed your allocated budget if you missed one input. In my opinion, it's not worth it. After all, you can always find a cheaper option to solve the issue, for example, by connecting the game console directly to the TV, provided that it is compatible.
Bluetooth, Wi-Fi, streaming services
Do I need wireless connectivity? Is it worth paying more for it? What's the difference between regular Bluetooth and built-in services? And many more questions don't let you sleep well before deciding. Let's get to the bottom of it.
Regular Wi-Fi and Bluetooth allow you to use your smartphone to listen to music from streaming services. Still, they may not retain signal quality, may be intermittent, and in the case of Bluetooth, only work within a 30-foot radius. Receivers with built-in Spotify, Pandora, or Deezer (as well as many others) greatly improve broadcast quality by providing a direct connection.
As for rebroadcasting to multiple zones (multi-room), I would look at apps like HEOS (Denon) or MusicCast (Yamaha). But you only need them if you have a large family or home (well, or if you love yourself so much that you want to listen to music even in the bathroom, and I have nothing against it). Voice control is also popular today.
Perhaps it remains to explain the difference between Bluetooth, AirPlay, and Chromecast, and here it will be better to use the table:
| Feature | Bluetooth | AirPlay | Chromecast Built-in |
| --- | --- | --- | --- |
| Compatibility | Works with most devices | Designed primarily for Apple devices, with some exceptions | Compatible with Android and iOS devices |
| Range | About 30 feet | Reliant on the home network connection | Reliant on the home network connection |
| Sound Quality | Diminished sound quality | Offers lossless, CD-audio quality | Offers higher-than-CD hi-res quality (24bit/96kHz) |
| Multiroom Capability | Generally limited to single-device | AirPlay 2 allows multiroom streaming | Stream to multiple rooms |
| Device Connection | Direct connection to the device | Requires connection to the home network | Requires connection to the home network |
| App Compatibility | Works with most apps | Compatible with iOS and some Android apps | Compatible with Android and iOS apps |
Now that you understand the purpose of all these "mysterious" features, it's up to you to decide whether you're willing to pay extra for them or consider them a whim. Although even not the most expensive receivers usually have something to offer.
Number of channels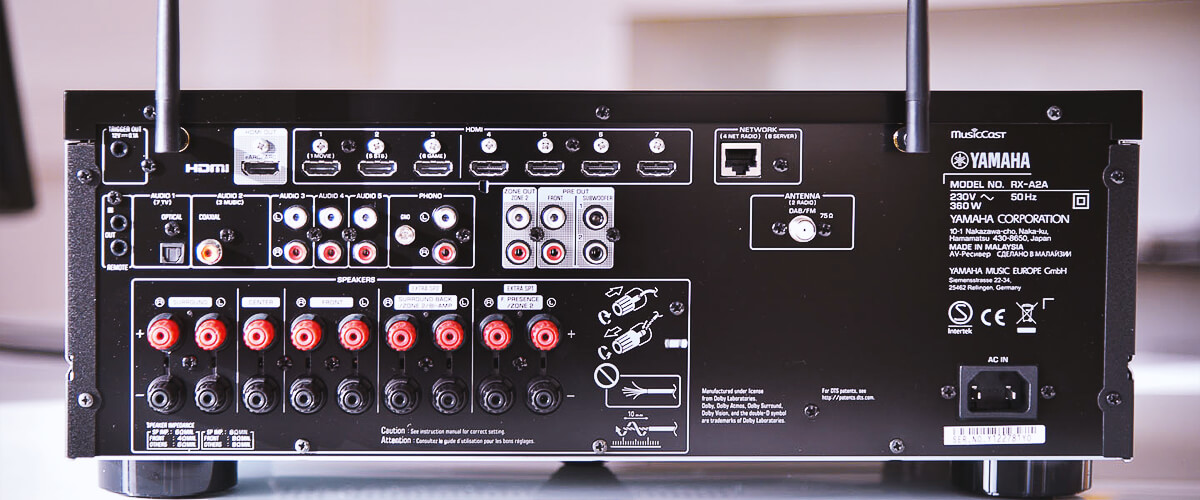 It is also important to understand what kind of system you want to build, namely how many channels to choose. It's not that difficult if you know what they will give you:
A 5.1 system is basic and will provide support for older surround sound formats. It's suitable for small rooms (about 150 square feet).
A 7.1 system allows you to view content with immersive Dolby Atmos and DTS:X soundtracks and will be good in a room of about 300 square feet.
9.1 and above – enjoy surround sound with all its nuances, but will need a large room and a lot of dreaming for the home theater.
AV receiver power: does it matter?
The average user's benchmark will be the power of 50 – 100W, as always. In addition, from model to model, depending on the brand, the same indicator will sound different (meaning volume) but still provide enough volume. And by the way, you will not meet models lacking power in my rating. Just match the system to the size of your room.
Moreover, I would pay attention not to RMS but to THD because this indicator speaks about the purity of sound, which is more important. Who wants loud sound with interference? Anything over <1% THD for 2 channels will not sound clean enough. But in any case, only an amplifier that has nothing to do with surround sound will give you truly crystal clarity. Otherwise, you won't notice much difference.
Surround sound formats support
Of course, we don't need to discuss the benefits of surround sound formats like Dolby Atmos and DTS:X, which give us a sense of presence. But you should know that finding content with these soundtracks is a separate art form. If you have no idea what it is and what it's for, will you spend the time and money to find and purchase content? Older surround sound formats will sound very good so I wouldn't get hung up on it. But it's up to you to decide.
4K and 8K support
It seems that 4K video resolution is no surprise to anyone today. And almost all receivers have support for this quality. But not much time has passed, and everyone is already talking about 8K. Think whether it's worth chasing it because you will need a TV supporting this resolution. And as for receivers, many, even inexpensive models today are equipped with HDMI 2.1, which automatically means that 8K is available.
We are supported by our audience. When you purchase through links on our site, we may earn an affiliate commission at no extra cost to you.
Our newsletter
* We will never send you spam or share your email with third parties