The production of the Japanese company Pioneer has its origins in the last century, namely since 1938. The Japanese brand is focused on producing audio equipment, like receivers, amplifiers, car acoustics, speakers, and headphones. And even though the brand's products are not considered elite, users appreciate the quality of its products, trusting the company's years of experience. In this review on the best Pioneer receivers, I will tell you about five actual 2023 devices, among which each of you will find the optimal variant for yourself because I tried to pick them from all categories that meet your financial capabilities and wishes/preferences. With any of these Pioneer receivers, your home theater will shine with new sound colors.
Our pick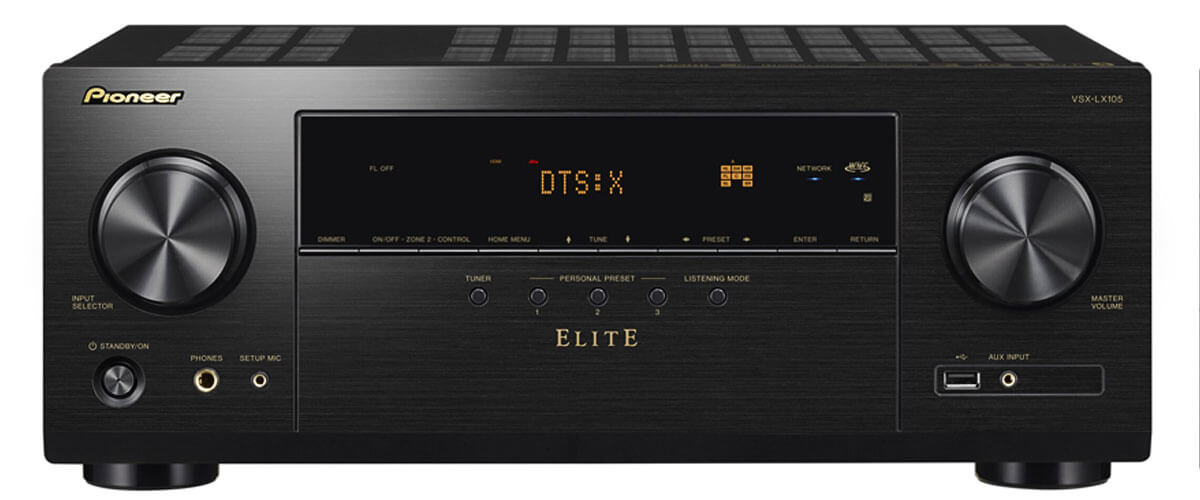 Pioneer Elite VSX-LX305
Best Pioneer receiver
The Pioneer VSX-LX305 is a 9.2-ch network AV receiver designed for optimum IMAX Enhanced and Dolby Atmos/DTS:X movie playback in a seamless 7.2.2ch/5.2.4ch surround sound.
Read the full review
.
Pioneer receivers comparison table
Name
Channels
Power output
HDMI in/out
Bluetooth/Wi-Fi
Review
Pioneer Elite VSX-LX305

best overal

7.2
100W/8 Ohm, 225W/6 Ohm
6/2
yes/yes
Review
Pioneer Elite VSX-LX805

premium

11.2
150W/8 Ohm
7/3
yes/yes
Review
Pioneer Elite VSX-LX105

also great

9.2
100W/8 Ohm, 210W/6 Ohm
6/2
yes/yes
Review
Pioneer VSX-534

budget

5.2
150W/8 Ohm
4/1
yes/no
Review
Pioneer SX-10AE

stereo

2.0
45W/8 Ohm, 85W/8 Ohm
0/0
yes/yes
Review
What Pioneer receivers did I test?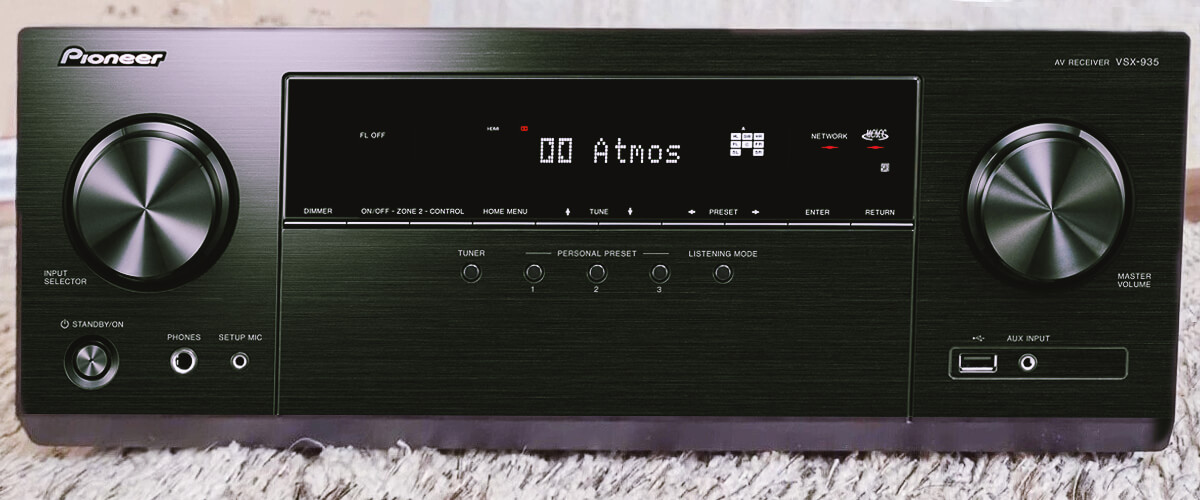 For completeness of the picture, I tested but did not include such models in my rating:
Pioneer Elite SC-LX904 – a great receiver, but unfortunately, it is no longer produced, although in some stores, you can still buy it new. However, a new model in my top with similar specifications is the Pioneer Elite VSX-LX805.
Pioneer VSX-935 and Pioneer Elite VSX-LX505 are good receivers, but they didn't make my list for a combination of technical reasons and testing impressions.
It's also worth noting that in addition to my personal impressions from testing, I try to study customer reviews from various trading sites and the opinions of other users and experts from popular audio forums. The combination of such data allows me to make an objective judgment, which allows me to make a rating of the top Pioneer receivers in 2023.
Our criteria for choosing the best Pioneer AV receiver
My criteria in creating this review were the following factors: listening experience, availability of necessary built-in features (support for modern video technologies, surround sound formats, Bluetooth, Ethernet/Wi-Fi/streaming services, etc.), sufficient number of inputs and outputs, and price.
I've tried to select optimal AVR models and one stereo receiver in different price segments with different functionalities designed for different purposes and tasks. Each of them is a great device for its price segment and fulfills the main task – to provide excellent sound.
Best Pioneer receivers reviews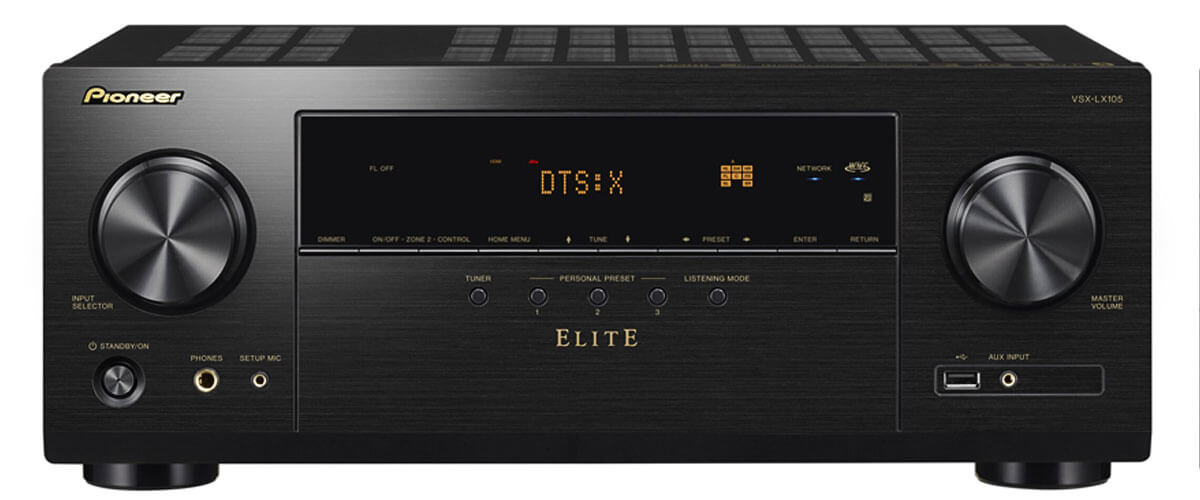 First in my rating is the 9.2-channel AVR Elite VSX-LX305. It is the best Pioneer receiver regarding price/quality ratio because it offers the widest functionality at a reasonable price not only in my review but also competes with similar devices of other brands. Given the company's consistent quality, I believe it is a worthwhile investment.
The first thing I'd like to mention is the receiver's highly viewable LCD screen. This is often lacking in other brands that chase after interesting construction, forgetting the main thing – user convenience. Although the VSX-LX305 design is unreliable, the AVR is quite light, meaning it uses inexpensive components, which explains its cost.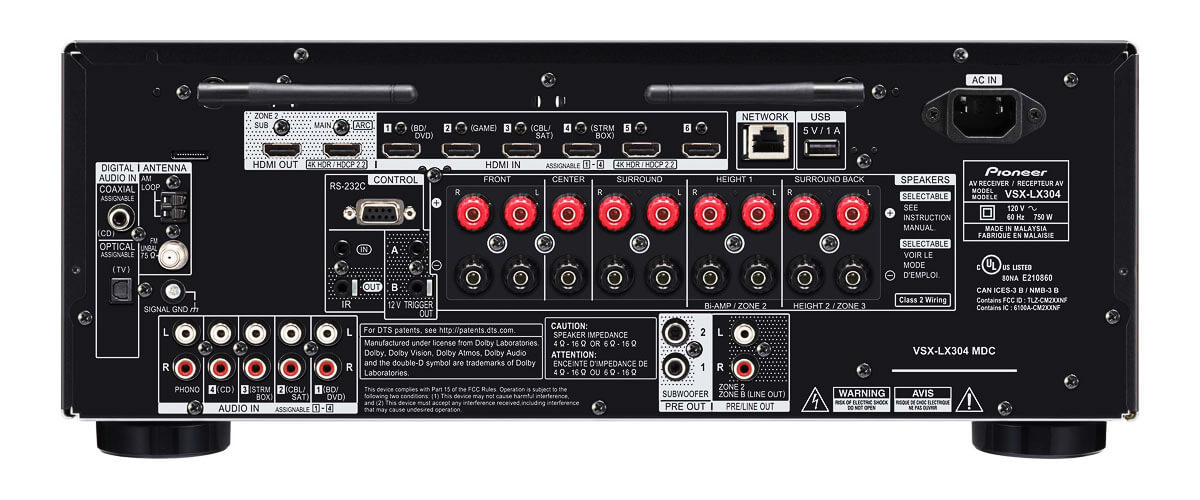 Superficially going over the technical characteristics of the model (you can read more about it in the specifications to the review), I'll note that all the rear HDMI ports of the receiver (there are 6 inputs (+1 front) and 2 outputs in total) support 8K/60Hz video and upscaling 1080p/4K to 8K, and works with Dolby Vision, HDR10 and HDR10+. So you won't have to worry about the picture, especially if you have a proper TV. Unsurprisingly, the model was released in 2021 and has an HDMI 2.1 version. Moreover, the AVR's second call broadcasts video, not just audio, but only at 4K/120Hz resolution.
The VSX-LX305's wireless capabilities are also impressive. Bluetooth uses SBC and AAC codecs, which greatly improves signal transfer. With DTS Play-Fi and AirPlay 2, you can stream audio from different sources to different speakers in multiple zones (need an app). The receiver is compatible with Sonos, a wide range of streaming services, and voice assistants.
It remains to mention how the receiver sounds, given that it supports Dolby Atmos, DTS:X, and IMAX Enhanced surround sound formats. But I'll start with the calibration. Pioneer has implemented the MCACC system for the lazy, and it will be sufficient for most of you. But if you value really high-quality tuned sound at all frequencies, not just improved relative to TV sound, you should also ask yourself, "Do I like to sit around for hours fiddling with details?" because that's exactly what Dirac Live Room Correction will require of you. But the results will be amazing. With 100 watts of power (8 ohms, 20Hz-20kHz, THD 0.08%, 2ch), movies in Dolby Atmos simply shine, especially when you consider that the Pioneer VSX-LX305 is a very inexpensive receiver for its configuration.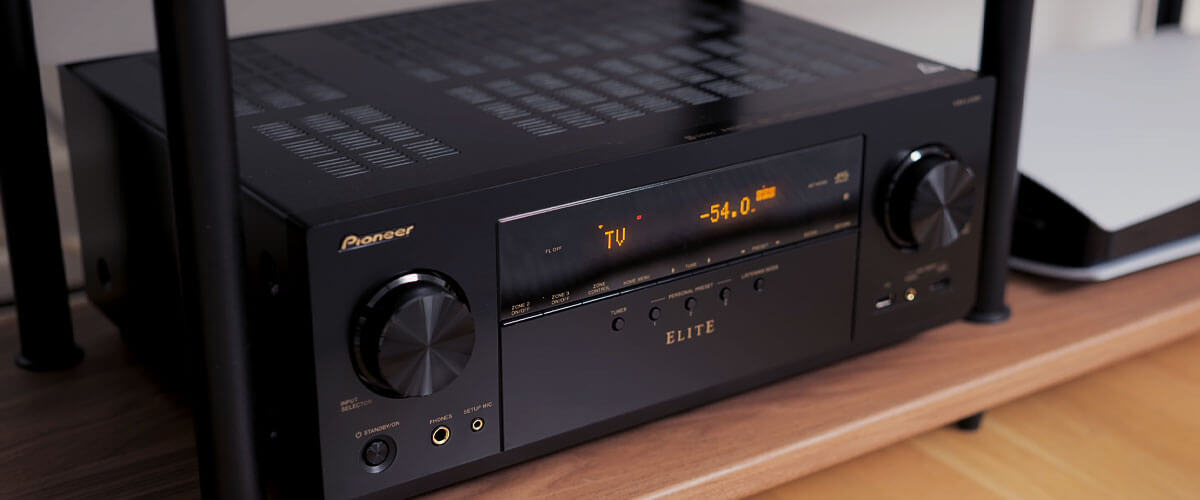 The Pioneer Elite VSX-LX305 will be a great choice for those looking for a modern, functional device at a low price. If you treat it with care, the AVR will be able to last quite a long time.
Key specs
Channels: 7.2.
Power output: 100W/8 Ohm, 225W/6 Ohm.
HDMI inputs/outputs: 6/2.
Video functions: 8K/60Hz, 4K/60Hz, 4K/120Hz, HDMI upscaling up to 8K.
Bluetooth/Wi-Fi: yes/yes.
Streaming services: AirPlay 2, Spotify, TuneIn, Deezer, Tidal, Netflix, Amazon Prime.
Supports: HDMI ARC, HDMI eARC, HDMI CEC, HDCP2.3, HDR10+, Dolby Vision.
Surround sound: DTS HD Master, DTS Neural:X, Dolby TrueHD, Dolby Surround, Dolby Digital Plus, Dolby Atmos Height Virtualization, Dolby Atmos, IMAX Enhanced.
Pros
Perfect value for money from this rating.
LCD is very convenient, unlike many models of other brands.
The receiver broadcasts 4K video to the second zone.
Improved quality of wireless audio transmission (uses SBC and AAC Bluetooth codecs and DTS Play-Fi).
Cons
It is not the most robust construction; inexpensive components are used.
Complex, requiring many hours of calibration system Dirac Live Room Correction. But it's worth it in the end.
Pioneer Elite VSX-LX805 – premium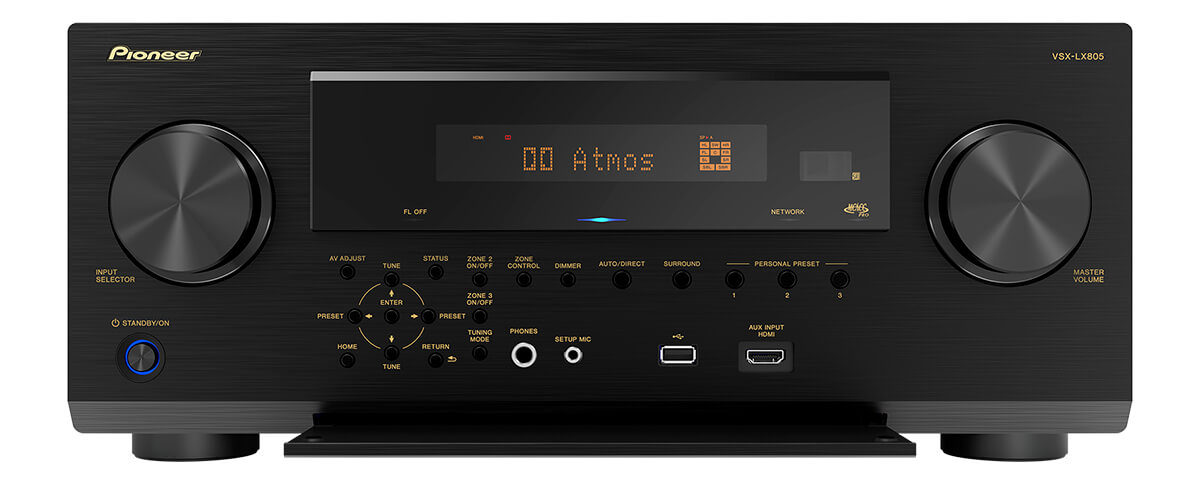 Next on my chart is the premium receiver of the brand's lineup, the Pioneer Elite VSX-LX805. This receiver did not take the first place because it cost twice as much as the previous VSX-LX305. But its functionality is something.
So, this is an 11.2-channel receiver with an incredible 150W (8 Ohms, 20Hz-20kHz, 0.08% THD, 2-ch). So this beast will need a lot of space, especially considering the huge number of connectors for connecting various equipment, including 15 preamp RCA, 2 preamp XLR, and many others. I also want to mention that the receiver has a multi-room feature for 3 zones.
To my surprise, the VSX-LX805 has only 7/3 HDMI ports. That's not enough for such a system. But the features are identical to the VSX-LX305, so that I won't repeat myself. Equally, in wireless connectivity, AVR offers you almost all existing possibilities.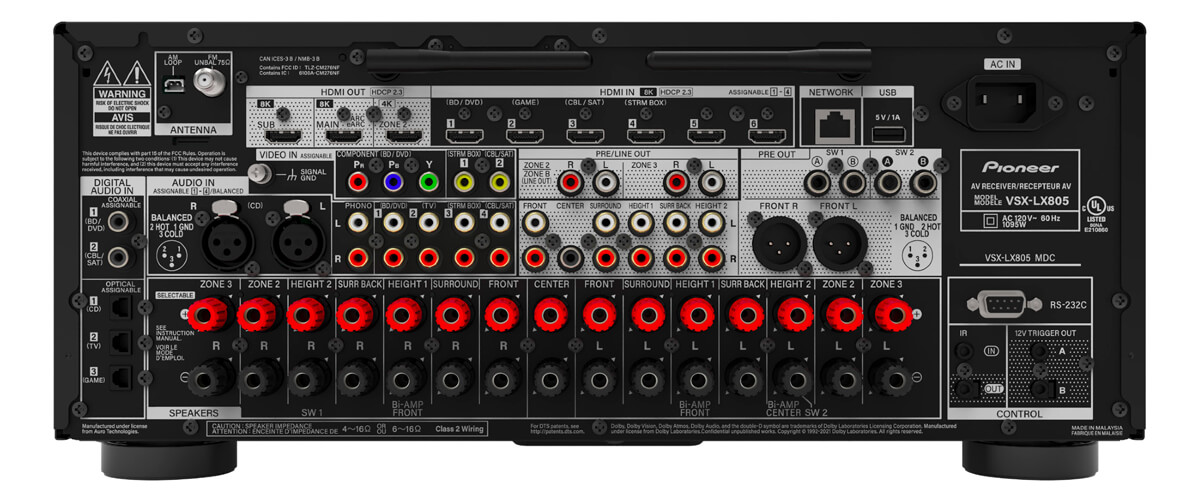 In surround sound, which is logical because of the number of channels, the model in question surpasses its predecessor, offering decoding of such immersive formats as Dolby Atmos, DTS:X, DTS Neural:X, IMAX Enhanced and Auro-3D. And that's enough for the viewer to have a unique movie-going experience in a 7.2.4 configuration.
What really sets the VSX-LX805 apart from the other entrants in the rankings, and what you end up paying an increased price for, are.
two precision 32-bit ESS ES9026PRO Hyperstream(R) audiophile DACs 768 kHz/32 Bit (quality on par with the most high-end receivers).
3-channel bi-amping (reduces the load on the amplifier to improve its performance).
Auto Phase Control Plus (compensates for lagging low-frequency signals).
Advanced Sound Retriever technology (restores the output of a compressed audio signal).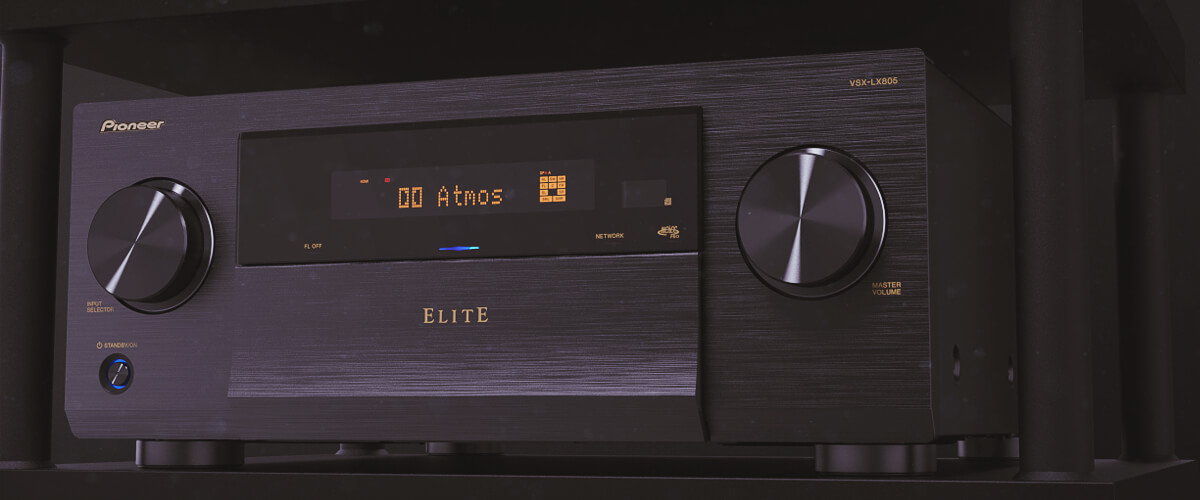 Based on the above, it's not hard to guess that my impressions of watching a movie in Atmos format on this receiver were stunning. Its power, combined with the level of video and sound processing, created a picture that I was literally physically immersed in. The optional Bass Control in the Dirac Live premium calibration made my subs ripple the floor and objects around me, and the scene of Jyn's transition into a different form in X-Men: Dark Phoenix turned into something I'll long remember from what I've seen recently.
The Elite VSX-LX805 is a great Pioneer AV receiver 2023, worthy of its time. If you appreciate a brand's ability to perform well over the years, purchasing this model will provide you with everything you need for years without the need to upgrade.
Key specs
Channels: 11.2.
Power output: 150W/8 Ohm.
HDMI inputs/outputs: 7/3.
Video functions: 8K/60Hz, 4K/60Hz, 4K/120Hz, HDMI upscaling up to 8K.
Bluetooth/Wi-Fi: yes/yes.
Streaming services: AirPlay 2, Spotify, TuneIn, Deezer, Tidal, Netflix, Amazon Prime.
Supports: HDMI ARC, HDMI eARC, HDMI CEC, HDCP2.3, HDR10+, Dolby Vision.
Surround sound: DTS HD Master, DTS Neural:X, Dolby TrueHD, Dolby Surround, Dolby Digital Plus, Dolby Atmos Height Virtualization, Dolby Atmos, Dirac Live, Auro-3D.
Pros
Incredible power compared to other receivers on this chart.
Utilizes audiophile DACs.
Packed with technology to enhance the highest quality sound.
Bass Control greatly improved the sound of the subs.
Cons
Not enough HDMI ports for a receiver of this level.
Pioneer Elite VSX-LX105 – also great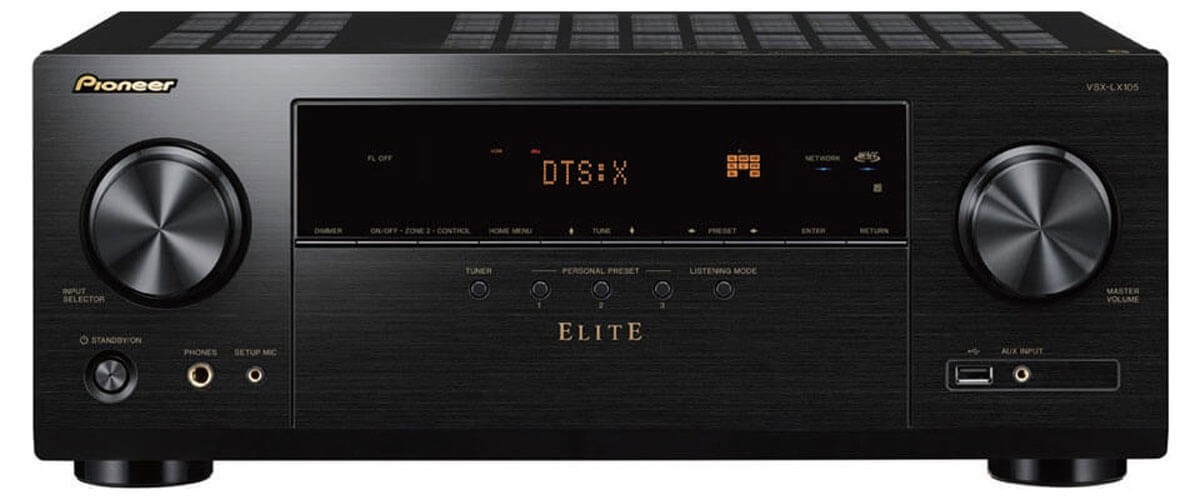 Another representative of the Elite lineup on my list, the Pioneer VSX-LX105 receiver, takes the honorable third place because it is inferior to the previous models in the number of channels and power. But I'd call it not just "also excellent" but a "reasonable golden mean" because being released in 2021, the AVR has all the advanced options to enhance your leisure time.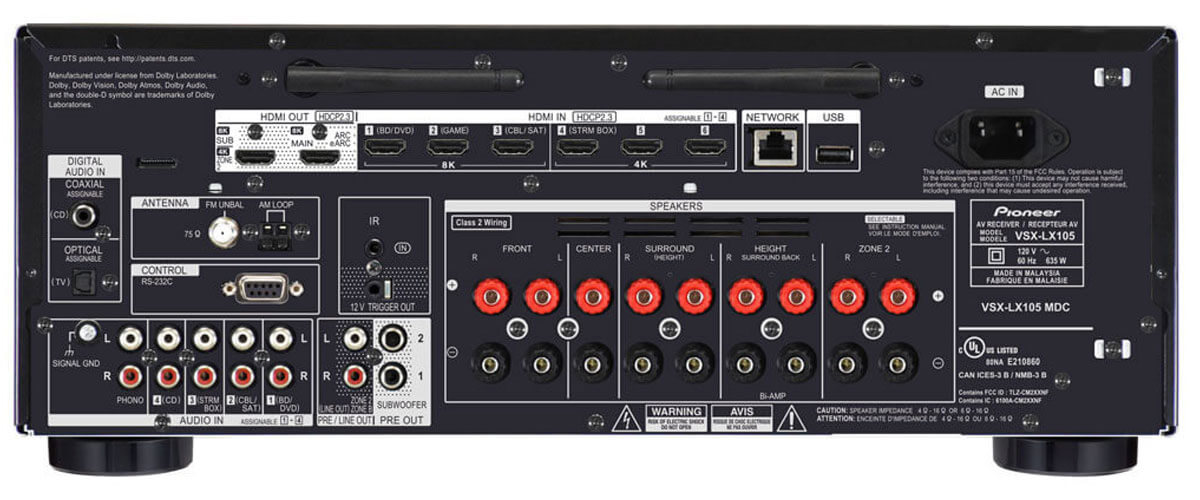 With power identical to the VSX-LX305 with 9 channels, this 7-channel receiver sounds fatter and fuller in the smaller room it's designed for. Not only does it support the Dolby Atmos surround sound format, but its version doesn't require Dolby Atmos Height Virtualizer ceiling speakers, as well as DTS:X and its DTS Virtual:X. They sound just as good in a small room, and I don't see the need to unnecessarily break my house and wrap it with wires. I noted the possibility of watching movies with a monophonic soundtrack; the center channel eliminates distortions for this purpose. But you can't adjust the crossover for each speaker separately. But this is unimportant because the overall sound picture is quite detailed, and all frequencies are well listened to.
Only 3 HDMI ports have version 2.1, the functions and advantages I described in previous reviews, but it may be enough for a small system.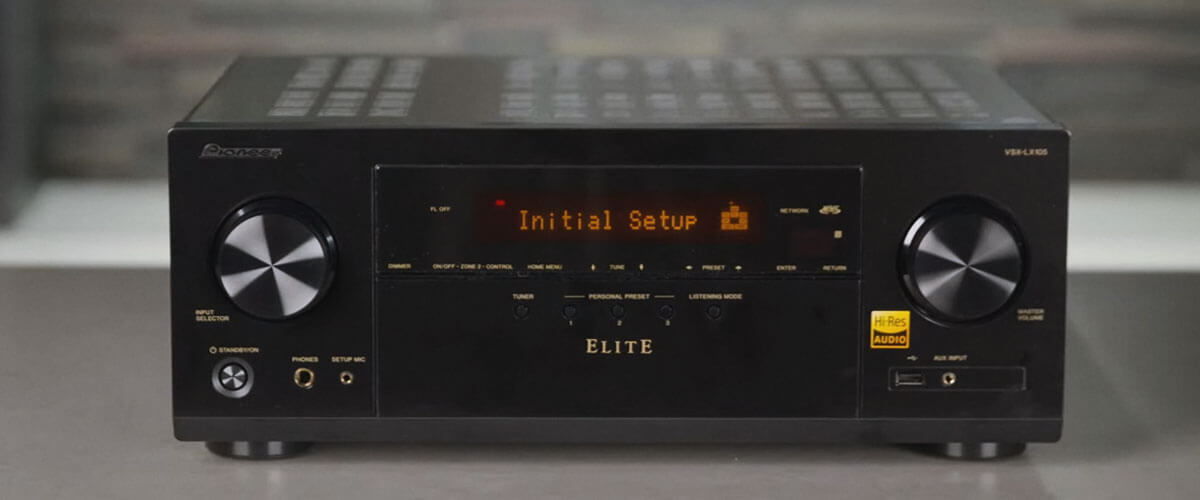 I was more pleased that Pioneer didn't lower the bar for wireless connections, equipping the VSX-LX105 with DTS Play-Fi and AirPlay 2. Connecting various devices and using content from various streaming services, I got excellent streaming with no signal loss or failure; the sound didn't ring out as it often does with digital sources. However, Bluetooth with support for SBC and aptX codecs HD did not impress me, at least with Apple giving out a muffled, smudged sound. But this is not such a big disappointment against the background of the advantages and the cost of the receiver up to $1000.
The Pioneer Elite VSX-LX105 is a great workhorse with modern features. It will suit those who want surround sound and high-quality video without unnecessary investments in options you cannot appreciate if you are not a sound professional.
Key specs
Channels: 9.2.
Power output: 100W/8 Ohm, 210W/6 Ohm.
HDMI inputs/outputs: 6/2.
Video functions: 8K/60Hz, 4K/120Hz, upscaling up to 8K.
Bluetooth/Wi-Fi: yes/yes.
Streaming services: AirPlay 2, Spotify, TuneIn, Deezer, Tidal, Netflix, Amazon Prime.
Supports: HDMI ARC, HDMI eARC, HDMI CEC, HDCP2.3, HDR10, HDR10+, Dolby Vision.
Surround sound: DTS HD Master, DTS Neural:X, Dolby TrueHD, Dolby Surround, Dolby Digital Plus, Dolby Atmos Height Virtualization, Dolby Atmos.
Pros
Virtual versions of surround sound formats will eliminate the need for ceiling speakers.
Watching movies with monaural sound recording with improved center channel quality is possible.
Cons
There is no separate crossover setting for each speaker.
Didn't like Bluetooth performance; it sounds blurrier than DTS Play-Fi.
Pioneer VSX-534 – budget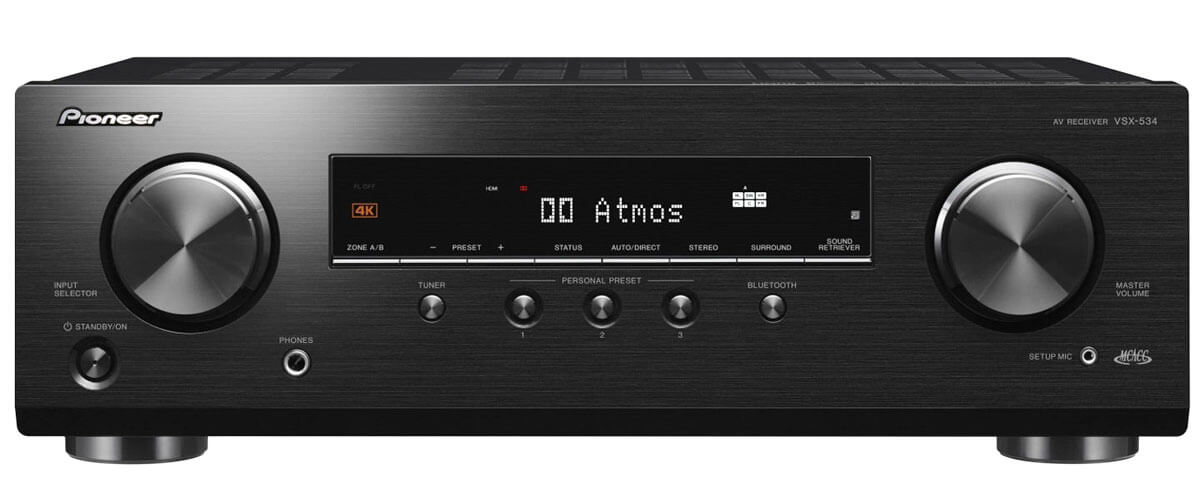 If you've been looking for an Atmos receiver at a price below $500, there is one. Of course, we are not talking about full-fledged height channels because the Pioneer VSX-534 has only 5.2 channels of amplification. Still, the manufacturer provided it with Dolby Atmos Height Virtualization and DTS Virtual:X technologies, which successfully simulate 3D surround sound.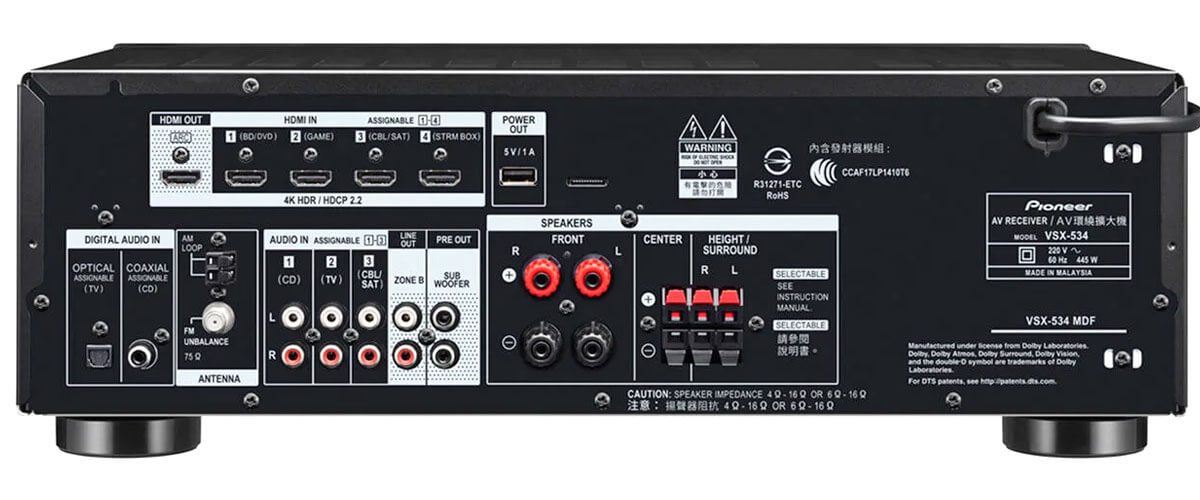 This budget model was released in 2019, so it doesn't have a single HDMI version 2.1 port, but it handles 4K/60Hz resolution and HDR10, HLG, and Dolby Vision formats quite successfully. For most content and modern TV, that's enough for most people. Totally, the VSX-534 has 4 HDMI inputs (HDCP 2.2) and 1 output (ARC). The receiver is also 3D Ready for Blu-ray, game consoles, and broadcast. But in general, of course, AVR has few connections, so that you can build a minimal system.
Among the model's features are a Personal Preset function to save settings in three variations after calibration with MCACC, dialog adjustments, and listening to audio in the second zone with wireless headphones (there's Bluetooth 4.2 and Wi-Fi).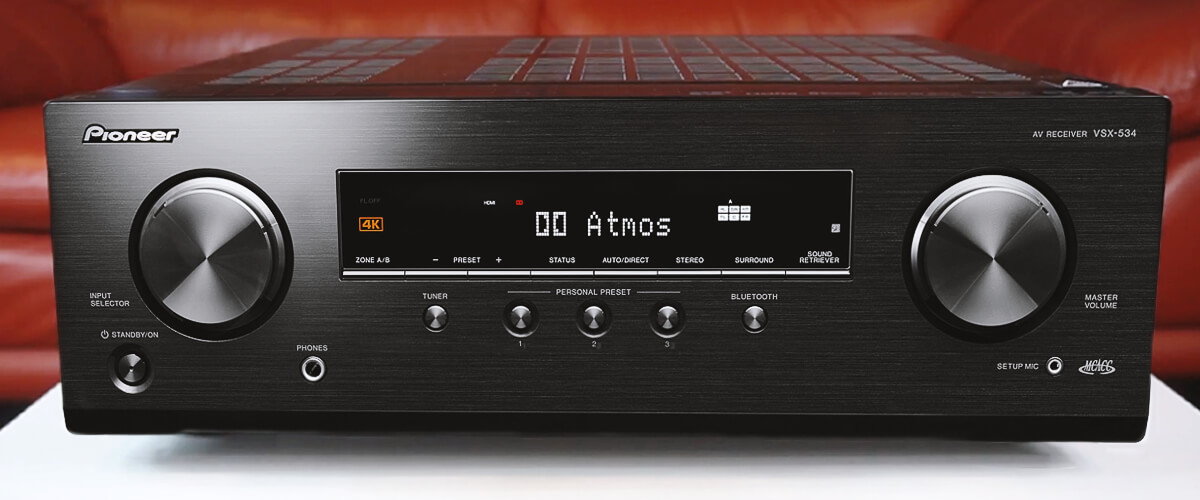 The VSX-534 is downsized (by 12% from standard) and has 80W of power (8 Ohm, 20Hz-20kHz, 0.8%, 2ch). But I was amazed at the quality of its sound. Pioneer seems to have removed all the bells and whistles, but what they left behind works beautifully! The sound is clear, spacious, and tight. It has good, confident bass and clean upper tones. And even the surround sound was really good, much better than many soundbars I've tried.
The Pioneer VSX-534 is the best Pioneer AV receiver that offers us basic but important and perfectly working features. It's a worthy participant of my rating with a price that will suit any user. And if you are not familiar with the concept of surround sound, I believe it can be a great first receiver in your life.
Key specs
Channels: 5.2.
Power output: 150W/8 Ohm.
HDMI inputs/outputs: 4/1.
Video functions: 4K/60Hz, 4K/120Hz, upscaling up to 4K.
Bluetooth/Wi-Fi: yes/no.
Streaming services: has not.
Supports: HDMI ARC, HDMI CEC, HDCP2.3, HDR10, Dolby Vision.
Surround sound: DTS HD Master, DTS:X, DTS Neural:X, DTS Virtual:X, Dolby TrueHD, Dolby Digital Plus, Dolby Atmos Height Virtualization, Dolby Atmos.
Pros
It supports virtual versions of Dolby Atmos and DTS:X.
The Personal Preset feature saves three calibration options.
There is a dialog level adjustment.
With wireless headphones, you can listen to sound in a different area.
Cons
The receiver has no drawbacks, considering its price. All the features work very well. But it is certainly not a reliable modern device for many years to come and is more suitable as a first device.
Pioneer SX-10AE – stereo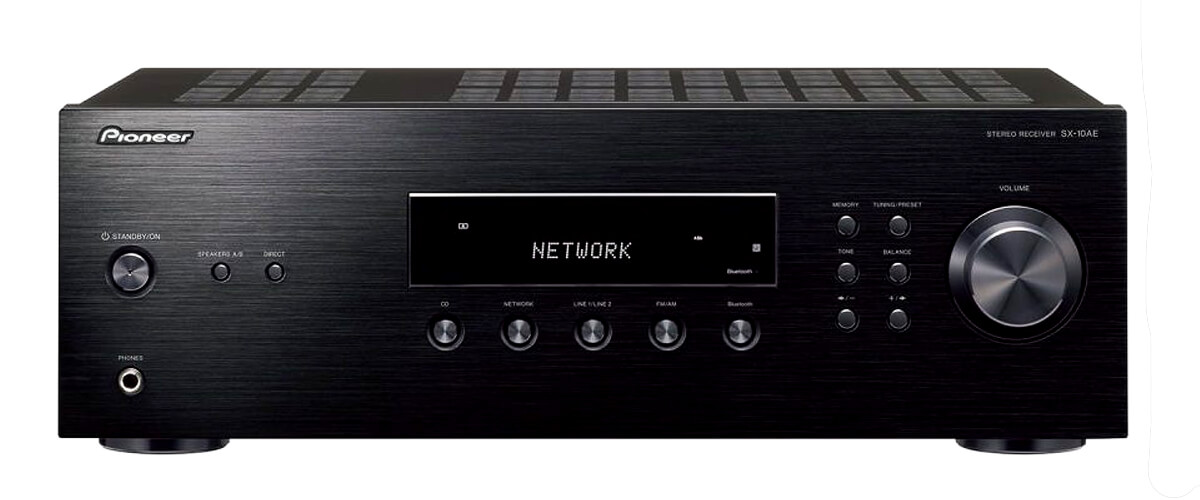 A stereo receiver is a must for those who prefer music to any movie in any format. So, if you're looking for one for playing disks and using content from your smartphone, the Pioneer SX-10AE will become a great choice, given its low price and ease of installation and operation.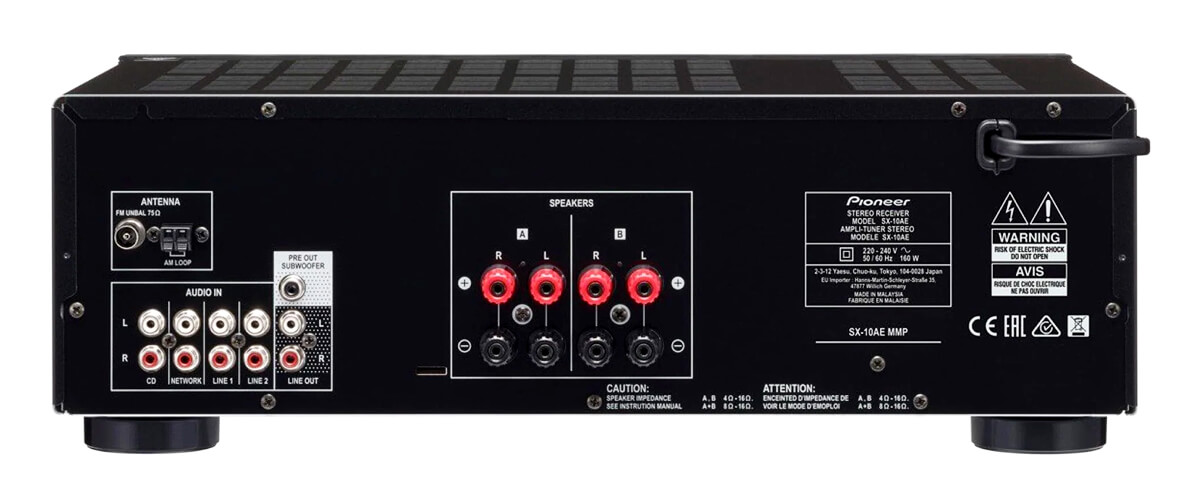 The receiver is incredibly easy to install, but the buttons on the panel are signed so finely that you can only see them if you put your nose close to the LCD screen. A few jacks, including analog audio in, line 2 out, subwoofer pre-out, and headphones 1 out, will allow you to connect a CD or network audio player. For listening to music from a tablet or smartphone, there's Bluetooth 4.2 with support for SBC/AAC codecs, and there's a built-in FM/AM radio for customizing 40 stations, which you can even name as you please.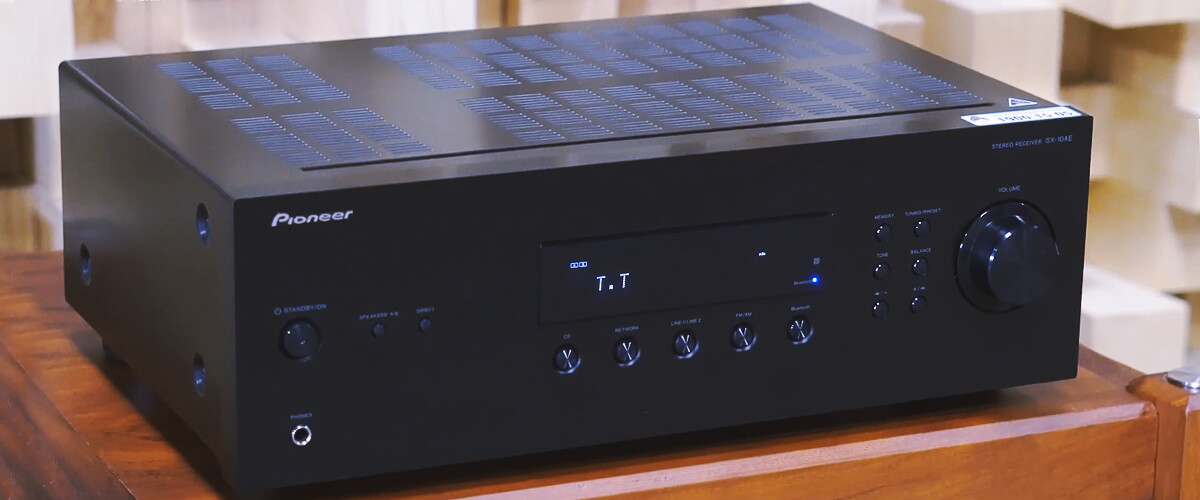 As a matter of fact, that's all this stereo receiver does. But I started listening with the addition of good speakers and a sub, which I am fortunate enough to have. The SX-10AE has a power rating of 85W (8 Ohm, 20Hz -20 kHz, 0.08% THD) but is not very loud. I had to turn up the volume on my smartphone and crank the overly sensitive receiver control again and again to get a good level. But it's still clear: very good for the money. Bluetooth quickly pairs with any device I offer it. And the remote lets you select genres if you're listening to the radio: sports, news, jazz, or something else. I also really liked that the receiver turns itself off if you don't use it for a long period, which you can set yourself (automatic standby mode).
The SX-10AE is a great device for listening to music at home. It is the best Pioneer stereo receiver for a small room or garage or if you decide to make a quality gift to a dear person. The clear sound and additional connectivity options for audio equipment work very well. In a nutshell, you get what you pay for.
Key specs
Channels: 2.0.
Power output: 45W/8 Ohm, 85W/8 Ohm.
HDMI inputs/outputs: 0/0.
Video functions: 4K/60Hz, pass-through.
Bluetooth/Wi-Fi: yes/yes.
Streaming services: AirPlay 2, Spotify, TuneIn, Deezer, Tidal, Netflix, Amazon Prime.
Surround sound: DTS HD Master, DTS:X, DTS Neural:X, DTS Virtual:X, Dolby TrueHD, Dolby Digital Plus, Dolby Atmos Height Virtualization, Dolby Atmos.
Pros
Easy installation.
Fast pairing and stable Bluetooth performance.
Can select genres of audio content when using the radio.
You can rename radio stations to your liking.
It has good, clear sound for the money.
Cons
The captions on the control buttons are too small.
Turning the sensitive knob to set high volume takes a long time.
What to look for when choosing a Pioneer receiver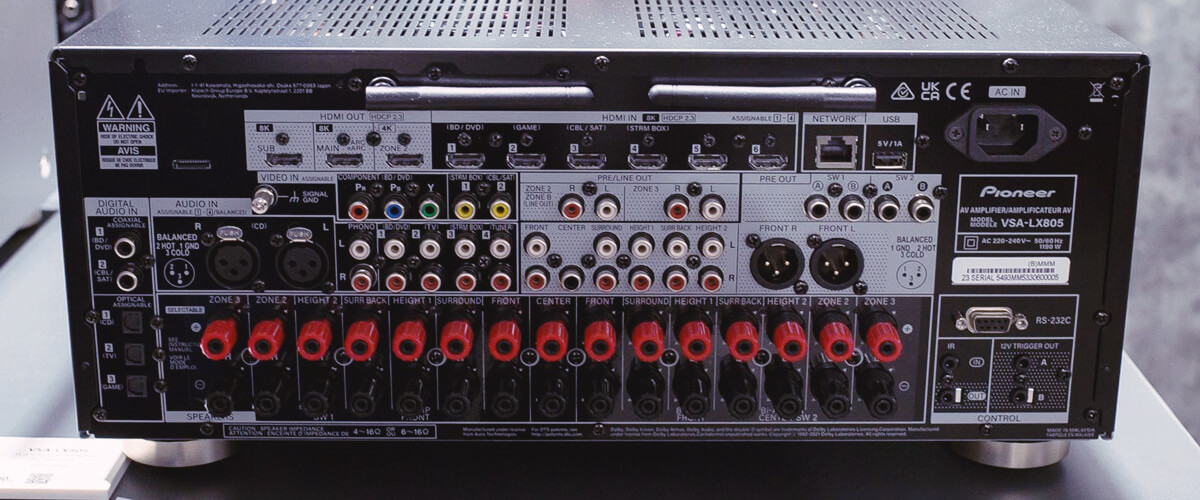 If you are faced with buying a receiver for the first time or have not been interested in technology development in this area for a long time, you should know what factors may be important for selecting the optimal AVR. But do not "chase" for the maximum; try to keep to your budget. In most cases, you will be satisfied with everything.
Receivers power
The amount of power required is directly related to the size of your room. For most people with normal sound needs and small rooms (150-300 square feet), the standard 50-80W for most receivers will do. But it's better to look for a THD rating responsible for sound clarity because there is no sense in power if this parameter is 1% or more. For stereo, the requirements are even higher (and the THD indicator is even lower). Otherwise, the receiver will wheeze at high volume (this mainly concerns budget models using cheap components). In any case, it is better to try it once or listen to it than to read all my convincing recommendations.
Amplification channels
The number of channels, power, and the size of your room are closely related. Therefore, you should initially examine your options, including finances, and only then start looking at the lineup.
In general, I recommend this general look:
2-channel receiver: This option is necessary for those who love music more than dreaming of surround sound. And at the same time, you will improve your TV's sound.
5.1-channel receiver: The minimum configuration that supports basic surround sound formats using rear channels. This is a budget option and will fit rooms around 150 square feet.
7.1-channel receiver: Requires a larger room (about 300-400 square feet) and utilizes the high-rise channels for Dolby Atmos but cannot reach its full potential.
9 channels and more: Bigger and even huge rooms, high power, the newest and coolest immersive surround sound formats in all their glory. But you'll have to shell out the full price. And that's not even counting the additional equipment.
Required connections
What do you already have? And what other appliances are you planning to buy? To avoid having the constant problem of connecting devices loosening each connector due to repeated use, you should think about these issues well in advance.
Less important today but still relevant if you have vintage appliances: coaxial, component, and optical connectors. You may also need a USB port, a phono input if you like vinyl and pre-outs for connecting an additional amplifier or subwoofers.
Keep an eye out for them in receivers because many modern devices abandon them in favor of HDMI. That is, of course, correct from the point of view of technology development. Modern HDMI ports version 2.1 are ready to connect any PC, game console, and Blu-ray player with increased functionality in the field of high-quality signal transmission. They allow you to watch HDR video at 8K/60Hz resolution and will also be useful for media content protection (HDCP 2.3), uncompressed audio (eArc), and gamers (VRR, ALLM). Today, even budget models have at least one such port.
Of course, you can always use adapters or DIY constructions made of stripped wires and tape, but admit – it is not aesthetically pleasing. And it takes up a lot of space, creating a mess of wires and devices.
Built-in Bluetooth, Wi-Fi, and streaming services
I would be surprised if you were not interested in having wireless connections. Every, even the simplest AV receiver, has Wi-Fi or Bluetooth. However, the advanced options for built-in features open up limitless possibilities for using content from streaming services (Spotify, Deezer, Pandora, etc.) and utilizing built-in multi-zone systems (HEOS, MusicCast). Improved versions of Bluetooth (aptX) or Wi-Fi (DTS-Fi, work with AirPlay and Chromecast) can also "make the weather".
All these things require a detailed study on your part, as their presence will cost you a round sum. But do you really need them?
Supported surround sound formats
There are two main surround sound formats most popular today (there are others, but they are only available starting with 9-channel AVRs). They are supported by 7 channels and above and are called Dolby Atmos and DTS:X. Using higher channels, more soundtracks, and layering makes your movie-watching experience incredible because you feel almost physically present in the events on the screen. A helicopter flies above you (you feel like this), breaking glass risks "hurting" you, and your neighbors are not happy about your new acquisition because the windows shake even at them.
But frankly, if you are unfamiliar with such technologies and can't afford a receiver supporting such formats, you shouldn't dwell on them. Standard Dolby TrueHD and DTS-HD Master Audio can quite satisfy your wishes. They sound very good.
We are supported by our audience. When you purchase through links on our site, we may earn an affiliate commission at no extra cost to you.
Our newsletter
* We will never send you spam or share your email with third parties