Marantz brand receivers are considered elite and expensive but remain extremely popular among users, including true audiophiles. And it is quite justified because the manufacturer, which not so long ago celebrated its 70th anniversary, uses expensive components and parts in the design, which affect the durability and reliability and, as a result, determine the excellent sound, but at the same time the increased cost of devices. In this article, I will tell you about the best Marantz receivers that are relevant in 2023, and each of you will be able to find the right model for you, as I have divided my rating into certain categories.
Our pick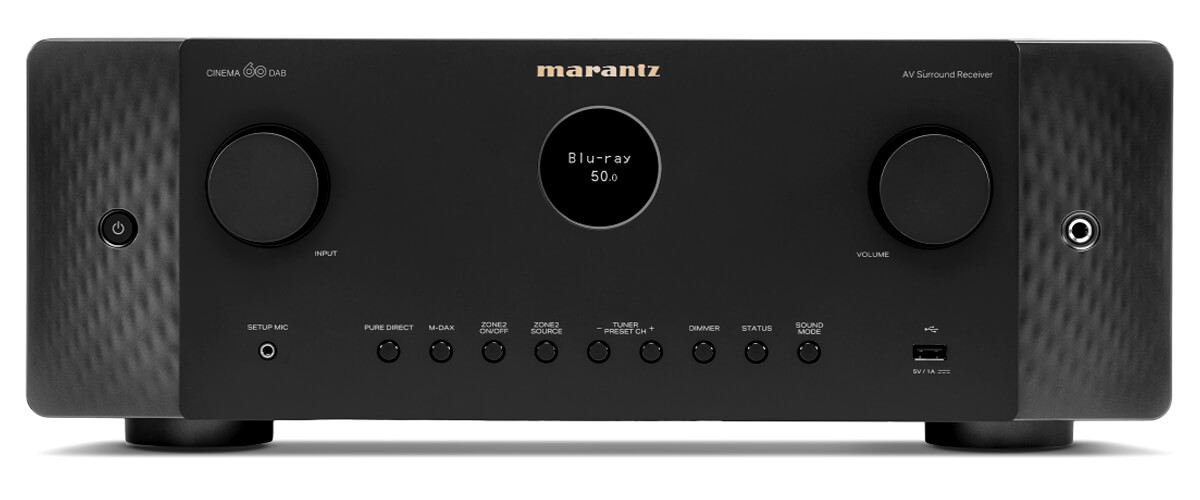 Marantz CINEMA 60
Best Marantz receiver
The Marantz CINEMA 60 is a 7.2 channel AV receiver with 100 watts per channel amplification, Dolby Atmos, DTS:X, 8K Ultra HD, and HEOS built-in streaming.
Read the full review
.
Marantz receivers comparison table
Name
Channels
Power output
HDMI in/out
Bluetooth/Wi-Fi
Review
Marantz CINEMA 60

best overal

7.2
100W/8 Ohm, 140W/6 Ohm
6/2
yes/yes
Review
Marantz SR8015

premium

11.2
140W/8 Ohm, 175W/6 Ohm
7/2
yes/yes
Review
Marantz NR1510

budget

5.2
85W/8 Ohm, 100W/6 Ohm
6/1
yes/yes
Review
Marantz CINEMA 50

also great

9.4
110W/8 Ohm, 150W/6 Ohm
6/3
yes/yes
Review
Marantz NR1200

stereo

2.2
75W/8 Ohm
5/1
yes/yes
Review
What Marantz receivers did we test?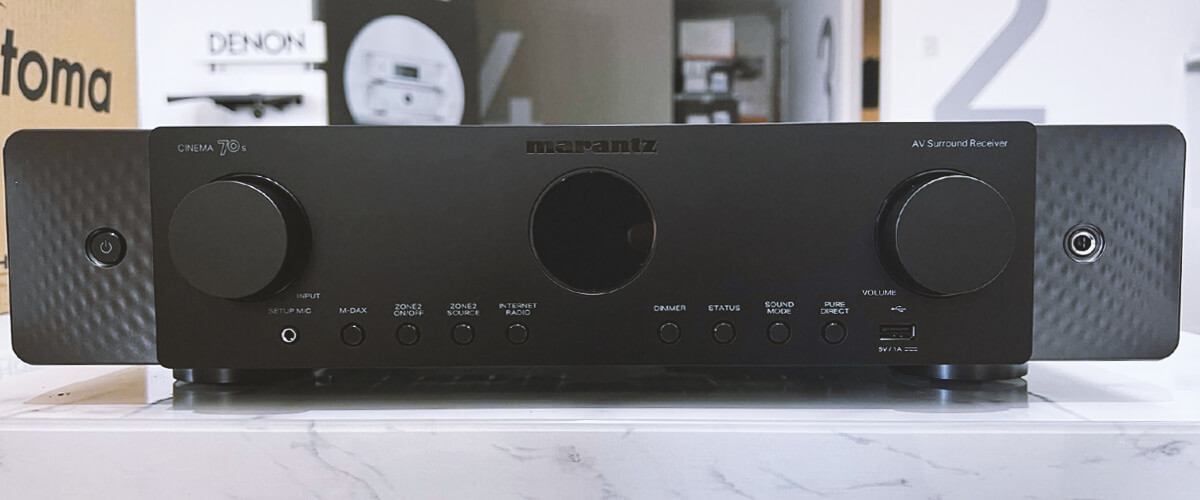 I try to observe maximum objectivity in each of my reviews, so I do not base only on my own opinion but also consider customer reviews from various trading sites and the opinions of other experts from popular audio forums.
As a result, my top Marantz receivers did not include the following models:
Marantz SR7015. It is a great receiver, which, unfortunately, is no longer produced by the brand. However, you can still buy it in some stores. But its updated version, the Marantz CINEMA 50, is in my ranking.
Marantz CINEMA 70s and Marantz NR1711. These are also good models that, for a number of technical reasons and test impressions, yielded to other participants, although they are quite popular among users.
Our criteria for choosing the best Marantz receiver
My review presents the optimal models in different price segments, which have different functionalities, can serve different purposes and tasks, and fit any budget.
The main criteria for the selection, as usual, were the following factors:
Listening experience.
Availability of necessary built-in features (support for modern video technologies, surround sound formats, Bluetooth, Ethernet/Wi-Fi/streaming services, etc.).
A sufficient number of input and output connections.
Price.
Best Marantz receivers review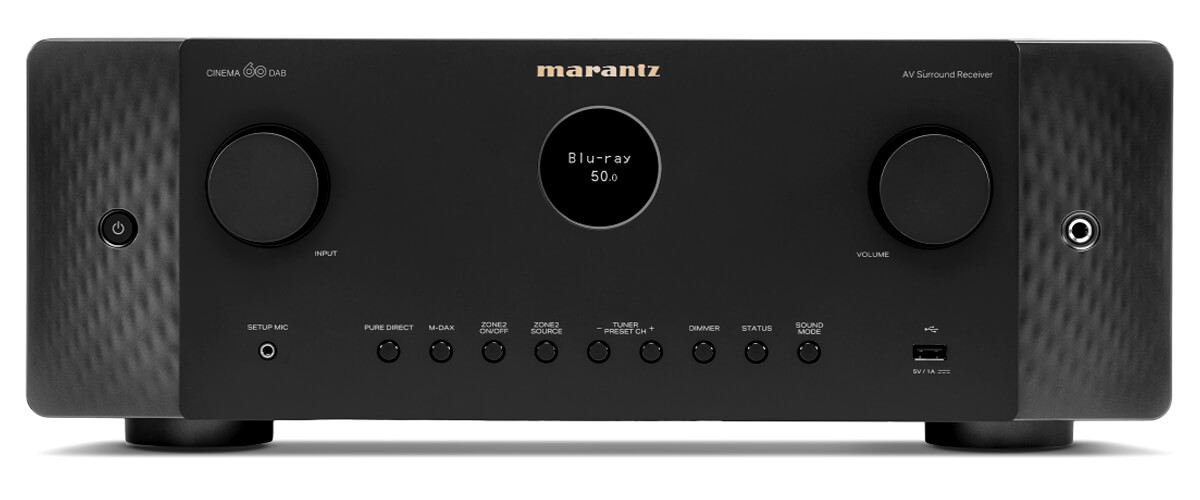 The winner's laurel wreath regarding price/performance goes to the Marantz CINEMA 60. Since this AVR was released only in 2022, it meets all of today's modern standards, and its name speaks for itself – it is simply made for watching movies.
So, the 7.2-channel receiver with 100W (8 Ohm, 20Hz – 20kHz, 0.08% THD, 2ch) is equipped with all the possible connectors you'll need in the coming years. 3/2 HDMI ports version 2.1 (out of a total of 6/3) feature support for 8K (for Dolby Vision, HDR10+, Dynamic HDR), ARC/eARC, HDCP 2.3. It's just a fantastic amount for a mid-segment 7-channel device. Decent competition to more expensive models. So, if you have a proper TV, you can easily watch any modern content with Dolby Atmos and DTS:X surround sound formats, which it also supports.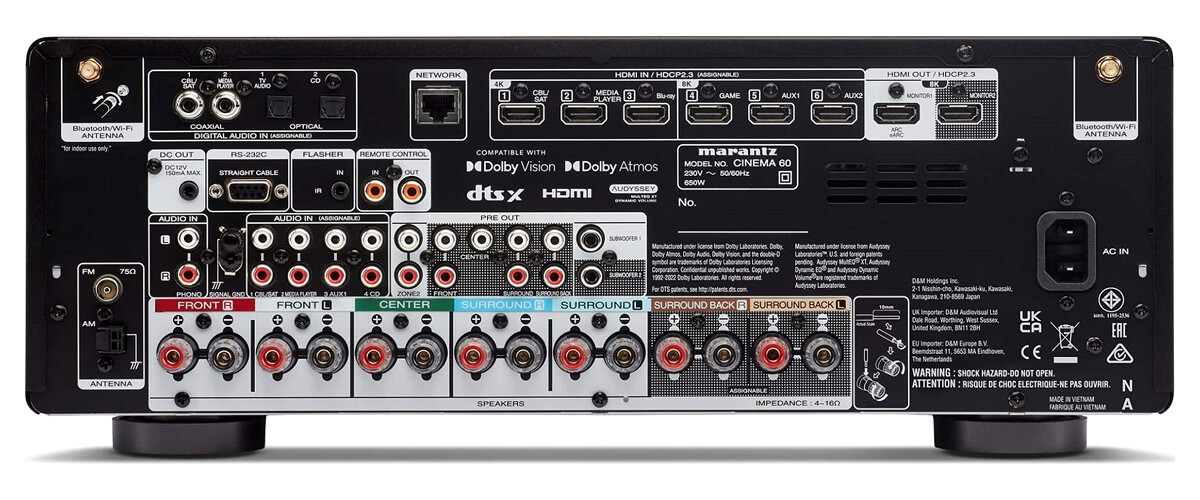 Normally, it's normal for receivers of this rank to be great at movies and average at playing music content. But I was amazed at the sound of the CINEMA 60 in stereo. Everything I tried, HEOS, AirPlay 2, Wi-Fi, and Bluetooth, worked as efficiently as possible, with no signal loss, but most importantly, with superb clarity and warmth. I was particularly pleased listening to vinyl (the receiver has a phono input) played by John Coltrane. I had a complete impression of visiting the club; the only thing missing was the smoke veil from cigars, the smell of whiskey, and extinguished candles to fully imagine the picture of a saxophone sounding in the spotlight on the stage… It was so musical, rich, and juicy – it enchanted me, and I forgot I was just checking the sound.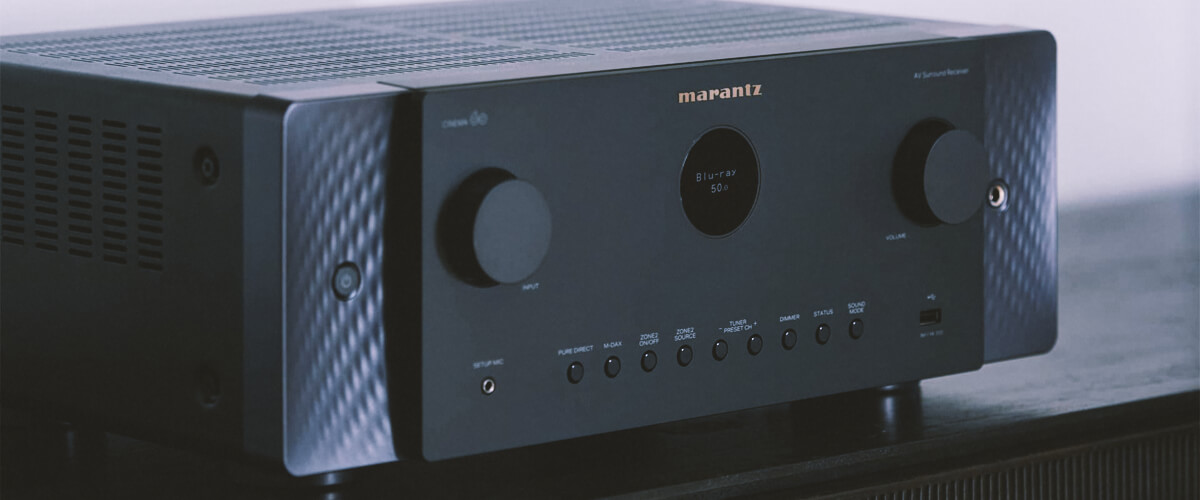 Now, what's left is to tell you about the advantages and disadvantages that are also present. For example, along with a wonderfully simple and clear on-screen menu, the receiver has a completely inadequate small LCD screen, about which not only I have complaints. The excellent AVR Audyssey MultEQ XT calibration system won't work correctly, making you marvel at my dithyrambs until you install the paid app. But these are still minor missteps on the part of the brand, considering all the pluses you'll get from owning this receiver.
Marantz CINEMA 60 is the best Marantz receiver on my list and a reasonable choice for those who want to set up a full-fledged system at home with the ability to watch modern content and listen to quality music. It has everything you need for the coming years.
Key specs
Channels: 7.2.
Power output: 100W/8 Ohm, 140W/6 Ohm.
HDMI inputs/outputs: 6/2.
Video functions: 8K/60Hz, 4K/120Hz pass-through, 1080P/4K to 8K HDMI upscaling.
Bluetooth/Wi-Fi: yes/yes.
Streaming services: AirPlay2, TuneIn, Spotify, Pandora, SiriusXM, Amazon Music HD, TIDAL, Deezer, iHeart Radio, Napster, SoundCloud, Mood Mix.
Supports: HDMI ARC, HDMI eARC, HDMI CEC, HDCP2.3, HDR10, HDR10+, HLG, Dynamic HDR, Dolby Vision.
Surround sound: DTS HD Master, DTS:X, DTS Neural:X, DTS Virtual:X, Dolby TrueHD, Dolby Atmos, Dolby Atmos Height Virtualization, Dolby Atmos Music, Dolby Surround, IMAX Enhanced.
Pros
Optimal price/quality ratio of this rating.
A large number of HDMI 2.1 as for a 7-channel receiver.
Sounds equally great in movies and music.
Simple and easy-to-understand on-screen menus.
Cons
LCD screen is too small, uncomfortable, and only viewable at close range.
Audyssey only gets the job done if you purchase a paid app.
Marantz SR8015 – premium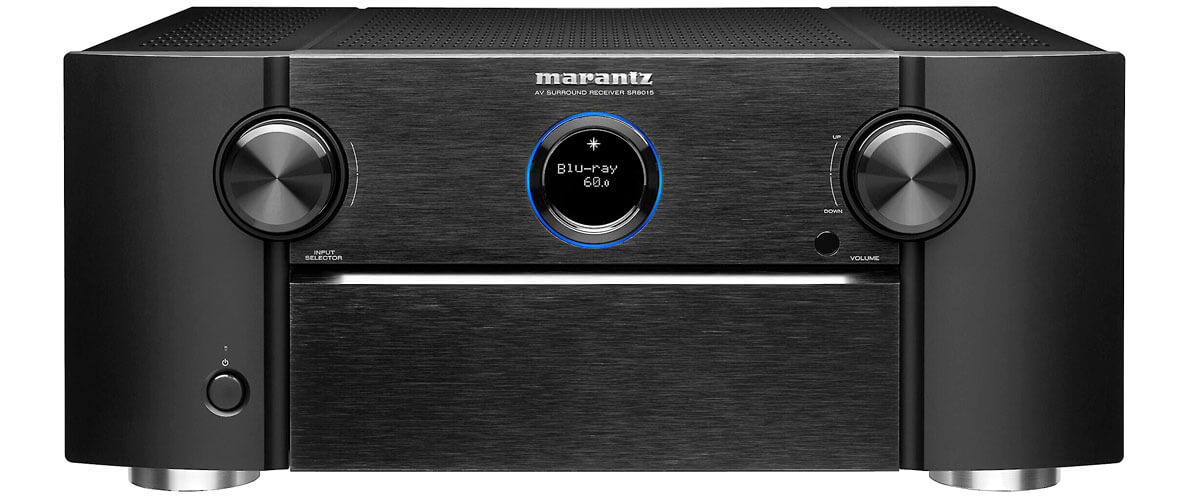 The excellent 2020 SR8015 wins the premium Marantz AV receiver category. And if you have enough money and are satisfied with it after reading the review, I would hurry up and buy it if I were you, because the price is reduced now. All because this AVR is not long to be a Marantz flagship receiver, a new version of SR8015 is announced for 2023, namely Cinema 30. Well, time dictates its rules, and the technique is mercilessly outdated, not having time to please us with its uniqueness. Still, the receiver is worth your attention if you are not chasing the latest innovations but looking for reliability, quality, and high-end sound.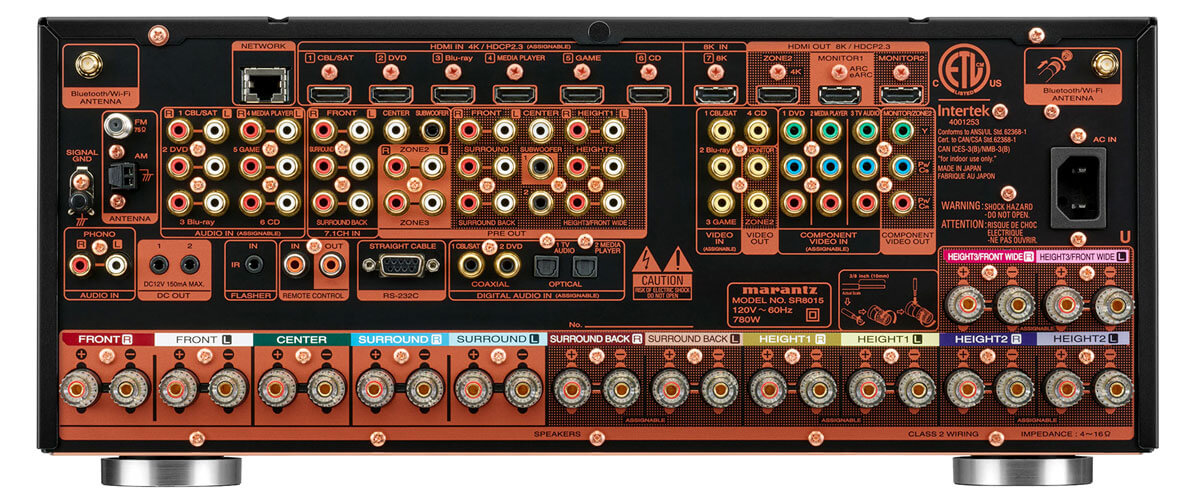 The Marantz SR8015 is heavy, weighing 24 pounds (38.4 kg) due to very expensive quality components, so that it will last you as long as possible. It has 11.2 channels of amplification but can be expanded to 13 channels with the addition of two independent subwoofers and multi-zoning for 3 rooms (including video broadcast). Do I need to explain what kind of experience awaits you with Dolby Atmos and its comrades DTS:X, IMAX Enhanced, and Auro 3D?
This model also has an incredible number of connectors for all kinds of tech, among them 8/3 HDMI ports. But like I said, the model is aging and can only offer 1 HDMI 2.1 port, and it still allows you to utilize modern content at 8K resolution and even enhance video up to 8K/60Hz. Having tested the SR8015's performance, I didn't fail to point out the excellent audio and video synchronization without a single lag or jump.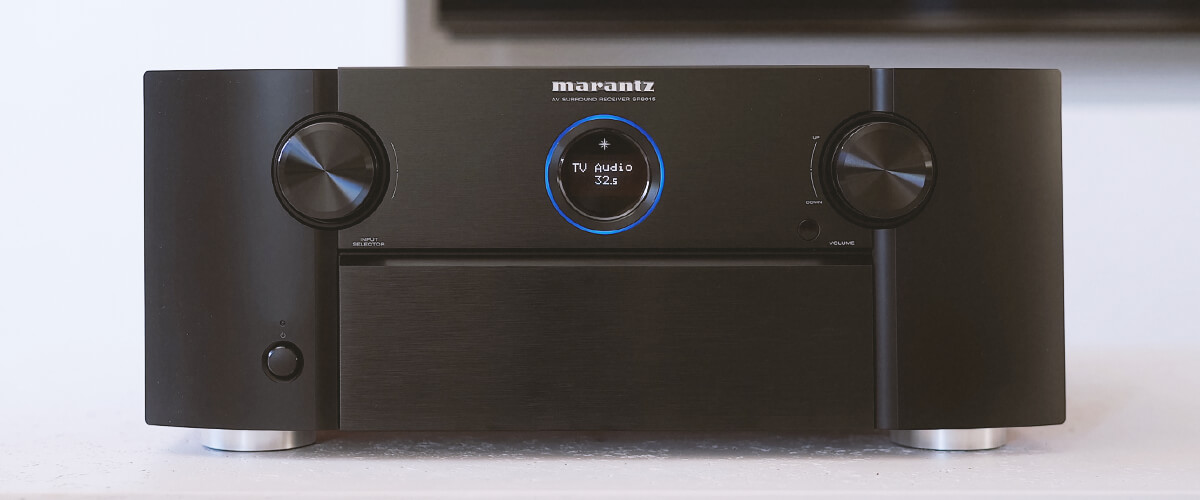 After calibration (identical to Marantz CINEMA 60 with the same problem), I plugged in this beast with 140W (8 Ohm, 20Hz – 20kHz, 0.05%, 2ch) and was enveloped in the magic of immersive 3D sound. By the way, I chose the "Star Wars" franchise to watch while testing Marantz receivers. The dynamic, balanced performance of the most powerful Marantz receiver of this rating came in very handy for the soundtrack of Episode IV: The New Hope. Truly enjoyed the nuances coming from every corner of my room.
If you've been waiting for the moment to own the best Marantz AV receiver, it's now, when the SR8015's star is on the wane but will be there for years to come.
Key specs
Channels: 11.2.
Power output: 140W/8 Ohm, 175W/6 Ohm.
HDMI inputs/outputs: 7/2.
Video functions: 8K/60Hz, 4K/120Hz pass-through, 1080P/4K to 8K HDMI upscaling, analog to HDMI video conversion.
Bluetooth/Wi-Fi: yes/yes.
Streaming services: AirPlay2, TuneIn, Spotify, Pandora, SiriusXM, Amazon Music HD, TIDAL, Deezer, iHeart Radio, Napster, SoundCloud, Mood Mix.
Supports: HDMI ARC, HDMI eARC, HDMI CEC, HDCP2.3, HDR10, HDR10+, HLG, Dynamic HDR, Dolby Vision.
Surround sound: DTS HD Master, DTS:X, DTS Neural:X, DTS Virtual:X, DTS:X Pro, Dolby TrueHD, Dolby Atmos, Dolby Atmos Height Virtualization, Dolby Atmos Music, Dolby Surround, IMAX Enhanced, Auro 3D.
Pros
High-quality internal components and heavy-duty, rugged construction.
Expandable up to 13.4 channels.
There are plenty of connectors for old and new equipment.
Excellent audio/video synchronization.
The most powerful receiver on the list.
Marantz NR1510 – budget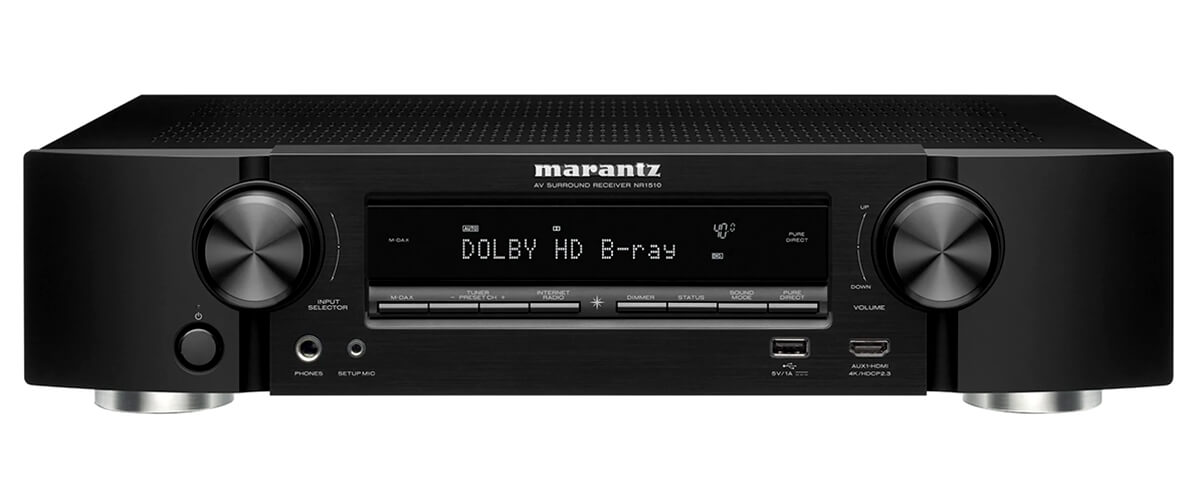 The single AVR Marantz NR series couldn't help but end up on my list, as it's also the only one in the under $1,000 receiver category of the official lineup featured on the company's website today. The Marantz NR1510 was released in 2019 – a 5.1 channel audio amplification winner, simple, with basic features, but solid as a rock.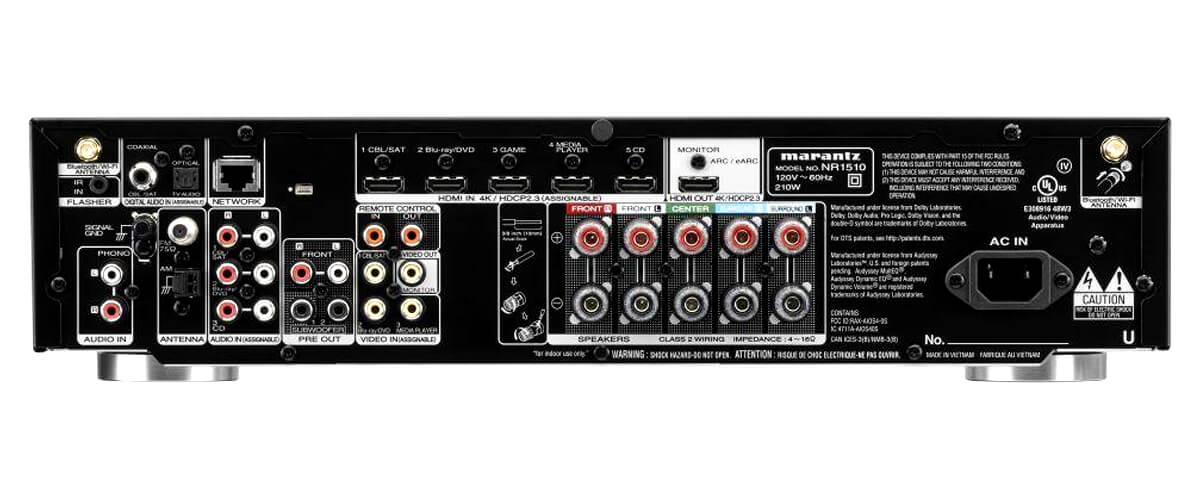 Paying a token cost by today's standards for a home theater receiver from the most elite brand, you get:
50 watts (8 ohms, 20 Hz – 20 kHz, 0.08% 2ch Drive).
5/1 HDMI connectors with support for 4K video in HDR and Dolby Vision (HDCP2.3, eARC, 3D Pass-Through).
Wi-Fi and Bluetooth with support for AirPlay 2 and TuneIn audio streaming.
And a HEOS ecosystem built in.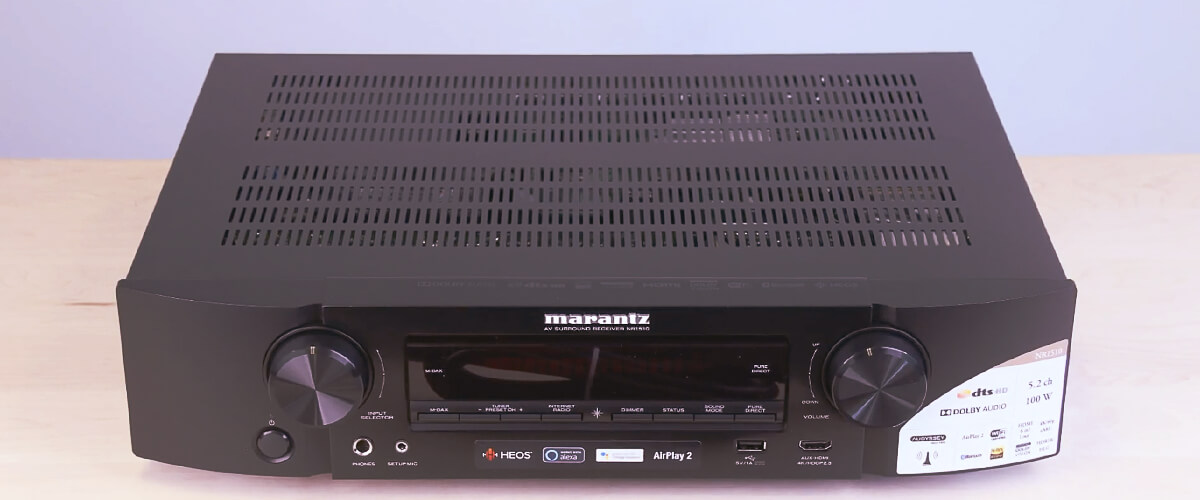 Sure, there are many compromises here, but Marantz doesn't cheat on the most important thing: sound. This baby can improve the sound of any, even the most ordinary speakers (but we're not talking about frankly bad equipment). It will give you DTS HD Master surround sound, which, among connoisseurs, is considered better than Dolby because it has more soundtracks. I liked how clear the dialog sounds, which is rare for inexpensive receivers. It also has an M-DAX feature that improves the stereo sound as close to the original as possible, and I was convinced of that during testing with vintage recordings. Bluetooth worked with some interference, but I forgave this drawback because I was very satisfied overall.
If you are interested in surround sound in the basic configuration, as well as listening to music in Hi-Res, along with high-quality built-in components, then NR1510 fully meets these requirements. I consider it the best budget receiver not only in the Marantz lineup but also among most AVRs of similar rank.
Key specs
Channels: 5.2.
Power output: 85W/8 Ohm, 100W/6 Ohm.
HDMI inputs/outputs: 6/1.
Video functions: 4K/60Hz pass-through.
Bluetooth/Wi-Fi: yes/yes.
Streaming services: AirPlay2, TuneIn, Spotify, Pandora, SiriusXM, Amazon Music HD, TIDAL, Deezer, iHeart Radio, Napster, SoundCloud, Mood Mix.
Supports: HDMI ARC, HDMI eARC, HDMI CEC, HDCP2.2, HLG, Dolby Vision.
Surround sound: DTS HD Master, Dolby TrueHD, Dolby TrueHD, Dolby ProLogic II.
Pros
The HDMI port doesn't support 8K video like many other budget models today.
Improves the sound of standard speakers.
M-DAX function improves the quality of old recordings.
It provides a very well-heard dialog, which is rare for an inexpensive receiver.
Cons
Lowest power compared to other models (50W).
Does not provide clear sound via Bluetooth.
Marantz CINEMA 50 – also great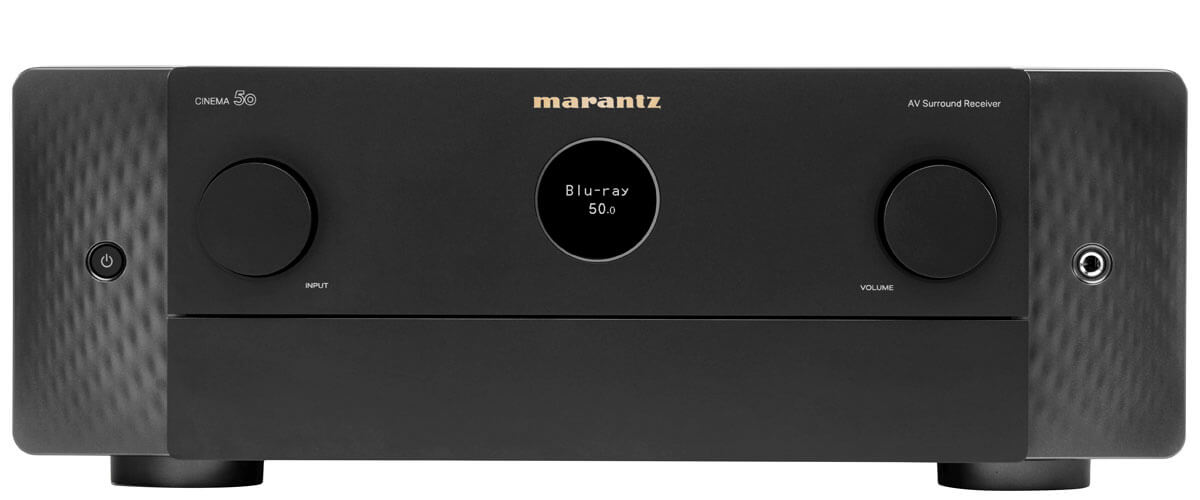 Per usual, in this category, I consider the receiver that lost to the winner because it is more expensive. But it usually has more features and offers advanced capabilities. So I suggest you look at the factors differentiating the Marantz CINEMA 50 surround sound receiver from the CINEMA 60, also a 2022 model year. There aren't many, but they may influence your choice if you have more finances and ambition.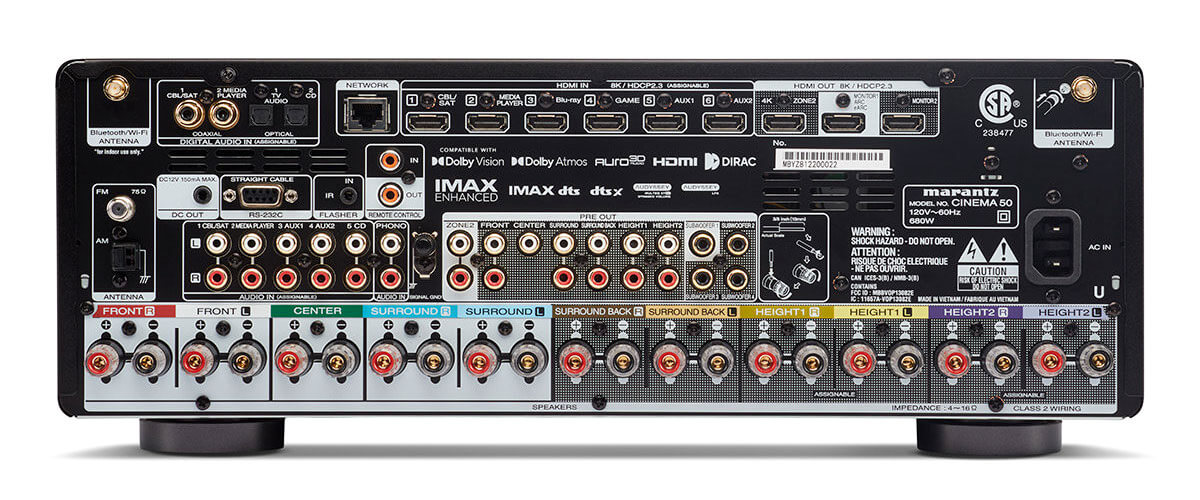 The model under review is a 9.4-channel receiver with 110 watts (8 ohms, 20 Hz – 20 kHz, 0.08% 2ch) that can be expanded to a 7.4.4 system (i.e., have 11 channels), so it may be considered by users with a large living room where a home theater is planned. To the splendor of the surround sound described in the review on the CINEMA 60, add 360 Reality Audio, and enjoy all the delights of immersive formats. Honestly, I don't know why you'd want more holes in the ceiling. I had enough sensation, experience, shaking walls, dynamics, clarity in the upper and midrange frequencies, and fat bass. The Marantz CINEMA 50 sounds superb, fantastic, and not just in movies. I had no doubts whatever I offered it for stereo playback. The user can adjust timbre, dialog levels, lip sync, and more, though I didn't need half of it. I must say, though, that the app is much more convenient than the remote. Nevertheless, the user menu is ornate and can seem complicated; you'll have to try hard to find the section you need, so immediately arm yourself with a manual.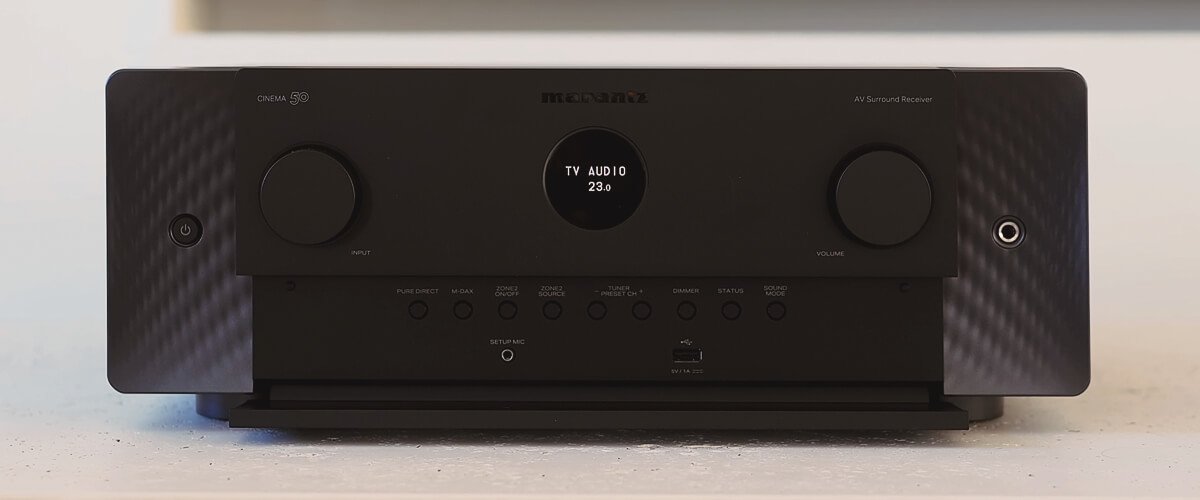 The receivers have an equal number of ports, but the CINEMA 50 supports 8K video. However, the AVR has only digital optical inputs if you plan to connect older equipment. But, I had no problems with wireless connectivity (including voice assistant control).
The Marantz AVR CINEMA 50 is a great representative of modern receivers that offer more than you might initially think. Its surround and stereo sound quality, functionality, and multi-zoning capabilities will satisfy a large family with different preferences.
Key specs
Channels: 9.4.
Power output: 110W/8 Ohm, 150W/6 Ohm.
HDMI inputs/outputs: 6/3.
Video functions: 8K/60Hz, 4K/120Hz pass-through, 1080P/4K to 8K HDMI upscaling.
Bluetooth/Wi-Fi: yes/yes.
Streaming services: AirPlay2, TuneIn, Spotify, Pandora, SiriusXM, Amazon Music HD, TIDAL, Deezer, iHeart Radio, Napster, SoundCloud, Mood Mix.
Supports: HDMI ARC, HDMI eARC, HDMI CEC, HDCP2.3, HDR10, HDR10+, HLG, Dynamic HDR, Dolby Vision.
Surround sound: DTS HD Master, DTS:X, DTS Neural:X, DTS Virtual:X, Dolby TrueHD, Dolby Atmos, Dolby Atmos Height Virtualization, Dolby Atmos Music, Dolby Surround, IMAX Enhanced, Auro-3D.
Pros
With CINEMA 50, you can build a 7.4.4 system.
Unlike CINEMA 60, all 6 HDMI inputs support 8K video.
Extensive customization, dialogs, lip sync, and other things work better with the app.
Cons
No inputs for older equipment.
The user menu is ornate and complicated; you will have to figure it out with the help of the manual.
Marantz NR1200 – stereo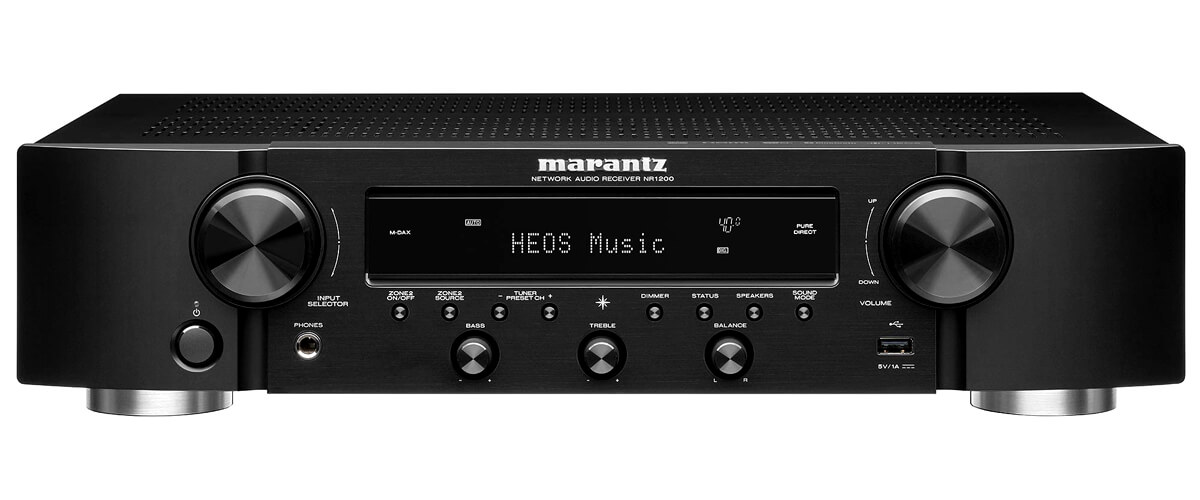 And last but not least is the magnificent, the only stereo receiver in the Marantz range today – the Marantz NR1200 narrow-body stereo receiver. Although this model was also released in 2019, unlike the NR1510, it is not outdated in any way. And even on the contrary, it has more to offer than many stereo devices.
Despite its small size, the NR1200 has enough power for the average user at 75W (8ohm, 20Hz – 20kHz, 2ch Drive) and an excellent THD of 0.08%. Moreover, on its chassis, you will find such surprises, not too expected in a stereo receiver (although there are similar models on the market), as digital optical and coaxial inputs, phono input, audio-in, but most importantly – as many as 5 HDMI inputs. And with HDMI technology, you can use content with 4K video in HDR10; it even runs a 3D signal. You can also connect two subs to improve the bass balance. Not bad for stereo, eh? Although you can add a "spoonful of tar" here regarding the design, which is wonderfully laid out and contains quality components, except for the cheap plastic control buttons.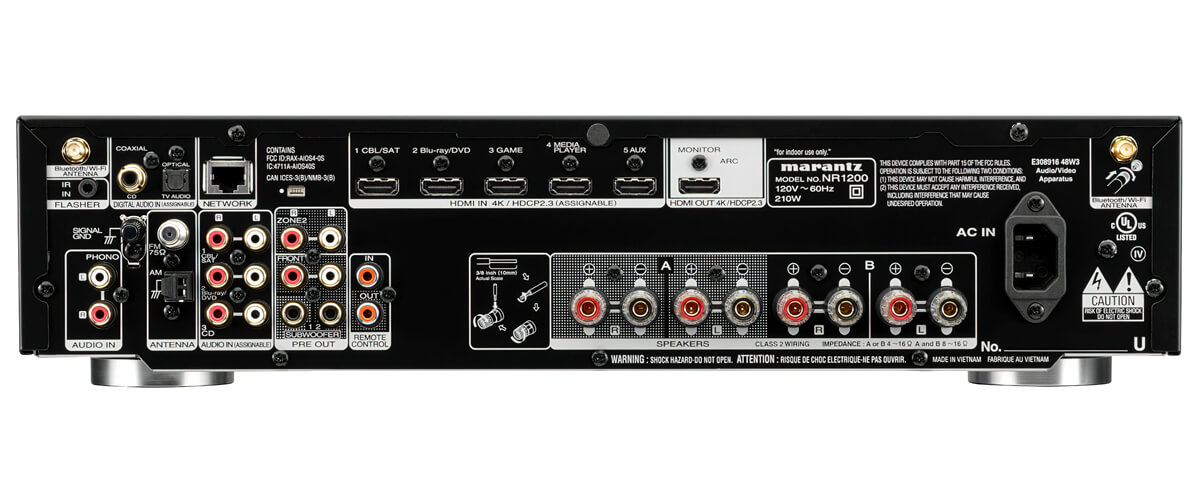 And there's more to it than that! Wi-Fi, Bluetooth, and the built-in HEOS system have extensive compatibility with streaming services, supporting AirPlay 2 Audio Streaming and TuneIn internet radio. But I could never set up FM reception, no matter how hard I tried. I don't think the problem is me. Although, let's be honest, fewer and fewer people are using the radio these days.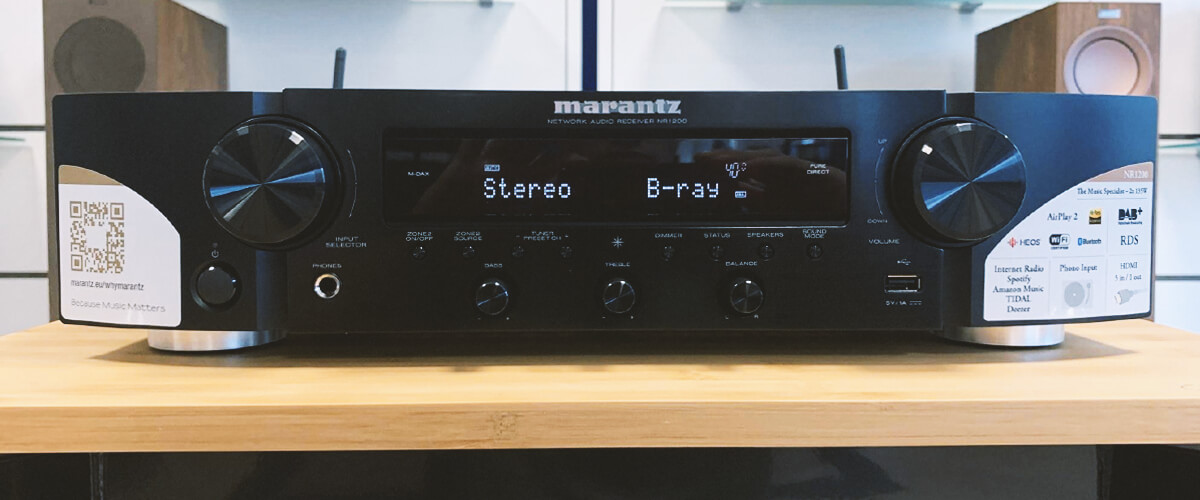 The music played by the NR1200 is great. Although the receiver has enough power for a small room, the sound spreads evenly and smoothly, giving vinyl the necessary analog warmth and digital tracks a purity devoid of the cold, soulless ringing so often found in other devices. And with two receivers, even heavy genres with complex musical tricks sound incredibly balanced and organic, as if you were at a concert.
If you've been looking for an inexpensive, do-it-all device for listening to high-quality music in a small room, the Marantz NR1200 will provide everything you need.
Key specs
Channels: 2.2.
Power output: 75W/8 Ohm.
HDMI inputs/outputs: 5/1.
Bluetooth/Wi-Fi: yes/yes.
Streaming services: AirPlay2, TuneIn, Spotify, Pandora, SiriusXM, Amazon Music HD, TIDAL, Deezer, iHeart Radio, Napster, SoundCloud, Mood Mix.
Supports: HDMI ARC, HDMI eARC, HDMI CEC, HDCP2.3, HDR10, HDR10+, HLG, Dynamic HDR, Dolby Vision.
Pros
The tapered enclosure makes it easy to place anywhere.
A wide range of wired, including 4K video and wireless connectivity, makes it a versatile stereo receiver.
Excellent clean analog sound.
Cons
Plastic control buttons are unreliable.
Could not set up FM radio reception.
What to look for when choosing a Marantz receiver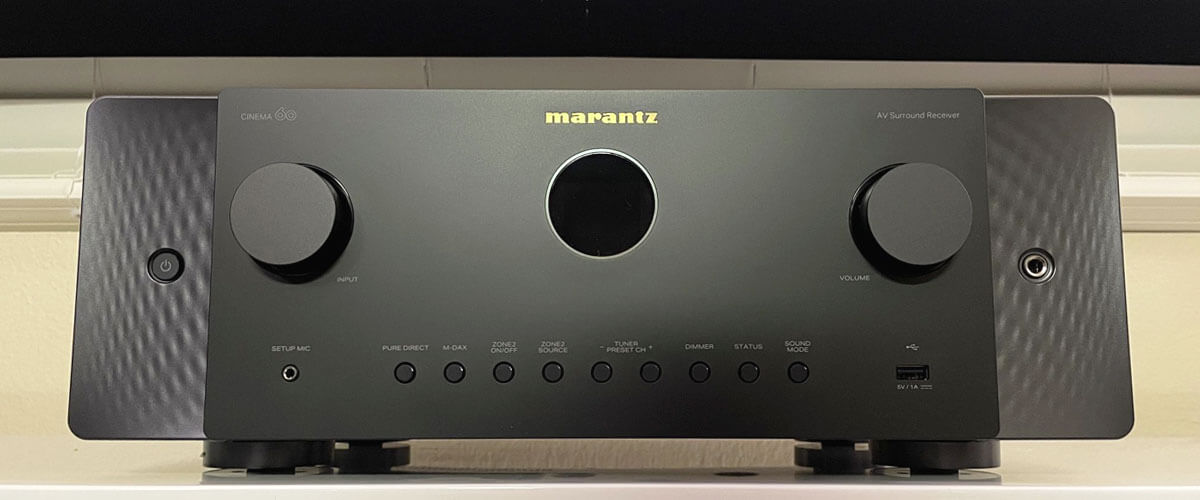 In this section, I want to introduce some factors that can influence your decision when choosing a certain receiver model. Since I have been testing these devices for many years, my experience allows me to highlight the following questions you should ask yourself before making a final decision.
How many watts per channel do I need?
This question will be answered by the size of the room where you intend to place the system. Yes, yes, that's what determines the power selection. Average values for a "standard, small" room (150-350 square feet) are 50-100W per channel (the parameter is specified in the receiver's specifications), and this is enough for the vast majority of users. However, the power figure is less important than the THD per 2 channels, determining the purity. If it is higher than 1%, you will hear noticeable noise and interference when you turn up the volume, and then, the power won't matter. For stereo receivers, the THD requirements are higher (i.e., the parameter should be as low as possible). However, the same values may sound different from model to model.
How many channels do I need?
This is a question that only you can answer for yourself by defining your needs and wishes. Stereo receivers are suitable for those who prefer music, while multi-channel AVRs are more designed for movie buffs and video game enthusiasts. And here, a little clarification is required.
The point is that this parameter is also directly related to the room size where the home theater is located. You do not need to "chase" a large number of speakers because, for small rooms, they simply do not fit, creating a noise mess instead of quality balanced surround sound. 5.1 systems are ideal for rooms around 150 square feet, 7.1 systems require a space in the 300 (sometimes more, depending on power) square foot range, and 9.1 and higher systems are suitable for larger rooms.
The channel number also determines the receiver's ability to decode surround sound formats, but I'll go into a little more detail on that next.
Required connections
Study and evaluate the equipment you will assemble into a permanent system because this is the most important factor. To avoid using special adapters and to avoid switching sources manually from time to time, turning the receiver backward and forwards to connect an "extra" device, pay attention to the presence and number of the following connections:
Component, optical, and coaxial inputs are needed for aging equipment; USB will be needed to connect flash drives, and owners of a vinyl player will need phono input.
But the most needed ports today are HDMI. Modern Blu-ray players, PCs, and game consoles use these connections to transmit optimal signal quality with high quality. They are also significant space savers because they combine audio-video transmission.
Even more important is the version of the HDMI port. Version 2.1 supports all of today's (latest) advanced AV formats, thanks to eArc (uncompressed audio), 4K/8K (high definition), VRR (for gamers), and HDCP 2.3 (media content protection) features. Hence, you need at least one such port. The great news is that starting in 2021, even budget models have an HDMI connector like this.
Additional features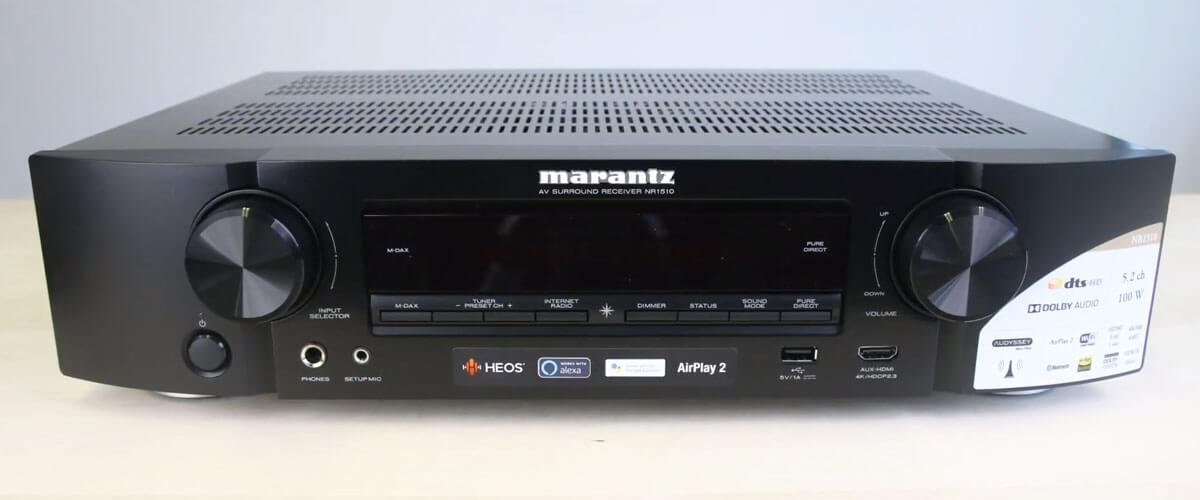 We live in a modern world that dictates trends and never stands still. Today, it is unfashionable not to be aware of technological innovations and trends, so that I would pay attention to the following factors. Although they will not be decisive in choosing a receiver, they can diversify your leisure time.
4K and 8K resolution
Among modern AVRs, you won't find those that don't support 4K/120Hz video resolution, but even inexpensive receivers are moving to 8K/60Hz support. However, I find the up-scaling feature more interesting, which improves the video quality from a source by adding virtual pixels to it. It's unavailable on all models, so study the spec sheet carefully. The important point is that your TV must support 4K or 8K video. Otherwise, they won't make sense.
HDR Formats
Depending on the model and its rank, receivers support HDR (high dynamic range) video formats Dolby Vision, HDR10, or HDR10+ ( the same versions released by different companies), which means the quality of light transmission and, as a result – clearer (contrast) and brighter (color reproduction) picture on your TV screen.
Dolby Atmos and DTS:X surround sound formats
The basic surround formats are Dolby Digital and DTS HD Master Audio, which every AV receiver supports. But starting with 7.1 systems, you can access the splendor of the advanced and now-popular Dolby Atmos and DTS:X immersive formats. The less common Auro-3D will be available to owners of 9-channel AVRs, but these are more expensive premium models. These technologies make the viewers feel like they are participating in the events on the screen. Lucky for you, in 2023, even budget models may support Dolby Atmos and DTS:X or their virtual versions.
Multi-room function
This "beauty" allows you to stream audio (and in more expensive receivers, even video) from multiple sources to 2,3,4, or more zones (rooms) through the same receiver. So, suppose you have kids or have different family preferences for the evening without using an additional amplifier. In that case, you can run the surround sound of a home theater system in one room while streaming music to another (or several other rooms).
We are supported by our audience. When you purchase through links on our site, we may earn an affiliate commission at no extra cost to you.
Our newsletter
* We will never send you spam or share your email with third parties