The Denon Company got its name from the merger of Frederick Whitney Horne with Nippon Denki Onkyo Kabushikigaisha in 1910. It was the fusion of the two Japanese words for "electric" (Denki) and "sound" (Onkyo) that gave the brand its name – Denon.
In this article, I will tell you about the best Denon receivers, relevant in 2023, each of which will perfectly match any home theater, whether you are a beginner, a sophisticated user who wants to upgrade the system, or someone who loves luxury and expensive equipment. The quality of the company's products is backed by more than 100 years of history, and the receivers' incredibly authentic, warm sound is familiar to anyone who has ever experienced them.
Our pick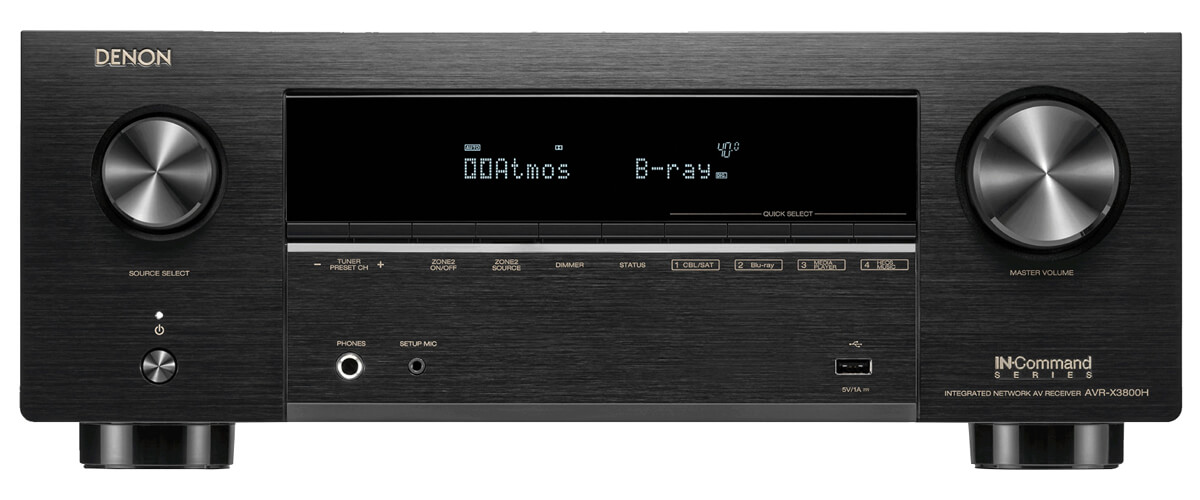 Denon AVR-X3800H
Best Denon receiver
The Denon AVR-X3800H is a 9.4-channel AV receiver with Dolby Atmos, DTS:X, IMAX Enhanced, and Auro 3D surround sound featuring 8K video quality for an immersive home-theater experience.
Read the full review
.
Denon AV receivers comparison table
Name
Channels
Power output
HDMI in/out
Bluetooth/Wi-Fi
Review
Denon AVR-X3800H

best overal

9.4
105W/8 Ohm, 135W/6 Ohm
6/3
yes/yes
Review
Denon AVR-X8500HA

premium

13.2
150W/8 Ohm, 190W/6 Ohm
7/1
yes/yes
Review
Denon AVR-S660H

budget

5.2
75W/8 Ohm
6/1
yes/yes
Review
Denon AVR-X1700H

also great

7.2
80W/8 Ohm, 120W/6 Ohm
6/1
yes/yes
Review
Denon DRA-800H

stereo

2.2
100W/8 Ohm, 120W/6 Ohm
5/1
yes/yes
Review
What Denon receivers did we test?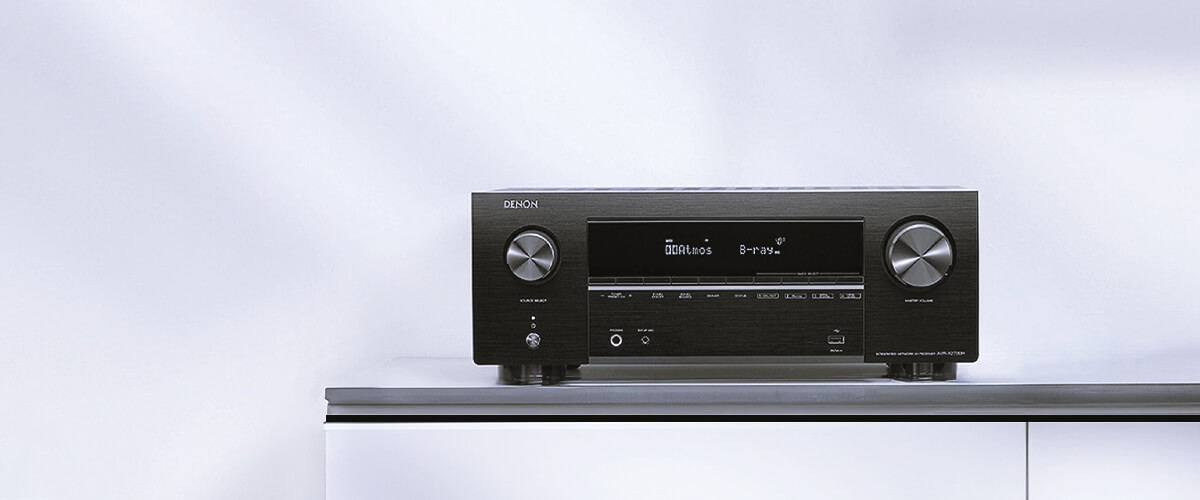 I have tested a lot of Denon receivers in my life, but time does not stand still, and even familiar models are sometimes modernized or discontinued by the manufacturer. Therefore, for some reasons of technical nature, as well as the results of my impressions compared to other models, my Denon receiver lineup did not include such AVRs as Denon AVR-X2700H, Denon AVR-X4800H, Denon AVR-S570BT, Denon AVR-S970H. Nevertheless, these models have gained the respect of fans and are good representatives of the brand.
However, when it comes to the best Denon receiver 2023, my choice is based on relevance and personal impression. But do not think that this selection was based on subjective opinion. When writing reviews, I always refer to customer feedback from various retail sites and expert opinions from popular audio forums to create the most objective view for you.
Our criteria for choosing the best Denon receiver
The top Denon receivers on my list are representatives of different classes, functionality, and price segments, which means you can find an AV receiver suitable for any purpose and task.
And as usual, the selection criteria were listening experience, availability of necessary built-in features (support for modern video technologies, surround sound formats, Bluetooth, Ethernet/Wi-Fi/streaming services, etc.), sufficient inputs and outputs, and price.
Best Denon receivers reviews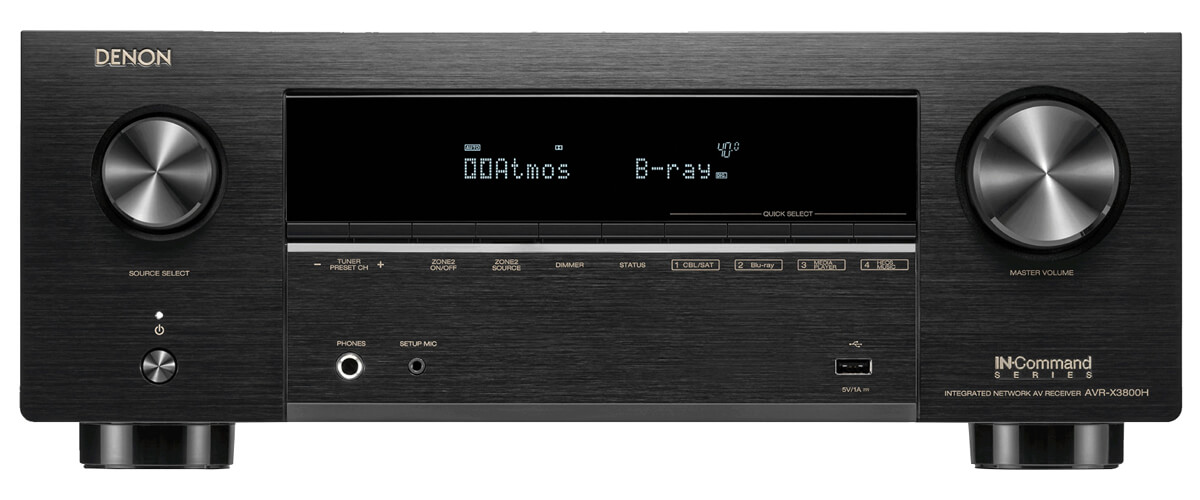 In my rating, giving out places from 1 to 5 is impossible because all receivers are different, and there is no unambiguous winner. But the Denon AVR-X3800H is definitely the winner in the optimal price/quality ratio category. After all, it can compete with more expensive models in terms of functionality.
The first advantage of the 9.2-channel model is that with the help of an external amplifier, its configuration can be expanded to 11 channels. Moreover, you can connect 2 additional subs. You might think this AVR lacks power, as many 7-channel receivers provide the same. But with the right acoustics and room size, the AVR-X3800H sounds with great balance, delivering 105 watts (8 Ohms, 20Hz – 20kHz, 0.08%, 2ch).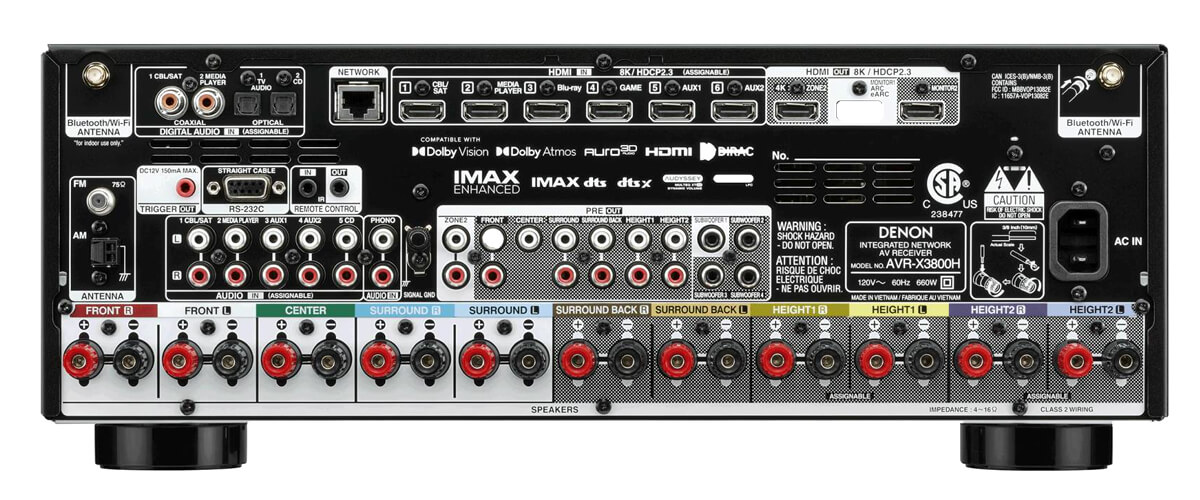 Since 5.2.4 or 7.2.2 configurations are possible with this model (and even 7.2.4 with an optional amplifier), it's no surprise that it features support for DTS:X (including Neural:X) and Dolby Atmos surround sound formats. In addition, Dolby Atmos Height Virtualization and DTS Virtual:X technologies will save you from buying a full-fledged speaker system to realize all its capabilities. This will come in handy for those not ready to pay a tidy sum at once. But this was not enough for the manufacturer, who equipped the receiver with IMAX Enhanced, 360 Reality Audio, and Auro 3D. But what I found strange with such capabilities is that the receiver has a multi-room function only for 2 zones.
Turning to video capabilities, it's worth noting that all 9 HDMI ports (6/3) of AVR-X3800H have version 2.1, so they are equipped with eARC, HDCP 2.3, support 4K/120Hz and 8K/60Hz video in HDR10+, Dynamic HDR, and Dolby Vision formats. 3D pass-through and upscaling to 8K are also possible. The latter impressed me with its quality, as the scaled video looks almost identical to the original.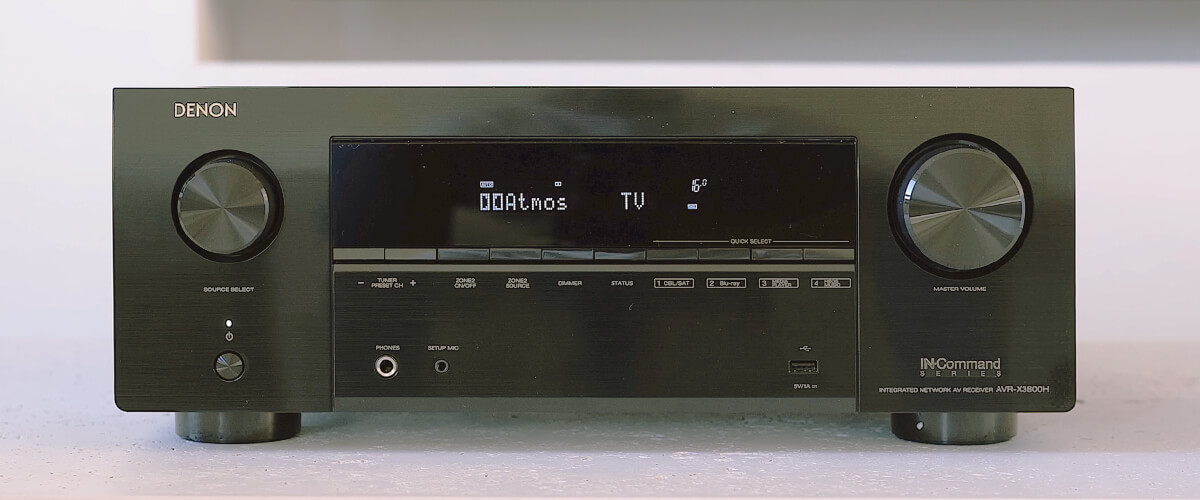 The advantages of wireless connection will please those who want to fill their home with music. After all, in addition to standard Wi-Fi, Bluetooth, and the HEOS ecosystem, there is support for Apple AirPlay 2, streaming services (TuneIn, Spotify Connect, Roon Tested), and voice assistants Google Assistant, Amazon Alexa, and Apple Siri.
The AVR-X3800H is expensive enough that you don't have to worry that the feature-packed AVR-X3800H will betray you while you're watching a movie. The Pure Direct feature dispels any last doubts about whether the receiver is worth every penny. However, Dirac Live's calibration system is incomparably more complex than the brand-standard Audyssey MultiEQ XT32. This would be my personal opinion if I didn't know that this is the view of many users. And yet, you may be the one who will be able to handle it without any problems.
The Denon AVR-X3800H is the best Denon AV receiver on my list in terms of value for money. It offers extensive features of modern video and surround sound formats and wireless connectivity, and after testing, we can say that it performs admirably in all of them.
Key specs
Channels: 9.4.
Power output: 105W/8 Ohm, 135W/6 Ohm.
HDMI inputs/outputs: 6/3.
Video functions: 8K/60Hz, 4K/120Hz pass-though, upscaling up to 8K.
Bluetooth/Wi-Fi: yes/yes.
Streaming services: AirPlay 2, Spotify, TuneIn, Deezer, Tidal, Netflix, Amazon Prime.
Supports: HDMI ARC, HDMI eARC, HDMI CEC, HDCP2.3, HDR10+, Dolby Vision.
Surround sound: DTS:X, DTS Neural:X, DTS Virtual:X, Dolby Atmos, DTS HD Master, Dolby TrueHD, Dolby Atmos Height Virtualization, Dolby Atmos Music, Auro 3D.
Pros
Optimal combination of quality, versatility, and affordability.
Expandable up to 11.4 channels.
The scaled 8K video looks identical to the original.
Support for most modern surround sound formats.
The receiver has a wide range of wireless multimedia technologies.
Cons
The multi-room function is only available for 2 zones.
Dirac Live can be tricky.
Denon AVR-X8500HA – premium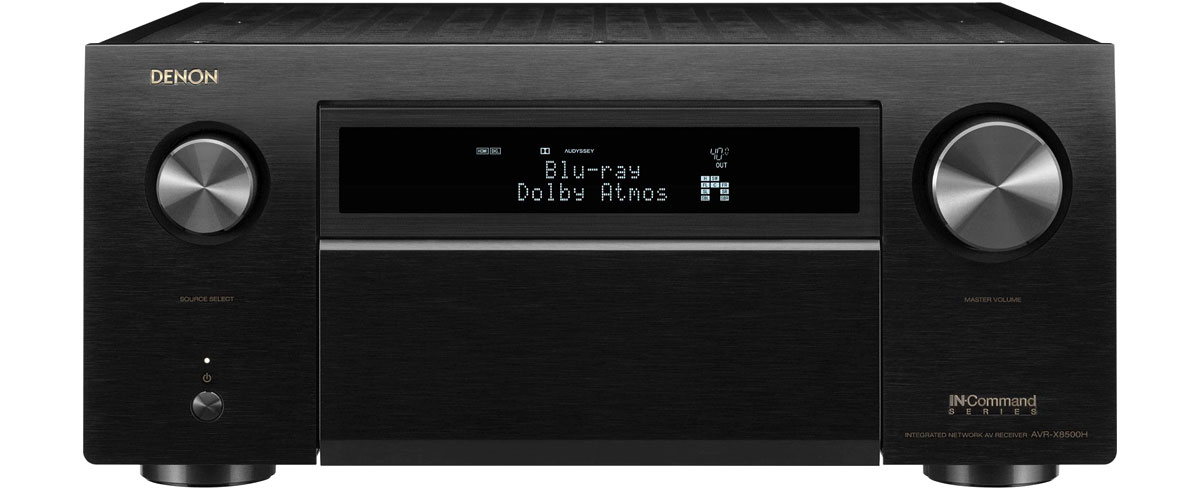 The next model on my list is a premium Denon AV receiver. The AVR-X8500HA has 13 channels of amplification but also a pre-output that allows you to expand the system to 15 channels. Each channel has a 32-bit audio converter, which makes surround sound of unrealistic quality with any audio track. Obviously, a home theater system like this needs power, and thankfully it's 150W (8 Ohm, 20 Hz – 20 kHz, 0.05% 2ch) and as much as 190W at 6 Ohm. This is the most powerful receiver on my list, but you won't find many of these units in other brands, either. At the same time, pay attention to THD, it can compete with many stereo receivers, including the one presented in my selection.
Before we get into further description of the X8500HA, I need to leave a note. This model was released in 2021, unlike the AVR-X3800H of 2022. Therefore, they are very similar in terms of functionality, with the difference being the number of channels, power, connectivity options, and some additional chips. Therefore, it may seem to you that the price is unjustifiably overpriced. And yet, the model in question uses higher-quality, expensive components that directly affect the result since the quality of signals does not suffer.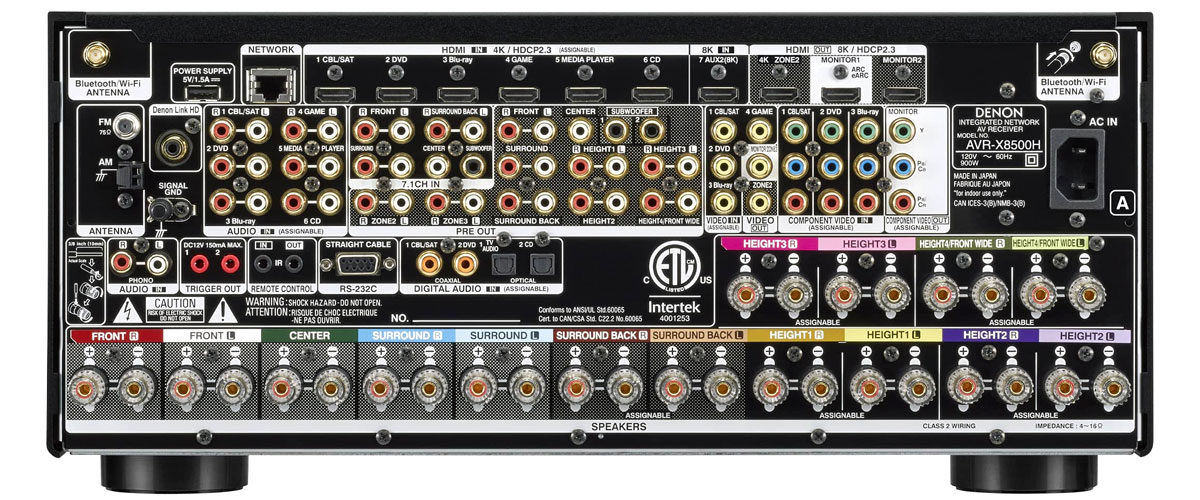 It would be possible to write a treatise on the number of connections, but I will limit myself to saying that there are a huge number of them. Only HDMI can be mentioned in detail. 8 inputs and outputs have version 2.0; all support 4K video, eARC, and HDCP 2.3. But only one input works with 8K video. In HDR format support, X8500HA is identical to its predecessor. Here it will be appropriate to mention that the model is a multi-zone receiver and broadcasts audio to 3 zones, as well as 4K video for the second zone.
The X8500HA is compatible with Android and iOS, all possible streaming services and voice assistants, and has built-in HEOS. Guys, I don't have enough space to list everything; just check out its specs.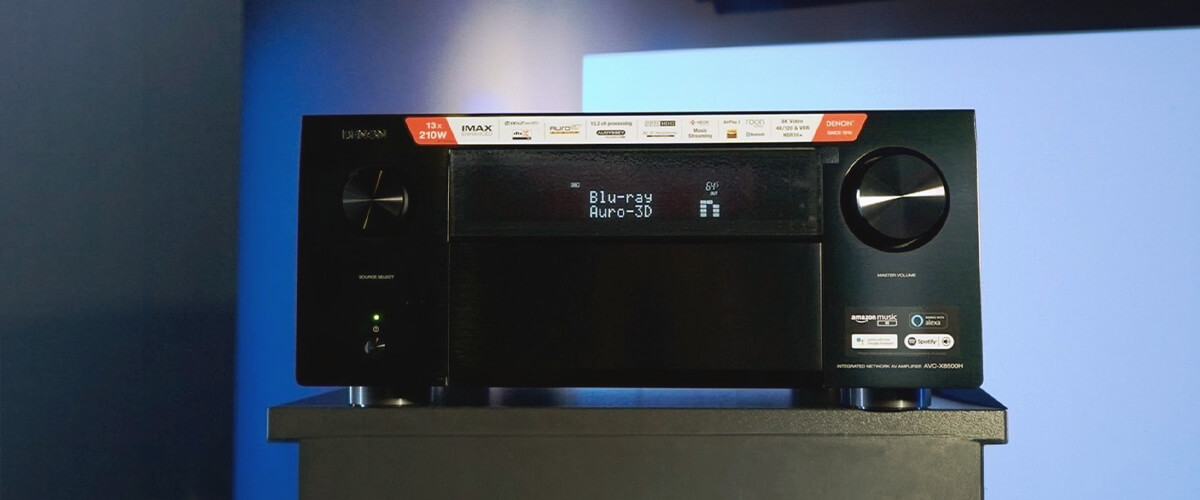 The experience of watching movies is hard to describe in words. It's more like feelings and tangible, both physically and mentally. Of course, I chose Avatar. The shivers through the body are sweetly intertwined with inner awe, the impossible seems to have been achieved, and the quality of detail is amazing. In the famous battle scene between the inhabitants of Pandora and the Earthlings, I kept wanting to jump up from my seat and get involved. I was physically dodging arrows and bullets "flying" past me. But you know what? The receiver is great in stereo. It's just top-notch. The vinyl I love sounds like I'm in a recording studio, and the warm characteristic tint of the Denon adds the necessary authenticity. Digital music is also great, I didn't notice a single broadcast failure, and the AVR supports all Hi-Res audio formats.
The AVR-X8500HA is a Denon high-end receiver with all the implications of that definition. Modern, no limitations, no flaws. This is for you if your choice is limited by brand but not by finances.
Key specs
Channels: 13.2.
Power output: 150W/8 Ohm, 190W/6 Ohm.
HDMI inputs/outputs: 7/1.
Video functions: 8K/60Hz, 4K/120Hz pass-though, upscaling up to 8K.
Bluetooth/Wi-Fi: yes/yes.
Streaming services: AirPlay 2, Spotify, TuneIn, Deezer, Tidal, Netflix, Amazon Prime.
Supports: HDMI ARC, HDMI eARC, HDMI CEC, HDCP2.3, HDR10+, Dolby Vision.
Surround sound: DTS:X, DTS Neural:X, DTS Virtual:X, Dolby Atmos, DTS HD Master, Dolby TrueHD, Dolby Atmos Height Virtualization, Dolby Atmos Music, Auro 3D, IMAX Enhanced.
Pros
The receiver has a 32-bit audio converter for each channel.
Huge power of 150W/8Ohm and 190W/6Ohm.
Quality components are used in the design.
A huge number of connectors, including 8/3 HDMI ports.
Supports virtually every format of surround sound, video, and wireless connectivity available today.
Combines state-of-the-art features and built-in functionality.
Cons
I did not find any obvious disadvantages during my testing.
Denon AVR-S660H – budget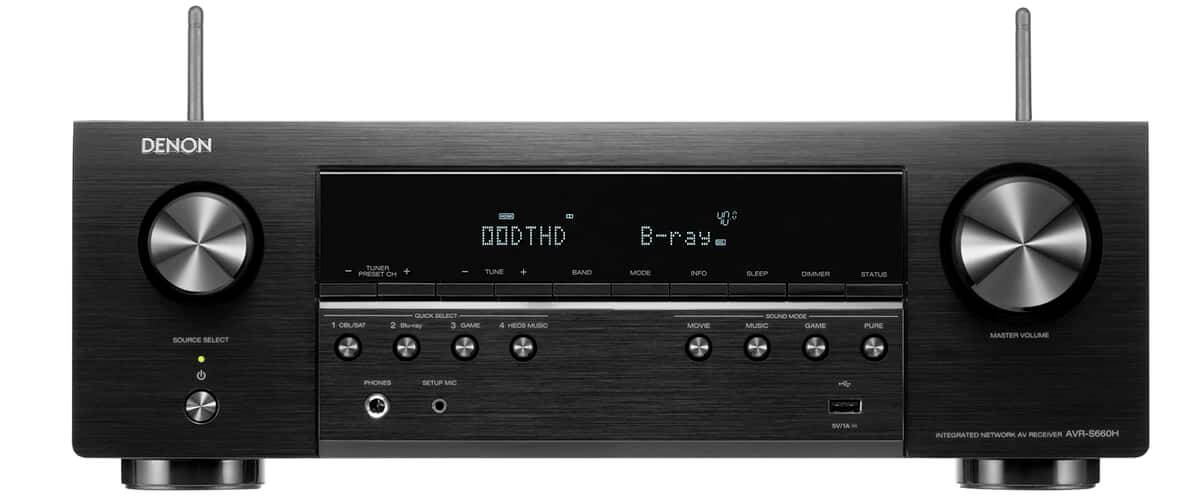 Well, this is the end of the pathos of this chart, and now we are waiting for several models that are much more pleasant in terms of cost. I'll start with the category of budget receivers, where the prize goes to the most popular model among users, the Denon AVR-S660H, with 5.2-channel amplification.
For its configuration, it has an absolutely acceptable power of 75W (8 Ohms, 20 Hz – 20 kHz, 0.08%, 2ch). But due to its small THD (identical to the AVR-X3800H), it handles high volume perfectly, whether listening to music or watching a movie with surround sound. Speaking of the latter, the receiver's configuration implies only basic, mainstream (older) 3D formats such as Dolby TrueHD DTS HD Master. These are the only formats available for a 5-channel system; the receiver handles them seamlessly.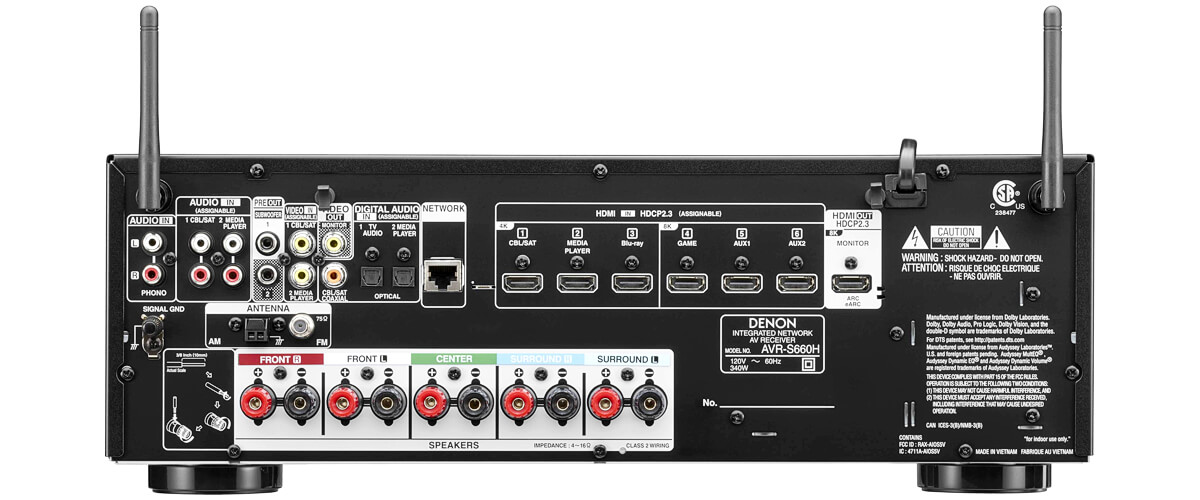 The AVR-S660H has more HDMI ports than other models in the budget category, and that's nothing to be happy about. You can connect 6 devices (HDMI supports HDCP 2.3 and eARC) and watch 8K resolution video in Dolby Vision, HDR 10+, Dynamic HDR, and HLG formats. This functionality in this area is comparable to much more expensive receivers. Another thing is that you won't get the same quality as, for example, X8500HA. Nevertheless, it is important to know that the receiver may not be compatible with some TV models, which I know from my and other users' experience. There are also some issues with switching HDMI inputs, which often require rebooting the unit (missing sound).
Wireless connections are limited compared to its predecessors but include working with AirPlay 2, streaming services, and voice control. However, by downloading Denon's apps, you can control the volume, and it's very convenient. If you also download the HEOS app, you'll have to restart them both frequently, and they both become slower, which is a bit annoying, but you can get used to it. In case of such compromises, I always find it necessary to remind myself about the cost of the device. It is an acceptable disadvantage.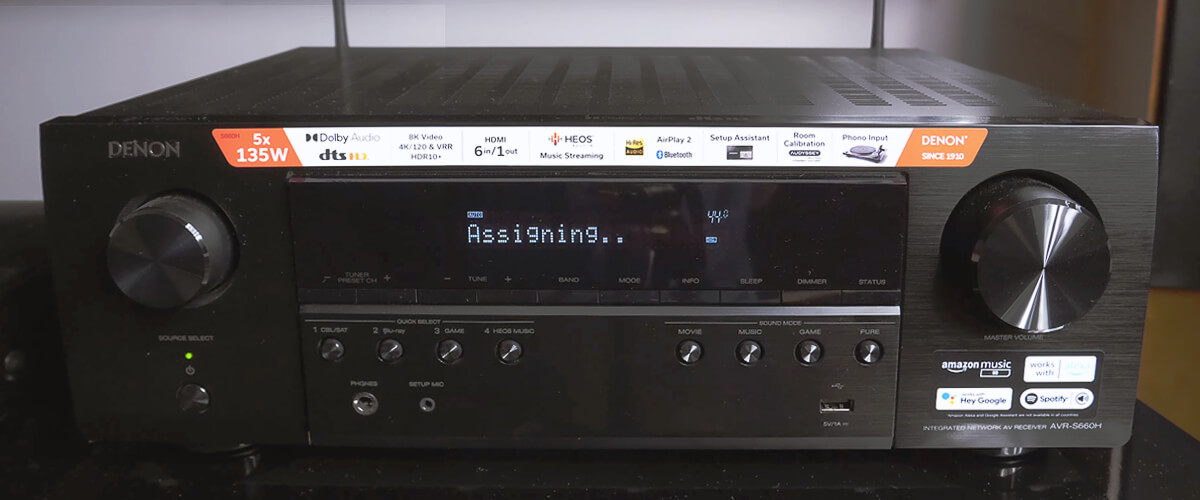 The sound of AVR-S660H is very good both in surround sound and stereo (not surprising with its THD indicator). You won't find a bad review regarding this scope, and my testing proves that inexpensive things can also be good. The receiver has a compressed audio enhancement feature that greatly improves the quality of simple formats (like MP3).
AVR-S660H is the best Denon AVR among models under 500 dollars. And it significantly beats similar models of other brands. If you need a faithful companion with basic capabilities, you want to have music and watch movies with surround sound in your home without spending your last saved money; this is the right choice.
Key specs
Channels: 5.2.
Power output: 75W/8 Ohm.
HDMI inputs/outputs: 6/1.
Video functions: 8K/60Hz, 4K/120Hz pass-though, upscaling up to 8K.
Bluetooth/Wi-Fi: yes/yes.
Streaming services: AirPlay 2, Spotify, TuneIn, Deezer, Tidal, Netflix, Amazon Prime.
Supports: HDMI ARC, HDMI eARC, HDMI CEC, HDCP2.3, HDR10+, Dolby Vision.
Surround sound: DTS HD Master, DTS:X, DTS Virtual:X, Dolby Atmos, Dolby TrueHD.
Pros
There are more HDMI ports than other budget models.
There is a Denon app for iPhone control.
It sounds great in surround sound and stereo.
The compressed sound enhancement features work to great effect.
Cons
Sharing the Denon and HEOS apps requires constant rebooting.
Not compatible with all TVs.
Switching HDMI inputs periodically requires rebooting the receiver.
Denon AVR-X1700H – also great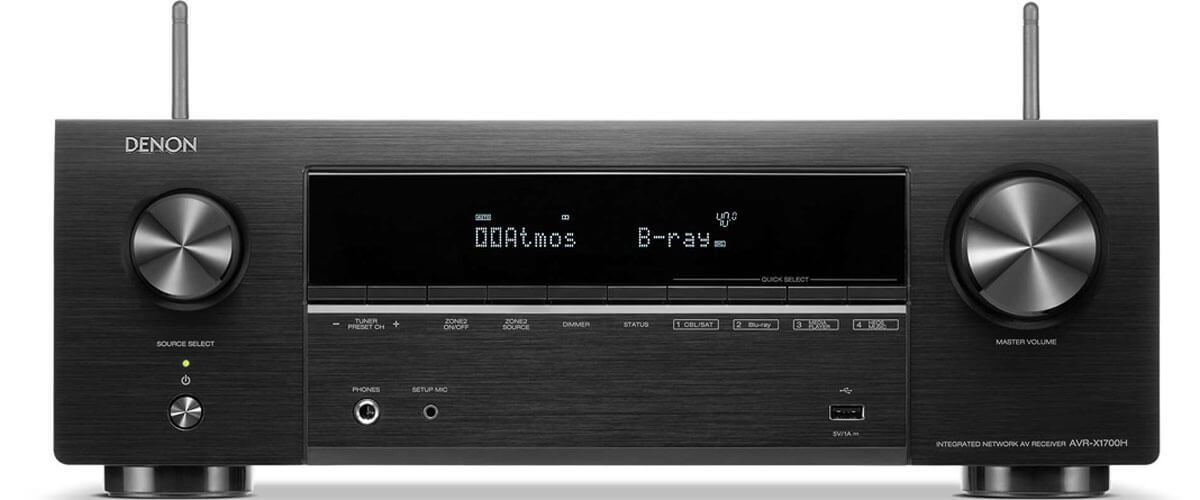 In 2021, the company released another great model Denon AVR-X1700H to complete the brand's list of multichannel receivers. It is a simpler option compared to the first two Denon receivers, but it can offer good sound and functionality. That said, the model is not much more expensive than the AVR-S660H.
So, AVR-X1700H is a bit more powerful (80 W (8 Ohm, 20 Hz – 20 kHz, 0.08% 2ch Drive)), but in practice, you won't notice the difference because inexpensive AV receivers make noises at high volumes, and I don't recommend to use their full power. You can also broadcast sound to 2 zones, unlike the AVR-S660H, but this is not surprising because the model under review has 7.2 channels of amplification, not 5.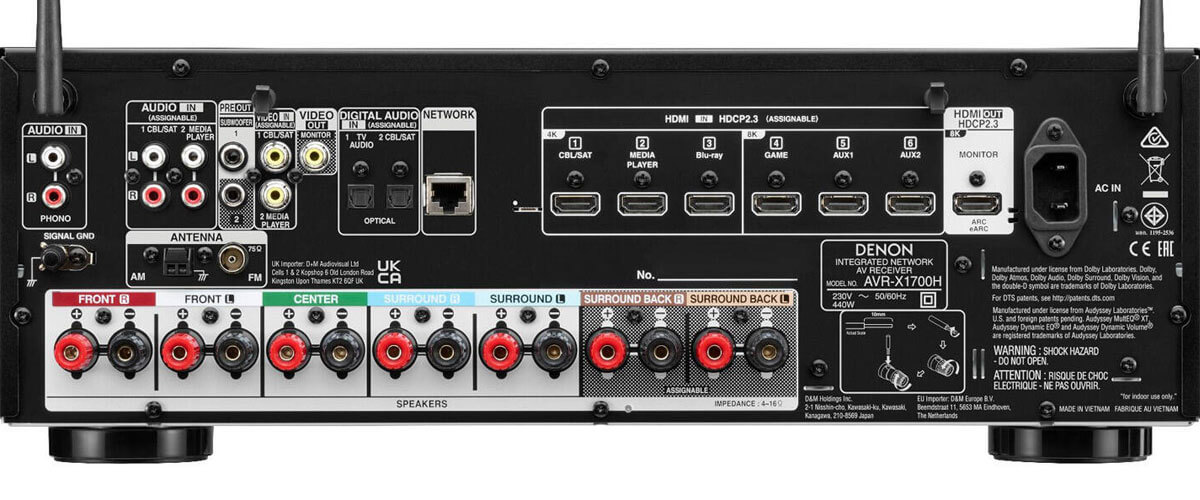 The number and capabilities of HDMI are identical, so that I won't repeat it. I noted a long video startup at the start (up to 30 seconds), but then the video did not freeze (a common phenomenon in the segment up to $1000).
The wireless connection also didn't prepare us anything more than it was described for AVR-S660H. But I would note stable signal transmission, which is rare for inexpensive products. Even Roon Tested (I have a subscription) sounded extremely convincing, even though it contains audio of the highest formats. Very commendable, Denon!
Also, an uncommon bonus for entry-level receivers is support for Dolby Atmos Height Virtualization and DTS Virtual:X surround sound formats (along with the original versions). This will save you a lot of budgets if you don't have a full 7-channel speaker system yet.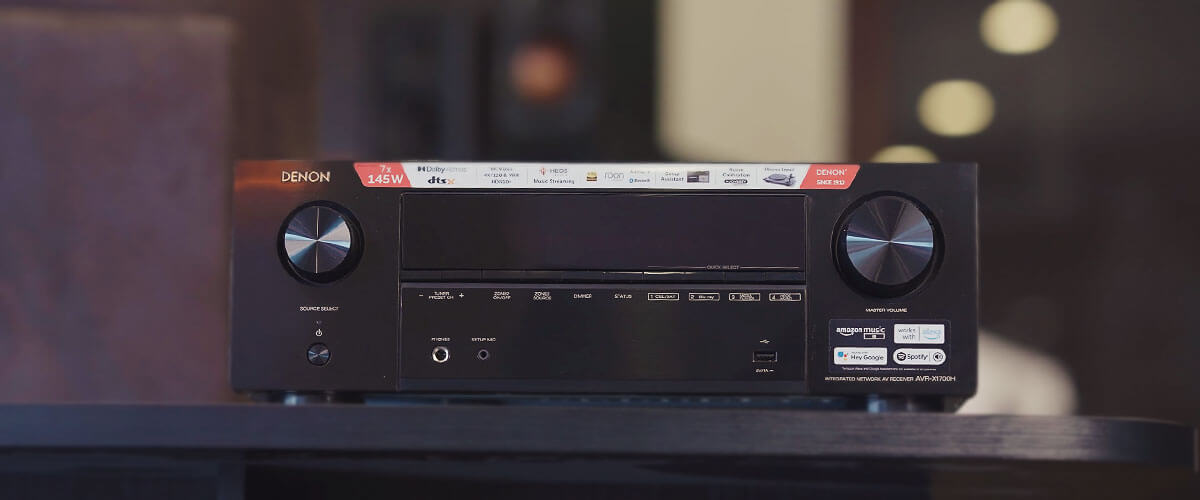 Tuning with AudysseyMultEQ XT calibration is great; even a child can handle it. Plus, it does a quality job, so the unsophisticated viewer won't need to complete the setup manually, which can be tricky initially. Especially considering that Denon does not like the instruction manual and information about the nuances with more expensive models have to shovel on their website.
Denon AVR-X1700H fulfills the main purpose of the receiver – it provides decent sound and video transmission. It's also quite functional and has achieved some success in wireless music streaming. You will appreciate this surround sound receiver.
Key specs
Channels: 7.2.
Power output: 80W/8 Ohm, 120W/6 Ohm.
HDMI inputs/outputs: 6/1.
Video functions: 8K/60Hz, 4K/120Hz pass-though, upscaling up to 8K.
Bluetooth/Wi-Fi: yes/yes.
Streaming services: AirPlay 2, Spotify, TuneIn, Deezer, Tidal, Netflix, Amazon Prime.
Supports: HDMI ARC, HDMI eARC, HDMI CEC, HDCP2.3, HDR10+, Dolby Vision.
Surround sound: DTS:X, DTS Virtual:X, Dolby Atmos, DTS HD Master, Dolby TrueHD.
Pros
High-quality video signal transmission during viewing.
The receiver supports Dolby Atmos and DTS Virtual:X height virtualization, which is rare for its price category.
Excellent wireless signal streaming, including high-quality Roon Tested.
AudysseyMultEQ XT calibration is incredibly convenient and easy.
Cons
The receiver wheezes at maximum volume.
Inexpensive components are used in the design.
The video takes a long time to connect at startup.
Denon DRA-800H – stereo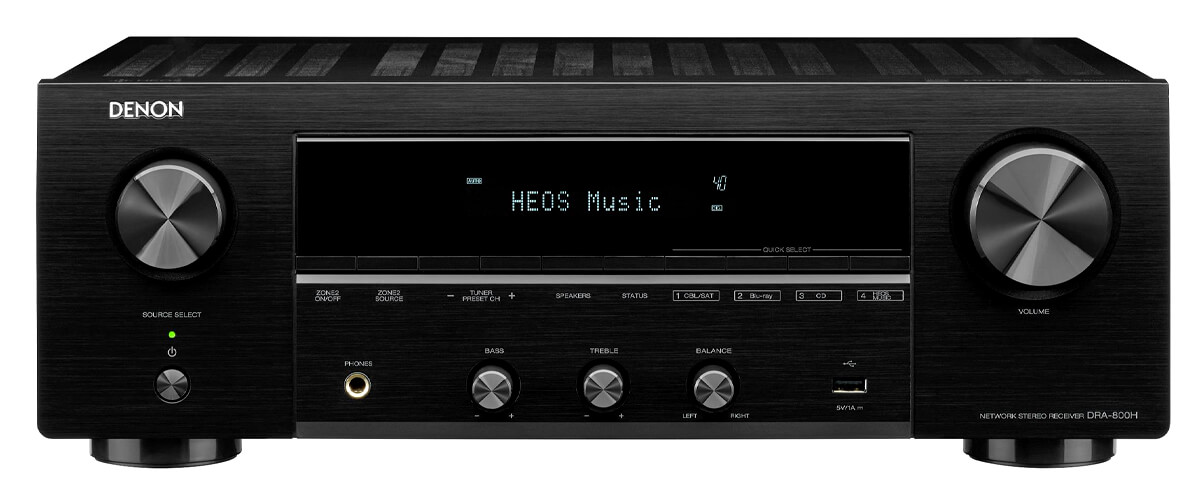 We've reached the last participant of my diverse review, and I'm pleased to introduce you to the Denon DRA-800H, the only stereo receiver of my selection. Despite the relatively low price in my rating, the cost of the model is in the confident middle segment for a 2-channel device, and all because it uses a discrete high-current power amplifier with a symmetrical circuit and a powerful transformer with windings made of oxygen-free copper. Moreover, you get wide receiver functionality since the model has additional connectors. But let's talk about everything in order.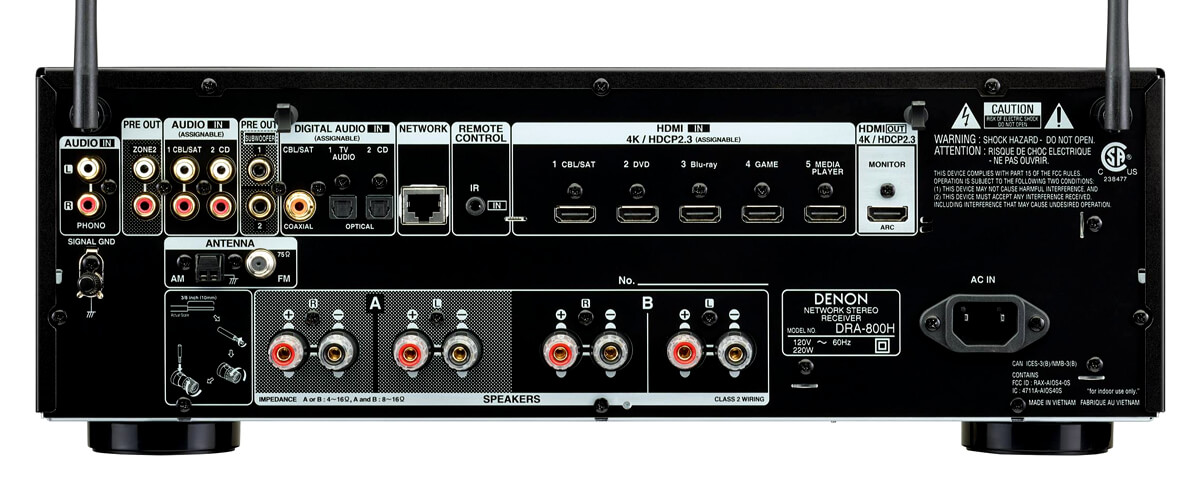 The 100W (8 Ohms, 20Hz-20kHz, THD: 0.08%, 2ch) is enough to make the DRA-800H sound confident and powerful. THD is also not at the highest level for a stereo receiver. There were AV receivers with this indicator in my review, as you can see. But on its own, it is very good and sounds just fine.
The DRA-800H has many connectors, including 5/1 HDMI ports (4K, HDCP 2.3, ARC), which is rare for 2-channel devices. You can also connect digital sources to the optical and coaxial inputs, flash drives to the USB, two subwoofers, two pairs of speakers, and an additional amplifier for zone 2. But for me, the lack of a phono input is a minus; it's odd for a device designed for music. However, there are RCA jacks, and the turntable can still be connected, albeit with an external preamplifier. I really liked the fact that the display allows you to rename all the inputs as you like. This makes it much easier to get used to and operate.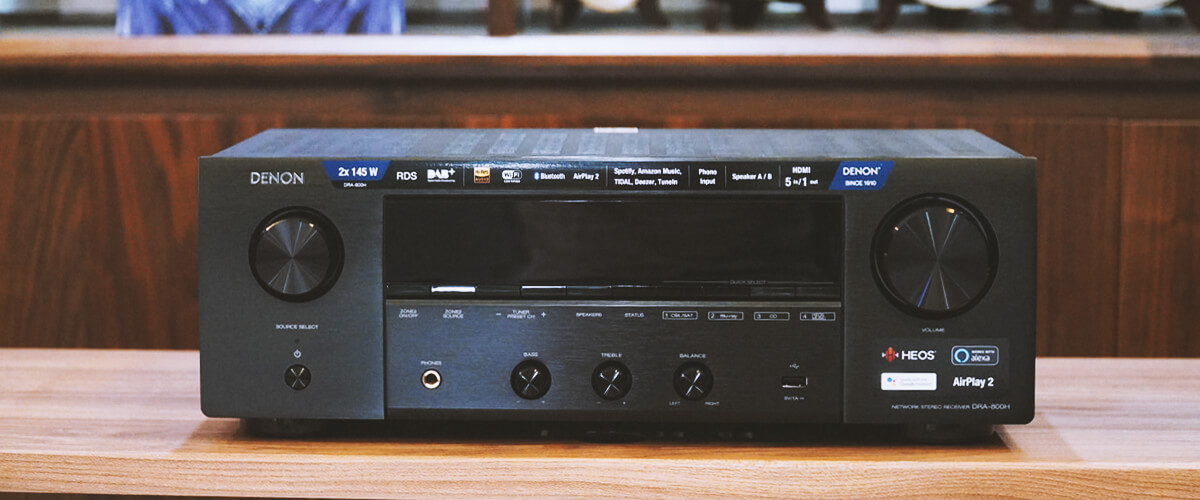 Built-in Wi-Fi, Bluetooth, and Apple AirPlay 2 allow you to use myriad streaming services and voice assistants (including Josh.ai). But the HEOS app disappointed me, as I couldn't play all my tracks from my Apple Music library because it didn't recognize the file formats. Not all of them, but most of them.
The DRA-800H stereo receiver may become the heart of your audio system. This is the best Denon receiver with 2 channels of amplification. It is a versatile, affordable device that demonstrates the brand's build quality and warmth of sound and is appreciated by many users.
Key specs
Channels: 2.2.
Power output: 100W/8 Ohm, 120W/6 Ohm.
HDMI inputs/outputs: 5/1.
Video functions: 4K/60Hz pass-through.
Bluetooth/Wi-Fi: yes/yes.
Streaming services: AirPlay2, Deezer, Tidal, Pandora, SiriusXM, Napster, SoundCloud, Amazon Music, Amazon Music HD, Mood mix.
Supports: HDMI CEC, HDCP2.3, HLG.
Surround sound: has not.
Pros
Many connection options are compared to other stereo receivers of the same class.
High wireless connectivity options.
You can rename the inputs on the display for your convenience.
Cons
No phono input.
The HEOS app does not recognize all files from the Apple Music library.
What to look for when choosing a Denon receiver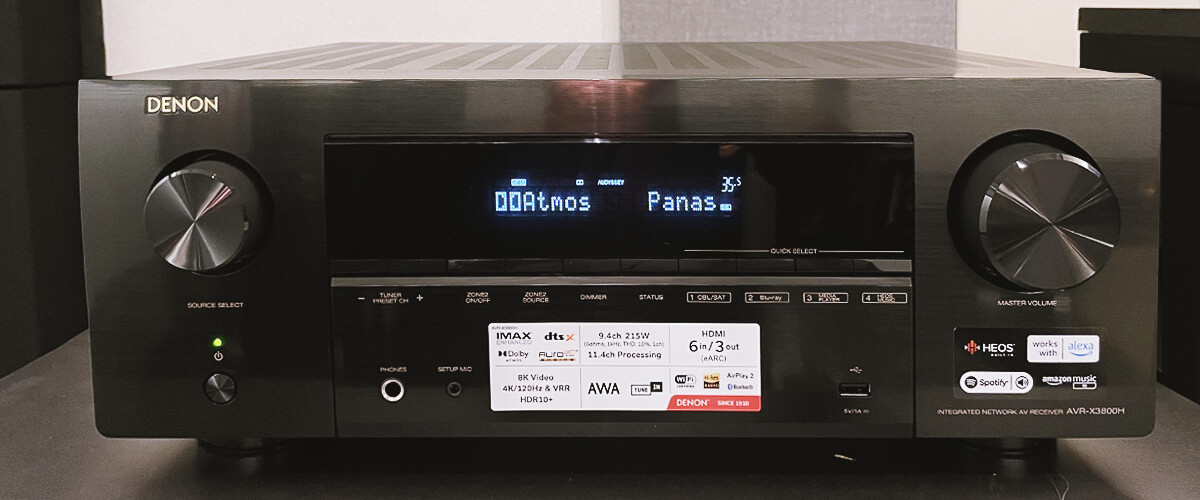 My many years of experience in testing and using receivers gives me the right to say that determining the factors influencing your choice when buying a new device is the most important step. So I would like to share with you my thoughts on this matter.
Necessary connections ports
The first thing to do is to ensure that there are enough connectors for all your equipment that you plan to connect to your home system. And HDMI is the most important of all, as almost all modern appliances are connected via it (Blu-ray players, PCs, game consoles. To use modern content in the latest audio-video formats, try to keep track of the version of these ports. Plus, this will ensure that your equipment will work for a long time. Version 2.1 is the latest today and supports eARC, 4K/8K, VRR, and HDCP 2.2/2.3. Still, I highly recommend having one "extra" HDMI input. Well, what if you decide to buy something new? You don't want to be switching cables all the time, do you?
You may need component, coaxial, or optical inputs to connect older equipment; a phono input is needed for a vinyl player; USB for other devices.
After 2021, even inexpensive devices may offer a sufficient number and quality of connectors, so approach the question in a balanced way. You can always find an alternative connection and use adapters, although it may not be graceful.
Built-in Bluetooth, Wi-Fi, and streaming services
Wireless connectivity can be just as important if you plan to use streaming services or control your receiver through apps. But it's important to understand the nuances to know whether it's worth paying more for something you don't need.
Wi-Fi and Bluetooth are the easiest wireless methods, although they can be unreliable due to signal quality. Bluetooth generally has a 30-foot (sometimes less) operating limit. So AVRs with built-in support for streaming services are more valuable because they work directly with Spotify (and other resources), for example. The same goes for voice assistants.
Many of us love multi-room, and the alternative is Denon's native HEOS wireless ecosystem, which is built into almost all of the brand's devices.
I'd also recommend learning the difference between Bluetooth, AirPlay, and Chromecast.
Amplification channels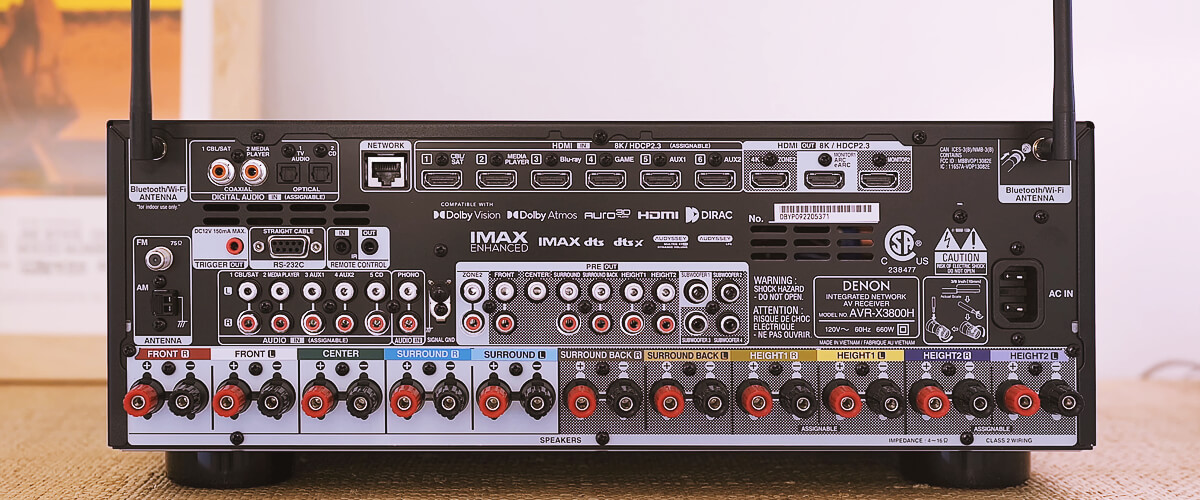 Depending on the size of the room in which you will place your home theater or audio system, you need to determine the number of channels you need and the number of channels left for you. More doesn't always mean better: many speakers will create sonic chaos in a small room.
Choose a stereo system if you're just going to improve the sound from your TV but mostly prefer music. The sound will be of higher quality than from an AV receiver.
A minimal 5.1 surround sound system will suit those who can limit themselves to standard basic surround sound formats. And starting with the 7.1 configuration, the magic of Dolby Atmos and DTS:X is available.
AV receiver power: does it matter?
The size of the room also plays a role in this issue. Although, I would even say that both factors are related. After all, usually, fewer channels means less power for the model. The standard for a system has always been in the 50-100W range (great for 150-300 square foot rooms), although you can often find models with the same parameters that differ in volume. It's a matter of listening.
THD per 2 channels is more significant, indicating the level of sound clarity at high volume. And if it is usually lower in stereo receivers, the normal value for AV receivers is 0.8-1%. Anything higher will cause significant interference.
Dolby Atmos, DTS:X capability
Dolby Atmos and DTS:X surround sound formats provide a sense of immersion in the action on the screen. That's why they are so loved and appreciated by everyone who has ever been to a movie theater. But today, there is not so much content with these soundtracks, and its search can discourage all desire to watch a movie. The old standard surround sound formats sound very good and would take movie watching to the next level anyway. However, this is modern technology, and more and more content is being released, especially since even inexpensive Denon receivers can support them.
4K and 8K support
The picture is just as important, isn't it? Formats like HDR and Dolby Vision with 4K resolution are commonplace today. But time does not stand still, and now the 8K format is becoming increasingly popular, although there is still not enough content. Even though modern low-cost models support such video, you'll also need an 8K TV. In my review, all receivers except stereo have this option.
We are supported by our audience. When you purchase through links on our site, we may earn an affiliate commission at no extra cost to you.
Our newsletter
* We will never send you spam or share your email with third parties