There is probably no review on AV receivers that doesn't describe their role and importance in building your home theater. This is indeed true because it is essentially a mediator of signal transmission from sources to output devices (speaker system) and not only integrates the components of the system into a single whole but also performs audio processing and amplification.
Developing an article about the best 4K receivers, I paid more attention to its other option, namely transmitting high-quality video signals to the TV or projector screen. After all, you must agree that sound is worth less if not accompanied by a high-quality picture. A distinctive pleasant fact is that today, you will not be limited in this area, even if your budget is limited. I've picked up models in completely different price segments to prove it to you. But first of all, let's understand what is meant by the name 4K HDR receiver. At the end of the review, you will also find information about what to pay special attention to when choosing such a device.
Our pick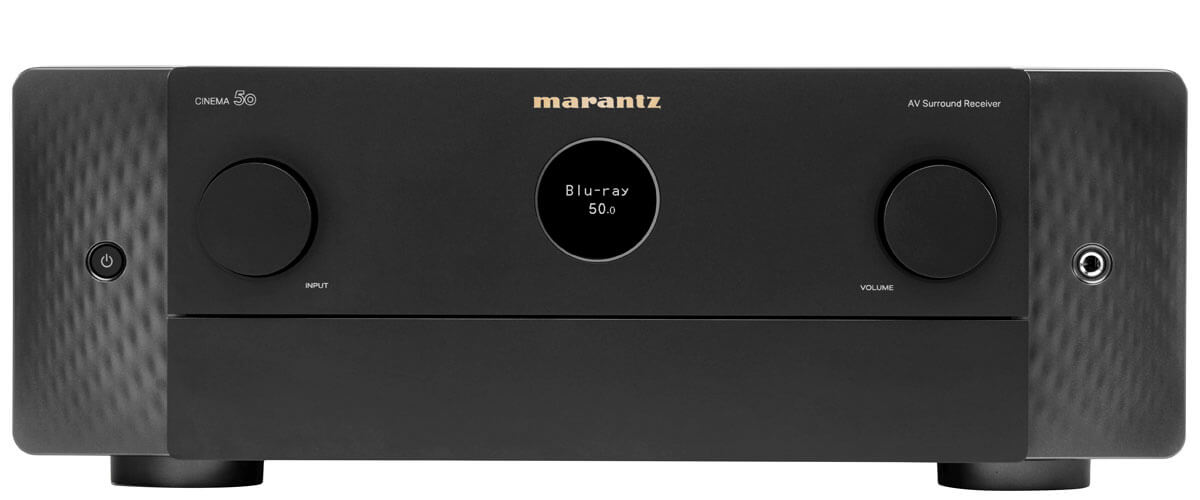 Marantz Cinema 50
Best 4k receiver
CINEMA 50 is a powerful AV receiver for very high- performance home theaters with premium 9.4 channel 110-watt-per-channel amplification, Dolby Atmos, DTS:X, IMAX Enhanced and Auro 3D, 8K Ultra HD.
Read the full review
.
4K receivers comparison table
Name
Channels
Power output
HDMI in/out
Bluetooth/Wi-Fi
Review
Marantz Cinema 50

best overall

9.4
110W/8 Ohm, 150W/6 Ohm
6/3
yes/yes
Review
Sony STR-DH790

budget

7.2
90W/6 Ohm
4/1
yes/no
Review
Denon AVR-X8500HA

premium

13.2
150W/8 Ohm, 190W/6 Ohm
7/1
yes/yes
Review
Yamaha RX-A2A

also great

7.2
80W/8 Ohm
7/1
yes/yes
Review
Understanding 4K receivers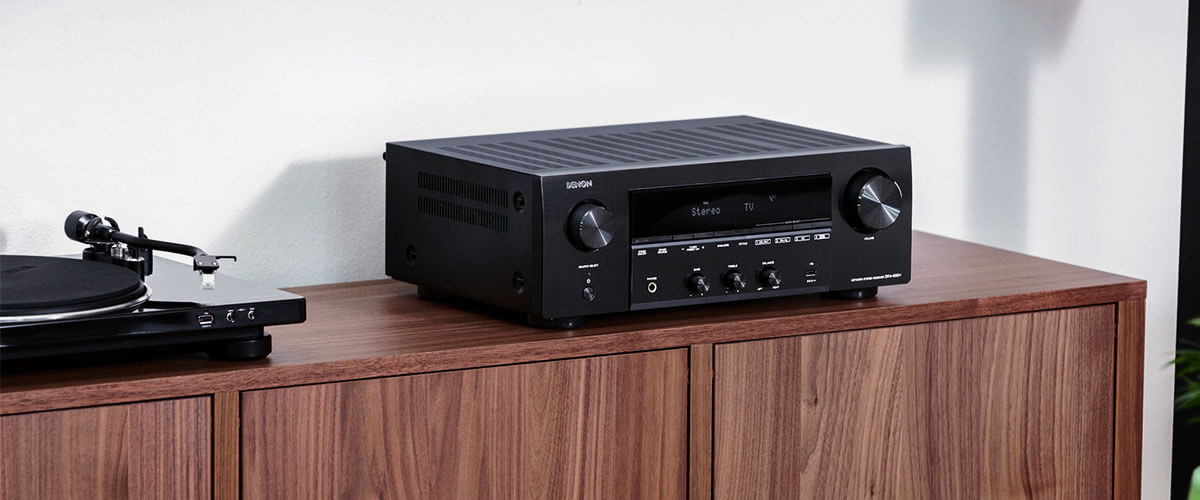 A 4K AVR is not a luxury nowadays, as almost all modern content is released in high quality (mostly 4K). Accordingly, if you are a frequent user of streaming sites like Netflix, Hulu, Amazon Prime Video, and other similar sites, you definitely need a home theater receiver with support for this resolution. Another thing is that new models all, without exception, can broadcast it. However, let's go into a little more detail.
Importance of 4K in modern media consumption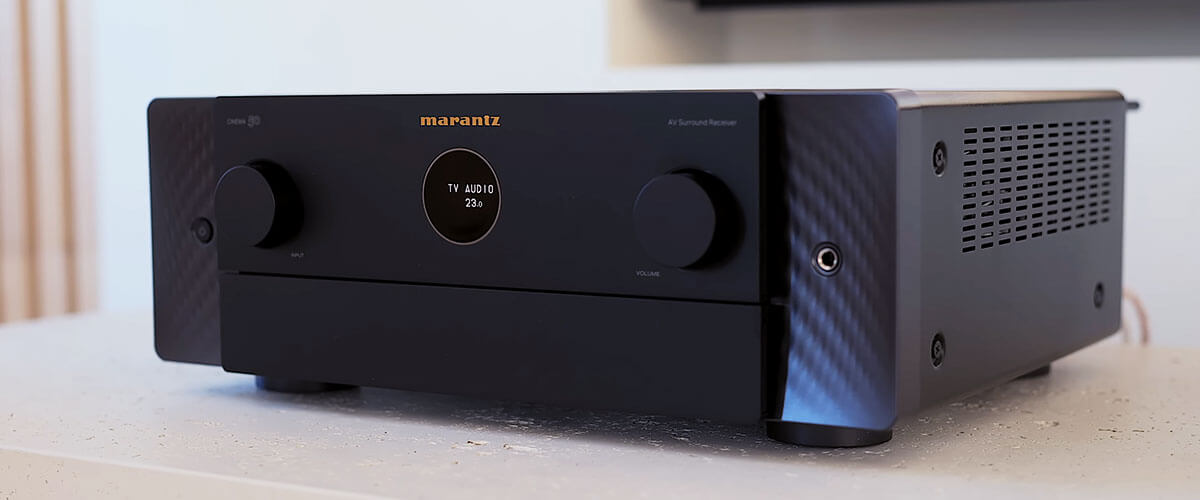 I'm so old that I remember going to the video store to swap a Matrix tape for a Fifth Element tape. So the whole evolution in video was literally happening before my eyes, and I can tell you exactly what the difference between Full HD (1080p) and 4K UHD (2160p) resolution is. Yes, it essentially came down to an increase in the number of pixels. But visually, the picture is crisp, and the smoothness of movement (frame changes) and color levels are as close to reality as possible. Now, I can't imagine watching movies at a lower resolution than 4K. Do you?
Apparently, content producers don't imagine it either since it's hard to find low-resolution movies nowadays (unless it's in my collection). After all, both physical media, such as 4K UHD Blu-ray discs and streaming video services (I've already listed a few of them), contain content of that quality.
So, sit back and get ready to explore in detail the options I've selected for you.
Best 4K receiver reviews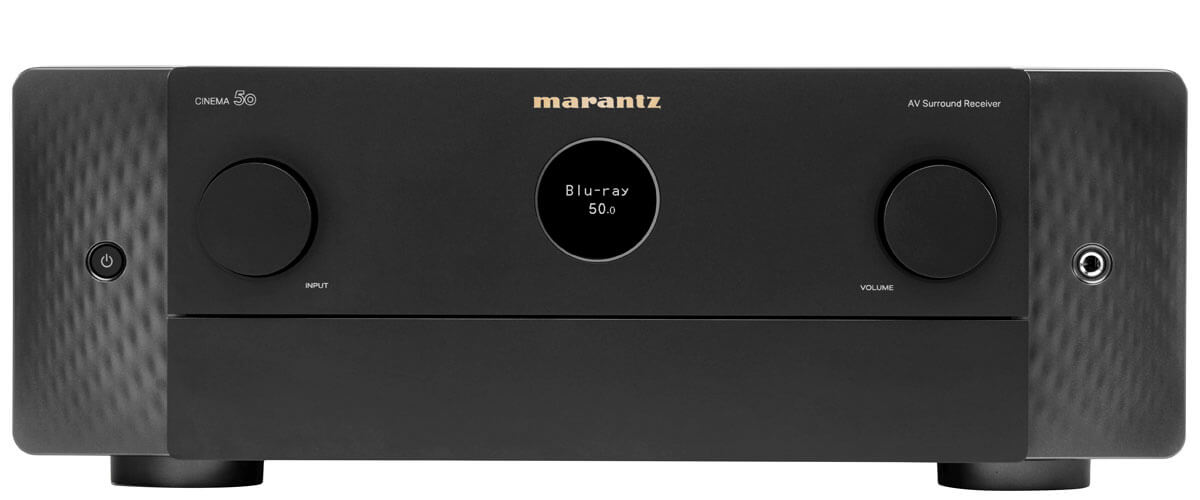 From the name of the leader of my selection, it should be clear that it is made for watching movies. After all, the Marantz CINEMA 50, released in 2022, is an example of a modern receiver. It is so modern, in fact, that there are no plugs for connecting aging technology (no composite or component connectors at all). So, if you are interested in buying an expensive AVR that meets all the requirements needed these days and won't need modernization for a long time – welcome. I'll tell you right away that it's not cheap, but even the feel of the receiver gives you a pleasant tingle of ownership of something of real quality.
CINEMA 50 is a receiver with 9 channels of amplification and the ability to connect 4 subwoofers. Its 110 watts (8 ohms, 20Hz-20kHz, 0.08% 2ch) is enough to make you shudder at the sound of explosions or chases. However, a system featuring it can be expanded to an 11-channel system, and in the case of the 7.4.4 configuration, I found it a bit underpowered.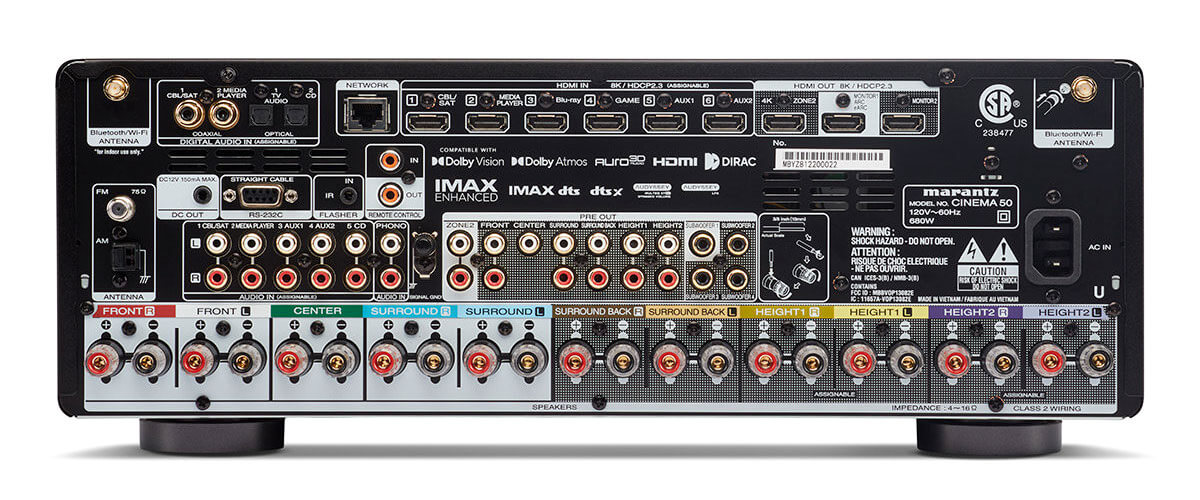 As usual, Marantz has equipped its high-end receiver with such technologies as Current Feedback Topology and HDAM so that you can speculate about the sound quality for hours. But for me, alas, space doesn't permit it. Adding the 360 Reality Audio sound effects to Dolby Atmos and DTS:X, I spent a full 5 evenings watching the Harry Potter movie epic. If I can talk about the quality of synchronization, the nuanced detail, and the layered soundstage where you can hear all the distant soundtracks as if you were in the center of the events happening on the screen, then CINEMA 50 is one of those receivers that gave me a uniquely immersive experience.
But I got carried away, and this review is more about video.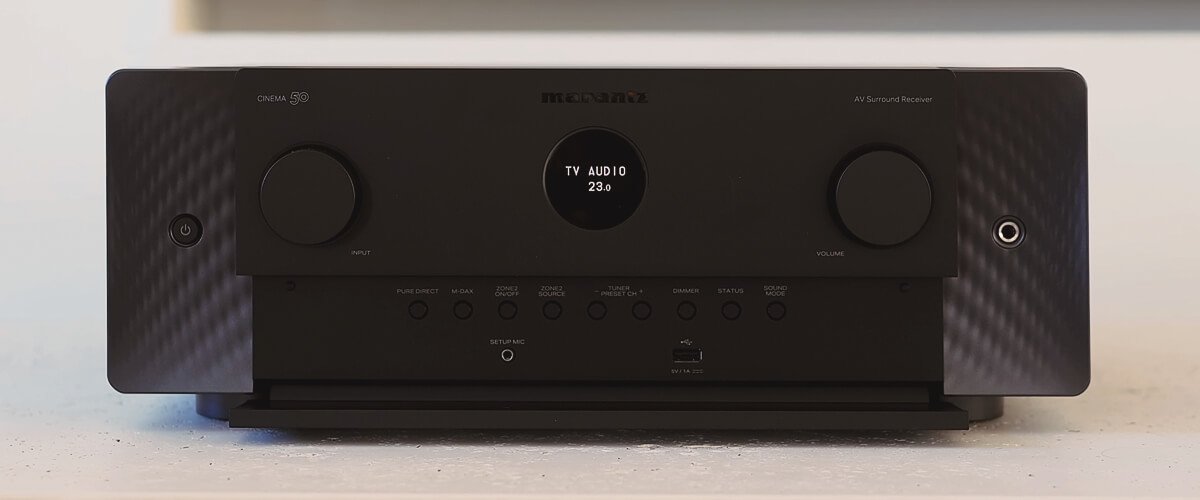 So, all 6/3 HDMI ports on the model in question are equipped with 8K video transmission and HDCP 2.3 protection. As I said, you won't have to think about upgrading it for a long time. With the 1080P/4K to 8K upscaling feature, I got video enhancement to a very high level. Not many receivers, believe me, can do this really well. I didn't have much use for the CEC feature, as I've long since moved away from the remote control, and Marantz offers a simply great app, which, by the way, has more extensive system control capabilities.
The Marantz AVR CINEMA 50 is the best 4K receiver of my selection, as it offers unlimited video and surround sound capabilities. Its wireless options will also satisfy those who like to listen to music around the house; it's great in stereo. And if you're ready to invest in this level of equipment, rest assured you won't regret it.
Key specs
Channels: 9.4.
Power output: 110W/8 Ohm, 150W/6 Ohm.
HDMI inputs/outputs: 6/3.
Video functions: 8K/60Hz, 4K/120Hz pass-through, 1080P/4K to 8K HDMI upscaling.
Bluetooth/Wi-Fi: yes/yes.
Streaming services: AirPlay2, TuneIn, Spotify, Pandora, SiriusXM, Amazon Music HD, TIDAL, Deezer, iHeart Radio, Napster, SoundCloud, Mood Mix.
Supports: HDMI ARC, HDMI eARC, HDMI CEC, HDCP2.3, HDR10, HDR10+, HLG, Dynamic HDR, Dolby Vision.
Surround sound: DTS HD Master, DTS:X, DTS Neural:X, DTS Virtual:X, Dolby TrueHD, Dolby Atmos, Dolby Atmos Height Virtualization, Dolby Atmos Music, Dolby Surround, IMAX Enhanced, Auro-3D.
Pros
The CINEMA 50 system can be expanded up to 11 channels.
Marantz's advanced Current Feedback Topology and HDAM technologies bring detail and nuance to every movie scene.
All HDMI ports support 8K video and HDCP 2.3 protection.
The app offers extensive customization and system management options.
Cons
No inputs for older equipment.
Complicated user menu.
The remote control is limited in capabilities relative to the app.
Sony STR-DH790 – budget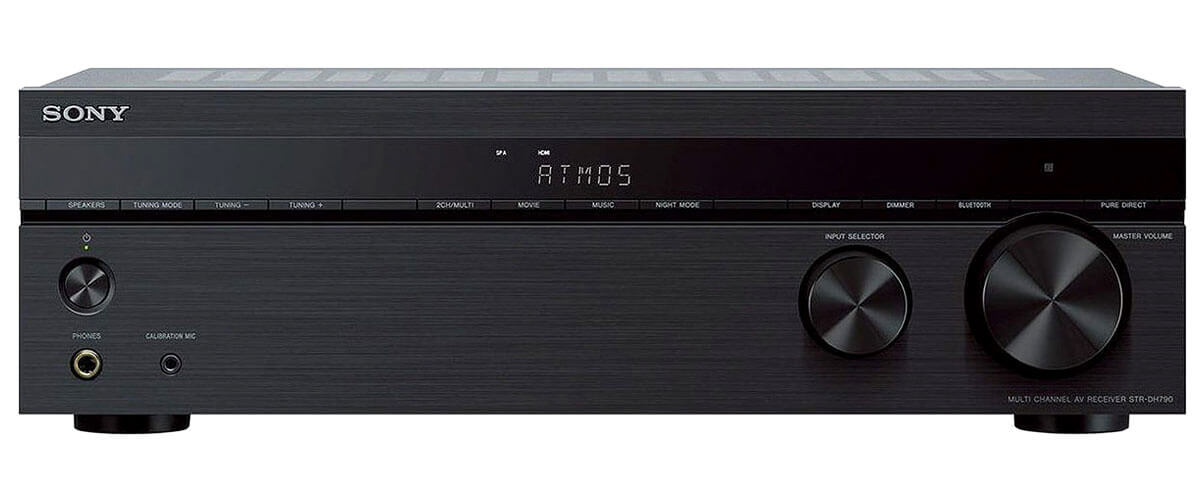 Those of you who are upset that the latest technology does not shine for you, and if you do not have a couple of thousand dollars in reserve, do not grieve! I have prepared a review of an incredibly budget Sony STR-DH790 receiver that can transmit 4K video and surround sound on the principle of 5.2.2 or 7.2.
One of the benefits of the receiver is its wide compatibility with speakers from 6 to 16 Ohms. Its power output is 90W (6 Ohms, 20Hz – 20kHz, THD 0.9%, 1ch), but I tried different variants with it, and I can say that with its distortion rating, it's impossible to get that kind of power. When the regulator is at the maximum, you can hear interference incompatible with watching movies. But these are quite acceptable compromises at AVR's price.
I feel it's important to note that I chose the Sony STR-DH790 because it sounds much smoother than most receivers of its rank. For example, the Bi-amping and Pure Direct functions, which I highly recommend using, greatly improve the sound of dialogues and the detail of the overall soundstage. Yes, it's not about refinement and floor shaking, but movies with Dolby Atmos and DTS:X soundtracks satisfied me. Plus, I like the S-Force PRO technology. It simulates surround sound when using two front speakers.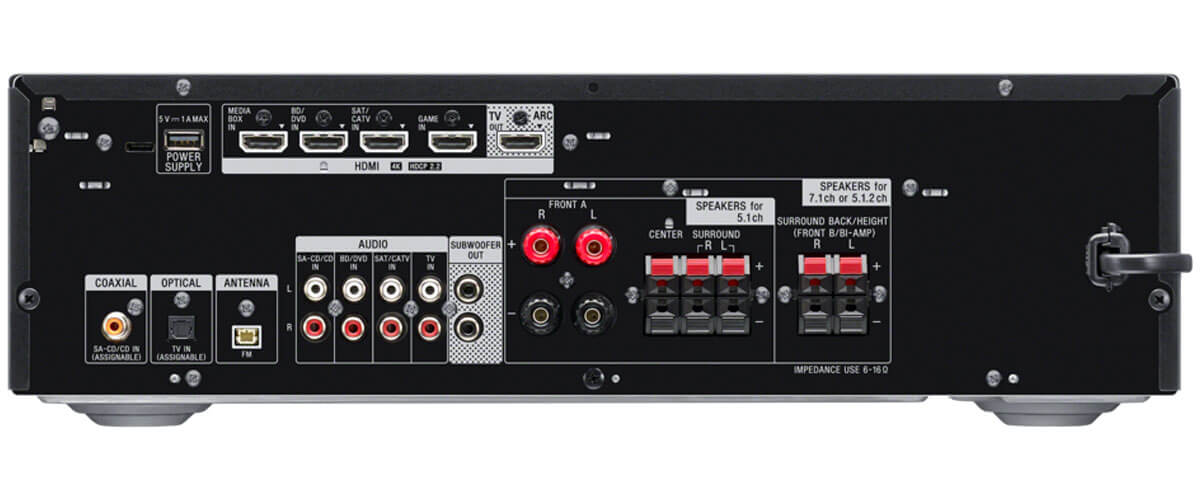 If we continue to talk about limitations, then from wireless options, STR-DH790 has only Bluetooth. But if you own an Apple phone or tablet (supports AAC codec), its work will satisfy you quite well. At least there were no difficulties with my smartphone.
Since my review is devoted to the ability of receivers of different ranks to play 4K content, it's easy to guess that 4/1 HDMI ports (the smallest number in my rating) of the model under review can do it at 60Hz. But since the STR-DH790 was released in 2018, this is its maximum. There's no upscaling feature here, and it only supports HDR10 and Dolby Vision formats, but the picture is very good, and I didn't notice any outright freezes during the few days I tested the AVR. The main thing to look out for is HDCP 2.2 Copy Protection.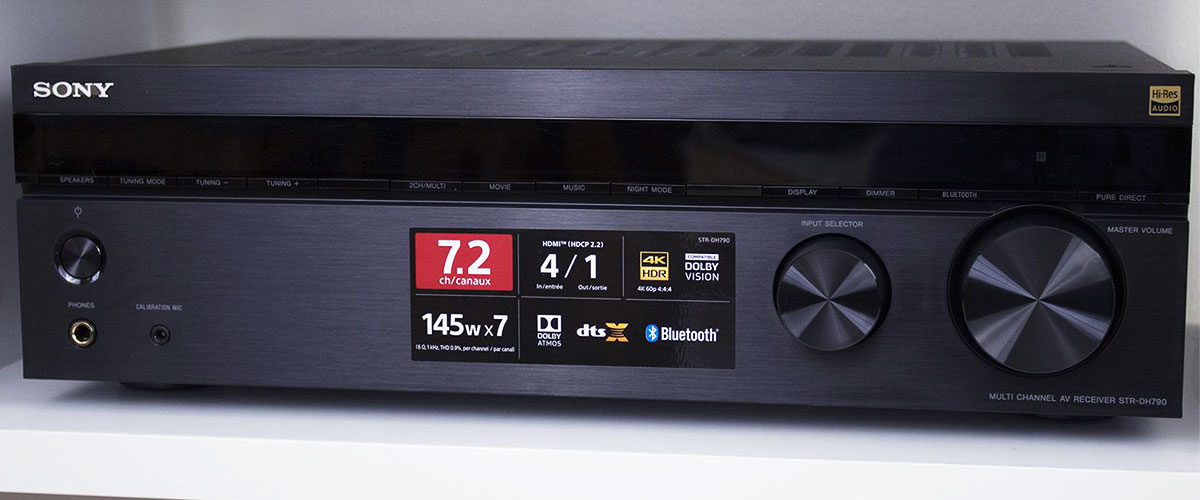 Sony STR-DH790 is the best budget 4K receiver I can offer you today. It compares favorably with devices of its rank with a more pleasant soundstage and broadcasts high-quality, stable 4K pictures. Its low price is due to the year of release and limited functions to other participants of my rating. Still, it will generally satisfy the user's needs, who pretends not to notice the cost of purchasing a receiver.
Key specs
Channels: 7.2
Power output: 90W/6 Ohm.
HDMI inputs/outputs: 4/1.
Video functions: 4K/60Hz.
Bluetooth/Wi-Fi: yes/no.
Streaming services: has not.
Supports: HDMI ARC, HDMI eARC, HDMI CEC, HLG, HDCP 2.2, HDR10, Dolby Vision.
Surround sound: DSD, Dolby Digital, Dolby Atmos, DTS HD Master, Dolby TrueHD.
Pros
Wide compatibility with loudspeakers – from 6 to 16 Ohms.
Bi-amping and Pure Direct enhance the soundstage.
S-Force PRO simulates surround sound with only 2 front speakers.
Holds a 4K/60Hz picture well.
Bluetooth supports AAC codec and is compatible with Apple devices.
Cons
There is interference in the sound at maximum volume.
The smallest number of HDMI ports in the rating.
No Wi-Fi.
No 4K upscaling function.
Denon AVR-X8500HA – premium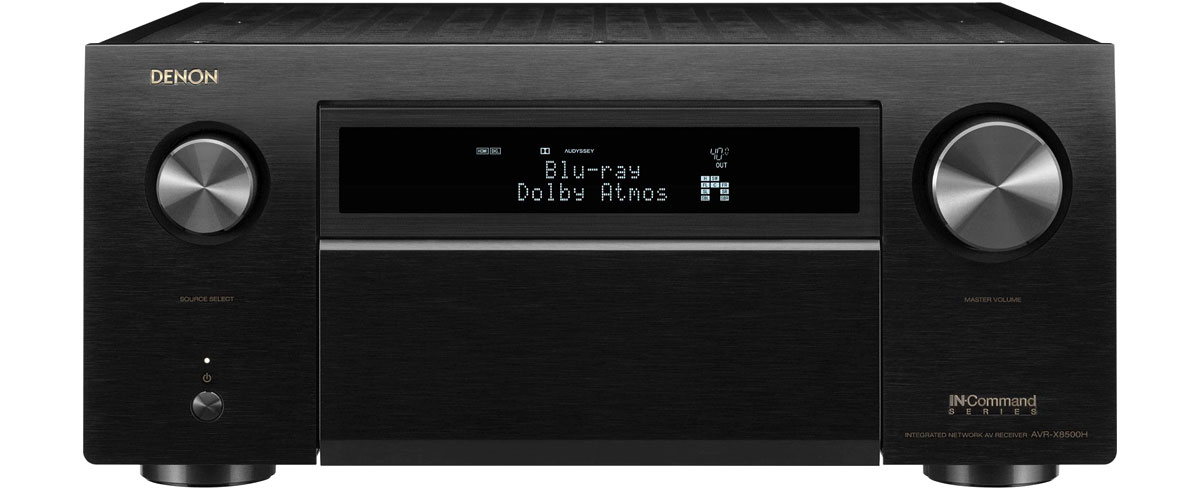 Dear friend, if you didn't think it was enough when you read my inferences about the Marantz AVR CINEMA 50, meet the most expensive, most stuffed, most powerful receiver of my rating – the Denon X8500HA. It's designed for a 13.2 system (expandable to 15 channels) and delivers 150 watts (8 ohms, 20 Hz – 20 kHz, 0.05% 2ch). I'm just in love. This power should be used for the newest movies, and I watched Avatar with it (and the second part, too) and the latest Fast and Furious. It's a real full-fledged mini-cinema in your home, as long as space and the vessels of your head allow it. Celestials like this are a rarity in the world of surround sound for the home.
With all the unsightly and ordinary design, each regulator and each button tells you about the high quality of the receiver assembly. You won't find such smoothness in switching to less expensive models. The heavy weight of the AVR also speaks about the use of high-end internal components (for example, each channel of the X8500HA has a 32-bit audio converter). I often use epithets like "fantastic" or "stunning" in model descriptions, so I simply don't have the right words to describe Denon's sound.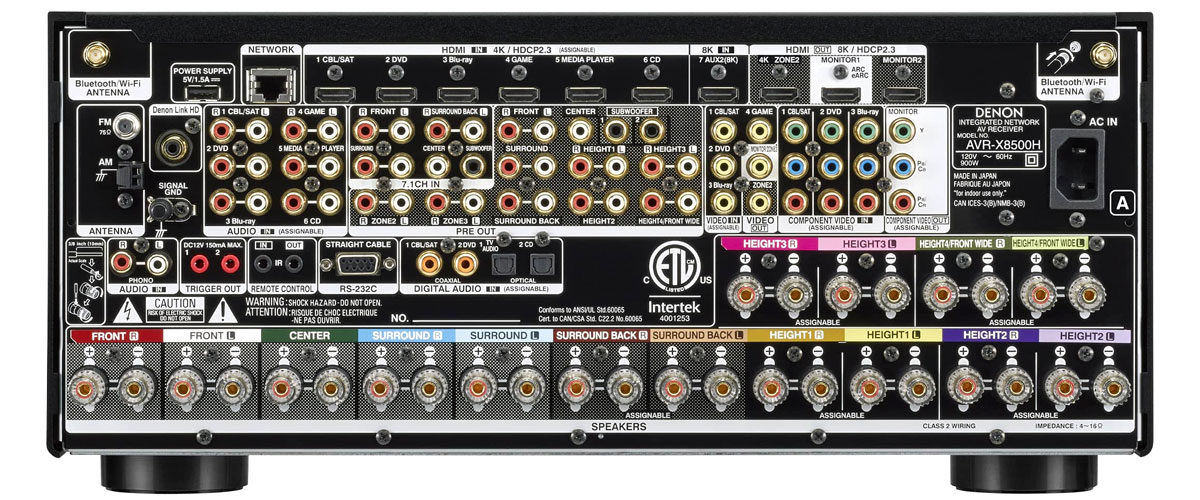 Because I understand how the distribution of sound in space works, it was as if I could feel them moving. I knew exactly where a particular wave was traveling and where it should arrive. If you try to describe this one, it's like the movement of glowing waves in the air. My chair was bouncing in time with the explosive waves, and in quiet scenes, it was as if I was in the vast forests of Pandora, feeling the breeze or the movement of tree leaves.
Although my review is more focused on video capabilities, I couldn't resist and tested the music capabilities of this model. It's hard to describe my feelings from listening to vinyl, which I idolize. That warm, dynamic, and vibrant sound of Denon makes me feel like I'm in a recording studio with Ozzy Osbourne or Freddie Mercury. And while my housemates have more respect for digital sound (due to their young age), even they were able to appreciate the authenticity of the sound of musical instruments.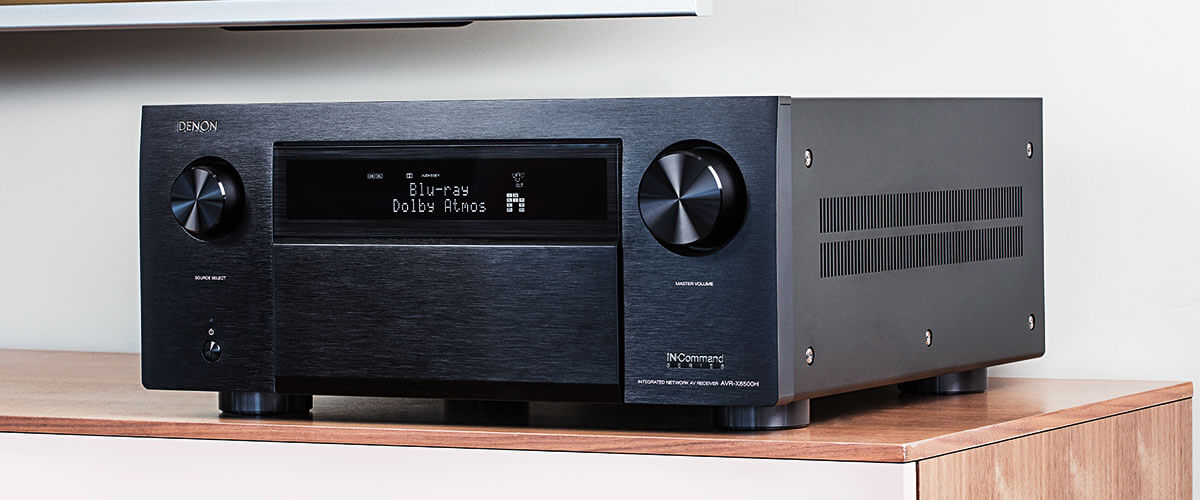 By the way, as one can logically assume, X8500HA has no limitations regarding streaming services. We connected HEOS and had a house party with the kids, at the same time testing all available resources in all possible genres.
If you have a lot of old and new equipment, you can't stay dissatisfied. You can connect everything to this AVR. The receiver's 8/3 HDMI ports are equipped with gamer features, eARC and HDCP 2.3, and, of course, broadcast 4K/120Hz video (including Zone 2). One of the HDMI inputs even has 8K support.
The Denon AVR-X8500HA is hard to call affordable, but its features are worth every penny spent. No matter what surround sound format, Dolby Atmos, DTS:X Pro, or Auro 3D, you might want to watch a movie with high-definition video – it can do it. The best 4K AV receiver released in 2021 will surely find an echo in your heart because its warm, bright sound is impossible to forget.
Key specs
Channels: 13.2.
Power output: 150W/8 Ohm, 190W/6 Ohm.
HDMI inputs/outputs: 7/1.
Video functions: 8K/60Hz, 4K/120Hz pass-though, upscaling up to 8K.
Bluetooth/Wi-Fi: yes/yes.
Streaming services: AirPlay 2, Spotify, TuneIn, Deezer, Tidal, Netflix, Amazon Prime.
Supports: HDMI ARC, HDMI eARC, HDMI CEC, HDCP2.3, HDR10+, Dolby Vision.
Surround sound: DTS:X, DTS Neural:X, DTS Virtual:X, Dolby Atmos, DTS HD Master, Dolby TrueHD, Dolby Atmos Height Virtualization, Dolby Atmos Music, Auro 3D, IMAX Enhanced.
Pros
The widest 13.2 system with expansion to 15.2 meets the maximum possible parameters for a home theater.
The largest power rating is 150 watts/8 ohms.
The high build quality is felt in the physical controls and weight of the receiver.
Great in surround sound, with vinyl, and with digital resources.
A huge number of wired and wireless connections.
Cons
Perhaps the cost of AVR-X8500HA which, however, is justified by its quality.
Yamaha RX-A2A – also great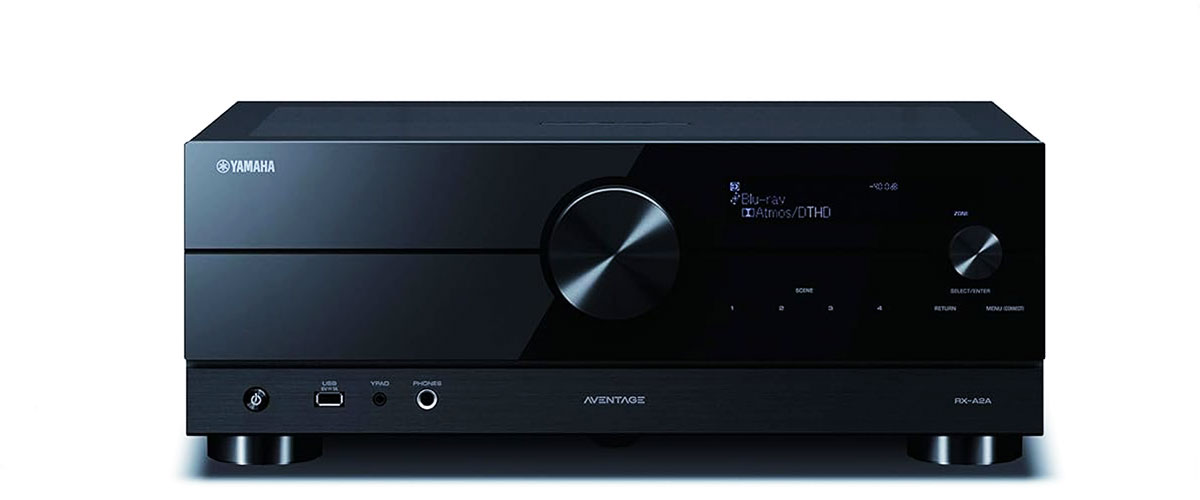 Let's just say that the Yamaha RX-A2A is a golden mean for those who don't want to save too much money but aren't going to deny themselves modern technology. With this 2020 model, you won't have to bother with many speakers, as it offers the minimum for the popular Dolby Atmos and DTS:X 5.2.2 configuration (it has 7 channels). And the totally lazy won't even have to place speakers in the ceiling, as you can use the Dolby Atmos Height Virtualization surround sound format. But you won't be able to expand the system if you ever want to. What we have is what we have.
Yamaha has traditionally followed its principle of giving receivers a cool, uniquely clean, crystal-clear sound. This looks very cool in digital music, especially some techno or electro genres. For me, a vinyl lover, this option is not to my liking. Besides, the design of the Aventage line with its glossy surface makes me shudder because I hate stains on the surface, and personally, I have to wear gloves when working with this equipment. It's uncomfortable. But I never bypass the brand's models, as I pay tribute to the build and sound quality (if we're talking about the technical side of things), and I know how many people love Yamaha just for that.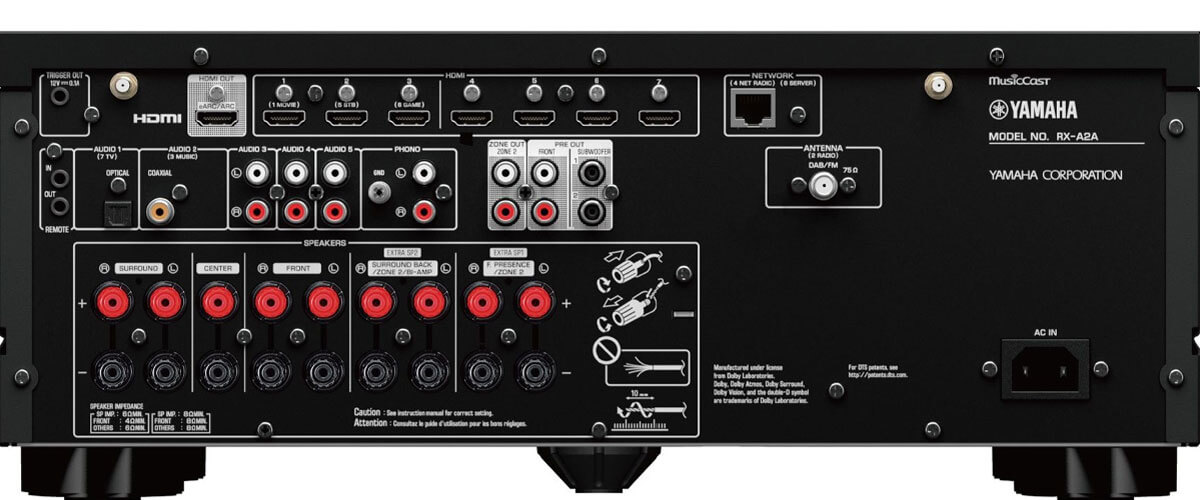 With 100 watts of power (8 Ohms, 20Hz – 20kHz, 2ch) and a THD of 0.06%, the RX-A2A sounds optimally clean. I've been familiar with CINEMA DSP 3D technology for a long time, and I really enjoy using it for movies, but especially for sports programs (stadium broadcasts) and concert recordings. The amazing echo effect gives an extra sense of presence I have been showing off to everyone I know, like a child who has gotten a new toy. I also like to tell my friends about Compressed Music Enhancer, as I have a lot of old recordings of varying quality, and the field is wide open. What I also like about the RX-A2A Aventage is the tuning system that includes YPAO, Pure Direct, and Adaptive DRC, which makes setting up the system much easier. I'm sure it will be user-friendly even for an inexperienced user. Plus, all of these features affect the final version of the overall soundscape. However, I feel obliged to point out that the on-screen menu is rather slow. Although, perhaps, I am picky, as I test different equipment levels and know more advanced variants. Costs of the profession.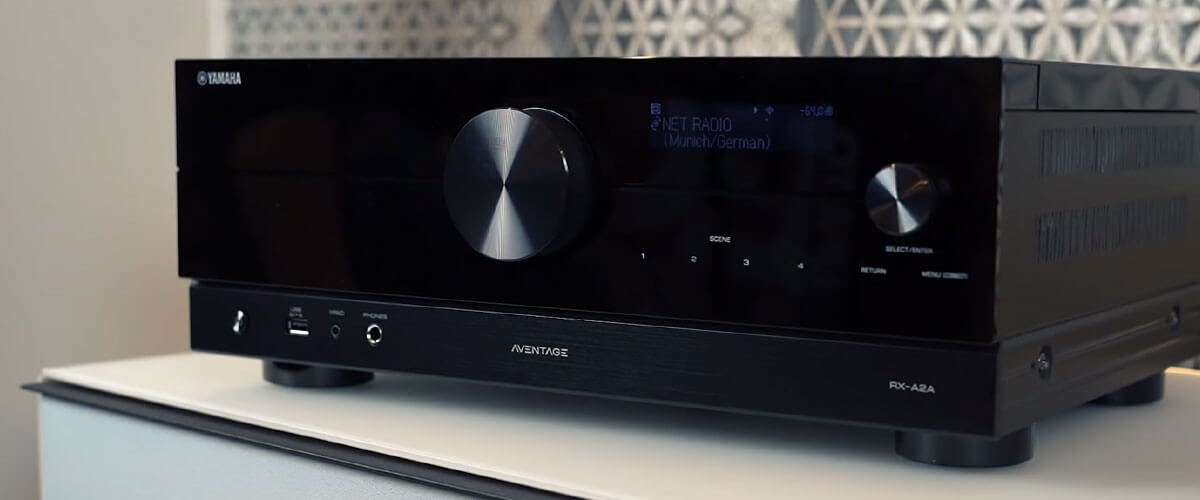 Wrapping up the sound loop, I will say that I was very pleased with the MusicCast's performance, although I usually favor other multi-room systems. A marked improvement over the brand's other lines. The connection is fast, and the sound stream is smooth, without a hitch. The receiver, in general, cooperates perfectly with any OS, so you don't have to buy a smartphone of a certain brand.
In the video area, which is the focus of this review, you'll find a 7/1 HDMI port with support for 4K/120Hz and 8K/60Hz video for HDR10, HDR10+, and Dolby Vision formats. Their interface also features eArc and VRR & ALLM for gaming consoles, HDCP 2.3, and upscaling to 4K/60Hz. As you can see, a certain balance has been struck.
Yamaha RX-A2A is a great all-around modern receiver for 4K TV. The sound and build quality leave no doubt that it is worth its money, and its wide adaptation possibilities will satisfy even a demanding buyer. If you appreciate the purity and transparency of sound and want to be in the trend for years to come, this 7-channel AVR can give you and your family the joy of every evening.
Key specs
Channels: 7.2.
Power output: 80W/8 Ohm.
HDMI inputs/outputs: 7/1.
Video functions: 8K/60Hz, 4K/120Hz, upscaling up to 4K.
Bluetooth/Wi-Fi: yes/yes.
Streaming services: AirPlay 2, Spotify, TuneIn, Deezer, Tidal, Netflix, Amazon Prime.
Supports: HDMI ARC, HDMI eARC, HDMI CEC, HDCP2.3, HDR10+, Dolby Vision.
Surround sound: DTS:X, DTS Virtual:X, Dolby Atmos, DTS HD Master, Dolby TrueHD.
Pros
There is no need to install a complicated speaker system.
The implemented technology does not require ceiling speakers while still providing great sound.
Extensive and comfortable customization and calibration options.
MusicCast works great.
Cons
Specific cold crystal sound.
The glossy surface where finger smudges remain.
Slow on-screen menus.
Key features to consider in 4K receivers
HDMI ports with HDCP 2.2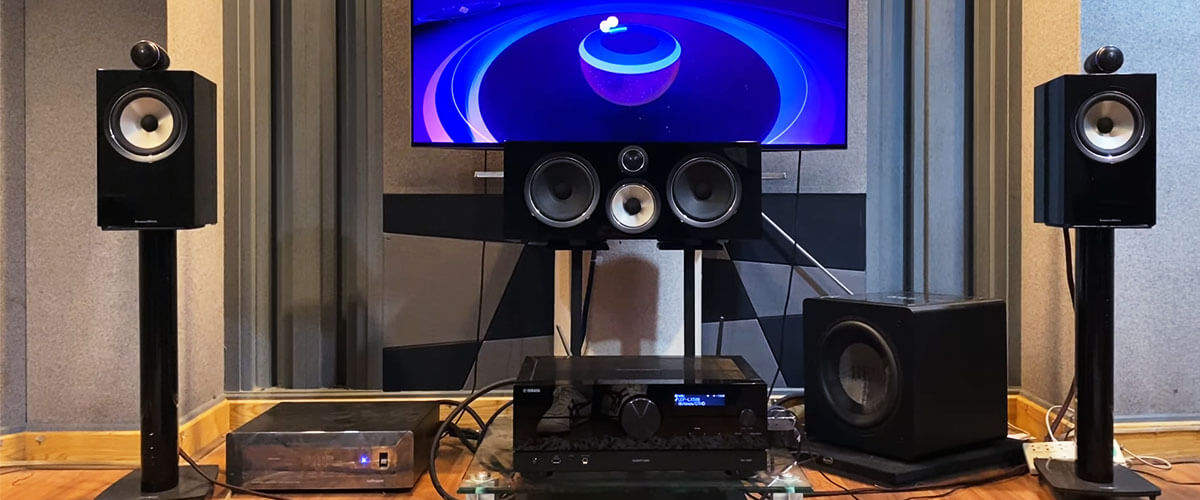 HDMI ports are most important for modern connectivity (whether to sources like a Blu-ray player, game console, etc. or to receivers like a projector or TV). And since we're talking about high-quality 4K video, an HDMI feature like HDCP 2.2 is important. Essentially, High-bandwidth Digital Content Protection is a copy protection standard designed specifically for 4K video.
And even if you're not personally interested in having this protection, modern manufacturers are. That is, without HDCP 2.2 support, you simply won't be able to enjoy great video because your TV won't let you. Voila! So choose your smart tech wisely: all your HDMI-connected devices today must support this feature.
High Dynamic Range (HDR) support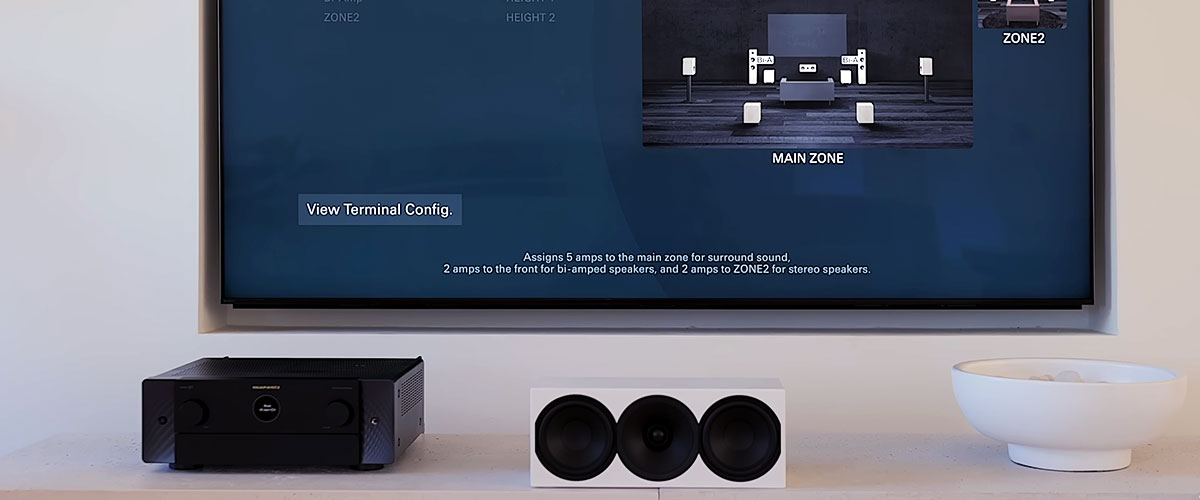 Since we are talking about receivers that support high-quality video, you should understand that 4K video is UHD standard with a resolution of 4096×2160 at a frame rate of 60Hz. Light and color reproduction (contrast and brightness, in other words) are also important for a fuller enjoyment of the quality. Don't you agree? Therefore, it is important that your 4K receiver necessarily supports HDR (High dynamic range) formats. Today, there are few of them, and in fact, they differ because different companies develop them. Manufacturers of receivers, in turn, realize the importance of having their support. In general, if you see the abbreviations HDR10, HDR10+, Dolby Vision, and HLG (Hybrid Log-Gamma) in the specification, you can be sure that you will see every hair and every pore on the face of the movie hero.
Up-scaling abilities
I personally especially appreciate the function of enhancing the quality of the original content, and I always mention it in my reviews. So, if you're an "old school" fan like me and love collecting old DVDs and respect the process of installing them in the player, you'll find this feature useful.
The whole point is that Up-scaling can virtually increase the number of pixels, and on the screen, you will see a picture in a quality close to 4K. Yes, note that the quality will be approximately the same as in the original 4K, but not 100%. In any case, the original picture looks much better. It's like breathing new life into old favorite movies.
Connectivity and smart features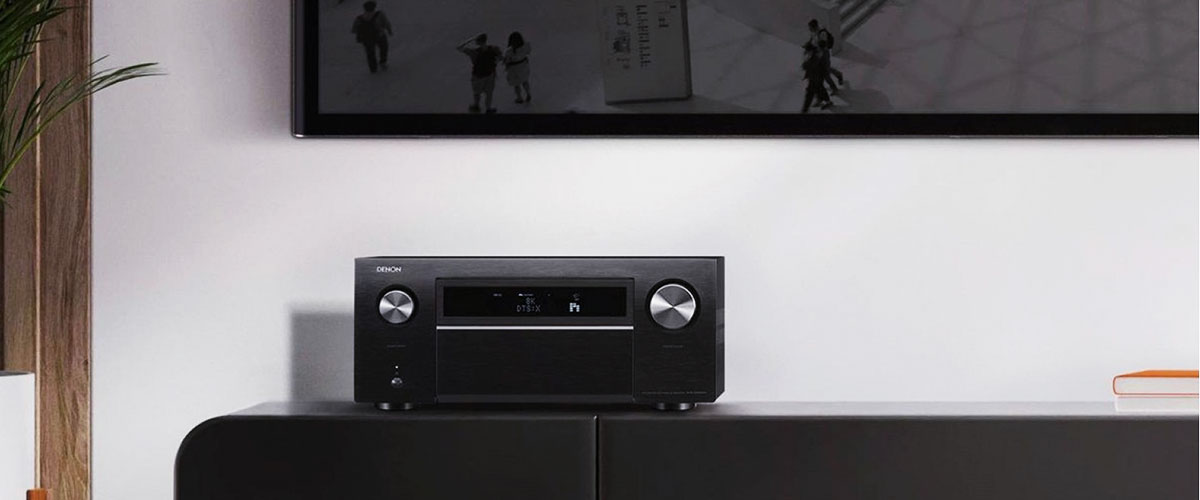 Even though I am very much a retrograde, the latest wireless technology has not escaped me. I don't think you can imagine yourselves today without access to the Internet and its content. So, since we all live in the modern world, it's important to consider whether your 4K receiver has options like Wi-Fi and Bluetooth. These are the minimum spectrum of providing you access to streaming services in the most inexpensive models. In premium models, streaming services are integrated into the receiver's firmware, which improves the quality of the broadcast. If you want to be on trend, pay attention to compatibility with voice assistants (Amazon Alexa, Google Assistant, Siri). Note that different models may have a different set of support.
I would also recommend having built-in multi-room technologies (HEOS, MusicCast, etc.), especially if you have a large home, have kids, or like to host parties. These systems will allow you to stream high-quality wireless music to all rooms; for me it seems like they are making my house feel alive.
We are supported by our audience. When you purchase through links on our site, we may earn an affiliate commission at no extra cost to you.
Our newsletter
* We will never send you spam or share your email with third parties