Home entertainment systems do not have to be ridiculously costly. When it is related to purchasing one, RX-V385 is an optimal affordable alternative. It continues to be prevalent in the brand's highly regarded home theater products, which I will describe in this Yamaha RX-V385 review. Despite the lack of advanced features that came after 2018 (the year this model was released), this is a good entry-level device.
Features and specs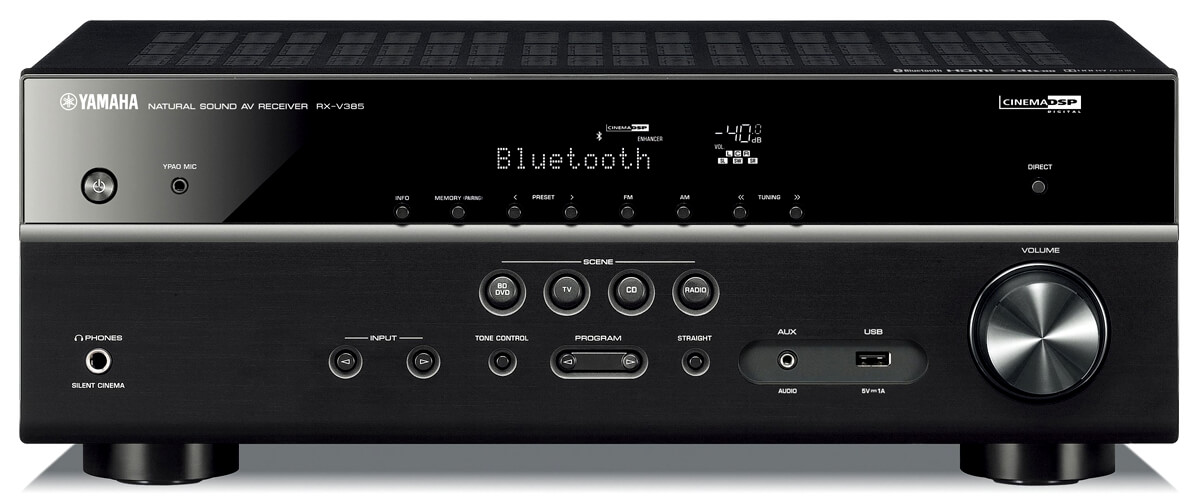 The RX-V385 isn't a very forceful receiver, but with 70W per channel (8 Ohms, 20Hz-20kHz, 0.09%, 2ch), you can be sure that if you have a small room, the power of this model will be more than enough. The Bi-amp feature is also a great addition to the system.
RX-V385 specifications include a 3.5 mm analog input jack, which can be used to connect most external devices to the receiver. There is also a microphone port for the YPAO function, 4 HDMI input ports, one output port, and terminals for 5 speakers. All HDMI ports are HDCP 2.3 with 4K support.
Since this is a budget model, it comes with basic surround sound formats, and for the most part, you need to stick to the default settings, being a 5.2-channel AVR. It does not support DTS:X or Dolby Atmos. V385 has the same Cinema DSP function as other Yamaha receivers. This is a well-known Yamaha feature that, using advanced algorithms, can accurately imitate any setting. The RX-V385 features also include Virtual Cinema DSP, allowing you to enjoy surround sound even if you don't have the necessary speakers. By the way, Virtual Cinema FRONT and Silent Cinema can also be found on board.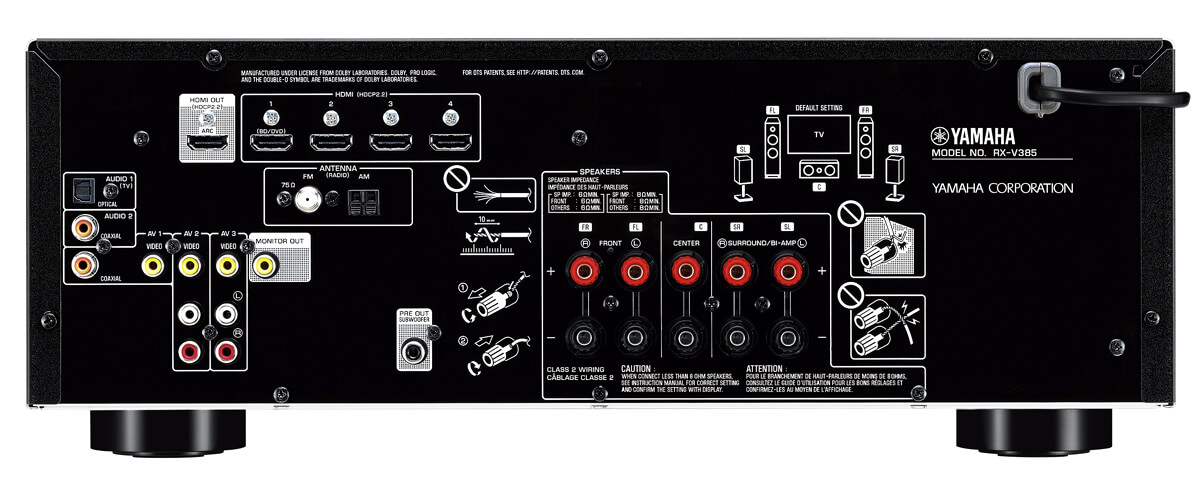 WAV, MP3, WMA, and MPEG-4 AAC formats are supported. 48kHz/16bit is the highest frequency. This Yamaha receiver, in the range of mid- and a bit above-mid-volume levels, is highly successful at preserving overall sound balance. All of the qualities tend to be positive up to the mid-range, including intense highs and lows. If the volume is turned all the way up, the sound quality gets worse.
There is no built-in Wi-Fi, and the only additional connectivity option is Bluetooth 2.1+EDR system. All Bluetooth connections have a very clear and dynamic sound.
Listening experience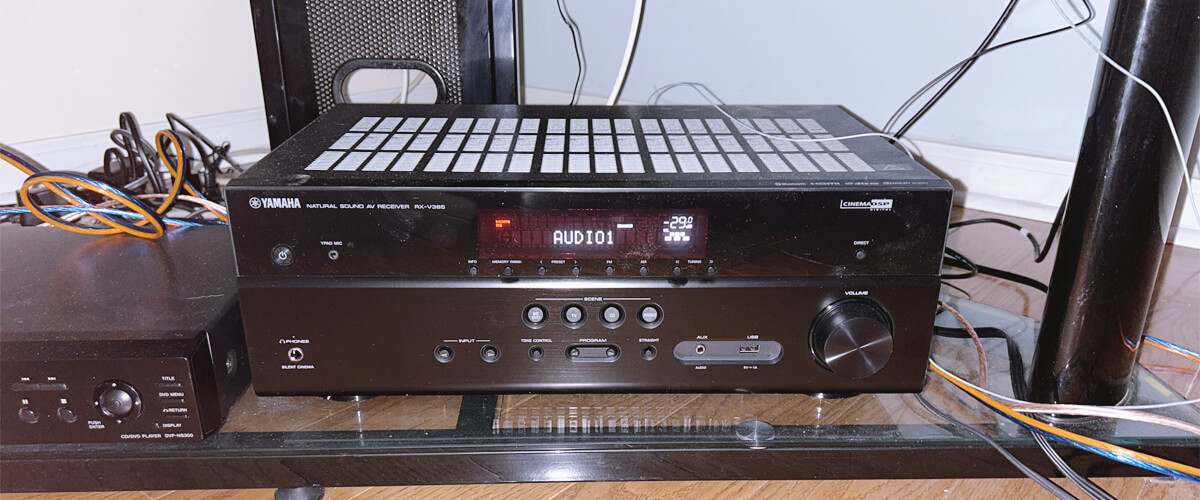 The sound is very large and natural when watching movies and in stereo mode. Wide stereo panorama is provided thanks to the improved audio return channel. "Rampage" allowed the 385 to display its dynamic range. The dialogue was accurate and clear. The amp easily managed the stressed last fight. My subwoofer came to life in just over a half hour, with the 385 delivering plenty of bass. Despite this, the receiver demonstrated outstanding spatial sensitivity by filling my perceptual area with sounds from the displayed fight.
Next, I took "Mortal Engines" for a test. Again, the Yamaha 385 impressed with its capacity to fill the room's space with sound. If the equipment has a problem, it's that the receiver may struggle in a wider area. When driven to its limit, the amp struggled to keep its volume up.
Key specs
Channels: 5.1.
Power output: 70W/8 Ohm.
HDMI inputs/outputs: 4/1.
Video functions: 4K/60Hz pass-through, upscaling up to 4K.
Bluetooth/Wi-Fi: yes/no.
Streaming services: has not.
Supports: HDMI ARC, HDMI eARC, HDMI CEC, HDCP2.3, HDR10+, Dolby Vision.
Surround sound: Dolby Digital Plus, DTS HD Master, Dolby TrueHD.
We are supported by our audience. When you purchase through links on our site, we may earn an affiliate commission at no extra cost to you.
Our newsletter
* We will never send you spam or share your email with third parties