My Yamaha RX-A8A review is dedicated to the flagship model in the Aventage line, which is an organic symbiosis of modern components and innovative technologies. The list of features of this giant is very long. With 11 channels, 2 subwoofers, and the ability to expand the system to 13 channels, you can create incredible multimedia systems. Let's see what else it can surprise us with.
Features and specs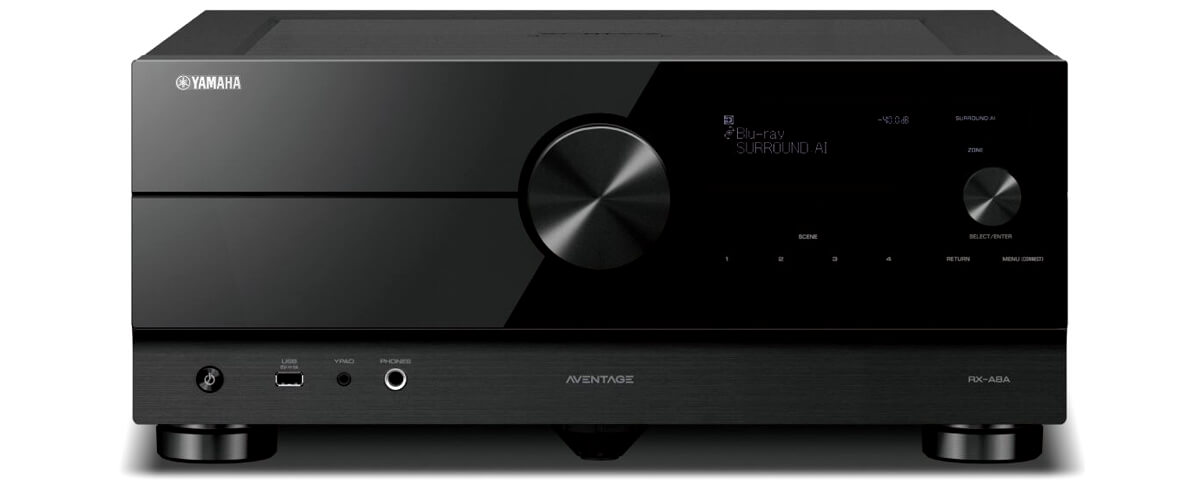 The 11 channels of power serve a 7.1.4. speaker layout, meaning a 7-channel surround on the floor and 4 channels of height. If you have 2 subwoofers, the RX-A8A can deliver genuinely differentiated bass signals to these as either left/right or front/back, making a true 7.2.4 system.
The amplification itself is at 150W per channel (8 Ohms, 0.06% THD, 20 Hz – 20 kHz, 2 channels). I'd like to remind you that manufacturers only offer power ratings for two channels. Accordingly, this data can be misleading when related to complete surround systems that use multiple channels rather than just two.
I like that Yamaha has an app for iOS and Android called 'AV Set-Up Guide'. This not only assists with the speaker placement but also connects all of your audio sources together. For these, you have available 7 HDMI inputs, which support 4K/120Hz and 8K/60Hz, 40Gbps capable, and of course eARC. It's somewhat ridiculous for such a high-end device to lack HDMI input on the front of it, which can be extremely handy in a variety of scenarios. By the way, Yamaha continues to be one of the few manufacturers that incorporate XLR ports in an AVR, which is highly regarded by enthusiasts.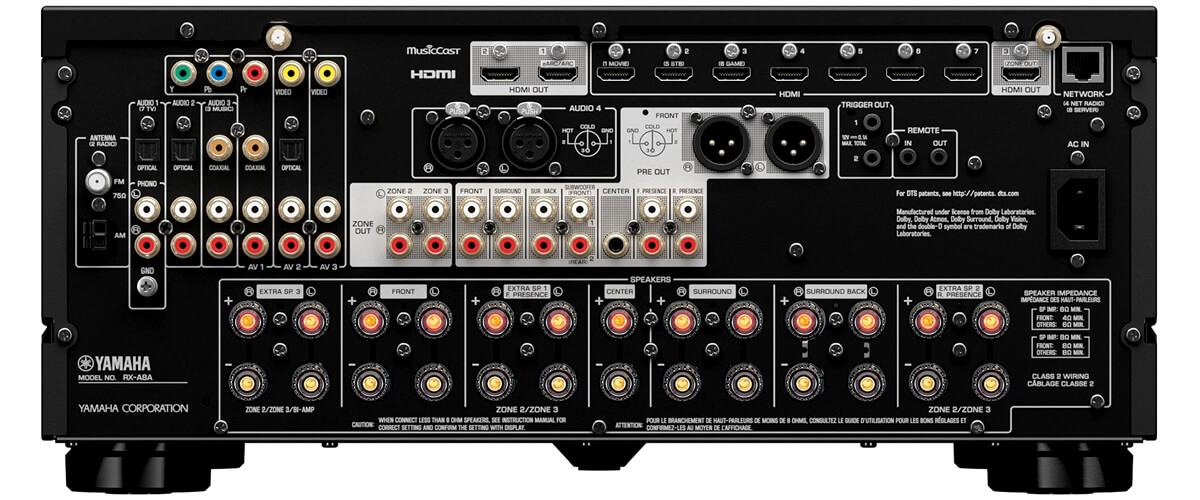 Talking about video formats the unit supports, there are Dolby Vision and HDR 10+. In addition, upscaling up to 4K is also possible, and the image can be adjusted using a video equalizer. VRR, ALLM, QMS, and QFT are also in place for gaming enthusiasts.
Now it's time for RX-A8A specifications of the surround sound processing. Dolby Atmos and Height Virtualizer, DTS:X, Cinema DSP HD3, and Auro 3D. So, here's basically everything that provides the perfect movie-watching experience. Up-mixing capabilities couldn't be left out of this one, so we have the typical Dolby Surround and DTS Neural:X that are found on many devices lately. Moreover, here we get Yamaha's greatest DSP solution, the Cinema DSP HD3, which is often found exclusively in Yamaha's elite products. With Cinema DSP, the AVR can recreate diverse audio settings such as concert halls or sports stadiums, bringing an entirely different type of immersion.
There's Yamaha's "Surround AI" audio technology, which analyzes audio signals, and the surround sound is then optimized in real-time to achieve optimal effects. I can say it feels like the sound engineer is in the same room with you and is doing magic just for you. But it's all about the processor Qualcomm, which provides accurate surround sound.
When it comes to media playback, the RX-A8A features Bluetooth, AirPlay 2, and USB. It can also access a media server via WLAN and Ethernet. For Hi-Res streaming, FLAC, WAV, AIFF, and ALAC are supported, depending on the format, up to 384 kHz/32 bit. Spotify, Napster, Qobuz, Deezer, Amazon Music, and Tidal are available as streaming apps. Well, nothing extraordinary but what everyone needs and uses.
In addition, the system has some of the most advanced multi-room features that can be found in any AV receiver. It allows you to add a maximum of 3 separate areas at the same time as your main zone. However, this clearly limits your main zone's channels to just 5.2. You may establish a 5.2 + Zone 2 + Zone 3 + Zone 4 with this set-up. Of course, the equipment supports Yamaha's "MusicCast" technology, which can be used to network compatible components to form a multi-room system. Voice control works through Amazon Alexa and Google Assistant, but you'll need a compatible smart speaker to use it.
Yamaha has also improved its own YPAO automatic calibration system and equalizer. However, what we're missing here is the ability to model your own target curves for automatic correction that Audyssey and Dirac Live offer.
Listening experience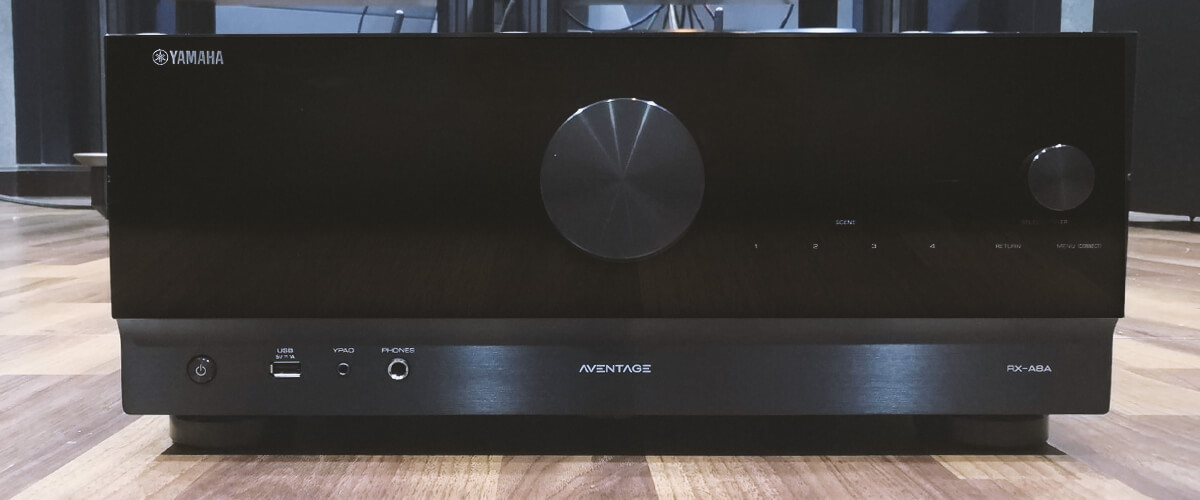 The Yamaha receiver reproduced details with great clarity in terms of high resolution. What could be a more effective way to show off the RX-A8A's unrivaled power than an adventurous expedition in the movie Kong: Skull Island? It gives a sense of massive depth as helicopters collapse and debris falls all around you. The room correction properly blends the bass, assuring every punch is accompanied by a thunderous wreckage.
On a decent two-channel recording, the RX-A8A's fundamental musicality is evident right away, with great instrument arrangement as well as a crisp stereo image. When listening to The Beatles "Abbey Road," the receiver conveys the album's carefully layered synths and blues notes of the guitars flawlessly while perfectly accentuating the mournful vocals.
Key specs
Channels: 11.2.
Power output: 150W/8 Ohm.
HDMI inputs/outputs: 7/3.
Video functions: 8K/60Hz, 4K/120Hz, upscaling up to 8K.
Bluetooth/Wi-Fi: yes/yes.
Streaming services: AirPlay 2, Spotify, TuneIn, Deezer, Tidal, Netflix, Amazon Prime.
Supports: HDMI ARC, HDMI eARC, HDMI CEC, HDCP2.3, HDR10+, Dolby Vision.
Surround sound: DTS:X, DTS Virtual:X, Dolby Atmos, DTS HD Master, Dolby TrueHD, Auro 3D.
We are supported by our audience. When you purchase through links on our site, we may earn an affiliate commission at no extra cost to you.
Our newsletter
* We will never send you spam or share your email with third parties