The Yamaha R-N303 can be a good choice of entry point to take your audio experience to the next level. It's a worthy addition to any home entertainment setup and a budget-friendly sound investment in your audio enjoyment. First impression matters and this device doesn't disappoint – you will see it in my Yamaha R-N303 review. I would say this is a solid enough system for the price, and the brand's "Natural Sound" line has always stood out for its quality. And now, let's take a closer look at the characteristics of this 2-channel stereo receiver.
Features and specs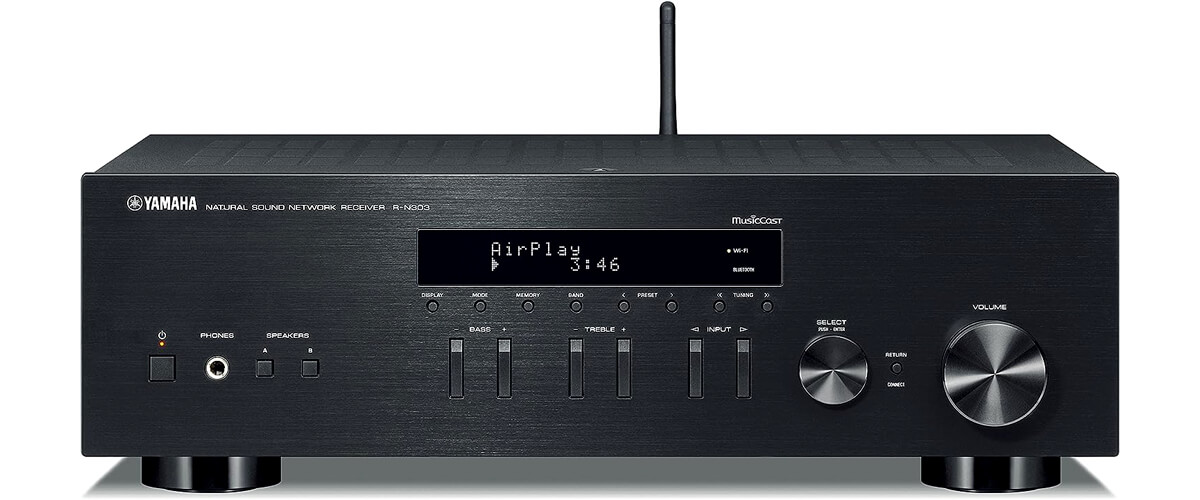 This model offers 100 Watts of output power per channel (8 Ohms, 40Hz-20kHz, 0.2% THD). It definitely won't bother your neighbors, but with an efficient set of speakers, this unit is enough to fill your spacious living room. By the way, given its THD value, I would not recommend turning this device on at full volume. This may ruin your listening experience.
Mentioning R-N303 specifications, I'd like to remind you that it supports only two sets of stereo speakers, so for those who prefer surround sound, you should consider purchasing a dedicated AV receiver. But I think you already know that. On the back, you'll find 3 regular RCA inputs, a special phono input, a coaxial input, an optical input, an Ethernet port, and an RCA out.
It comes with built-in Wi-Fi, Bluetooth, and AirPlay, allowing for seamless streaming of your favorite music from your gadgets. As for network connectivity, I highly recommend using a wired connection. The amplifier's Wi-Fi only supports the old 2.4GHz channels and not the faster 5GHz. Audio doesn't require much bandwidth, but if you stream HD movies, that can affect your audio streaming.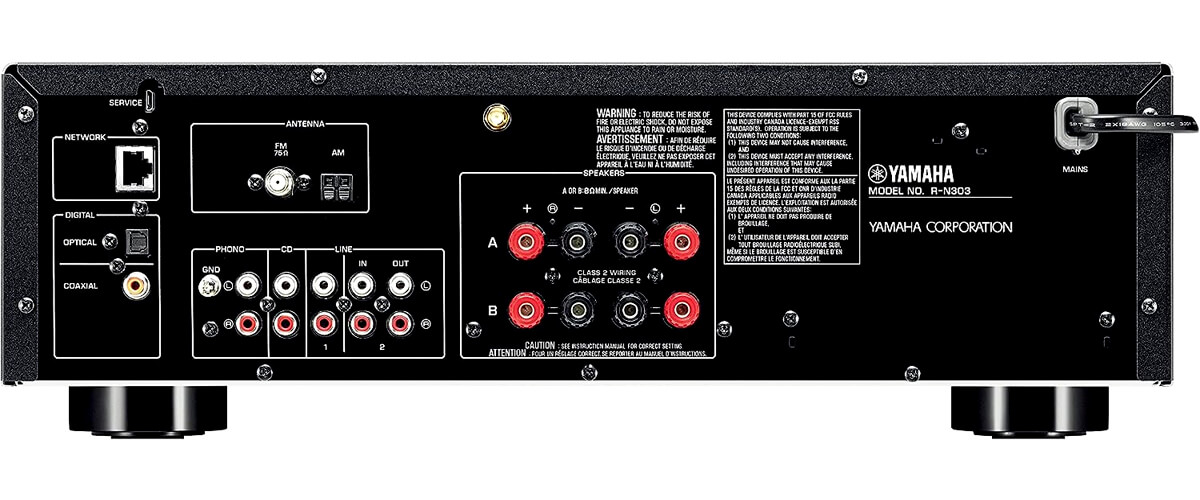 The Yamaha stereo receiver supports a wide range of music streaming services, including Spotify, Pandora, Tidal, Deezer, Spotify, and more. The Yamaha MusicCast app simplifies the process further, giving you control at your fingertips. It also has built-in support for Hi-Res Audio formats, so you can enjoy your music in all its glory.
One of the R-N303's standout features is that using Yamaha's MusicCast technology, you can connect multiple MusicCast devices throughout your home and play music in different rooms simultaneously or individually. It's a fantastic way to create an immersive audio experience throughout your living space.
Listening experience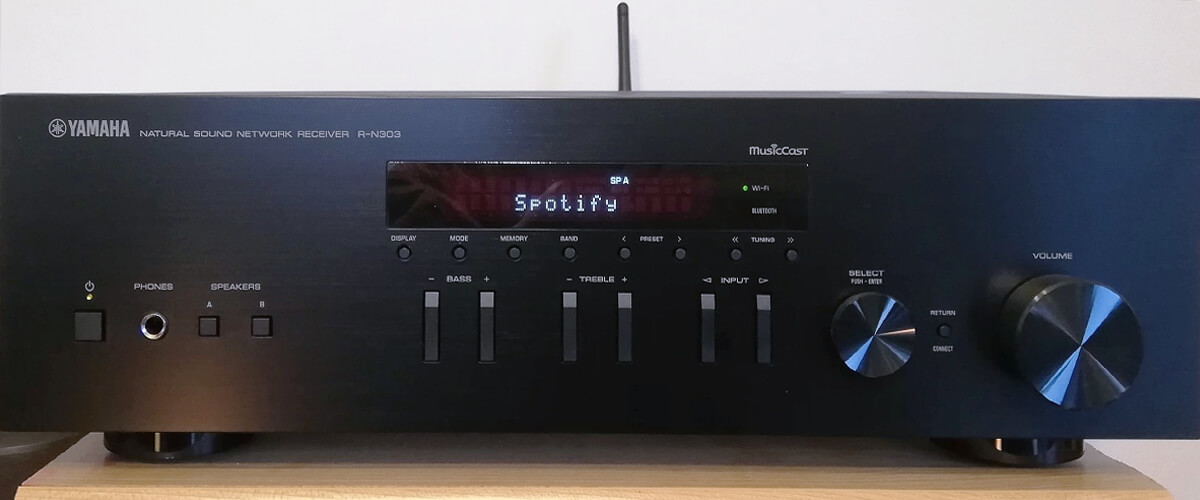 The sound of R-N303 I can describe as confident. The device presents music with coolness and detachment, which is typical for models of this brand. Bluetooth sounds good. If you notice a delay over Bluetooth, it's probably the source. During my time with it, I listened to almost all my music collection. From the delicate strings of classical compositions to the thunderous beats of rock and electronic music, this stereo receiver played each track with its possible clarity. I also didn't miss a chance to play my favorite FM stations and was pleased with the sound quality. Therefore, my overall impressions from testing the sound of this model were positive.
Key specs
Channels: 2.0.
Power output: 140W/8 Ohm.
HDMI inputs/outputs: 0/0.
Video functions: has not.
Bluetooth/Wi-Fi: yes/yes.
Streaming services: Pandora, Napster, Spotify, SiriusXM Internet Radio, TIDAL, Deezer.
Surround sound: has not.
We are supported by our audience. When you purchase through links on our site, we may earn an affiliate commission at no extra cost to you.
Our newsletter
* We will never send you spam or share your email with third parties