The Sony STR-AN1000 is a receiver from the Elevated Standart series, offering a fairly good blend of cutting-edge technology and performance. I had high expectations for this receiver, and I can say that it exceeded them in every aspect. It's really good in its class! I liked its sleek and minimalist design, which STR-AN1000 inherits from DN1080, its user-friendly interface, and, of course, the sound. I will tell you further about what else this unit offers in my Sony STR-AN1000 review.
Features and specs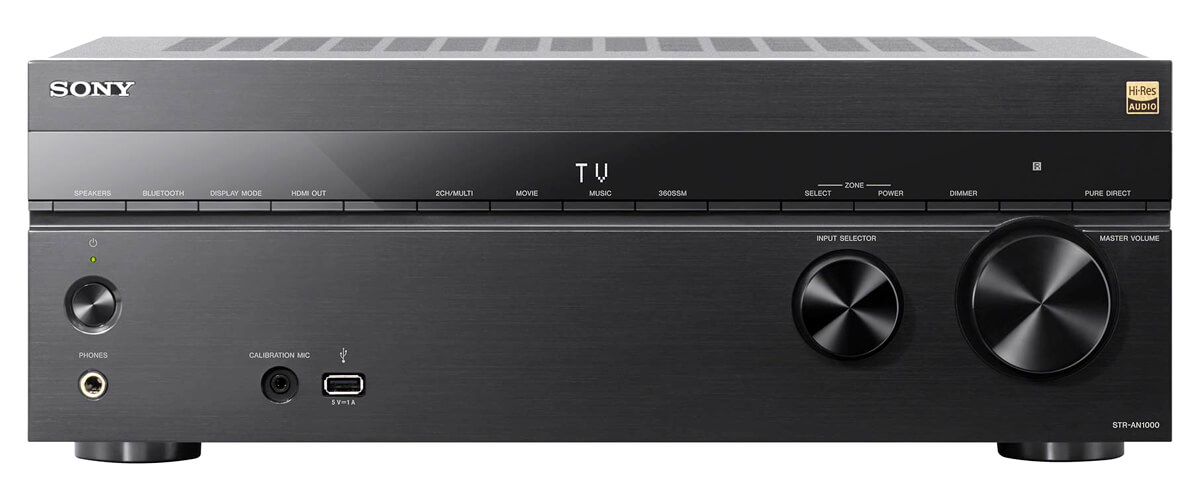 STR-AN1000 is a 7.2-channel AV receiver (165 W 6 Ohms, 1 kHz, 1ch THD 0.9%), which, by the way, allows you to work with 6 Ohms -16 Ohms speakers. The design of this model is quite standard, ergonomic, and, in my opinion, user-friendly.
As a positive point, this model has six HDMI inputs, while their number is reduced to four in most competing units. In addition, the Sony STR-AN1000 has two HDMI outputs, which means it can transmit 8K video and surround sound to two different living areas. The rest of the Sony STR-AN1000 features are pretty standard: optical and coaxial inputs, Bluetooth, Wi-Fi, and Ethernet. As expected, this receiver has good HDR compatibility, with HDR10, HLG, and Dolby Vision formats with additional support for IMAX Enhanced.
This model supports 2 major surround sound formats: Dolby Atmos and DTS:X. The STR-AN1000 is also equipped with Dolby Height Virtualization. This feature is a great advantage for those who do not want to mess with built-in speakers.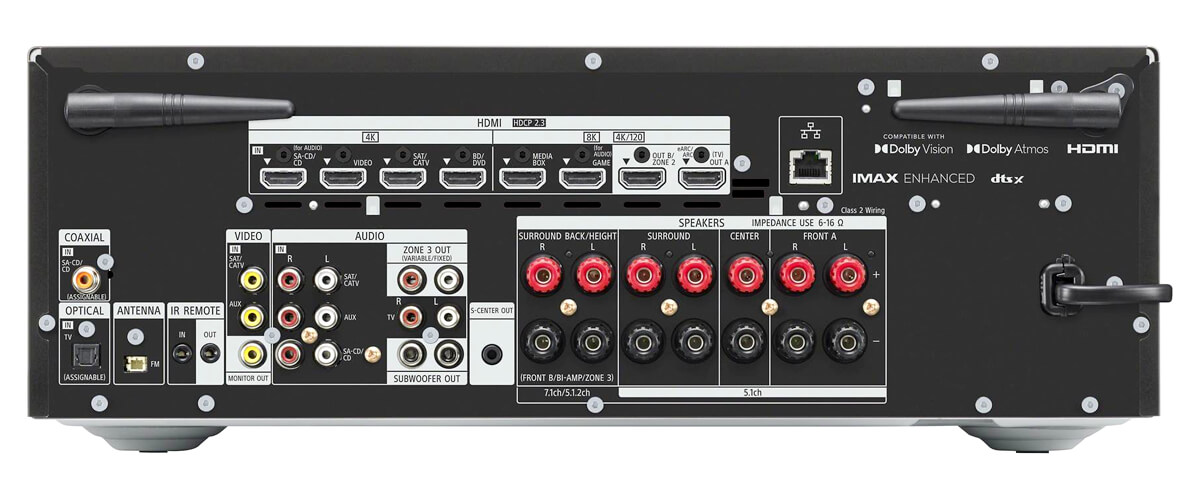 I'd like to highlight the support of a proprietary spatial sound algorithm – Sony 360 Spatial Sound Mapping technology. This technology auto-adjusts the receiver for a particular space setting to improve the sound of Dolby Atmos along with other object-centered audio formats. One more notable feature is Digital Cinema Calibration IX, which assesses every single speaker's location, position, impact on sound, and frequency spectrum in three dimensions.
As for the other STR-AN1000 specifications, wireless connectivity with the Sony STR-AN100 is also a standout feature of this model, as it supports multiple connectivity standards. This includes Bluetooth, AirPlay 2, and even working with Sonos. The AV receiver also has a great set of streaming features, including Chromecast, UPnP, and Spotify Connect.
Listening experience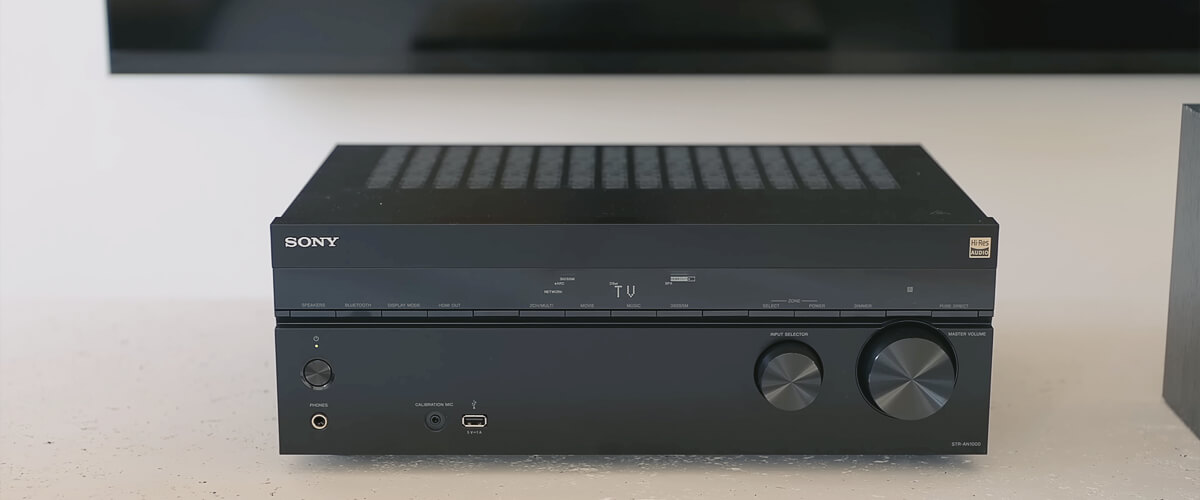 Once again, I will remind you that this is a mid-level receiver; therefore, I didn't expect something incredible from it. As for sound, it was definitely a good option as I played PS5. Sounds a bit husky for movies, but overall, I was pleased with the surround sound. However, if you compare its sound quality to other brands' similar models, it's indeed quite impressive for such a budget unit. The bass response is deep, while the treble is rather detailed. When I tried to stream music with AN1000 via Bluetooth, there was a slight pause between tracks, and sometimes, the next track didn't play at all. This problem didn't upset me much, but I think you should know about it.
Key specs
Channels: 7.2.
Power output: 165W/6 Ohms.
HDMI inputs/outputs: 6/2.
Video functions: 8K/60Hz, 4K/120Hz, upscaling up to 4K.
Bluetooth/Wi-Fi: yes/yes.
Streaming services: AirPlay 2, Spotify, TuneIn, Deezer, Tidal, Netflix, Amazon Prime.
Supports: HDMI ARC, HDMI eARC, HDCP2.2, HLG, HDR10, HDR10+, Dynamic HDR, Dolby Vision.
Surround sound: DTS HD Master, DTS:X, DTS Virtual:X, Dolby TrueHD, Dolby Atmos Height Virtualizer, Dolby Atmos, Dolby Surround, IMAX Enhanced.
We are supported by our audience. When you purchase through links on our site, we may earn an affiliate commission at no extra cost to you.
Our newsletter
* We will never send you spam or share your email with third parties