Price isn't always the decisive factor when it comes to flagship receivers. In this instance, we'll need to pay close attention to factors that might tempt you one way or the other. This premium product has excellent features to exceed the expectations of customers who are loyal to the Pioneer brand or are looking for a high-quality audio system. It appears to be a dream device on paper, but I'm going to check if it's so. Today, in my Pioneer Elite VSX-LX805 review, I'll discuss the features in more detail.
Features and specs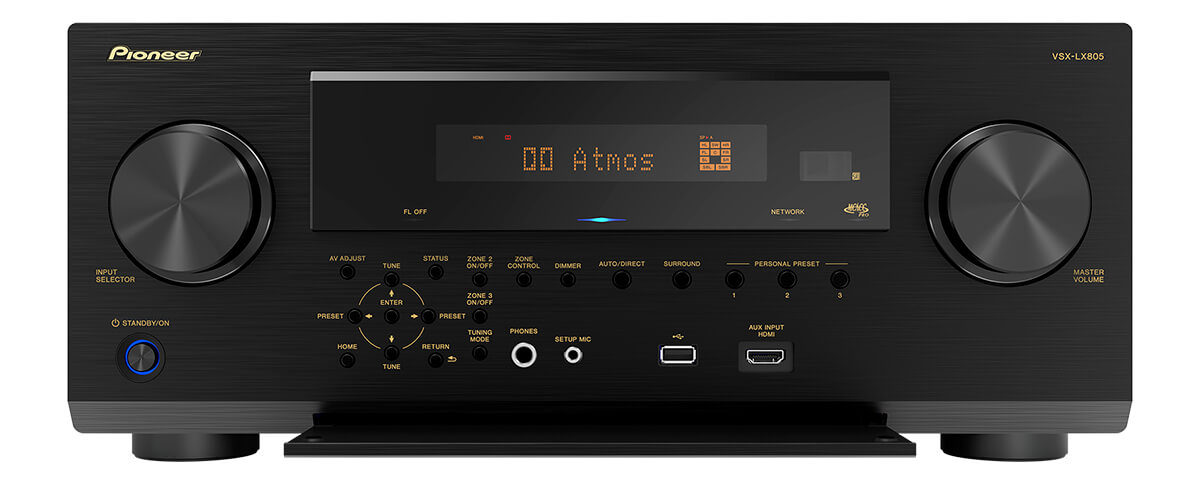 This device works with a 7.1.4 (11.4) sound system without the use of an additional amplifier and has an output power of 150W per channel (8 Ohms, 0.08% THD, 2-ch driven). However, Pioneer has abandoned the popular Class D (which is not actually top-of-the-line) amplifier technology found in many competitors' products. Pioneer equipped the LX805 with audiophile-grade elements for highly detailed and precise sound reproduction. I'd like to note that dual precision 32-bit ESS ES9026PRO Hyperstream DACs, balanced XLR inputs, and outputs are among the parts that are used to eliminate high-frequency digital distortion.
Video signals pass through 7 eARC-compatible inputs (6 of them are 8K-capable) and 3 HDMI outputs. The device processes video content with HDR – Dolby Vision and HDR10+ via HDMI 2.1/HDCP 2.3, with 4K/120Hz and 8K/60Hz resolutions. Data transfer rates of up to 40Gb are also used for this purpose. Accordingly, the product is compatible with gaming consoles, such as the Xbox Series X. VSX-LX805 features upscaling of 1080p to 4K and 4K to 8K from HDMI and analog sources.
You can connect additional power amplifiers to the system – for this purpose, RCA preamplifier outputs are provided for all channels. Separately added stereo outputs Zone 2 and Zone 3. I'd like to note that analog-to-digital video conversion has some issues that may bother discriminating videophiles.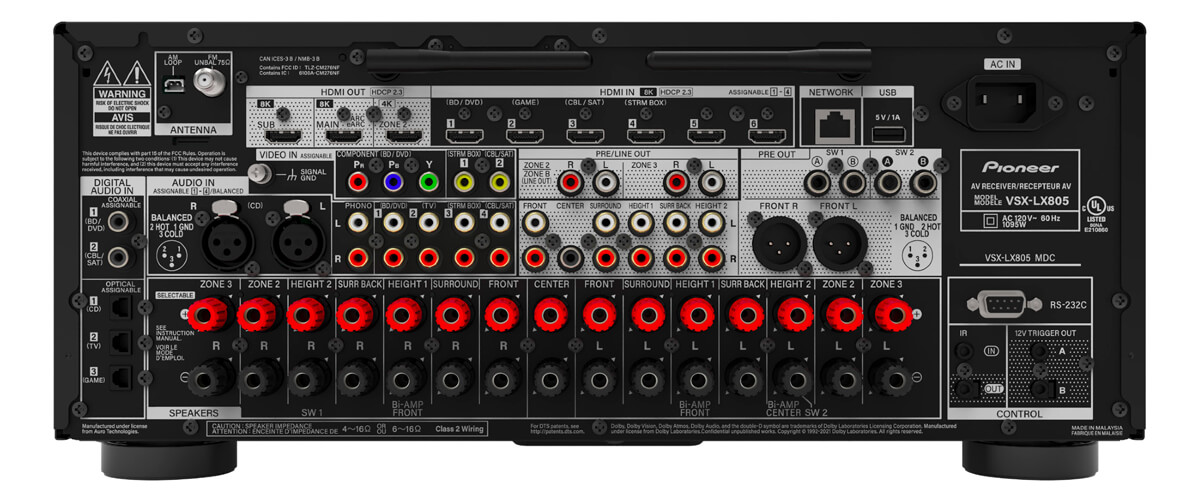 As expected, this model supports Dolby Atmos, as well as DTS:X and IMAX Enhanced mode. Auro3D was added via firmware updates. Elite VSX-LX805 specifications include Dolby Atmos Height Virtualization, which will create the sensation of overhead sound from the listener-level speakers and, what is more useful, saves you from installing in-ceiling speakers.
The Pioneer receiver can also become a completely advanced streamer – Spotify, Amazon Music, Tidal, and Pandora are available via Chromecast and AirPlay 2. The picture is completed by Bluetooth with aptX support. The device can be controlled using voice assistants Josh, Alexa, and Google, as well as smart home controls are not forgotten. Those who have Sonos devices then you can connect LX805 to them using the Sonos port. In another case, you can use DTS Play-Fi, which enables you to stay connected to your online music services, entertainment servers, and gadget collection via your Wi-Fi connection and play it via supported speakers in your house.
As for fine-tuning the sound in accordance with the acoustics of the room, the system, in addition to the latest version of Pioneer Multi-Channel Acoustic Calibration (MCACC), supports Dirac Live Room Correction. Additionally, you can add Bass Control to one or both VSX-LX805-supported subwoofers.
Listening experience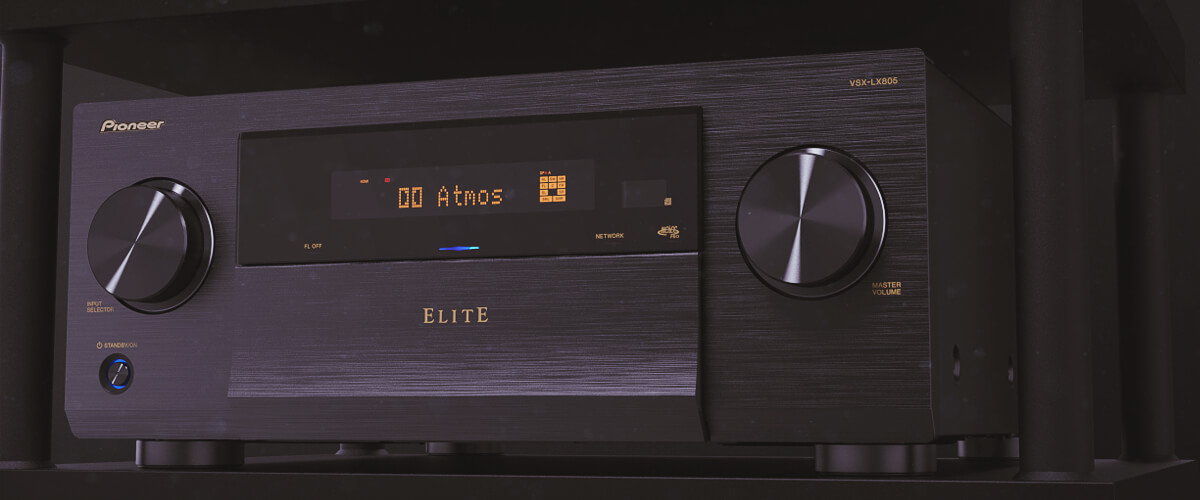 The Elite AVR's cinematic abilities were put to the test with the film "World War Z." The soundtrack, which was overburdened with massive effects, sounded like a final prayer for the dying Earth and its civilization. The receiver is capable of destroying sidewalls with even two fast subwoofers while maintaining the authenticity of dialogue playback. And some sharpness at the top improves the overall clarity of the image.
All of the speakers were driven well by the equipment, with no indication of strain or distortion. When listening to my daily music playlist, I noticed that the clarity and separation of instruments made the device sound more like a built-in stereo than a receiver. So, the layering of sound during the performed tracks was excellent, however, I would have preferred more snap and aggression down low.
Key specs
Channels: 11.2.
Power output: 150W/8 Ohm.
HDMI inputs/outputs: 7/3.
Video functions: 8K/60Hz, 4K/60Hz, 4K/120Hz, HDMI upscaling up to 8K.
Bluetooth/Wi-Fi: yes/yes.
Streaming services: AirPlay 2, Spotify, TuneIn, Deezer, Tidal, Netflix, Amazon Prime.
Supports: HDMI ARC, HDMI eARC, HDMI CEC, HDCP2.3, HDR10+, Dolby Vision.
Surround sound: DTS HD Master, DTS Neural:X, Dolby TrueHD, Dolby Surround, Dolby Digital Plus, Dolby Atmos Height Virtualization, Dolby Atmos, Dirac Live, Auro-3D.
We are supported by our audience. When you purchase through links on our site, we may earn an affiliate commission at no extra cost to you.
Our newsletter
* We will never send you spam or share your email with third parties