You don't have to buy a monster of a receiver or the unit of a sky-high cost that comes with it if you want a compact home theater setup. A simpler model, such as the TX-SR494, can be a simpler approach for you to operate your speakers and equipment. The receiver is inexpensive and simple but with 7 channels. This is a good choice for those with limited budgets who want a better system. Is this receiver really worth your attention? I will tell you about that further in my Onkyo TX-SR494 review.
Features and specs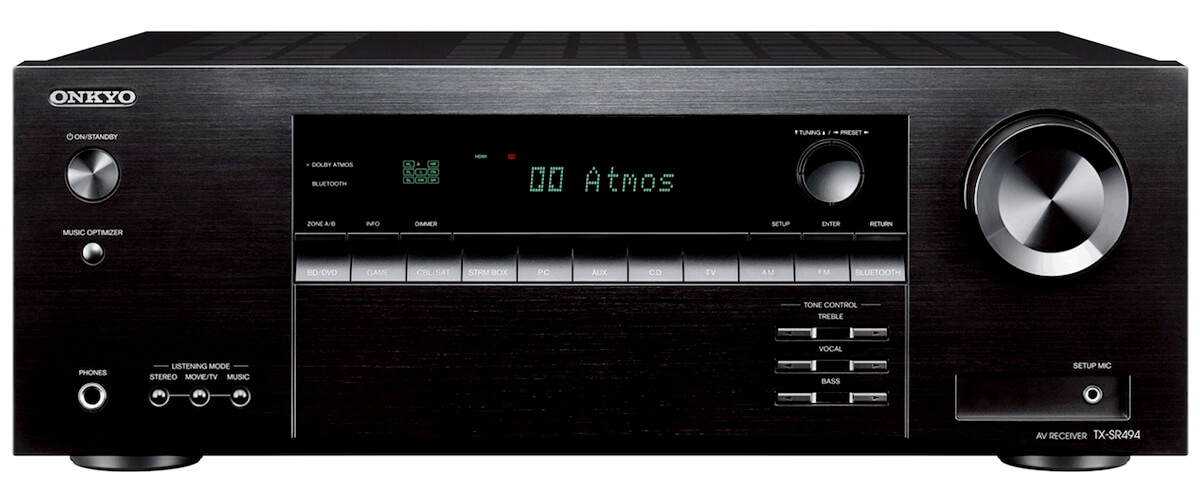 Unlike the younger model, TX-SR393, the 494 has 7 channels, which are equipped with discrete amplifiers with high output currents. The power output for 2 channels driven is 80W (8 Ohms, 0.08% THD). The receiver can provide stereo power output to zone B or bi-amp the front speakers while supporting a 5.2-channel system in the main room. I'll tell you, that's pretty good. Music enthusiasts will benefit from the Advanced Music Optimizer, which allows you to enjoy listening to your preferred music with just as much level of detail as you get when watching films.
TX-SR494 specifications of connections include 4 HDMI inputs and one output, with the ability to transmit a 4K/60Hz signal, including Dolby Vision, HDR10, and HLG. When you link this item to a TV, the ARC avoids any requirement for an extra composite or optical wire. In this model, it was decided to abandon component video inputs and outputs, which simplified the placement of connectors on the rear panel. Screw terminals are used to connect front stereo acoustics, while spring terminals are used for the center, rear, and side speakers. This is a completely acceptable solution for AV receivers in this price category. The TX-SR494 also offers a Zone B line output for sending sound out to a different location in the house. A few words for gamers: the device lacks ALLM or VRR. For occasional players, this isn't likely to be a big deal, especially if it's connected to a gameplay projector or other highly interactive monitor.
TX-SR494 features both Dolby and DTS decoding, so it's ideal for contrasting the two standards. The other key technologies in 494 are Dolby Atmos Height Virtualiser and DTS Virtual:X. Dolby Surround and DTS Neural:X upmixing technologies are also included, with the possibility of installing rear speakers.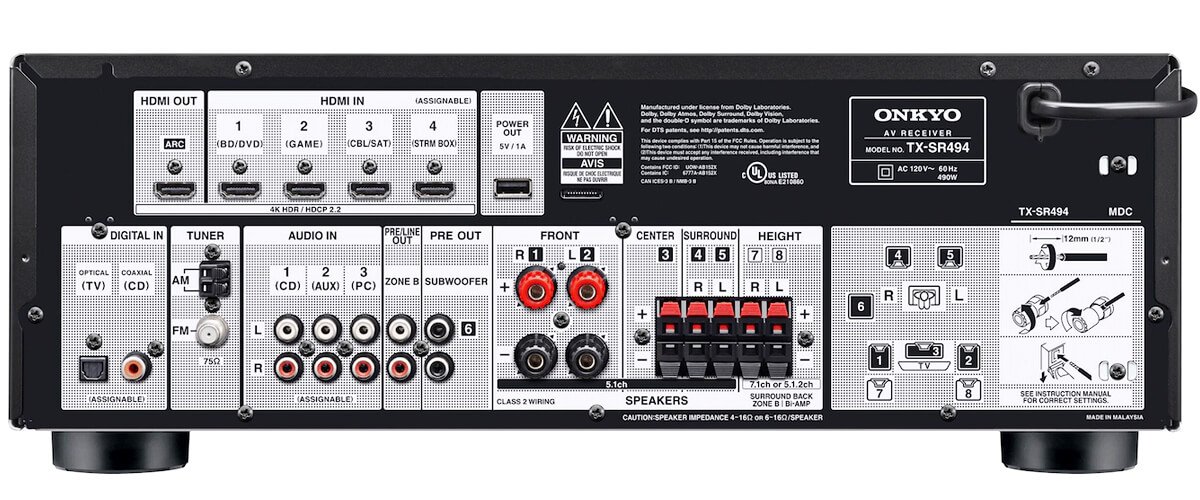 This model doesn't have Wi-Fi but includes Bluetooth wireless technology that supports high-quality signal streaming from phones, tablets, and PCs. However, I've noticed the connection can drop sometimes, and my phone even used to forget the device. As you can see, the networking capabilities of this model are not its strongest point.
AccuEQ speaker auto-calibration system with equalization for subwoofer and AccuReflex for 5.2.2 system are great assistants for improving the sound. The setup was quick and easy, and overall, it balanced out everything well.
Listening experience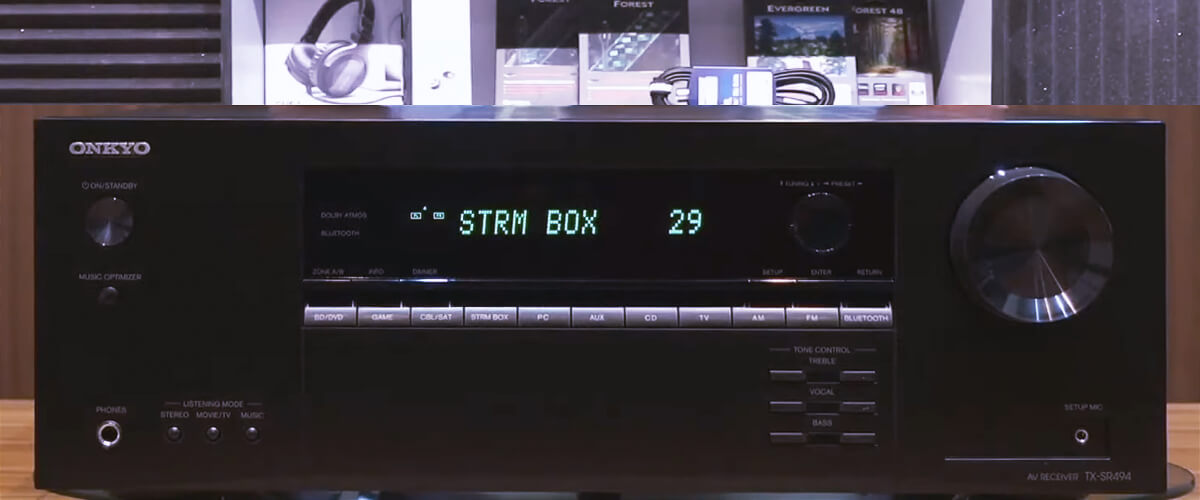 I liked the clean power this Onkyo AV receiver has, where the sound overall is spacious, and the base is nice. However, the Bluetooth audio is a bit lacking in sound quality. But if you're not streaming music and playing CDs or high-quality source material, the sound is quite optimal due to its 32-bit sound processor. If I were to consider 494 for a movie experience, I would say the sound was quite precise once I've made all the necessary adjustments. I tested it with "John Wick", where plenty of low-frequency effects and gunshots sounded more than acceptable.
I don't see the point in emphasizing listening to music, as TX-SR494 is a budget model that has nothing to boast about in this aspect. But I won't say that the sound was bad. No, it was as it should be with inexpensive equipment.
Key specs
Channels: 7.2.
Power output: 80W/8 Ohm, 160W/6 Ohm.
HDMI inputs/outputs: 4/1.
Video functions: 4K/60Hz pass-through, 1080p Full HD to 4K Ultra HD upscaling over HDMI.
Bluetooth/Wi-Fi: yes/no.
Streaming services: has not.
Supports: HDMI ARC, HDCP2.2, HDR10, Dolby Vision.
Surround sound: DTS HD Master, DTS Neural:X, DTS:X, Dolby TrueHD, Dolby Surround, Dolby Atmos Height Virtualization, Dolby Atmos.
We are supported by our audience. When you purchase through links on our site, we may earn an affiliate commission at no extra cost to you.
Our newsletter
* We will never send you spam or share your email with third parties