Onkyo hasn't modified the exterior look of their premium RZ models in a long time, and it appears that the TX-RZ50 doesn't change this tendency. Since it belongs to the RZ series, this device has some significant hardware, with some common components for all of the brand's top models. So, if you're searching for a well-crafted receiver just slightly above the budget price, I suggest reading my Onkyo TX-RZ50 review to find out why it can be a good investment in your home theater system.
Features and specs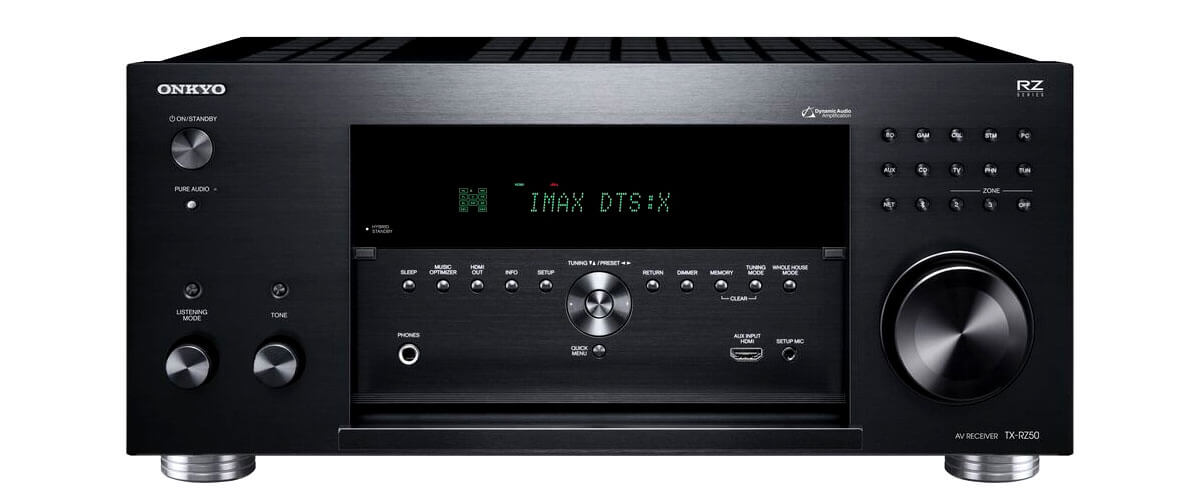 The Onkyo AV receiver has 9 channels of amplification, which are good for 120 watts, but if you add more channels to the stereo, the watts per channel will drop. The specs indicate the following: 250W (6 Ohms, 1 kHz, 10% THD, 1 channel driven) and 120W (8 Ohms, 20 Hz–20 kHz, 0.08% THD, 2 channels driven, FTC). The great thing is that it can be configured in various ways. With 11.2-channel pre-out and 11-channel processing, you can enjoy 3D sound through a 7.2.4 speaker set (external 2-channel power amplifier required) or use the built-in amplifiers for 5.2.4 or 7.2.2 configurations.
There are 8K/60Hz and 4K/120Hz capabilities thanks to 6 HDMI 2.1. However, inputs 4-6 are limited to 24GB, while 1-3 are up to 40 GB. Of course, there's eARC support. For simultaneous content transmission, you have HDMI Sub/Zone 2 out with 4K/120Hz resolution only. Despite that, you get HDR formats like HDR10+, HLG, and Dolby Vision. Since a majority of displays nowadays are still limited to 4K resolution, you will not only get the highest possible picture quality accessible at this point but also in the near future as well.
The receiver covers Dolby Atmos and DTS:X, but it is not confined to just those two, as we also benefit here from IMAX Enhanced support, despite the fact that material for this is yet quite limited. Onkyo was the first manufacturer to go through THX certification. Yes, today's reviewing model is THX-certified, which means it will give you sound levels comparable to those found in movie theaters.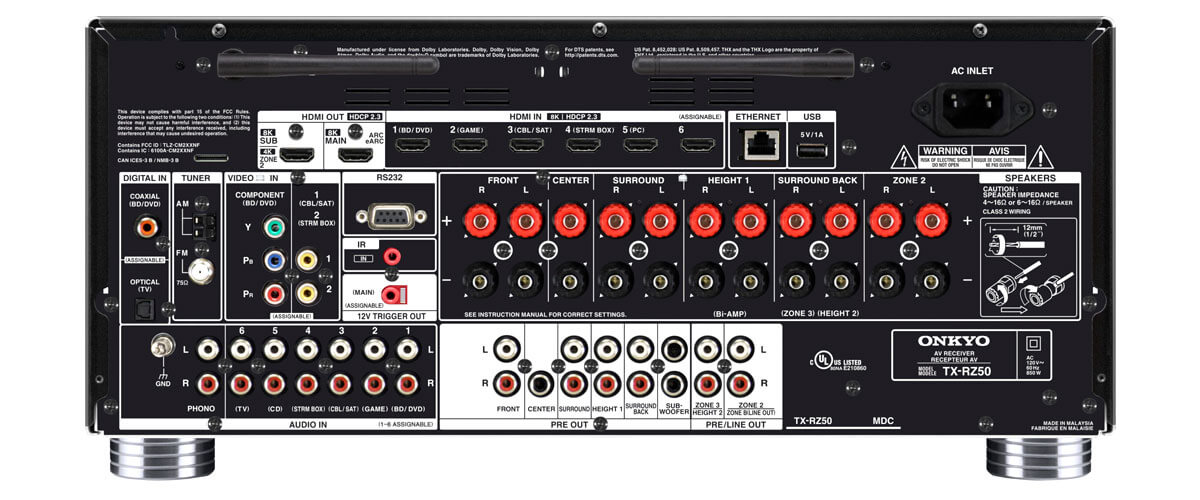 As for the wireless capabilities, there is built-in Wi-Fi (802.11ac) to connect to wireless and local networks and Bluetooth streaming. The TX-RZ50 features Bluetooth 4.2, but the most interesting aspect of its Bluetooth capabilities is that besides the usual SBC transmission, the Onkyo has also included AptX along with AptX HD, which is not something I have seen in most other commercial AVRs.
The device offers not just a connection to the Chromecast, which enables you to link additional Chromecast-enabled speakers, but also DTS Play-Fi and Airplay 2 if you usually use Apple gadgets. The only downside is that you'll require a third-party item with a built-in mic to operate it because this receiver lacks one. Owners of Sonos equipment can expand their system by adding TX-RZ50, but don't forget to purchase a Sonos port.
The additional TX-RZ50 specifications include Klipsch Optimize mode, which, I'd say, is nothing more than an advertising trick. All it does is set the crossovers, which you can easily do manually. Also, it comes with 2 types of room correction: Dirac Live and Onkyo's own AccuEQ. I don't always prefer what Dirac Live does to speakers on its own, so luckily, you can adjust everything you need right in the app.
Listening experience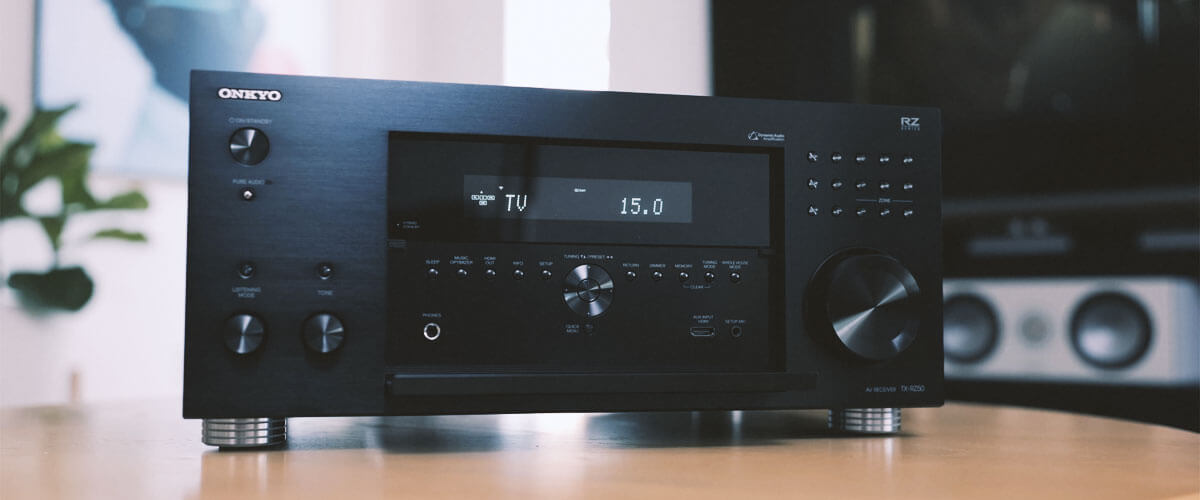 The soundstage is expansive and elaborate, making it simple to note any particular sound in the whole mix. The bass performance is solid and accurate, providing sufficient punch when needed without being overly loud. The voices are lively and transparent, and the high notes show off without being unpleasant. Overall, I enjoyed watching movies and listening to music more than enough.
Key specs
Channels: 9.2.
Power output: 120W/8 Ohm, 250W/6 Ohm.
HDMI inputs/outputs: 7/2.
Video functions: 8K/60Hz, 4K/120Hz, 4K/60Hz pass-through, video upconversion (up to 1080p and 8K) for analog and HDMI sources.
Bluetooth/Wi-Fi: yes/yes.
Streaming services: AirPlay2, Deezer, Tidal, Pandora, Spotify, Amazon Music HD, TuneIn.
Supports: HDMI ARC, HDMI eARC, HDMI CEC, HDCP2.3, HDR10, HDR10+, Dolby Vision.
Surround sound: DTS HD Master, DTS Neural:X, Dolby TrueHD, Dolby Surround, Dolby Digital Plus, Dolby Atmos Height Virtualization, Dolby Atmos, IMAX Enhanced.
We are supported by our audience. When you purchase through links on our site, we may earn an affiliate commission at no extra cost to you.
Our newsletter
* We will never send you spam or share your email with third parties