Today, in my Onkyo TX-NR6100 review, I am testing the budget receiver, a modernized copy of Onkyo's previous model TX-NR696. Maybe you will be surprised that the device is equipped with a fairly wide range of technologies. This AVR can indeed become the basis of your home theater system to enjoy movies and music. If you're already intrigued, then let's continue our overview.
Features and specs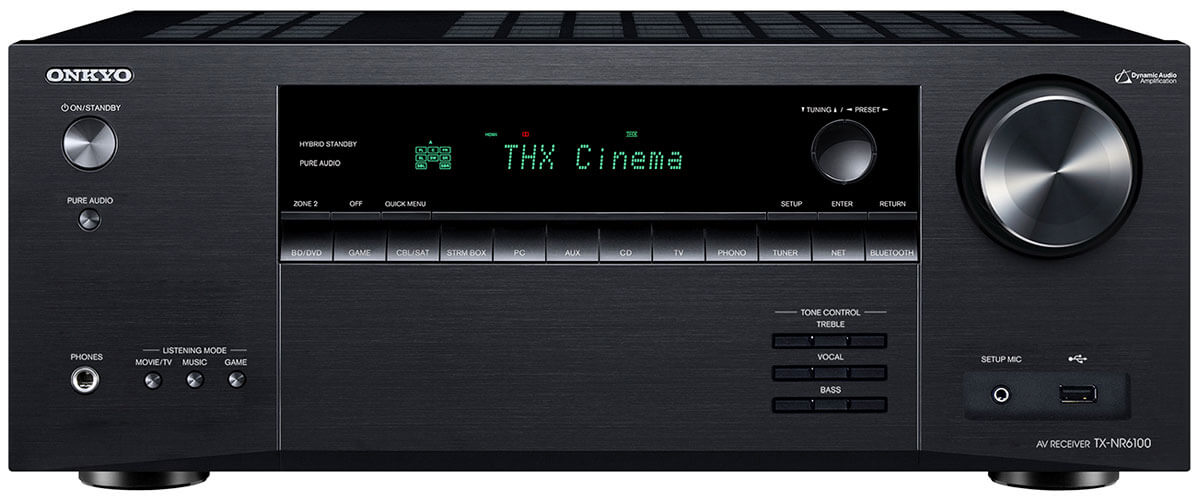 NR6100 is a 7.2 channel receiver with 100W power output per channel (8 Ohms, 0.08% THD, 2 channels driven). It's possible to assemble a 5.2.2 system with the Dolby Atmos. However, if you intend to enhance the capabilities of B zone (yes, this model supports this feature) and also install speakers in additional areas, the main zone will be limited to 5.2 channels. You may combine a 3.2.2-channel Dolby Atmos with a 2.0-channel system in zone B as an option.
TX-NR6100 features 6 HDMI inputs and 2 outputs (main out – eARC). All ports are 2.1., supporting 8K/60Hz, 8K/30Hz, and 4K/120Hz. The device's video formats that you may observe are HDR10+, Dolby Vision, HDR10, HLG, and HDCP 2.3.
The unit offers the original Dolby Atmos and DTS:X formats, as well as Dolby Digital, Dolby TrueHD, DTS, and DTS-HD Master Audio. But what's really good about this model is that the NR6100 has THX certification. When it comes to mixing technology, we get Dolby Surround and DTS Neural:X. They reverse stereo and classical signals in order to engage all the speakers in your system. The receiver also supports Dolby Atmos Height Virtualizer, which can give you the illusion of sound without real physical speakers. Along with Dolby's Virtualizer, we can output DTS Virtual:X, which works the same for DTS mixes, but be aware that this does not work if you have height speakers connected.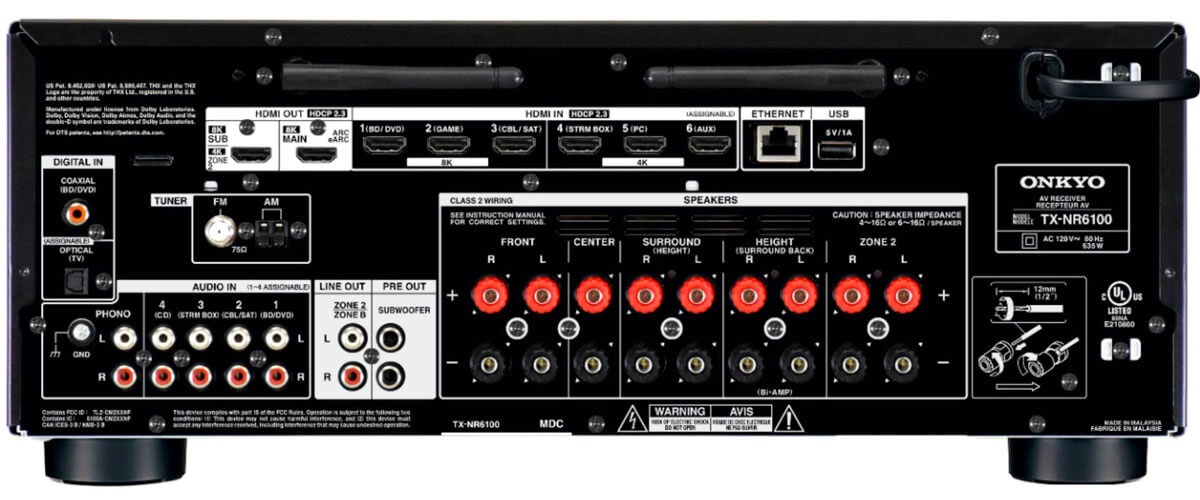 Regarding TX-NR6100 wireless specifications, there's an integrated WiFi module (802.11ac) and streaming data via Bluetooth 4.2. The most important aspect of this Bluetooth is that in addition to the original SBC transmission, Onkyo also enabled AptX along with AptX HD transmission, which other brands don't offer in most cases.
In this model, we have an Onkyo AccuEQ calibration system. I admit that it's not as good as Dirac, but for such a budget category, it is really worth attention. The system comes with AccuReflex and Subwoofer EQ functions. It determines the size of the speaker, the crossover frequency, and the listening position and sets the appropriate sound pressure levels. In addition, calibration adjusts crossovers and equalizers for all speakers and subwoofers. The device supports not only Google Assistant but also Amazon Alexa, which you won't find in the previous models of Onkyo receivers. If you're an Apple fan, Siri is also included and can be accessed via the Airplay 2. Streaming services are represented by Amazon Music HD, Pandora, Spotify, TIDAL, Deezer and others.
All of Onkyo's previous releases had powerful multiroom features, and the NR6100 is no exception. There's not just Chromecast but also DTS Play-Fi and even Sonos integration.
Listening experience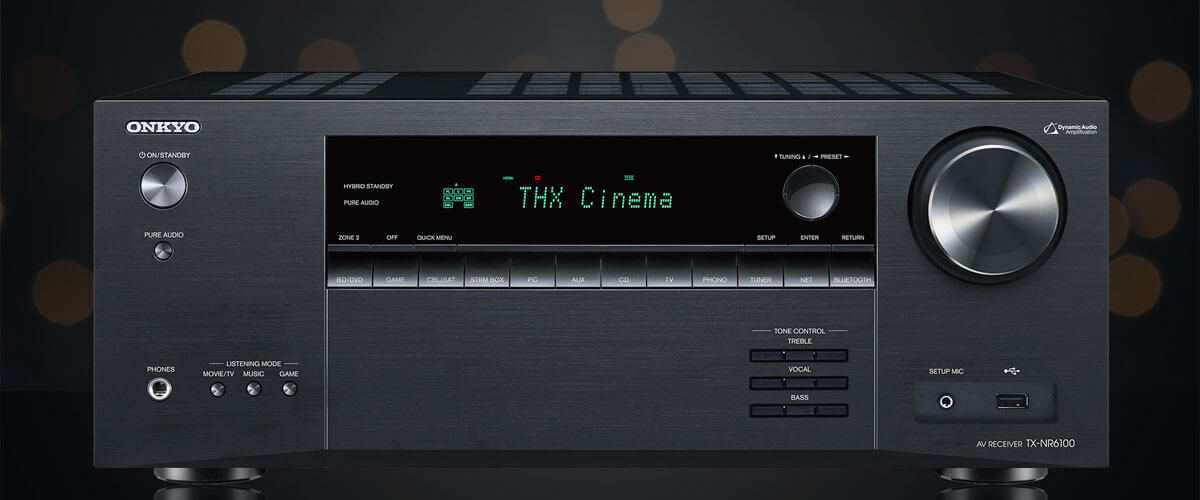 The sound quality is fine for such a budget receiver. If you prefer a home theater system for watching movies and your budget doesn't allow you to buy an expensive model, the Onkyo TX-NR6100 may be the optimal choice.
When I watched "Fast X" with rather challenging races and chases, I heard tires squealing, coming through the room front to back (or from above if the mid speakers were set to height). Music was clear, with tight highs and thumping lows. Video games also gave me a new experience, even though they have been played hundreds of times before. The last thing I did was watching MLS' Philadelphia Union vs Dallas' and it was really not bad. I would say it is much better than with just TV speakers or a sound bar.
Key specs
Channels: 7.2.
Power output: 100W/8 Ohm, 210W/6 Ohm.
HDMI inputs/outputs: 6/2.
Video functions: 8K/60Hz, 4K/120Hz, 4K/60Hz pass-through, 1080p to 8K/4K video upscaling via HDM.
Bluetooth/Wi-Fi: yes/yes.
Streaming services: AirPlay2, Deezer, Tidal, Pandora, Spotify, Amazon Music HD, TuneIn.
Supports: HDMI ARC, HDMI eARC, HDMI CEC, HDCP2.3, HDR10, HDR10+, Dolby Vision.
Surround sound: DTS HD Master, DTS Neural:X, Dolby TrueHD, Dolby Surround, Dolby Digital Plus, Dolby Atmos Height Virtualization, Dolby Atmos.
We are supported by our audience. When you purchase through links on our site, we may earn an affiliate commission at no extra cost to you.
Our newsletter
* We will never send you spam or share your email with third parties