Writing articles about premium models is always a great pleasure. In this Marantz SR8015 review, I will tell you about this 11-channel receiver, the only one in the brand's lineup today. But I'm afraid you'll have to familiarize yourself further with the variety of its features and functions, as I'm limited in space and won't be able to tell you all the details. Nevertheless, I am ready to describe the main, special things, as well as my testing results. Let's go!
Features and specs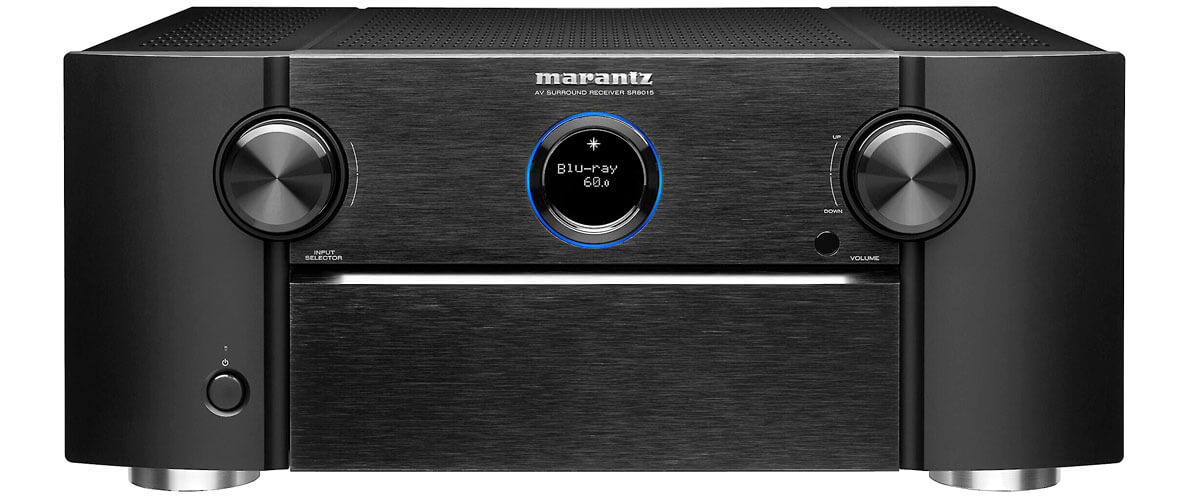 Of course, you may be impressed by the price of the Marantz receiver. But, I assure you, the parts used by the manufacturer are worth their money and will serve you for a very long time. It is worth comparing it with its main competitor, Denon AVR-X6700H, which is similar to ours in almost everything but has a lower price. However, the SR8015 design uses such unique components as an expensive toroidal transformer and copper-plated chassis. In addition, the weight of the design is 38.4 pounds, and a heavy receiver always means high-quality parts.
The main advantage of this AVR is the ability to expand the system up to 13 channels. So, it's unsurprising that this unit squeezes out 140 W (8 Ohm, 20 Hz – 20 kHz, 2ch) with an excellent THD of 0.05%. It will be loud, very loud. And clear. It's also worth noting that you can broadcast audio (and even video) for up to 3 zones.
The SR8015 specifications in the video realm today might not impress you. Because since the AVR was released in 2020, it only has 1 (out of 7) HDMI port version 2.1. It's the one that provides 8K video. Ta-da! It is a slight disappointment for those who like high-resolution video from all sources. You will have to switch them manually or not use them. However, you can access modern Dolby Vision and HDR10+ video formats, HDCP 2.3, CEC features, upscaling to 8K, and more. By the way, this model has a feature to avoid Oled screen burn-in.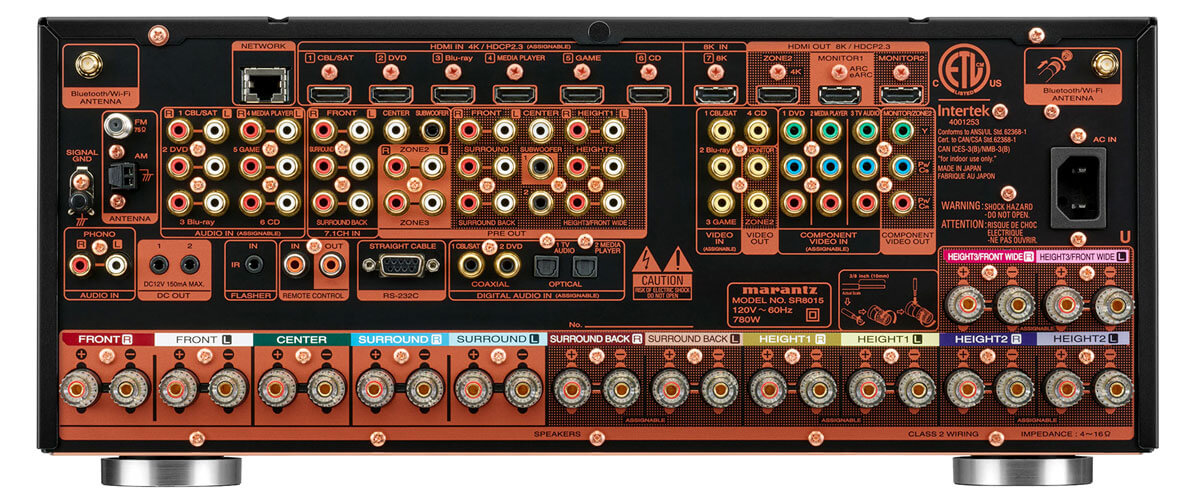 But I generally expect more HDMI for such monsters (and competitors released later have them). Otherwise, the number of connectors can be astounding. Just open the photo of the receiver's back panel, and you will have no questions. You can assemble many earlier generation devices, a vinyl player (but only for MM cartridges), and much more into the system.
Regarding wireless connectivity, we have compatibility with streaming services (Spotify, Pandora), voice assistants (Alexa, Google Voice Assistant, Apple HomePod), AirPlay2, HEOS Multi-room, and Streaming. So those who appreciate music can rest easy. SR8015 features allow you to enjoy music in the highest quality (supports lossless formats: FLAC HD 192/24, WAV 192/24, ALAC 192/24) even though Wi-Fi and Bluetooth have standard versions.
As for surround sound, the 11-channel system is characterized by the ability to decode DTS:X (including DTS:X Pro, DTS Neural:X, DTS Virtual:X), Dolby Atmos, Dolby Atmos Height Virtualization, IMAX Enhanced, and Auro 3D. So, any movie from any source will sound just as the creators intended.
Listening experience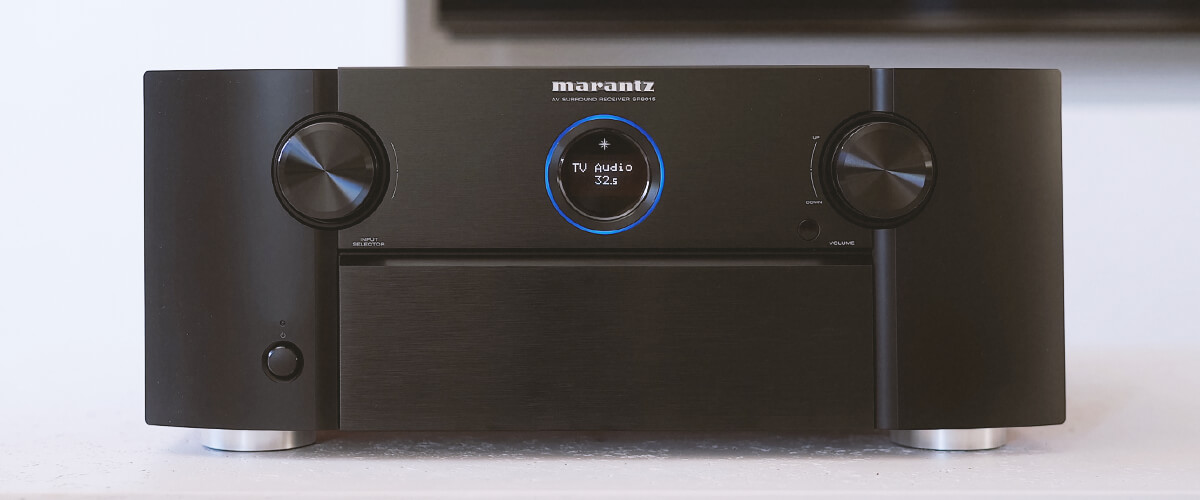 And continuing the theme of surround sound, it is logical to describe my testing experience. Although, believe me, expecting shortcomings from the Marantz brand in the premium category is like looking for a needle in a haystack. It's unrealistic. All components are selected so carefully that no matter what movie I turn on, the detail, full synchronization with video, sound distribution in the room, frequency tones at any level – all this causes neither questions nor doubts. The SR8015 has enough power to shake the floor, windows, and other objects if they stand close to the speakers. So I'd suggest moving vases farther away. Audyssey MultEQ XT3 calibration is great, but you have to purchase a special app for it for money like they didn't squeeze every last dime out of us on the receiver itself.
I also really liked the HEOS performance. So, I will repeat that the Marantz SR8015 is made for people who appreciate sound, whether surround sound or stereo, and video is not as much of a priority for them. In any case, when you buy Marantz equipment, you pay for the quality that will remain high and reference quality even after becoming a dinosaur.
Key specs
Channels: 11.2.
Power output: 140W/8 Ohm, 175W/6 Ohm.
HDMI inputs/outputs: 7/2.
Video functions: 8K/60Hz, 4K/120Hz pass-through, 1080P/4K to 8K HDMI upscaling, analog to HDMI video conversion.
Bluetooth/Wi-Fi: yes/yes.
Streaming services: AirPlay2, TuneIn, Spotify, Pandora, SiriusXM, Amazon Music HD, TIDAL, Deezer, iHeart Radio, Napster, SoundCloud, Mood Mix.
Supports: HDMI ARC, HDMI eARC, HDMI CEC, HDCP2.3, HDR10, HDR10+, HLG, Dynamic HDR, Dolby Vision.
Surround sound: DTS HD Master, DTS:X, DTS Neural:X, DTS Virtual:X, DTS:X Pro, Dolby TrueHD, Dolby Atmos, Dolby Atmos Height Virtualization, Dolby Atmos Music, Dolby Surround, IMAX Enhanced, Auro 3D.
We are supported by our audience. When you purchase through links on our site, we may earn an affiliate commission at no extra cost to you.
Our newsletter
* We will never send you spam or share your email with third parties