My Marantz NR1510 review would like to characterize it as "cheap and surly". Released in 2019, the 5.1-channel receiver Marantz NR1510 is today's only budget-friendly device in the brand's range. The tapered design, lightweight 18.1-pound construction, and basic features will be a great addition to a small room because that's exactly what this baby was made for. This Marantz NR1510 review will introduce you to this inexpensive but worthy of close attention device.
Features and specs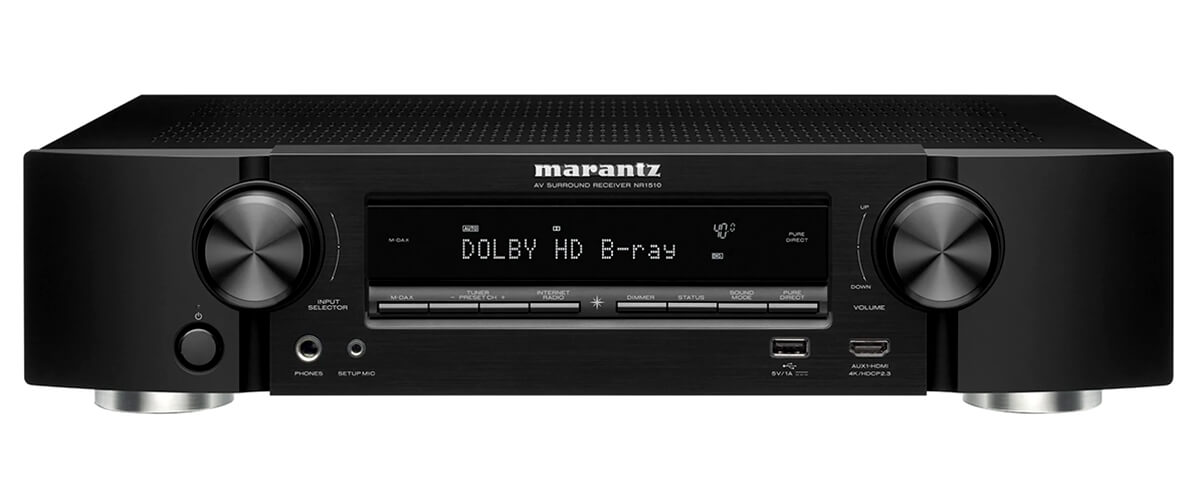 Providing only 50 watts of power (8 ohms, 20 Hz – 20 kHz, 0.08% 2ch Drive), this Marantz receiver nevertheless made all the speakers I connected to it sing better. The possibility to connect two subs also improves the overall sound picture, although, for such systems, it is completely optional. But I have 2 small subwoofers in my arsenal, and, of course, I tried Marantz NR1510 with them. This model supports only one surround sound format, DTS HD Master, but Dolby True HD does not. But connoisseurs will say that's okay because DTS is considered more detailed and high-quality.
6/1 HDMI ports (one input is on the front panel, which is great for connecting non-permanent sources) provide HDCP2.3, eARC, and 4K video functionality in HDR and Dolby Vision, plus 3D Pass-Through. As a basic, NR1510 specifications will be enough for you for years.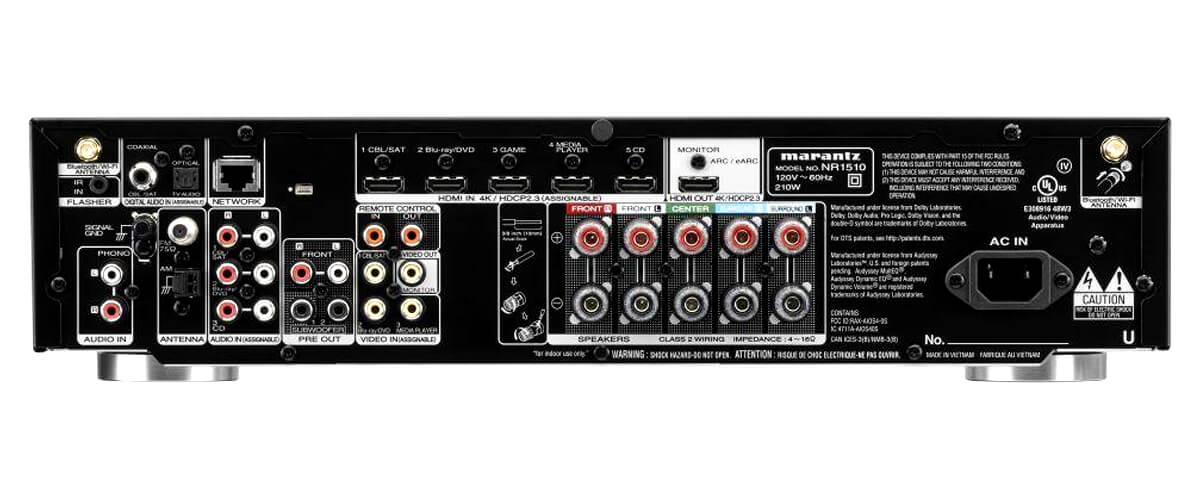 As far as wireless connectivity goes, though, the options are pretty extensive. Besides the standard Wi-Fi and Bluetooth, NR1510 features include HEOS, DSD, AirPlay 2, and Network Audio Streaming in all sorts of lossy formats and lossless formats (192/24), built-in TuneIn radio, support for streaming services (Spotify Connect, Deezer, TIDAL, Napster, Pandora, and SiriusXM). Even the fact that I did not really like the quality of signal transmission via Bluetooth can not spoil the striking impression of the functionality of this model.
Listening experience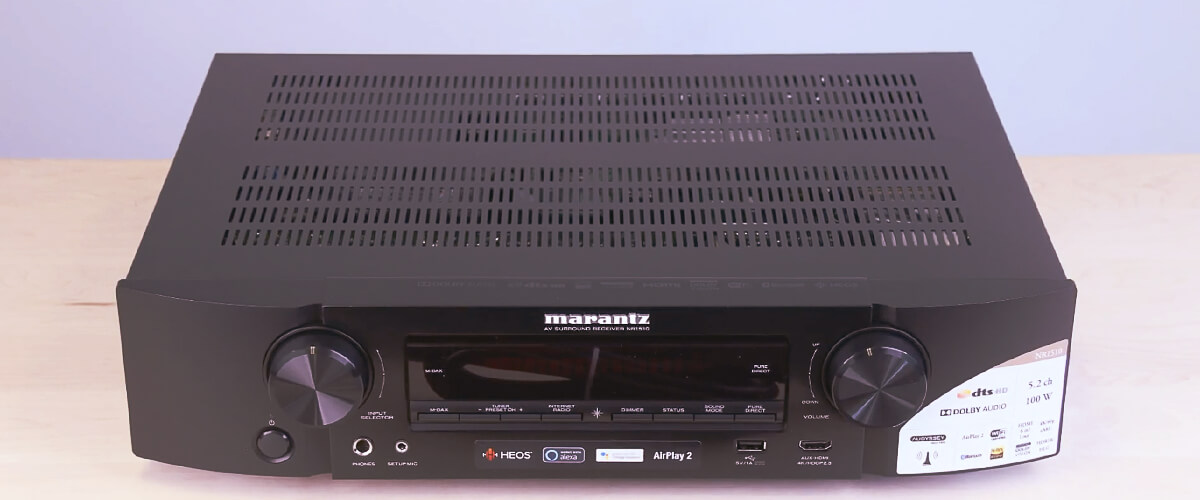 I like this receiver. It's simple and sparse in features, but everything it does is very good. The movies I watched with it sounded bright, warm, and realistic. They gave me an atmosphere of coziness and peace, which I usually look for in the evenings when I settle down on my soft couch. Sure, it won't make your windows or floor shudder with sound, but the quality of detail is amazing for such a simple AVR. Dialogs are crisp; I never once had to turn it up louder or go into the settings to hear what was being said. This is very rare for an inexpensive device. But that's what it is – Marantz quality!
I also liked the M-DAX feature. It is designed to improve the quality of the stereo signal. If you have a stash of old recordings (like I do), you'll have a cool experience. Whatever I turned on sounded better, cleaner, more vibrant, and fuller than when I listened to it on other devices (like a CD player).
Key specs
Channels: 5.2.
Power output: 85W/8 Ohm, 100W/6 Ohm.
HDMI inputs/outputs: 6/1.
Video functions: 4K/60Hz pass-through.
Bluetooth/Wi-Fi: yes/yes.
Streaming services: AirPlay2, TuneIn, Spotify, Pandora, SiriusXM, Amazon Music HD, TIDAL, Deezer, iHeart Radio, Napster, SoundCloud, Mood Mix.
Supports: HDMI ARC, HDMI eARC, HDMI CEC, HDCP2.2, HLG, Dolby Vision.
Surround sound: DTS HD Master, Dolby TrueHD, Dolby TrueHD, Dolby ProLogic II.
We are supported by our audience. When you purchase through links on our site, we may earn an affiliate commission at no extra cost to you.
Our newsletter
* We will never send you spam or share your email with third parties