After testing audio equipment for several years, I didn't miss a chance to explore new receiver models, and this time, I came up with a Marantz CINEMA 60 review. It is a fine piece of advanced home theater device with a longstanding background, classic aesthetics, and quality craftsmanship. This 7.2-channel receiver delivers great performance and a patented HDAM amplification circuit that creates the most harmonious sound in your living space. Its sleek and adaptable design will complement any luxurious surroundings. CINEMA 60 can be adjusted to your preferences with a variety of connecting options, speaker placement, and fine-tuning features. It also includes intuitive controls like remote control, easily accessible front panel controls, and an easy-to-use on-screen setup interface.
Features and specs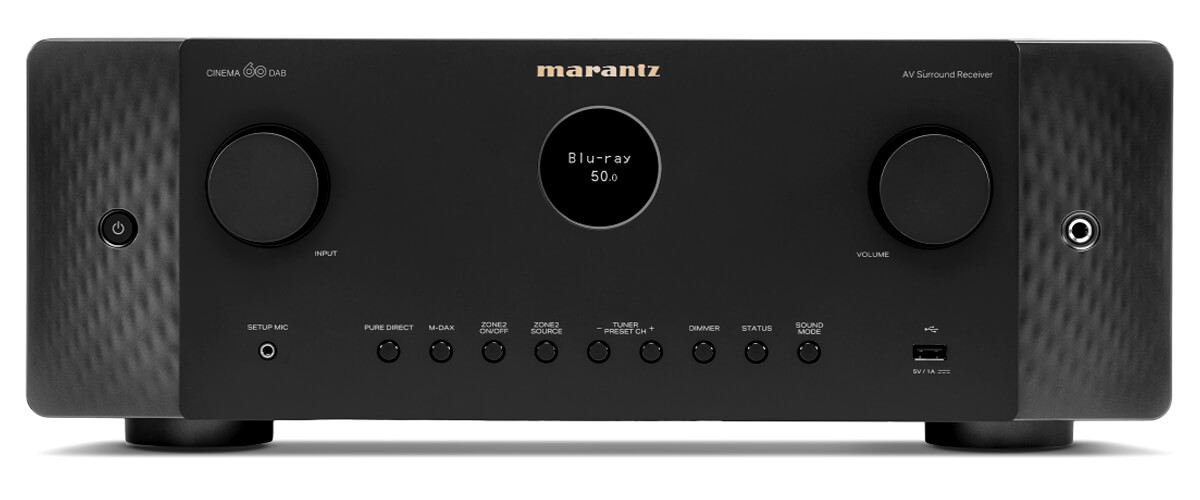 The Marantz CINEMA 60 boasts a substantial power output of 100 watts per channel (8 ohms, 20Hz-20kHz, 0.08% THD). This level of power ensures an immersive audio experience, ideal for medium home theater setups. I personally didn't require more wattage in my medium living room.
On the back, you get anything you'd need to hook up a decent 5.1, 5.2 (with or without a separate Zone 2), or 7.2 system – which is what most people would need. If overhead channels are required, you can select configuration 5.2.2. CINEMA 60 allows you to use two subwoofers in any case. You can assign your speaker outputs and bi-amp your main speakers if you wish – that option is there for you.
It offers a generous selection of HDMI ports, including 8 HDMI inputs and 3 HDMI outputs, supporting the latest HDMI 2.1 specifications. These HDMI ports are ready for 8K/60Hz and 4K/120Hz pass-through, making it perfect for gamers and those looking to upgrade their setups (HDMI 2.1 introduces VRR, which synchronizes the display's refresh rate with the game's frame rate, ALLM will minimize input lag for responsive gaming.) Additionally, CINEMA 60 specifications feature legacy connections such as composite and component video, in case you'll use it to connect with older devices.
Marantz has integrated extensive wireless capabilities into the CINEMA 60. It supports Bluetooth, Wi-Fi, and AirPlay 2, so you can effortlessly stream music from your smartphone or computer. It also features HEOS multi-room audio technology, enabling seamless playback throughout your home.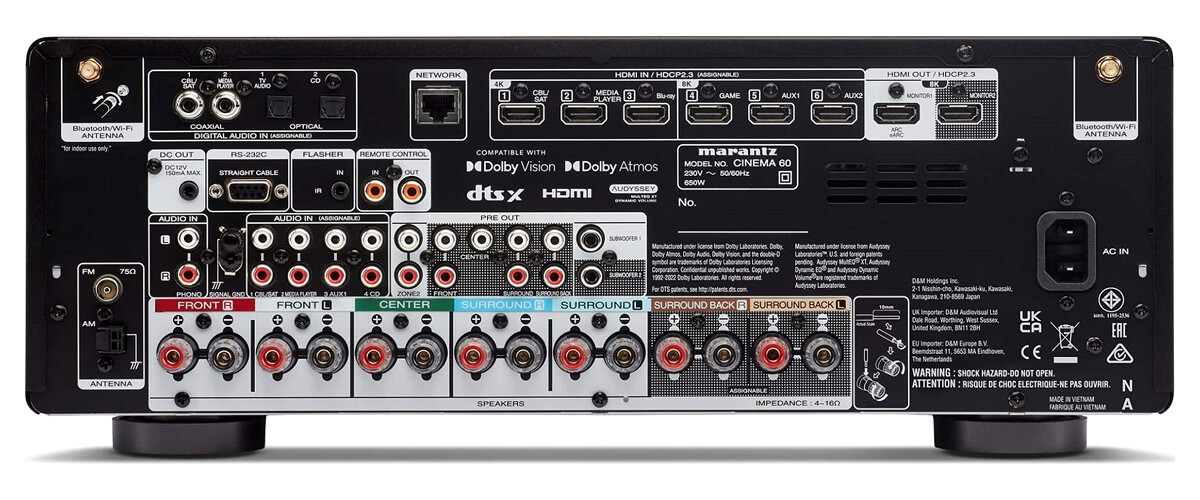 For those who want to experience a captivating home theater experience (and those are the majority of people), there's Dolby Atmos, DTS:X. These formats deliver three-dimensional audio, immersing you in sound from all directions. In addition to its remarkable audio capabilities, this receiver supports HDR10+, Dolby Vision, and HLG (Hybrid Log-Gamma), which delivers visuals with lifelike colors and high dynamic range, ensuring that your 4K and 8K content look their optimal way.
The Marantz CINEMA 60 features also include a specialty that is made to enhance your home theater experience. It has an Audyssey MultEQ XT32 room calibration feature, which optimizes audio performance based on your room's acoustics. However, after many trials, I discovered that the built-in Audyssey will often generate results, not always as I would like them to be. For great results, you need to use the mobile version of the app (but it's for a fee), which provides much more control and is much more accurate in my opinion.
Listening Experience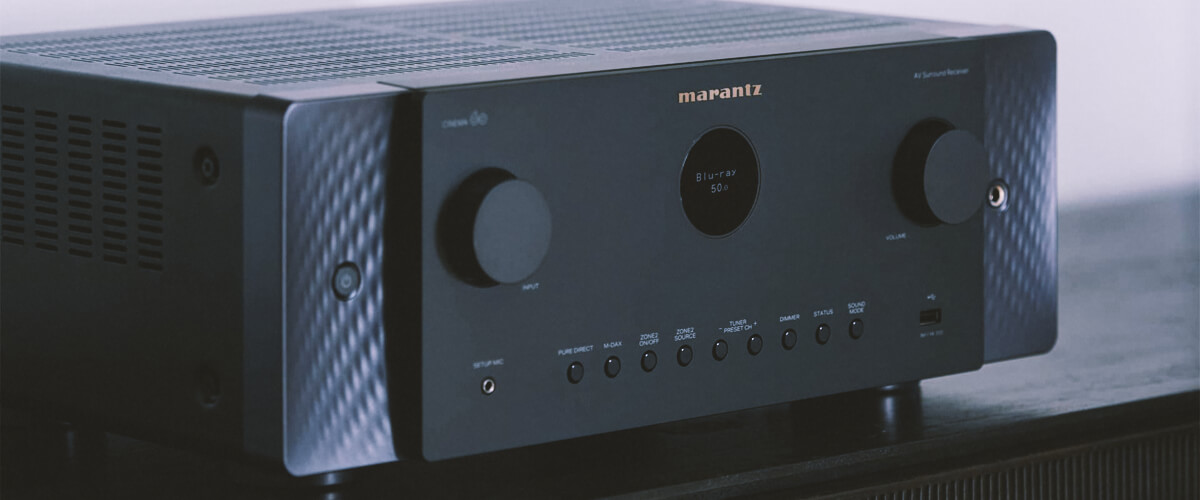 I can say that the sound is warmer than my old Onkyo receiver, and having a wired network connection to my computer, it plays my Spotify music without the jangling roughness. The high frequencies were still very clear, and the receiver produced a good stereo image with a deep soundstage. It seemed like Marantz was able to squeeze a little more richness from my speakers than the old receiver, despite the fact that my old one had quite a few more watts per channel.
Marantz's "Pure Direct" created a perfectly clean stereo playback with no enhancement and processing and made me feel like I was listening to 1970s high-end stereos. This time, I used a low-quality subwoofer to see what could come of this, and Marantz not only separated the surround sound channels, it produced much cleaner and clearer bass out of this subwoofer.
Despite listening to music, I also tested two movies: "Dune" and "Avatar". The Marantz 60 provided the legendary soundtrack with complex surround sound in "Avatar," while the speech was perfectly clear and never dominated by side effects. The dynamic bassline and accurate audio arrangement brought those graphic action scenes to life. As for "Dune", the Marantz Cinema 60 truly excelled in the way it managed to faithfully recreate the movie's strong and expressive sounds. The flowability of dune sand and dune creatures, the sounds of spaceships, and the clanking of weapons were all represented with great detail, creating all-of-a-flutter emotions.
Key specs
Channels: 7.2.
Power output: 100W/8 Ohm, 140W/6 Ohm.
HDMI inputs/outputs: 6/2.
Video functions: 8K/60Hz, 4K/120Hz pass-through, 1080P/4K to 8K HDMI upscaling.
Bluetooth/Wi-Fi: yes/yes.
Streaming services: AirPlay2, TuneIn, Spotify, Pandora, SiriusXM, Amazon Music HD, TIDAL, Deezer, iHeart Radio, Napster, SoundCloud, Mood Mix.
Supports: HDMI ARC, HDMI eARC, HDMI CEC, HDCP2.3, HDR10, HDR10+, HLG, Dynamic HDR, Dolby Vision.
Surround sound: DTS HD Master, DTS:X, DTS Neural:X, DTS Virtual:X, Dolby TrueHD, Dolby Atmos, Dolby Atmos Height Virtualization, Dolby Atmos Music, Dolby Surround, IMAX Enhanced.
We are supported by our audience. When you purchase through links on our site, we may earn an affiliate commission at no extra cost to you.
Our newsletter
* We will never send you spam or share your email with third parties