When it comes to high-end receivers from the most prestigious brand of all receiver manufacturers, the Marantz CINEMA 50 review cannot be overlooked. This 9.4-channel receiver is representative of the brand's new modern 2022 lineup, and its name speaks for itself – AVR is made for watching movies. It is the second most feature-rich receiver in this series, following and surpassing the 7-channel Marantz CINEMA 60, albeit with a sufficient price difference. I also really like the minimalistic futuristic design of the model, with a round (though not the most comfortable to watch) LCD screen and the main control buttons hidden under a metal cover in two colors: Black and Silver Gold.
Features and specs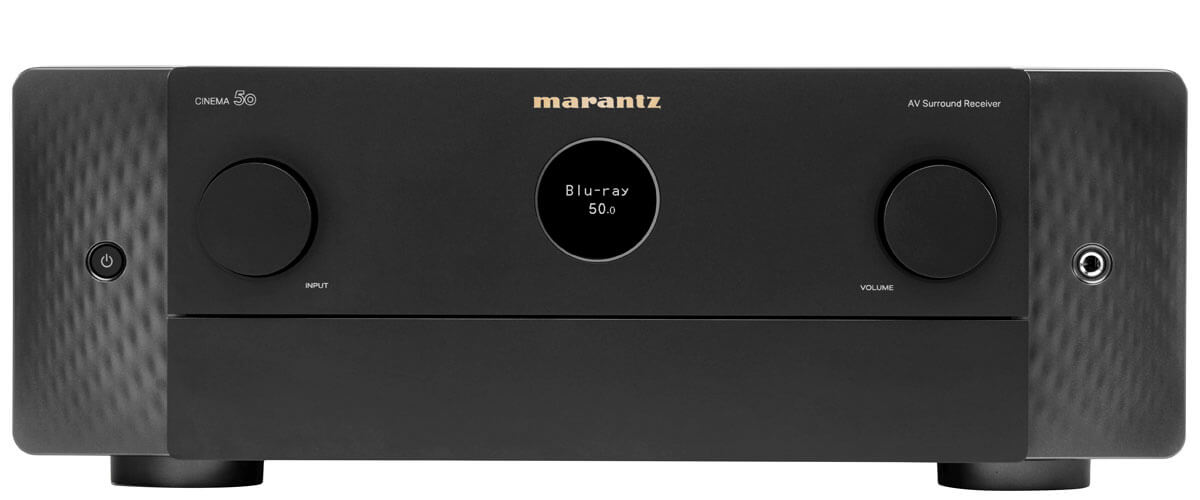 The Marantz CINEMA 50 is one of those receivers that can boost your system up to 11 channels with various configurations. But I consider the optimal one to be 7.4.4. At the same time, it provides enough power for the consumer at 110 watts (8 ohms, 20 Hz – 20 kHz, 0.08%, 2ch). So owners of small apartments and rooms can safely pass by (sorry). This machine is designed for large spaces, and its THD compensates not the largest for this category of power (some 9-channel receivers have more watts, but in fact, it is not too noticeable).
The main specifications of the CINEMA 50 receiver include the fact that, unlike the CINEMA 60 mentioned earlier, all of its 6/3 HDMI ports support 8K video, upscaling 1080P/4K to 8K, CEC, HDCP 2.3, and ARC/eARC functions. So, suppose you're a fan of not only surround sound but also a lover of stunning visuals. In that case, this receiver will give you an unforgettable experience, as it offers contrast-enhanced HDR, HLG, Dolby Vision, HDR10+, and Dynamic HDR formats. However, there are only digital optical inputs for connecting older equipment. Of course, there is less and less of such equipment, but personally, I appreciate it and am in no hurry to get rid of it. There is also an MM phono input for a vinyl turntable, and this is important because Marantz was originally engaged in producing such and cherishes the traditions of analog sound. But more on that later.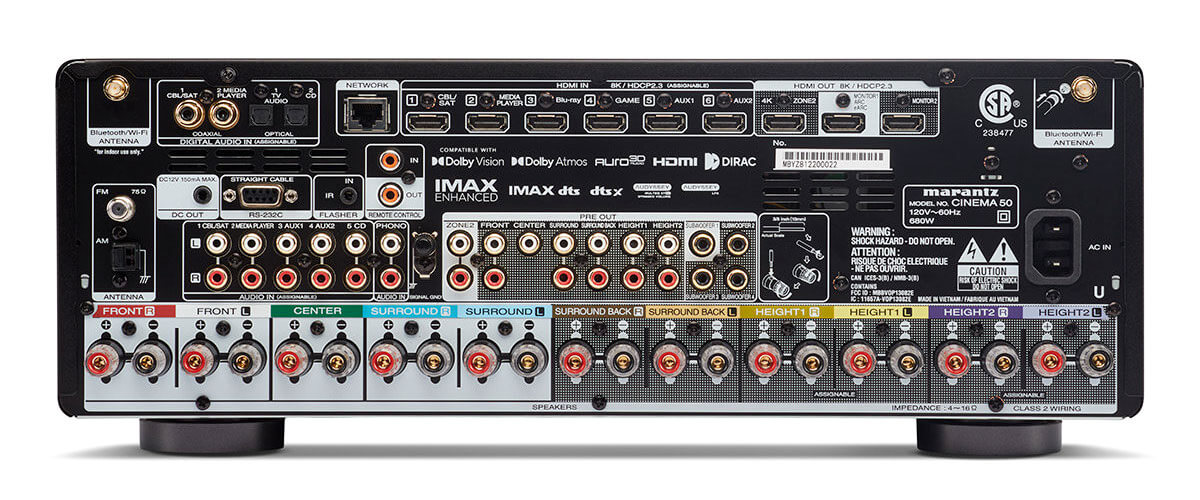 Wireless capabilities include huge compatibility with streaming services and voice assistants, a built-in HEOS ecosystem, and stream audio to 2 zones. And I was extremely impressed with the quality of the streamed music. The warmth inherent in Marantz products plays with a spectrum of colors that makes you not want to use anything else. Although people with perfect hearing will disagree with me, for the average consumer, everything is perfect with an uninterrupted Bluetooth or Wi-Fi signal.
But unique to the CINEMA 50 features are the HDAM (Hyper Dynamic Amplifier Module) technology and the Current Feedback Topology. Both significantly impact audio processing, providing greater audio detail and low phase shift. So it's no surprise how the receiver sounds in surround sound and stereo. And continuing about surround sound, it's probably worth mentioning the formats that the AVR supports. These are DTS:X (DTS Neural:X, DTS Virtual:X), Dolby Atmos (Dolby Atmos Height Virtualization, Dolby Atmos Music), IMAX Enhanced, Auro-3D, and 360 Reality Audio. However, I didn't really like the custom menu, which is confusing and will take some getting used to. With the app, the picture becomes nicer and reveals more possibilities.
Listening experience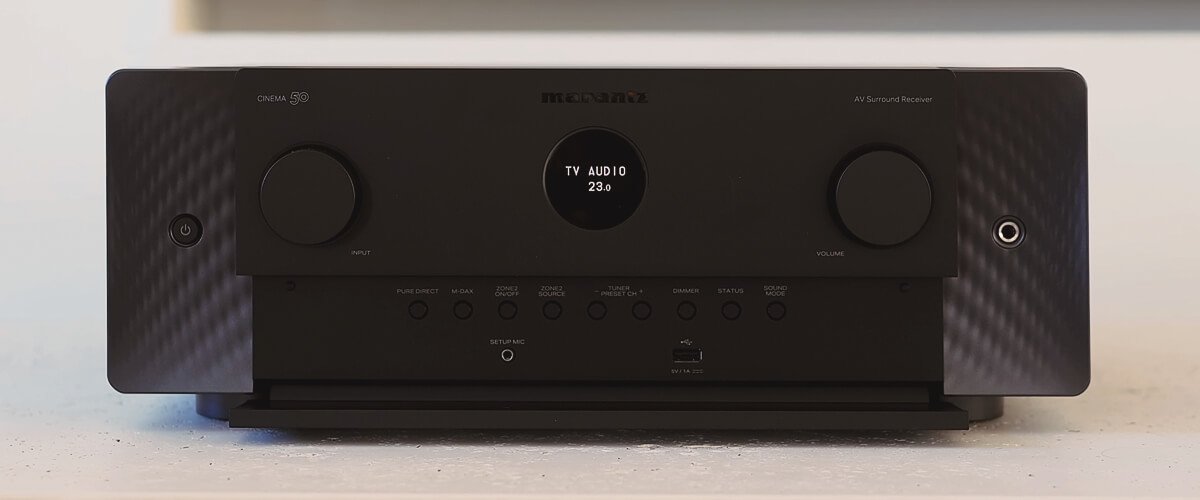 The Marantz AVR uses the calibration systems familiar to many from Denon: Audyssey MultEQ XT32 and Dirac Live. They may seem complicated initially, but the results you can achieve if you pay attention to them are truly impressive. These adaptation systems consider more than just the size of your room and its specific design. With features like Lip Sync, Bass Sync, and Marantz Dialog Enhancement, I adapted the sound so well that I forgot I was testing a receiver and unplannedly watched two movies in a row. Overall, I am ready to say that the receiver sounds fantastic. The soundstage is attention-grabbing; the sound literally feels on the floor and even on your skin.
Key specs
Channels: 9.4.
Power output: 110W/8 Ohm, 150W/6 Ohm.
HDMI inputs/outputs: 6/3.
Video functions: 8K/60Hz, 4K/120Hz pass-through, 1080P/4K to 8K HDMI upscaling.
Bluetooth/Wi-Fi: yes/yes.
Streaming services: AirPlay2, TuneIn, Spotify, Pandora, SiriusXM, Amazon Music HD, TIDAL, Deezer, iHeart Radio, Napster, SoundCloud, Mood Mix.
Supports: HDMI ARC, HDMI eARC, HDMI CEC, HDCP2.3, HDR10, HDR10+, HLG, Dynamic HDR, Dolby Vision.
Surround sound: DTS HD Master, DTS:X, DTS Neural:X, DTS Virtual:X, Dolby TrueHD, Dolby Atmos, Dolby Atmos Height Virtualization, Dolby Atmos Music, Dolby Surround, IMAX Enhanced, Auro-3D.
We are supported by our audience. When you purchase through links on our site, we may earn an affiliate commission at no extra cost to you.
Our newsletter
* We will never send you spam or share your email with third parties