Modern stereo receivers strive for the versatility of AV receivers, and today's guest is a prime example. I present to you the Denon DRA-800H network stereo receiver, which is similar in many ways (including size, weight, and even the front panel) to the Denon AVR-X1500H. I will put what you should expect from this stereo receiver that looks like an AV into pieces in this Denon DRA-800H review.
Features and specs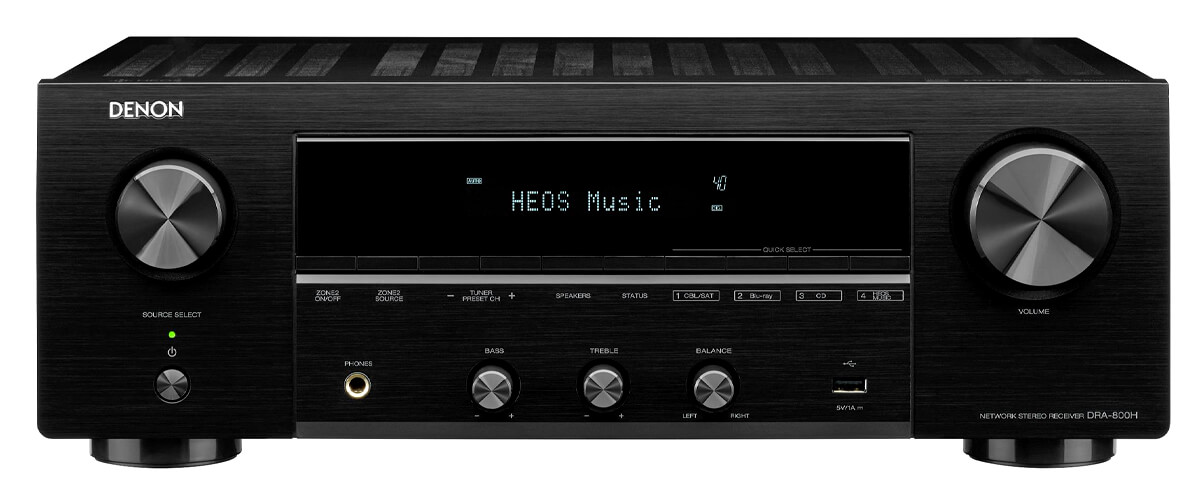 Let me start by saying that this model seamlessly combines a high-quality two-channel amplifier with advanced connectivity for external devices via HDMI and networking. Its high power of 100 watts per channel (8 Ohms, 20 Hz – 20 kHz, THD: 0.08%, 2-channel mode) guarantees confident operation of the amplifier even with complex acoustics with low impedance. The integrated DAC based on AKM AK4458 32-bit digital-to-analog converter supports all modern audio formats, including ALAC, FLAC, and WAV up to 24-bit / 192 kHz. It also supports 2.8/5.6 MHz DSD digital stream decoding.
And now I will surprise you. As you have already realized, DRA-800H specifications are not quite a typical model for a classic stereo receiver. The major feature of this receiver is its accessibility to numerous streaming music platforms via the HEOS app (Deezer, Spotify, Amazon Music, SoundCloud) due to its Ethernet and Wi-Fi connectivity ports. Furthermore, DRA-800H can open high-quality audio recordings in WAV, FLAC, and ALAC formats with resolutions of up to 24-bit/192 kHz, as well as DSD 2.8 and 5.6 MHz. Hi-Res recordings can be performed via a USB flash drive.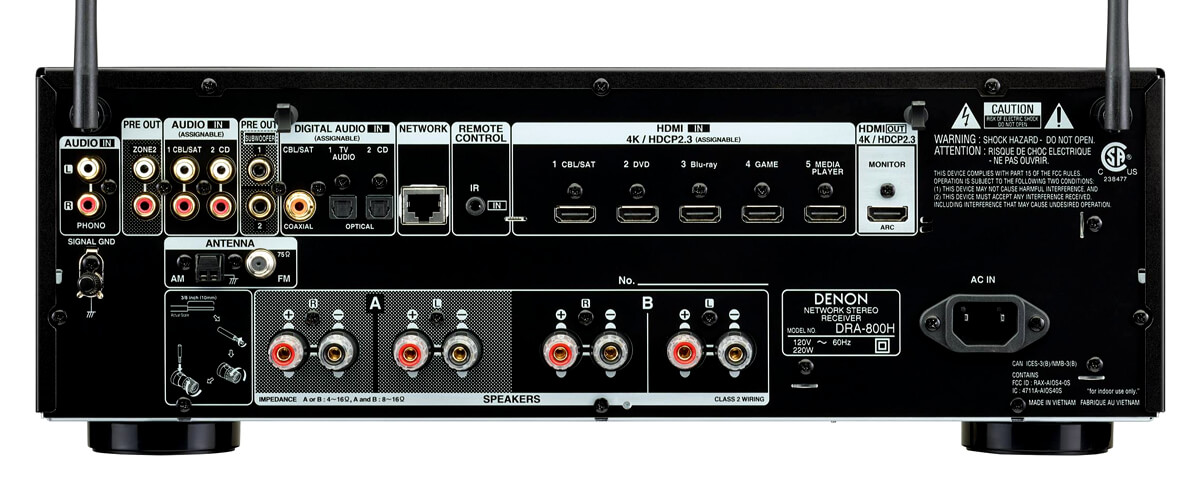 DRA-800H receiver supports the AirPlay 2 standard. As a result, it can not only take in and send out standard music but also an audio stream, transmitted remotely from any Apple's device. Simply choose DRA-800H as the playback source in the app you're using. When playback begins, it will automatically turn on. By the way, this receiver is also Alexa and Google Assistant compatible.
Since the Denon DRA-800H features HEOS technology, it can easily be incorporated into a multi-room system to send sound to any area of your home. Furthermore, music from any additional playback source can be transmitted at the same time to a single or more HEOS-compatible multi-room speakers.
This receiver is one of the rare models with HDMI ports (5 inputs + 1 output), which allow you to support 4K UltraHD 60 Hz video, HDR10, and HDCP 2.3 protocol. Of course, this model also has a separate phono input, allowing you to easily connect your vinyl disk player to the receiver. A pre-out is provided for one set of functioning subwoofers, as well as an additional pre-out for the second zone. 4 screw terminals enable simple two-wire connections. The only drawback is that the front USB doesn't support iPhone direct input.
Listening experience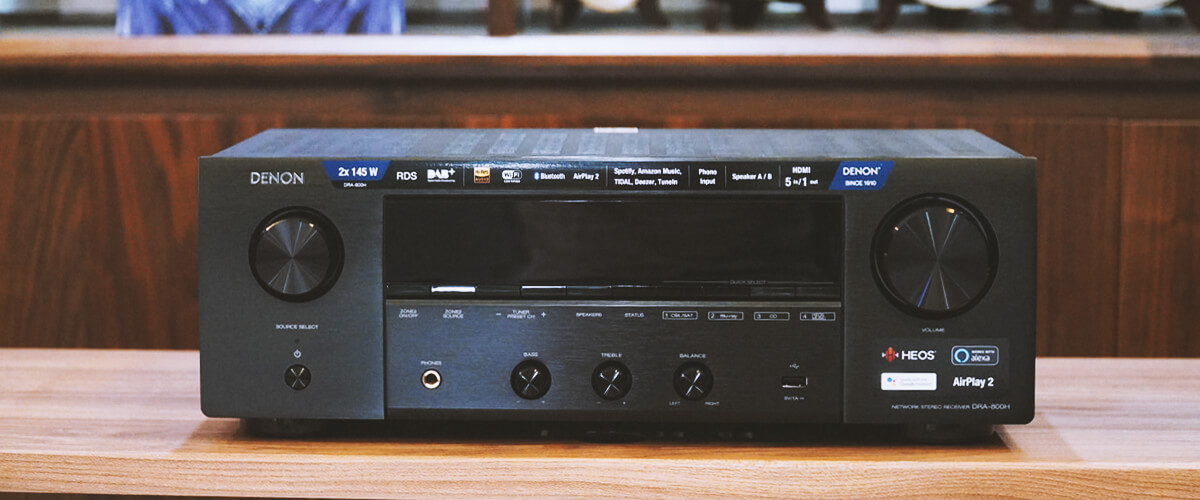 When listening to music, the sound was sometimes poor in purity and precision, but it was generally soft and enjoyable. This Denon stereo receiver isn't able to detect compression bugs, but under moderate volumes, I can say that the sound performance is quite acceptable.
The music sounded more distinct and atmospheric with the FLAC format. The low end is more intense, and vocals are more efficiently delivered. The sound stage's capacity has also increased. When listening over Bluetooth, DRA 800-H amplitude and sound were not affected by the compression generated by this type of signal transfer. Unfortunately, the aptX codec isn't supported.
Despite no particular EQ function for the movie soundtracks, the dialogs were distinct from the surrounding noise, and overall, watching movies with this receiver is normal.
Key specs
Channels: 2.2.
Power output: 100W/8 Ohm, 120W/6 Ohm.
HDMI inputs/outputs: 5/1.
Video functions: 4K/60Hz pass-through.
Bluetooth/Wi-Fi: yes/yes.
Streaming services: AirPlay2, Deezer, Tidal, Pandora, SiriusXM, Napster, SoundCloud, Amazon Music, Amazon Music HD, Mood mix.
Supports: HDMI CEC, HDCP2.3, HLG.
Surround sound: has not.
We are supported by our audience. When you purchase through links on our site, we may earn an affiliate commission at no extra cost to you.
Our newsletter
* We will never send you spam or share your email with third parties