As of 2023, there is only one 11-channel receiver in the brand's lineup; that's why my Denon AVR-X6700H review will be more interesting. After all, at a price slightly higher than the previous 9-channel AVR-X4800H, you will get as many as 13 channels if you decide to expand your system. This model has that option! Without further ado, let me give you a closer look at the AVR-X6700H specifications, after which I'm sure many of you will become its fans.
Features and specs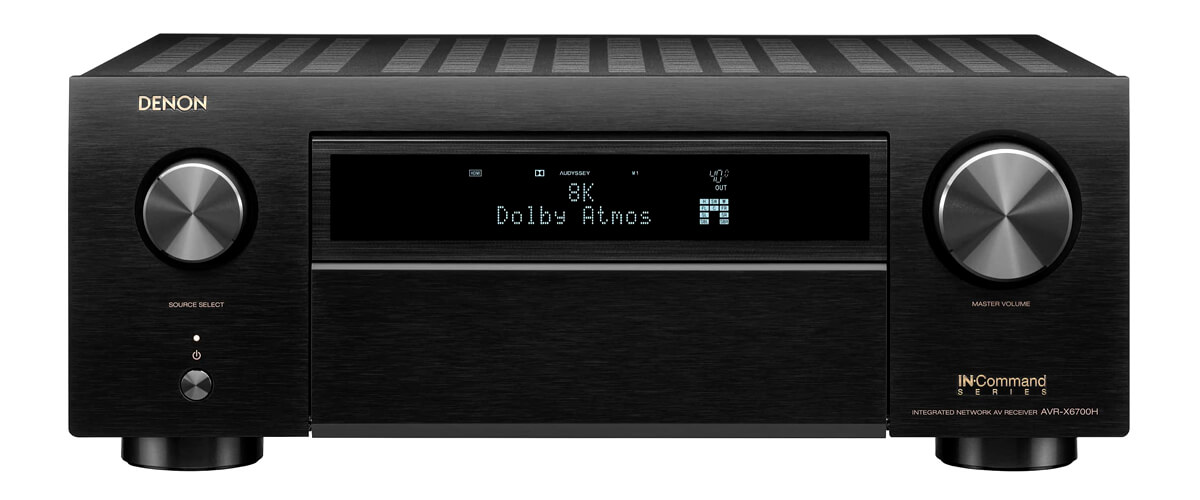 The fact that you have a quality receiver in your hands can be indicated by its weight. When it is large, it means that the manufacturer uses high-quality components, which in turn necessarily affect the sound, signal transmission quality, and device durability. In the case of the Denon AVR under consideration, we have as much as 32 pounds. That inspires confidence. It couldn't be otherwise, as the AVR-X6700H delivers 140W per channel (8 Ohm, 20Hz – 20kHz, 2ch). Even in a large room, your speakers will be jumping with happiness, making your pastime full of loud, powerful sound. And clean! Just look at the THD, which is 0.05%. Not all models, even premium ones, provide such clarity. Feel free to turn the volume up to maximum.
The number of connections will also make you happy: 8/3 HDMI ports, including 1 front (I love it when there is one), a lot of component, coaxial and optical connectors (including digital), analog inputs, and phono-input. But the special thing is the 3-zone multi-room with connection via HDMI/Opt, Coax/Network, USB/Analog. And even video streaming to the second zone. For subwoofers, only 2 can be connected via special outputs, but if you read more information, you will learn that other connections can be used for more subwoofers.
Our receiver was released in 2020, so it only has 1 HDMI version 2.1 with 8K/60Hz video streaming capability. Other ports will provide only 4K/120Hz with Dolby Vision and HDR10+ formats. The rest of the "charms" of this type of connector meet modern requirements, providing HDCP2.3, CEC, ARC/eArc, VRR, and ALLM functions (perfectly combined with PS or Xbox). To some of you, it may seem insufficient, but I'm definitely not among them. Such a receiver would serve for a long time (IMHO) without the need to upgrade because I do not worry about the resolution, being satisfied with 4K.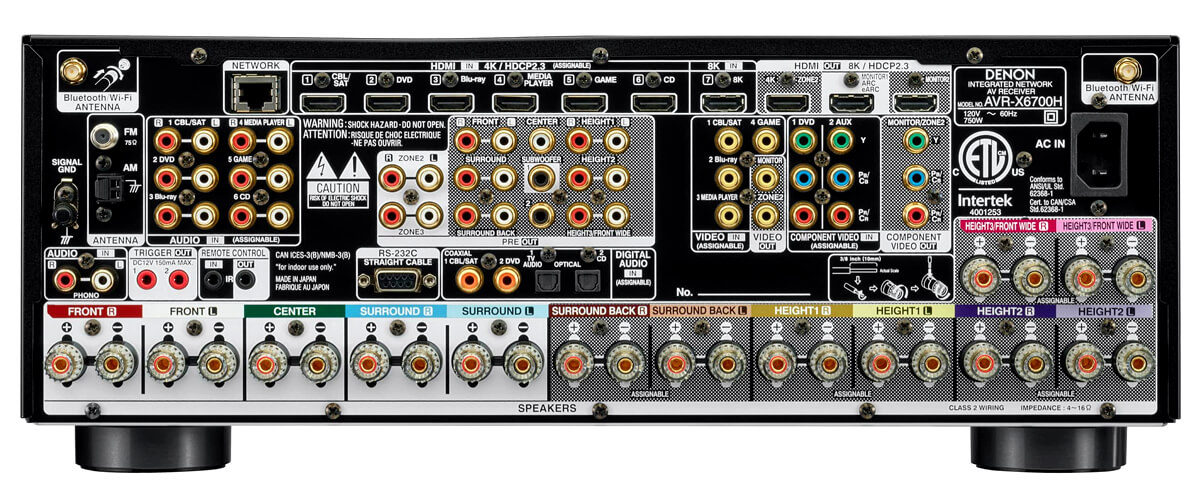 Of course, from a receiver with 11 channels, you should expect surround sound in many variations for every taste. The AVR-X6700H meets our expectations to the fullest, decoding Dolby Atmos, DTS:X (including Pro), DTS Neural:X, IMAX Enhanced, and Auro-3D soundtracks. What else do you need today if you love movies with theater-like sound?
Lastly, it's worth mentioning that AVR-X6700H includes modern wireless features in the form of some built-in streaming services (which enhance the listening experience), is compatible with AirPlay2, voice assistants, and has HEOS wireless multi-zone music streaming. Although more recent receivers have advanced versions of Wi-Fi and Bluetooth, in practice, I didn't notice any disadvantages in using the usual ones with this model. Stereo broadcast sounds stable, high quality, but not supernatural. Files in Hi-Res format sound clear, with inherent Denon dynamism and brightness.
Listening experience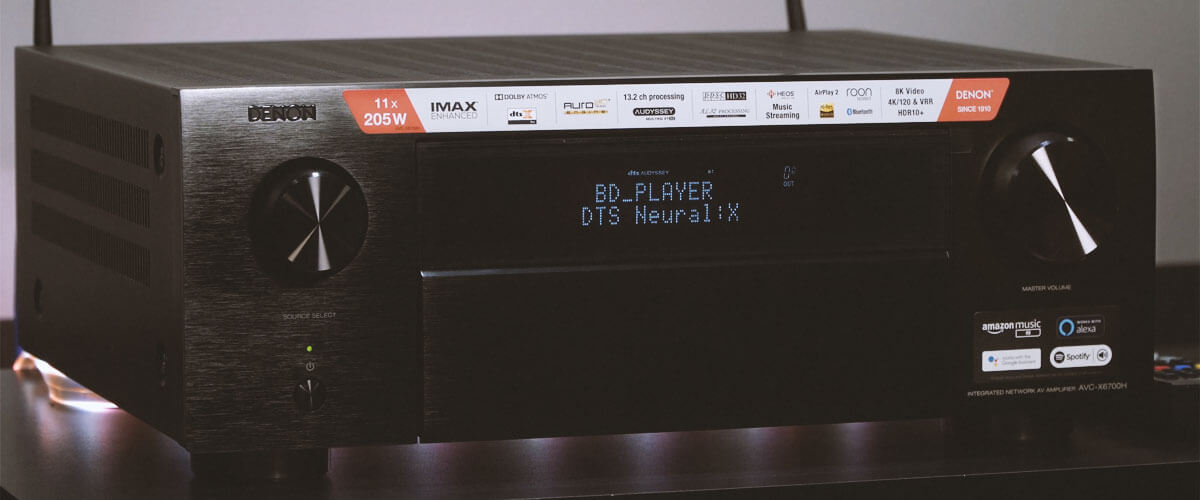 But when I test a receiver, of course, everyone expects to experience its sound not in stereo but in immersive formats. Well, what can I say? Delightful! I love fantasy and often test the movie playback on Games of Thrones. I like the musical accompaniment of the movie, and it also has a lot of battle scenes. Any battle contains many sounds of metal guns clanking, heavy swings, heroes shouting, and the sound of fire or icy wind. What to speak about dragons flying as if above you? All this plays with colorful shimmers of diversity when you use Denon AVR-X6700H, where every shade is in its place and reaches you from the right corner of the room, making you squeeze into your chair from the feeling of approaching threat. Fans appreciate the brand for the brightness and dynamism that is so suited to this kind of scene. The sound synchronization deserves high praise. Everything's top-notch. Due to the computer graphics used in the series, we can also appreciate the quality of the picture. In my opinion, this receiver is worth every cent spent on it.
Key specs
Channels: 11.2.
Power output: 140W/8 Ohm, 175W/6 Ohm.
HDMI inputs/outputs: 7/3.
Video functions: 8K/60Hz, 4K/120Hz pass-though, upscaling up to 8K.
Bluetooth/Wi-Fi: yes/yes.
Streaming services: AirPlay 2, Spotify, TuneIn, Deezer, Tidal, Netflix, Amazon Prime.
Supports: HDMI ARC, HDMI eARC, HDMI CEC, HDCP2.3, HDR10+, Dolby Vision.
Surround sound: DTS:X, DTS Neural:X, DTS Virtual:X, Dolby Atmos, DTS HD Master, Dolby TrueHD, Dolby Atmos Height Virtualization, Dolby Atmos Music, Auro 3D.
We are supported by our audience. When you purchase through links on our site, we may earn an affiliate commission at no extra cost to you.
Our newsletter
* We will never send you spam or share your email with third parties