In my Denon AVR-X3800H review, I want to examine the mid-range model the brand introduced to its lineup in 2022. The receiver is a modern device with advanced features and is only slightly inferior to the more expensive AVR-X4800H model. It will be all the more interesting to see if you can really get a high-end device and save about a thousand bucks.
Features and specs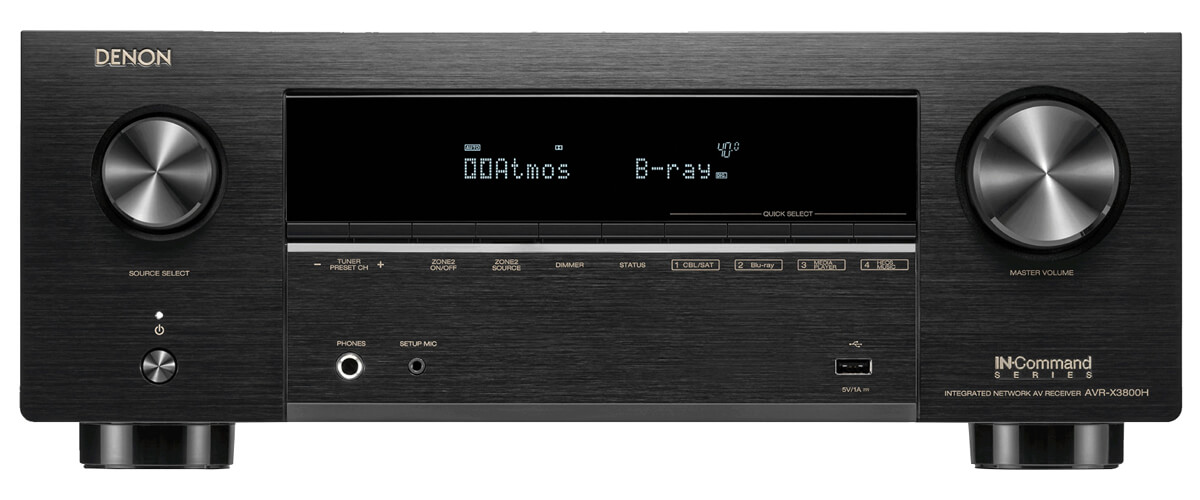 To begin with, this is a 9.2-channel unit that can be expanded to 11 channels with the addition of 4 independent subwoofers. This system can satisfy the desires of any user who owns a large home because you can build 9.4.2, 7.4.4, or 5.4.6 configurations. This, in turn, allows you to experience the full benefits of Dolby Atmos, DTS:X (DTS Neural:X), IMAX Enhanced, Auro 3D, and 360 Reality Audio surround sound formats. For today, it's hard to wish for anything better. And for those who want it all but are not ready to bother with ceiling speakers, the manufacturer has equipped the receiver with Dolby Atmos Height Virtualization and DTS Virtual:X. For example, this is always an advantage for me, as I love surround sound, but its imitation in home conditions is quite satisfactory to me.
Nevertheless, I believe Denon didn't worry too much about its power for such a behemoth. Unlike AVR-X4800H (145W per channel), the AVR-X3800H in question has only 105W (8 Ohm, 20Hz – 20kHz). Apparently, the lower price is related to this, as other, simpler components for the amplifiers are used. Although the THD is consistently 0.08%, the receiver's sound is nice and clean.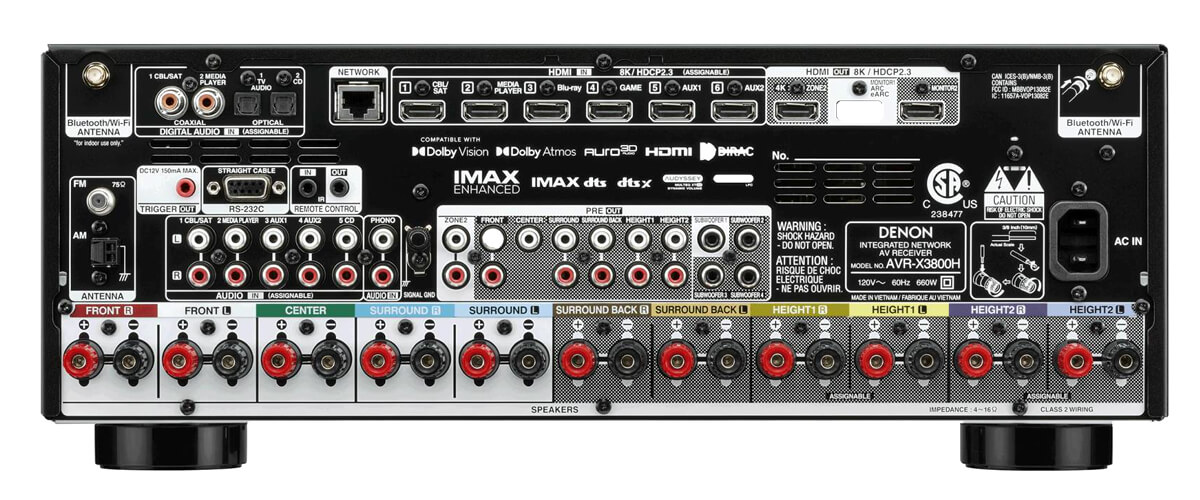 In the field of video, the AVR-X3800H specifications also satisfy the modern user to the fullest. All 6 inputs and 2 of the 3 HDMI outputs are version 2.1 and support today's highest resolution 8K/60Hz video in HDR, Dolby Vision, HDR10+, and HLG formats. They can also enhance video from your source to 8K, support CEC, HDCP 2.3 and ARC/eARC, and 3D Signal Pass-through. But what pleased me the most is that although multi-zone is only for 2 rooms (the AVR-X4800H has 3), you can stream not only audio but also video to the second zone. HDMI 2.1 is also ideal for gaming enthusiasts as it supports ALLM (Auto Low Latency Mode) Pass-through for gaming and other important VRR and QFT features.
It remains to be added that AVR-X3800H features include all sorts of additional options for music lovers and easy control. For wireless streaming, a HEOS home system is built in. It's designed by Denon and works flawlessly. Of course, ideally, you should buy the same brand of speakers, but that's not a prerequisite as the HEOS is compatible with a wide range of speakers. Also, this Denon AVR works with Apple AirPlay 2, is compatible with streaming services, including RoonTested (as always with a paid subscription), and voice assistants Alexa, Google Voice Assistant, and Apple HomePod. So, it will suit Android and iOS fans equally.
Listening experience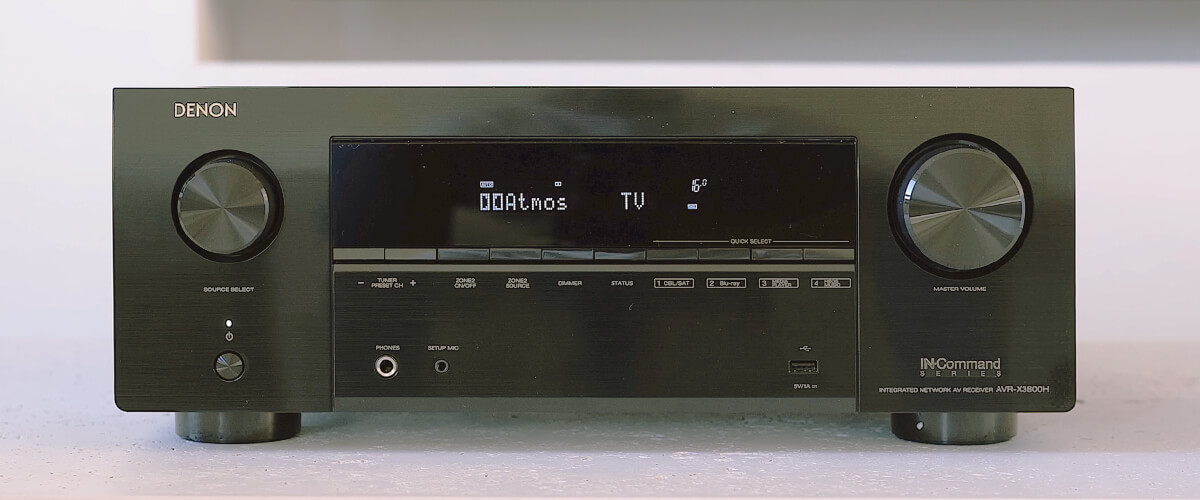 As I said, AVR-X3800H sounds great with surround sound formats. Any movie I gave as a "test" sounded bright and energetic, with quality-separated sound frequencies, which combined to create a great picture, sounding in unison with what was happening on the screen. However, it's worth noting the calibration system, which you'll have to overcome first. Denon has implemented two such systems in the receiver: Audyssey Dynamic EQ, and after upgradability, Dirac Live is also available to you. Both are highly appreciated by consumers but are not straightforward, as the brand is true to itself and does not give the user a detailed manual. Fortunately, there is plenty of information on this subject on the web. Spend some time, and you will be rewarded a hundredfold, for after some manual manipulations, the sound will adapt to your room perfectly.
Music performed by Denon AVR-X3800H sounded impeccably clear, and the signal transfer did not disappoint me. Still, for vinyl lovers, there is not enough warmth, and digital sources sound, at times, too crystalline. But it's all a matter of taste, after all.
Key specs
Channels: 9.4.
Power output: 105W/8 Ohm, 135W/6 Ohm.
HDMI inputs/outputs: 6/3.
Video functions: 8K/60Hz, 4K/120Hz pass-though, upscaling up to 8K.
Bluetooth/Wi-Fi: yes/yes.
Streaming services: AirPlay 2, Spotify, TuneIn, Deezer, Tidal, Netflix, Amazon Prime.
Supports: HDMI ARC, HDMI eARC, HDMI CEC, HDCP2.3, HDR10+, Dolby Vision.
Surround sound: DTS:X, DTS Neural:X, DTS Virtual:X, Dolby Atmos, DTS HD Master, Dolby TrueHD, Dolby Atmos Height Virtualization, Dolby Atmos Music, Auro 3D.
We are supported by our audience. When you purchase through links on our site, we may earn an affiliate commission at no extra cost to you.
Our newsletter
* We will never send you spam or share your email with third parties