I have owned 6 Denon AVRs over the years and always appreciated the sound, features, and quality the brand offers. However, after writing a Denon AVR-X1700H review, I can say it really is not a bad competitor to many other brands' models. In this aspect, this model proved to be the easiest to customize. I've set up a few, and this was by far the most straightforward. This is a reasonably priced lower-end AVR, which sounds good if you're looking for a budget option receiver. So let's not waste time and look at it in more detail.
Features and specs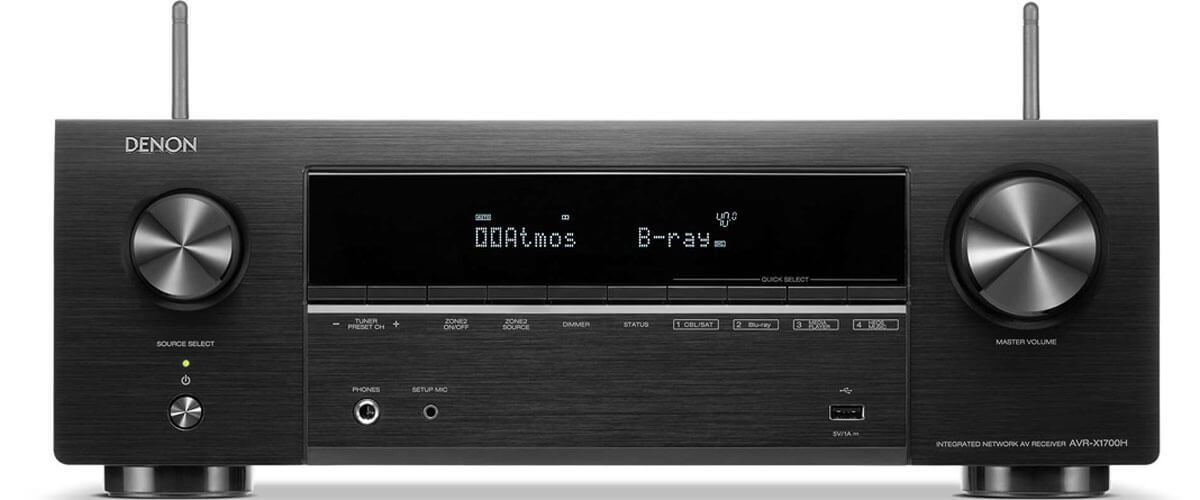 Starting with AVR-X1700H's basic specifications, I want to highlight its power output of 80 watts per channel (at 8 Ohms, 20Hz – 20kHz, 0.08% THD), as this AV receiver can deliver room-filling sound that will satisfy most users. Its 7.2 channel configuration allows for a versatile speaker setup, making it compatible with a variety of home theater arrangements.
This receiver is a true hub for your entertainment devices. It includes 6 in/1 out HDMI ports supporting 8K/60 Hz video transmission(however, X1700H, unlike upscale versions, can do it mainly through its HDMI ports rather than from analog to HDMI), Dolby Vision, and HDR10+ video formats. By the way, I've noticed it lacks a USB input for external devices. There is only one USB port strictly for drives that play music or photo galleries.
In addition to HDMI, it boasts digital and analog inputs, including a phono input for vinyl enthusiasts. This extensive connectivity ensures that you can connect all your devices, from gaming consoles to turntables, without breaking a sweat.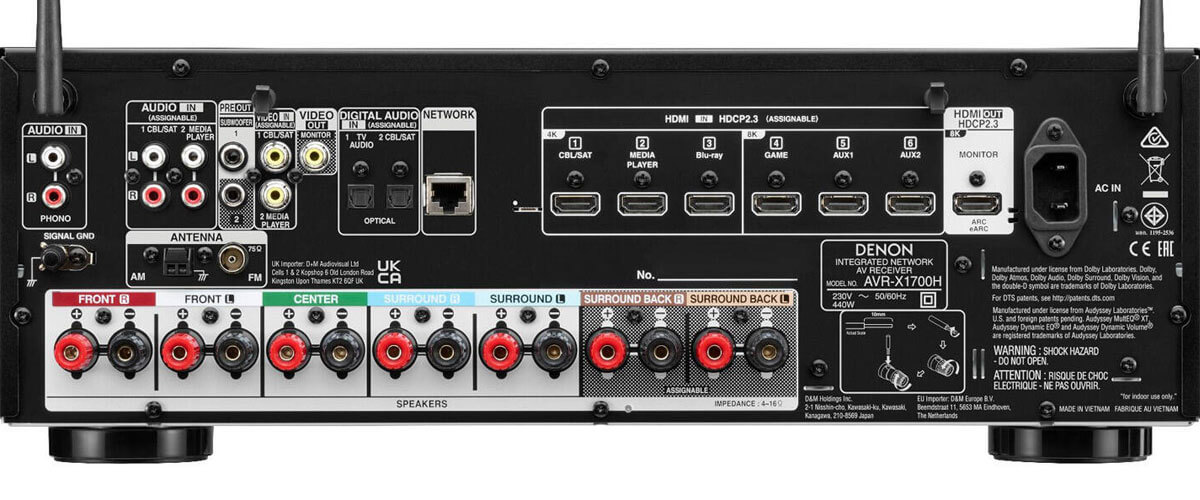 Of course, Denon AVR-X1700H features wireless connectivity through Wi-Fi and Bluetooth, making it easy to stream music from your devices or connect to your home network for firmware updates and music streaming services like Spotify. You can also use voice assistants like Amazon Alexa to control your home theater. What I used the most was a built-in HEOS technology for multi-room audio since my family enjoys music throughout the home. To use HEOS, you'll need to download the app to your phone.
DTS Neural:X and Dolby Surround offer the ability to reverse stereo and older mixes in order to correspond with all of your system's speakers. Dolby Atmos Height Virtualization and DTS Virtual:X use simulated technology to generate audio that is identical to the simulated speakers in your environment without the usage of actual speakers. Yes, this model doesn't support other surround sound formats, but considering the class of the device, I didn't count on it.
Listening experience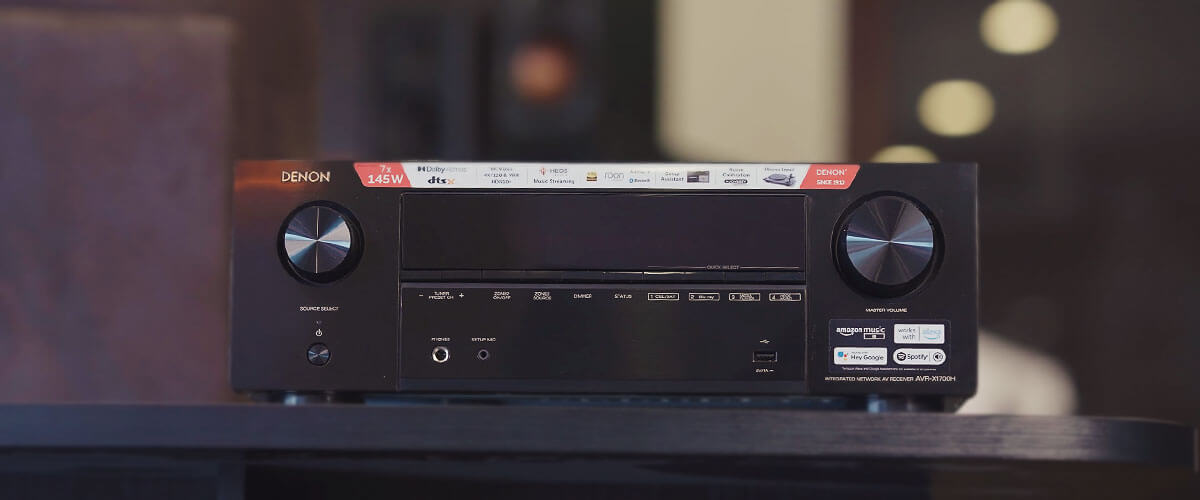 The greatest thing about the X1700H is how it does surround sound and the amount of control you have over each speaker. The experience is exceptional with my Definity Technology 5.1 speakers and SVS PB 1000 subwoofer. I'm a big sports fan, so I used multi-channel and felt like I was at the game. Note that the automatic volume control is turned on by default, so you may want to turn this off for listening to music.
I used it with a PS5 and 4K BluRay player, and it passes through all the bells and whistles like Dolby Vision and Atmos. For the game test, I've chosen "The Last of Us". After the setup and running of Audessy, the sound quality was much crisp and loud, and the separation from the speakers was distinctive.
Comparing audio capabilities to the AVR-X1500H, the refreshed DACs have more silky sound and a broader dynamic range, but the audio details appear to have been smoothed. In general, it's a good offer, as the X1700H is of the same quality that we get used to regard as normal from Denon. I won't give you a wow impression, but its efficiency is most important in these systems.
Key specs
Channels: 7.2.
Power output: 80W/8 Ohm, 120W/6 Ohm.
HDMI inputs/outputs: 6/1.
Video functions: 8K/60Hz, 4K/120Hz pass-though, upscaling up to 8K.
Bluetooth/Wi-Fi: yes/yes.
Streaming services: AirPlay 2, Spotify, TuneIn, Deezer, Tidal, Netflix, Amazon Prime.
Supports: HDMI ARC, HDMI eARC, HDMI CEC, HDCP2.3, HDR10+, Dolby Vision.
Surround sound: DTS:X, DTS Virtual:X, Dolby Atmos, DTS HD Master, Dolby TrueHD.
We are supported by our audience. When you purchase through links on our site, we may earn an affiliate commission at no extra cost to you.
Our newsletter
* We will never send you spam or share your email with third parties