The Denon AVR-S660H review will interest those looking for a 5.2-channel receiver for a minimal surround sound system at home. It's a budget model released in 2021, so you won't need an upgrade for long. Unless, of course, you want to expand the system itself, which you won't be able to do with this model. Looking ahead, I will say that this AVR sounds great in movies and stereo. Let's look at it, as they call it, from the inside.
Features and specs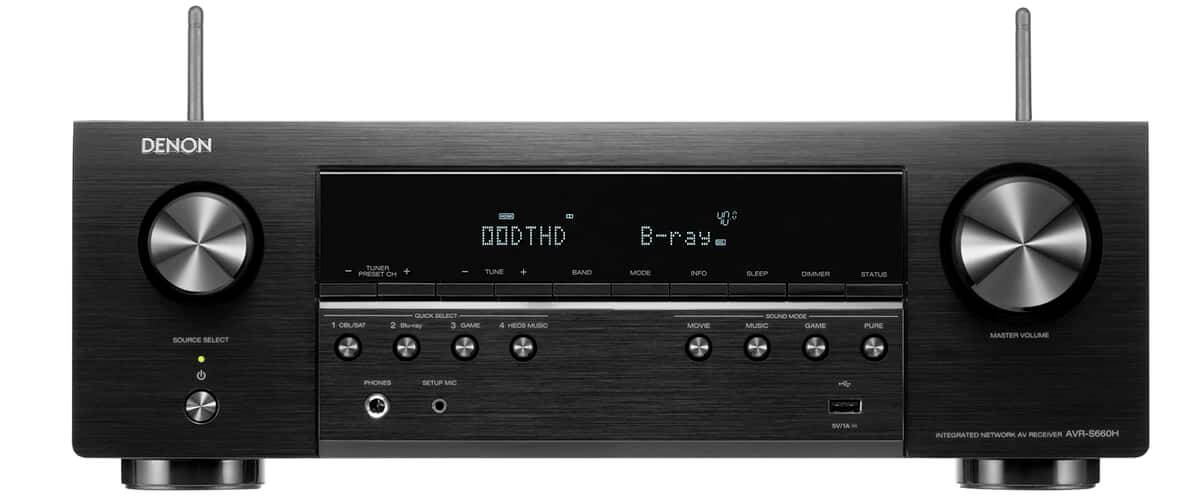 This model is not the most powerful unit, but its amplifiers are good quality. The THD value of 0.08% evidences this. Therefore, you can rest assured that when you turn up the volume, you will not expect the wheezing, grinding, and interference inherent in low-cost models. Thus, its 75W (8 Ohm, 20Hz-20kHz) is more than enough power for the room it's designed for (up to 300 feet square).
This Denon receiver has more HDMI ports than similar models of other brands, with as many as 6 inputs and 1 output. Other connectors allow you to connect older equipment and even a turntable (MM phono input). You can also connect 2 independent subs, although I wouldn't do it in a too-small room because the bass will be oversaturated.
Focusing more on AVR-S660H video specifications, I would note that 3 HDMI inputs have version 2.1. And with them, you can access video with 8K/60Hz resolution (the other 3 are designed for 4K/120Hz). But most importantly, the device has a scaling function up to 8K. I think this is very cool for such an inexpensive receiver. At the same time, it supports Dolby Vision, HDR 10+, Dynamic HDR, and HLG contrast-enhanced formats. If you suddenly saved on AVR but spent on buying a TV with 8K support, your evenings promise to be colorful. The HDMI output has HDCP2.3 content protection, and eARC enhanced audio transmission.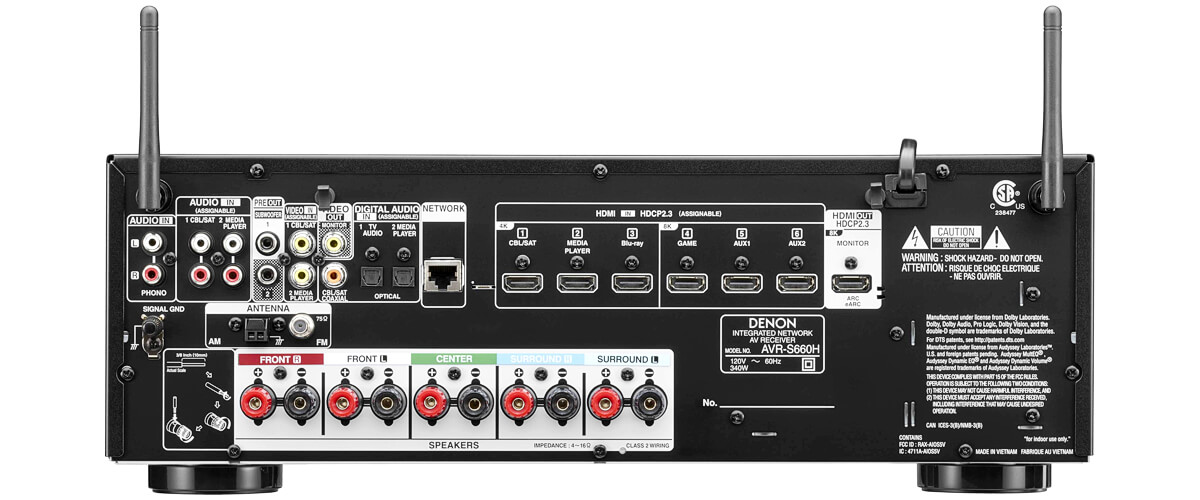 You'd think there's nothing more to be desired, but let's not forget that we're dealing with a budget device. While testing, I encountered that the sound disappeared while watching a movie, and I had to reboot the receiver. I can't say if it was a one-time event, but it's unlikely that it was my hardware. I've also encountered other users' experiences with this model not being compatible with their TV. Well, expected compromises, not critical, as the picture itself was fine.
I was also pleased with the AVR-S660H features in the area of wireless connectivity. There are not many of them, which is normal for a receiver under 500 dollars, but all of them showed good performance. These include AirPlay 2, voice assistants (Alexa, Siri), and compatibility with streaming services, including RoonTested. On top of that, you can use the HEOS ecosystem for multi-room audio. However, there are pros and cons here. You download the Denon app for control and the HEOS app, and together they start to slow down and piss off my frayed nerves. I sincerely don't think it's that necessary. But for those who wish to use this option, I recommend you to be patient and get used to it.
Listening experience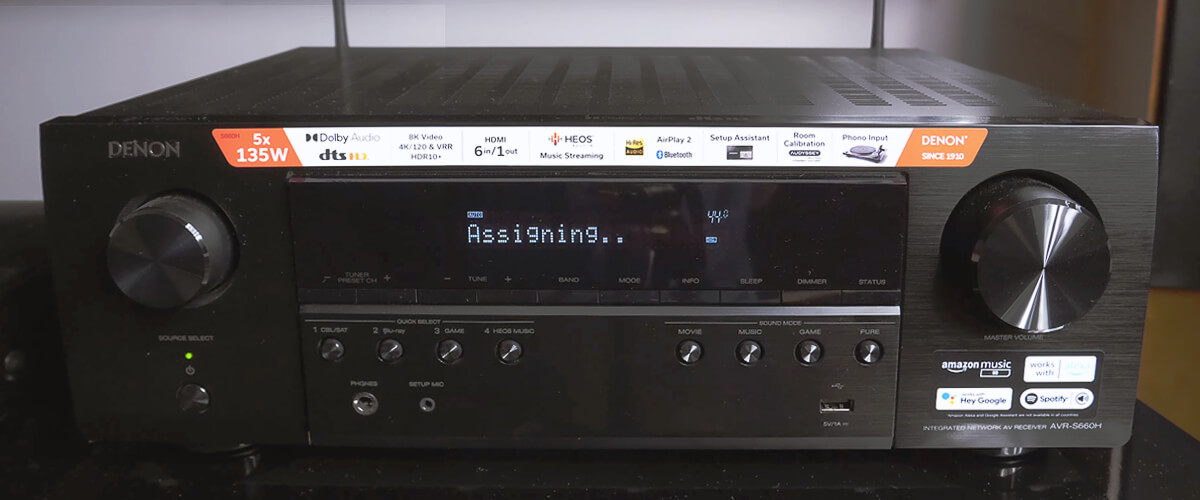 It remains to tell you about the sound of the receiver. You may have thought that I forgot to mention surround sound. But no, I didn't. There are no special technologies for a 5-channel receiver in this area because it supports basic surround sound formats Dolby TrueHD and DTS HD Master. What can I say? Surround sound. That's all. This model sounds very good and even better than many competitors in its price range that I have tested before.
And the function of compressed sound enhancement works just great. You can remember the stale flash drives with MP3 content and experiment. And in general, I really liked the receiver in stereo. I connected Apple Music from my smartphone and wandered around the house searching for other "compromises" but did not find them. The Denon AVR-S660H is a good receiver for its money. And I wish you the best of luck with it.
Key specs
Channels: 5.2.
Power output: 75W/8 Ohm.
HDMI inputs/outputs: 6/1.
Video functions: 8K/60Hz, 4K/120Hz pass-though, upscaling up to 8K.
Bluetooth/Wi-Fi: yes/yes.
Streaming services: AirPlay 2, Spotify, TuneIn, Deezer, Tidal, Netflix, Amazon Prime.
Supports: HDMI ARC, HDMI eARC, HDMI CEC, HDCP2.3, HDR10+, Dolby Vision.
Surround sound: DTS HD Master, DTS:X, DTS Virtual:X, Dolby Atmos, Dolby TrueHD.
We are supported by our audience. When you purchase through links on our site, we may earn an affiliate commission at no extra cost to you.
Our newsletter
* We will never send you spam or share your email with third parties